16 Best Fantasy Books For Kids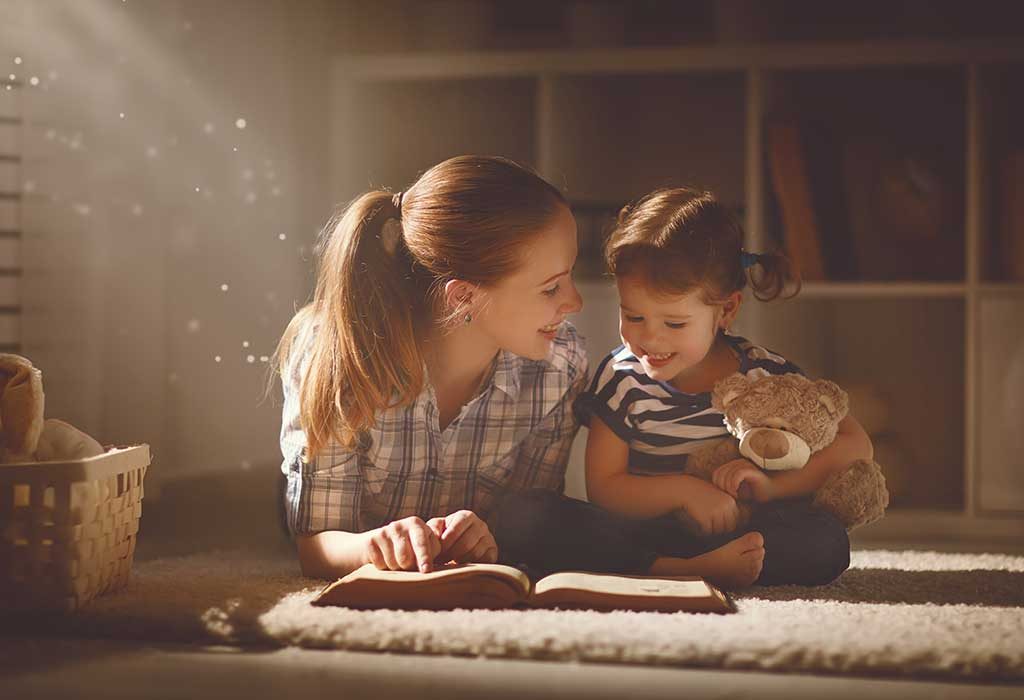 Fantasy books are one of the best ways to engage kids and excite them about stories. An element of magic is what sets fantasy books apart from the rest, and e all know how much children love magic. It's what keeps their innocent hearts elated.
We've created a list of some good fantasy books for kids, so go ahead and pick these off the shelves when you get the chance.
Best Children's Fantasy Books that Will Take Them to The Beautiful World of Imagination
Many popular fantasy books are perfect for little kids. These fantasy books for preschoolers are a fantastic way to stir their imagination and get them excited about life in general.
Here's the list for you –
1. Charlie and The Chocolate Factory
Author: Roald Dahl
Why It's Great?
One of the most exciting and captivating books for a child is Charlie and the Chocolate Factory written by legendary writer Roald Dahl. It follows the adventures of a poor boy named Charlie who wins a ticket to visit the chocolate factory owned by Willy Wonka. In this book, Charlie and the four other kids who won travel through the intricate factory are introduced to the many types of candies and chocolates and how they are manufactured.
2. If You Give a Mouse A Cookie
Author: Laura Numeroff
Why It's Great?
One of the best ways to teach kids about the whole "one thing leading to another" scenario, this book by Laura Numeroff starts with a boy giving a mouse a cookie, which makes it want milk, which then makes it want a straw, a mirror and so on. It's a fun little story where the mouse finally ends with another cookie, and it's one of the best fantasy books to delight a little kid.
3. The Polar Express
Author: Chris Van Allsburg
Why It's Great?
This book is one of the most popular and iconic Christmas stories ever and follows a young boy who follows the "Polar Express," which is a midnight train. He seeks Santa Claus, and there is magic waiting for him at the end of the trip. It's a great book to open up kids' imaginations and an excellent way to keep them engaged.
4. Winnie the Pooh
Author: A.A. Milne
Why It's Great?
Winnie the Pooh is a little bear who lives in the Hundred Acre Woods in an idyllic existence. He enjoys many adventures with his friend Piglet, and these series of short stories are sure to bring a smile to your little one's face.
5. Dragon Slippers
Author: Jessica Day George
Why It's Great?
It is a book about a peasant girl who's named Creel, and she sacrifices her dragon, hoping a courageous knight will fight the same. She wants to get married to this knight and shower him with riches, but the adventure takes a twist, involving slippers and a plot that could change the fate of the kingdom forever.
6. Harry Potter and the Sorcerer's Stone
Author: J.K. Rowling
Why It's Great?
Probably one of the greatest fantasy series in the history of books, Harry Potter and the Sorcerer's Stone is the first instalment in the 7-part epic. Harry is a boy who lives with his uncle and aunt after the death of his parents. He is later rescued by Hagrid, who tells him he is one of the most important wizards in the magic world and has an incredible backstory, and a wizarding school, waiting for him.
7. The Hobbit
Author: J.R.R Tolkien
Why It's Great?
Bilbo Baggins is a dwarf, who, along with companions journey forward in mortal peril as they seek to restore their kingdom from an evil force – the dragon Smaug. The beautifully crafted story is sure to liven any night for your children and have them dreaming about being heroes and heroines.
8. James and The Giant Peach
Author: Roald Dahl
Why It's Great?
The first full-length fantasy book for children by Roald Dahl, this follows the adventures of young James who is ill-treated at the hands of his aunt Sponge and Spiker. An eccentric stranger gives James some seeds, and they grow into a giant peach, on which James flies away to New York City with his friends.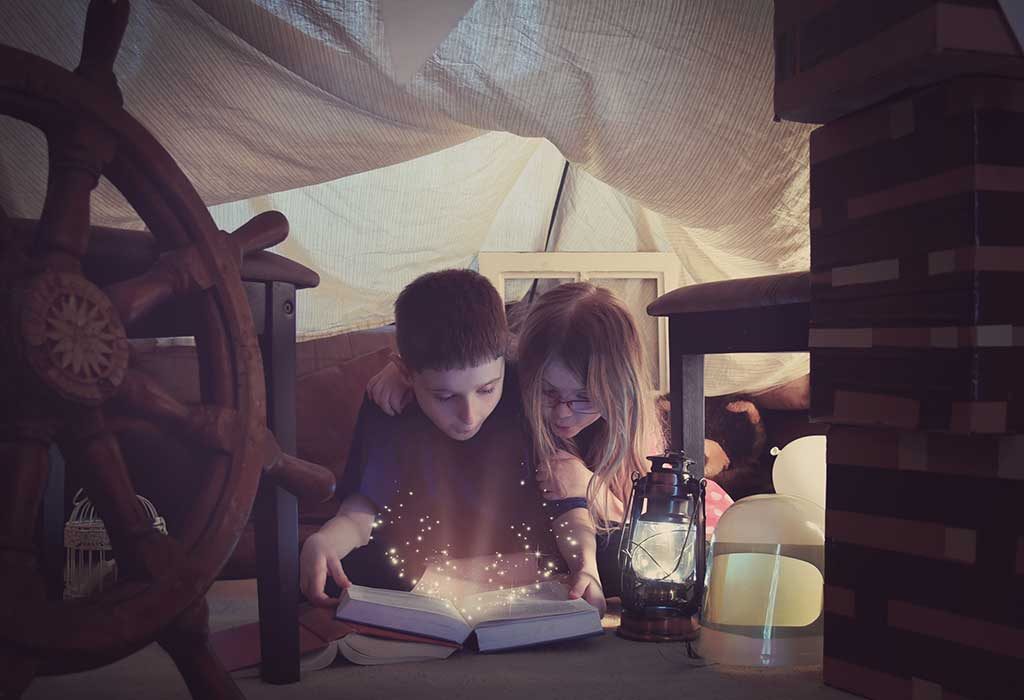 9. The Magic Treehouse
Author: Mary Pope Osbourne
Why It's Great?
Annie and Jack go on eclectic adventures in the Magic Treehouse books. Each instalment sees them travelling to different places and times in history, with them having to complete missions to get back home. The first chapter is funnily called, Dinosaurs Before Dark, so you know the kids are going to enjoy themselves.
10. The Neverending Story
Author: Michael Ende
Why It's Great?
A young outcast by the name of Bastian Balthazar Bux starts a book called, "The Neverending Story", which takes place in Fanastia. He becomes increasingly involved in the exploits of the characters. He realizes slowly that he too is becoming a character. He enters Fantasia and whatever he imagines comes true. It is a great modern fantasy book and is a fantastic way to enthral young children.
11. Peter and Wendy
Author: J.M. Barrie
Why It's Great?
While many of us have enjoyed the tales of Peter Pan, this book is also a well-loved fantasy classic. It is the original version of the book as Peter flies through Neverland, plays with the Lost Boys and escapes the clutches of Captain Hook. The book is over a century old, but the charm continues to this day.
12. Rainbow Magic
Author: Daisy Meadows
Why It's Great?
This beginner-reader series is about a bunch of fairy friends who go missing and a couple of heroines who must recover them, lest the Fairyland turn grey! It is a fun adventure book for children to read to and enjoy.
13. The Spiderwick Chronicles
Author: Holly Black
Why It's Great?
The Spiderwick Chronicles revolves around a bunch of siblings who discover a fairy society in their backyard. The book is similar to Narnia, and soon, they realize they're all in over their heads and as humans, they were never meant to discover this fairy world.
14. The Uncommonders
Author: Jennifer Bell
Why It's Great?
For those who feel a "Hogwarts-sized" hole in their heart, this book leads you down an underground city known as Lundinor. Here, the young heroes Ivy and Seb slowly uncover secrets about their family and must defend against the irrepressible forces of evil.
15. Where the Mountain Meets the Moon
Author: Grace Lin
Why It's Great?
Young Minli is rich in imagination, and while her family is poor, she loves her father's stories. She then embarks on a legend of her own – replete with a dragon companion, an old sage, a dangerous green tiger and more!
16. Dragons Love Tacos
Author: Adam Rubin
Why It's Great?
Humans love tacos, but dragons love tacos even more! Join these food aficionados as they eat tacos of every size and shape, but miss one ingredient – spicy salsa. It causes upset tummies and fire-breathing hazards.
These are some of the best fantasy books for kindergarten. We hope you ill find this useful to entertain and engage your little ones. Have fun reading!
Also Read:
Interesting Mystery Books for Children
Books for Children who Love Trains
Best Encyclopedias For Children
?>