Mysore Pak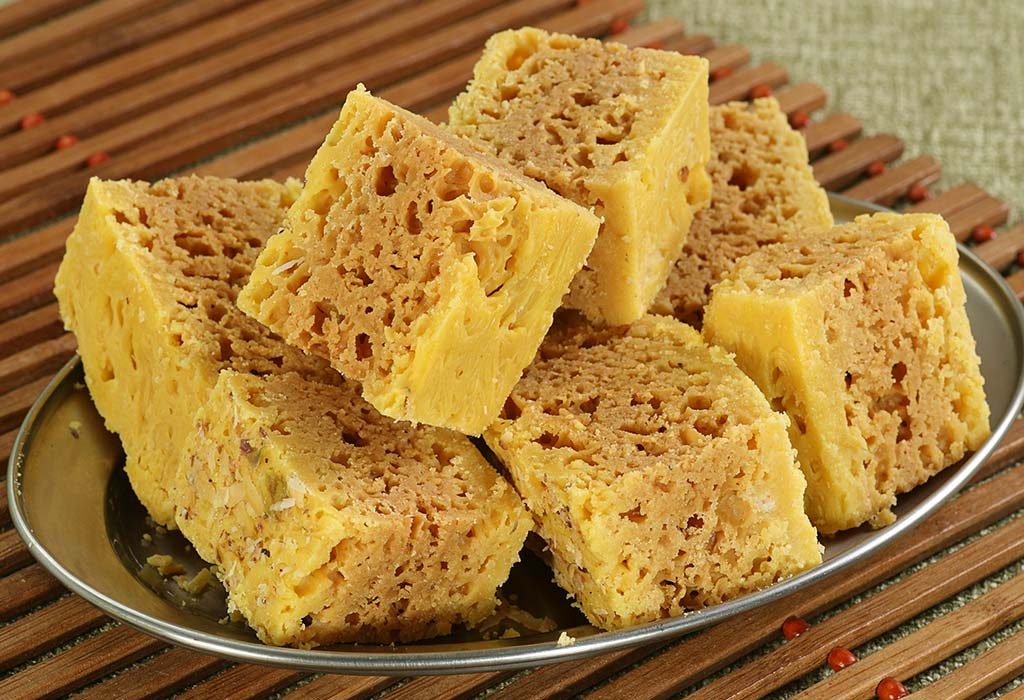 In this Article
Mysore pak is a South Indian dessert that is mostly prepared as a part of all the festive seasons there. This sweet preparation requires a lot of attention and patience to get that desired texture and crispiness. The effort taken pays away well when you put a piece of this sweet in the mouth to just melt away in its luscious taste and aroma.
| | | |
| --- | --- | --- |
| Serves | Preparation Time | Cooking Time |
| 20 People | 10-15 Minutes | 20-25 Minutes |
Ingredients
1/2 cup besan or chickpea flour
1 cup ghee
1/4 cup oil
1 & 1/2 cup sugar
1 tsp cardamom powder
Method
Step 1
Sieve besan so that there are no lumps. Grease a tray with ghee and place it aside.
Step 2
Take sugar and 1 cup of water in a heavy bottom pan. Place it on low flame and allow it to boil until single thread consistency is obtained.
Step 3
Now, add flour little by little while continuously stirring. Once the flour blends well in the syrup, start adding ghee and oil little by little in batches (1 tbsp each). Keep mixing thoroughly.
Step 4
Slowly, the colour starts changing to pale yellow and gets frothy. You start getting the smell of cooked besan and ghee and are able to observe that the mixture is not able to absorb any more ghee. Switch off the flame.
Step 5
Now, pour it into greased tray and level it with a spatula. Wait until it cools and cut into desired shape.
Step 6
Transfer it to a container and serve whenever desired.
Nutritional Information
| | |
| --- | --- |
| Calories | 161 K cal |
| Proteins | 0.6 g |
| Fat | 13.1 g |
| Carbohydrates | 11.4 g |
| Cholesterol | 26 mg |
| Sodium | 2 mg |
| Potassium | 21 mg |