My Daughter Was Aryan Khan's Classmate – This Mom's Letter Reveals How SRK and Gauri Are As Parents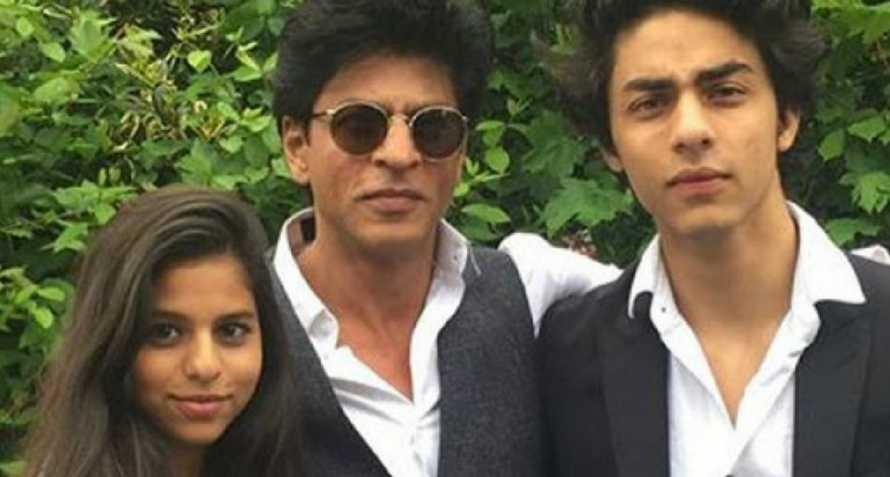 How would it feel if there were celebrity kids in your child's class? Would you be okay if they were friends with your children and their famous parents invited you to parties? Many of us hold uncomfortable notions about celebrities and are unsure what kind of parents they make. But we cannot help but be charmed by them at the same time…Preeti Singh, a US-based journalist, has experienced being that star-struck parent. Her daughter used to be in the same class as Aryan Khan.
In this heartfelt open letter, Preeti chronicles her experiences and reveals just how Bollywood's most famous couple approaches parenting.
Read the complete letter here. Be warned – it's so sweet you'll want to read it again!

Last week, my Facebook timeline lit up with pictures and videos of the graduation ceremony of my daughter's erstwhile class in Mumbai. When I saw the chief guest, I smiled. It had to be him. Shah Rukh Khan. No one deserved it more because he and his family were at the centre of our little universe in that school, and we were his "Jabra fans".
But first, a flashback to 2003.
"Look, Shah Rukh Khan's wife is here. That means Aryan is going to be our kids' classmate." commented an excited father as we took the conducted tour through the new school our five-year-olds were joining. I had been gushing over the clean bathrooms – with toilet paper, soap, paper towels and an attendant. As someone who went to schools with toilets so dirty that I have suffered from digestive problems ever since, I was thrilled that my children would be spared the agony.
I turned to see Gauri Khan. Of course I knew her face; as SRK's wife, she was almost as famous and frequently photographed as her Bollywood husband. As a Dilliwala (as I called myself then), there was a certain possessive pride about SRK… the Delhi boy who came to Mumbai and conquered it. In her dark glasses, Gauri stood alone with her son, until she met some other Bollywood friends and started chatting. Covertly and overtly, all of us watched Gauri. How she talked, what she wore and if she looked arrogant or friendly. No one, including me, dared to walk up to her to make introductions, like we had been doing with the other parents. It could be a very public snub.
I didn't know it then, but the next decade that my children attended school with SRK's children would be eventful. Not only because the school was exceptionally good. Or that the library, bright classrooms, cheerful artworks, and yes, the clean bathrooms made the school a happy place to be. Not only because the school ensured safety of our kids at all times, and the teachers were dedicated and worked harder than anyone I ever knew.
The pixie dust that made everything look even better, shinier was SRK.

In that school, there were many celebrity parents – other Bollywood stars, legendary sportspersons, super-rich business families and top professionals, but SRK was SRK – the first among equals. While SRK and Gauri had no clue who I and dozens of other parents were, their pixie dust changed our lives. Some mothers lost weight to dress up like Gauri, some planned their holidays or bought holiday homes close to the Khans, and others did everything in their power to get their kids to be friends with the Khan kids. And the outside world thought we were royalty too, and best friends with the Khans.
One afternoon my daughter came back with a birthday card from SRK's son. The party was at Mannat (SRK's house on Bandstand), and I called on the number provided. Gauri answered the phone. She was sweet, polite, and told me to drop the child at 4.30pm and have her picked up by 7.30pm. Yes, I could send a maid along. That afternoon my phone pinged non-stop. Who was going to the party? One mother said, "My child will cry if I let her go alone. So I will have to go." Another's driver was going to be on leave that day and she was driving him all the way from Cuffe Parade, so she would have to attend the party. Yet another would go because her son was Aryan's bestie.
I had learned my lesson. I assume Gauri told every parent the same thing, making it clear that only kids were invited, because the mothers hung out at the Cafe Coffee Day on Bandstand while their children attended the party that evening. And many of these were townie mothers, who thought anything beyond Prabhadevi was Oh So Far. Soon enough, boys and girls did what they do at that age. They refused to hang out with each other. A whole new stream of gossip opened up among the girls' mothers – the boys' parents felt the Khan pressure. While the boys played and made friends, parents began to group up. The fight was subtle and full-fledged. Who would be Aryan's best friend? Who did he share confidences with? Who was doing the class project with him? Who would be invited for a sleepover, and later for the IPL matches? Mothers complained that others kept secrets from them, not revealing details of play dates and sleepovers because they wanted Aryan all alone with their sons.
When Aryan Khan left school in grade eight I felt terribly cheated. Bad timing, because boys and girls were beginning to be friends with each other. I had grand dreams that my daughter would be friends with Aryan Khan; like the mothers of other boys of the class, I would now become friends with Gauri, and exchange SMSes and notes about our kids. Maybe my daughter would go for the IPL matches and be photographed with the boy. I was deprived of that opportunity, and will never know what would have come of it.
The children were indifferent to the celebrityhood. Aryan was a classmate and a friend. All the aunties and uncles would bombard my daughter with questions:
"So you are in Aryan's class. How is he? Is he naughty and ill-mannered? What does he like? Who are his friends? Have you been to his house? How are his parents?" Her standard response became, "I am not in his class. He is in MY class. And he is as ordinary as the rest of the boys." To her amusement, the questions followed her to the US as well, and in her new school, the desis wanted to know about SRK and his family.
On the fringe, I became a minor celebrity. Colleagues wanted to accompany me to school functions so they could chat with SRK. I made it clear that they could do what they liked, as long as I was not around. I was crazy about SRK but it would be undignified to behave star-struck.
Of course, the only person I could not have controlled was my own mother. She came for a sports day function and chatted up SRK while I was busy elsewhere. So far so good. Then my dear mother decided she wanted a picture with him. I tried to dissuade her, telling her that SRK would disappear as soon as the event was over. She said nothing. My husband and I collected our kids from their classes and I saw mom standing guard over SRK. He sat meekly next to her as she looked around for us. Before I could slip out of view, mom saw me and waved out. Resigned, I walked towards them. She told SRK that I had arrived; he stood up immediately, and chatted and posed happily for pictures with my mother. I was mortified as mothers of my daughter's classmates stood around laughing at my discomfort. While I took pictures, my daughter's face had turned deathly pale. She looked like she had seen a ghost. She skirted around SRK and by the time we reached our car, she was crying inconsolably. She had seen Kal Ho Na Ho the previous week and thought SRK was dead. I had to explain the difference between real and reel life to the distraught child.
In the car I complained to my mother that I had been so embarrassed. Unfazed, my mother said, "At least I am honest, not hypocritical like you all. "None of you were looking at your spouses in the race." She was right. When SRK participated in the parents' race, none of us noticed our husbands or friends huffing and puffing behind him. Our eyes were locked on SRK, and googly-eyed we had drooled, "Karan Johar knows how to make SRK run… he looks like a dream." And he really did.
Fringes of celebrityhood is a great place to be. Everyone thinks you lead a charmed life. You must be friends with the celebrities and have insights on and insider gossip about them. It is not true, but who was I to shatter those illusions? My knowledge was acquired from film magazines, gossip among my producer friends, air crew that had flown them, and other mothers whose kids were friends with the Khan kids.
The only time I ever talked to Gauri was when we were both waiting for our kids after school. She realised that our children were classmates, and asked me if I had put my daughter in any academic classes after school. I said "no". She enquired if I sent her to sports classes after school. I replied in the negative again and said that I believed in unstructured play. She asked if I spent time teaching her. I said "no", because I wasn't brought up by a helicopter parent. She sighed and said, "Thank God. I thought I was the weird one. But my mother let us be, and I let my kids alone as well." They would all grow up just fine, we both agreed.
She never acknowledged me after that conversation, but that day, I fell in love with Gauri as well. The Khans were parents like us all.
What a beautiful and heartfelt letter! We love how this mom has stayed true to herself as a person – it really is okay to be a "fan" even when you are all grown up! Her letter also breaks many myths around celebrity parents – no, they aren't all haughty and standoffish, and yes, they participate in normal things like birthday parties and tuition classes and PTA meetings.
Parents don't let anything interfere with their responsibility towards their kids – not fame, not money, not even perceptions. Parents are among the best people in the world, if we say so ourself. Congratulations on being one!
?>