Kunal Kemmu's Sweet Message for His Biker Baby Inaaya Is A+ Parenting!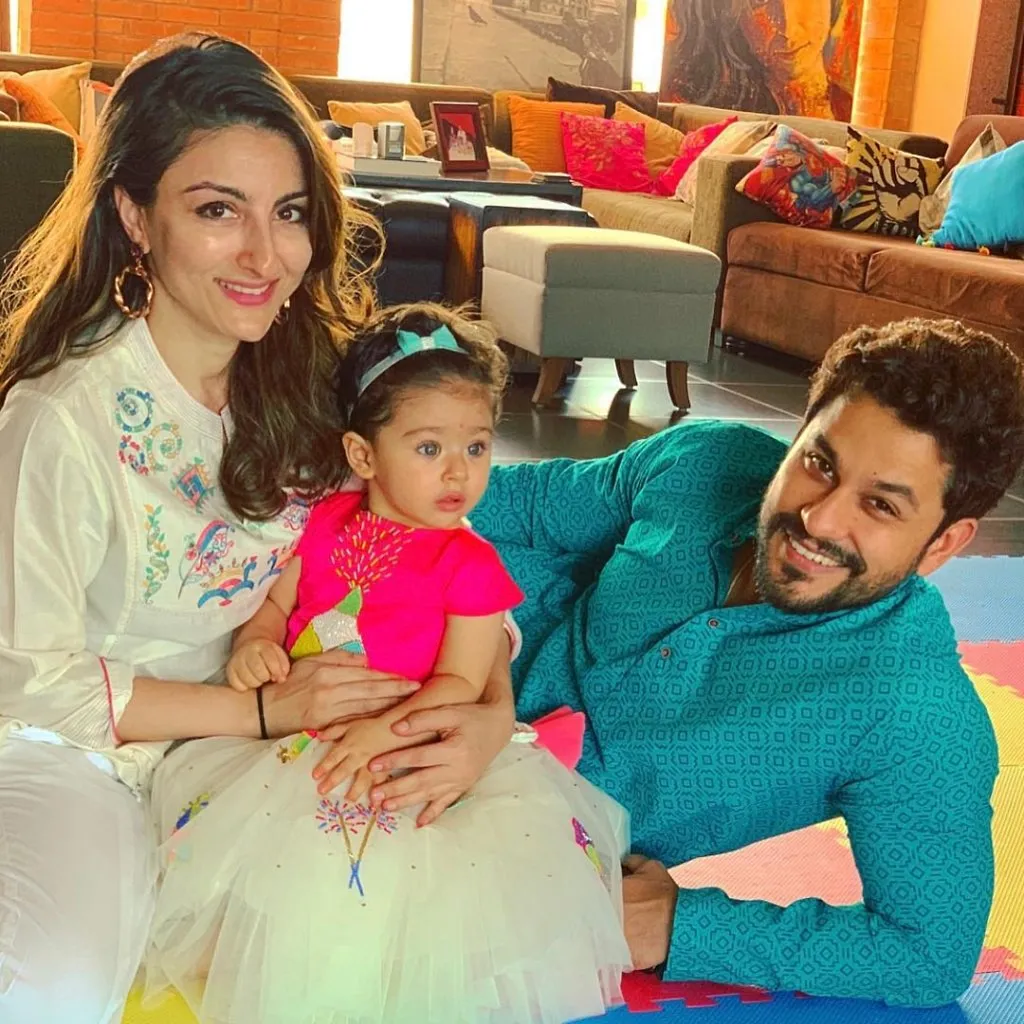 Inaaya Naumi Kemmu, the daughter of actor duo Soha Ali Khan and Kunal Kemmu, is not a new face on the internet. She, along with her cousin Taimur Ali Khan are regular features on social media and we absolutely adore these two cuties of tinseltown. But this time, she is also giving us some major #bikergoals! Kunal Kemmu, Inaaya's proud dad, took to Instagram to share a picture of him and his daughter sitting on a yellow bike, with the hashtag #bikerbaby. Inaaya can be seen sitting on the tank of the bike and is a sweet little sight to behold. Take a look at the cute picture for yourself.
Doesn't she look adorable sitting atop the bike in that grey frock and pink helmet? The dad-daughter duo share a beautiful bond, and their picture is just a(ww)dorable! But what we love more is the caption underneath the picture; Kunal Kemmu penned down some inspiring advice for his darling daughter – "Soon we shall ride together and soon you shall have your own. Let no one tell you what you can or can't do. Make your own road and make your own journey."
Inaaya's curiosity to try out new things can be seen in her beautiful eyes. Who knows, we may see her grow up to be an excellent biker someday!
Last year, Kunal shared a picture on his Instagram handle, where he was seen reading the morning newspaper with little Inaaya. Of course, the little tot was too young back then (and even now) to read or understand anything, but her parents sure know how to instil good habits in her from a young age.
Babies learn by observing their surroundings but mostly by watching their parents. They also imitate their parents' actions and take their advice as the last word, especially when they're really young and impressionable. If you want your children to reach heights and be happy in the future, the time to develop good habits in them and encourage them to follow the right path is now. Habits developed early on die hard and what we teach our children today, is what they will become tomorrow.
It is also essential that you instil a sense of independence and confidence in your children right from a young age. Your motivating words and the thought that you are always there for them can make your children face the world fearlessly. When kids know that they have got their parents' support to follow the paths they've chosen for themselves, no words from outsiders can put them down. It's the little things you teach your tots today that will make you an example of an excellent parent. And we know you must be doting parents to your children just like Soha and Kunal are!
Kunal Kemmu tied the knot with Soha Ali Khan in the year 2015 and they welcomed their baby girl in 2017. On the work front, he was last seen in Kalank, a multi-starrer movie directed by Abhishek Varman and produced by Karan Johar. His upcoming project includes Malang, a horror-romantic movie slated for release in 2020. In spite of his busy schedule, however, Kunal sure knows how to make time for his daughter. And we can't stop gushing over the picture and the sweet caption he shared! Little Inaaya is sure to be a big success someday in whatever she chooses to do – her daddy has got her back after all!