Top 24 Beautiful Bollywood Songs To Dedicate To Your Mother!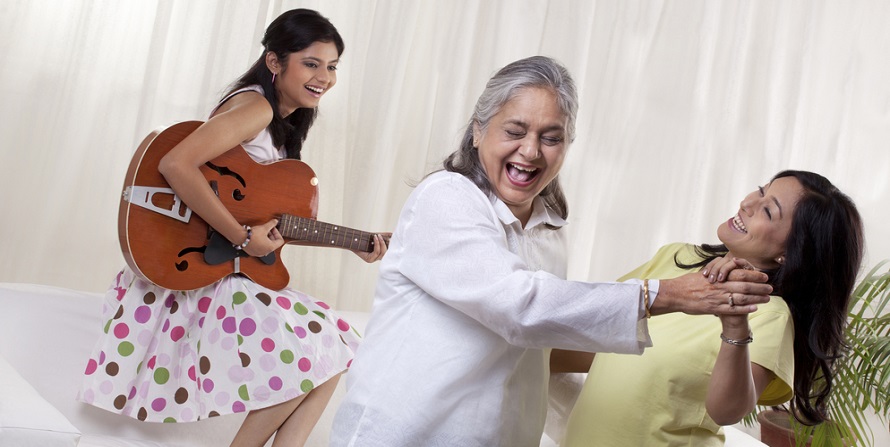 In this Article
Indian cinema has given us every type of mother that we know of – from the scheming and plotting mother as played by Lalita Pawar in the movie 'Mr. And Mrs. 55' and the all-giving, all-sacrificing mother as played by Nargis in 'Mother India' to the mom who always lost her kids in every movie (Nirupa Roy) and the 'play-it-safe' and practically powerless mom as played by Farida Jalal in 'Dilwale Dulhaniya Le Jayenge'. Bollywood has also given us some beautiful (and melodious) songs on mothers that bring tears to our eyes whenever we play them. How about this Mother's Day you dedicate a Bollywood song on mothers to your lovely mom and let her know how much you mean to her!
Mommy Songs From Bollywood to Dedicate to Your Mother
While we like our movies over the top, we like our songs melodious, sentimental, and high on emotions! Here are 24 songs from Hindi films that you can dedicate to your mother on her birthday, a momentous occasion, or just any day of the year!
1. Tu Kitni Achhi Hai
Film: Raja Aur Runk
Music: Laxmikant Pyarelal
Singer: Lata Mangeshkar
This Bollywood adaptation of Mark Twain's 'The Prince And The Pauper' makes for a great emotional watch. The song in itself beautifully captures the naive belief a mother has in her child.
2. Mummy Oh Mummy Tu Kab Saans Banegi
Film: Khatta Meetha
Music: Rajesh Roshan
Singer: Kishore Kumar
This Bollywood rip off of the Hollywood classic 'Yours, Mine and Ours' is a light-hearted comedy that gave us some excellent music. The sweetest/funniest of them all has to be this song about a son, eager to find his mother a daughter-in-law!
3. Khushiyon Ka Din Aya Hai
Film: Beta
Music: Anand-Milind
Singer: Anuradha Paudwal
There isn't one pair of eyes that this movie left dry when it was released in 1992. The emotional drama went on to win several accolades, including one for the 'mother' in the movie, Aruna Irani. The song captures the simple joy of a son on being accepted by his adoptive mother.
4. Meri Maa
Film: Yaariyan
Music: Pritam
Singer: K.K.
This soulful track is complex on many levels – it is a dedication from the best friend of a boy, to the boy's mother, after the boy tragically dies as a victim of a racist attack. It captures love, and loss, and shows how a mother's love extends beyond her immediate child to her child's friends too.
5. Maa
Film: Taare Zameen Par
Music: Shankar–Ehsaan–Loy
Singer: Shankar Mahadevan
If there is one film and song that captures how lonely, terrifying, and sad childhood can be, especially when your parents scold and 'punish' you, it has to be 'Taare Zameen Par' and 'Meri Maa' respectively! It is one of the most memorable and heart-warming Bollywood songs dedicated to mothers ever made. Make sure you have a box of tissues ready nearby when you listen to this song!
6. Usko Nahin Dekha Humne Kabhi
Film: Daadi Maa
Music: Ravi
Singer: Mohammed Rafi, Mahendra Kapoor
This one is our personal favourite of all Bollywood songs for mother. It beautifully equates the entity 'mother' to God, and how knowing one is knowing the other. The fast and up-beat pace makes it a refreshing song, as compared to other sentimental numbers.
7. Aisa Kyu Maa
Film: Neerja
Music: Vishal Khurana
Singer: Sunidhi Chauhan
The song starts with a recitation of the Hindi alphabet, which will instantly make you reminisce about your own school days. The movie showed a very special and beautiful relationship between mother and daughter, and this song will make you aptly relive that too.
8. Teri Ungli Pakad Ke Chala
Film: Laadla
Music: Anand-Milind
Singer: Udit Narayan, Jyotsna Hardikar
The doting love that a son feels for his mother can be felt in this emotional number from the 1994 Bollywood drama. It stars one of the most loving and doting Bollywood mom, Farida Jalal. The song is your quintessential indebted-to-you-mother number.
9. Mumma
Film: Dasvidaniya
Music: Kailash Kher
Singer: Kailash Kher
'Dasvidaniya' tells the story of a 37-year old single man whose days get numbered as he finds out he has only another 3 months to live. With a list of 10 things he wants to do before he dies, he sets out on a beautiful journey of life. One of the 10 things on his list is this song, which is equal parts hopeful and sad.
10. Maine Maa Ko Dekha Hai
Film: Mastana
Music: Laxmikant Pyarelal
Singer: Lata Mangeshkar
This song aptly reflects the pain of a neglected child growing up in a rich household. Nain-Tara, a young child, has a mother but longs for the mother to actually love her and care for her, look after her, the way a mother would.
11. Maa Ka Phone Aya
Film: Khoobsurat
Music: Sneha Khanwalkar
Singer: Priya Panchal
Any person who has an overbearing mother, who doesn't really understand words like space, privacy, and freedom, will relate to this hilarious number. One fun tip – you can set this as the ringtone for your mother's number in your cell phone!
12. Meri Duniya Hai Maa Tere Aanchal Mein
Film: Talaash
Music: S. D. Burman
Singer: S. D. Burman
S. D. Burman has given us some of the best music we know of. However, the best of his songs include the ones in his own unique voice. This song will pull at the right chords of your heart, and will definitely make you want to hug your mommy!
13. Chunar
Film: ABCD 2
Music: Sachin-Jigar
Singer: Arijit Singh
Mothers can help mould and shape life, through their actions while they are alive, and through their teachings after when are not with us. And that is what this song highlights – a son struggling to avenge himself, keeping his mother's example in front of his eyes.
14. Mumma Ki Parchai
Film: Helicopter Eela
Music: Amit Trivedi
Singer: Ronit Sarkar
You will totally relate to the lyrics of this song if you have a helicopter mom. This movie brings out the goofy relationship between a mother and son, and the song 'mumma ki parchai' (the literal meaning of which is a mother's shadow) cannot have been penned better. It sums up the over-protective and over-bearing nature of the character Eela, who goes above and beyond her ways to be with her son. No one could have portrayed the role of Eela the way Kajol did!
15. Maa Da Laadla
Film: Dostana
Music: Vishal Shekhar
Singer: Master Saleem
While this isn't exactly a 'mummy' song, we can so imagine Indian mothers going bonkers and having melodramatic reactions to their children's life as depicted by Kiron Kher in this song! The song also aptly captures how a mother can excessively worry about her child, and in the process drive herself and people around her crazy!
16. Maa to Hai Maa
Film: Paanch Qaidi
Music: Bappi Lahiri
Singer: Kishore Kumar
The lyrics of the song Maa to Hai Maa define mothers around the world so aptly. The song starts with the line 'maa to hai maa, maa to hai maa, maa jaisa dunia me koi kaha' and conveys everything that a child would want to say to his mother. Go ahead and sing this song to your 'maa' this Mother's Day.
17. Maa Hai Mohabbat Ka Naam
Film: Maa Ka Aanchal
Music: Madan Mohan Kohli
Singer: Mohammed Rafi
A mother sacrifices her life for her children; she goes above and beyond to make sure that she meets her kids' demands. And she never asks for anything in return. This is what this song is about. And the soulful voice of Mohammed Rafi will definitely reach out to your heart.
18. Kaun Si Hai Wo Cheez
Film: Jaisa Ko Taisa
Music: Rahul Dev Burman
Singer: Asha Bhosle, Kishore Kumar
This song from the movie Jaise Ko Taisa stars Jeetendra and Reena Roy in the lead roles. The story revolves around look-alike twins who get separated at birth. One grows up as a hard-working farmer and the other in a wealthy family. Their life changes, when their places are switched. The songs of the movie are also very beautiful. The lyrics of the song 'kaun si hai wo cheez' convey the emotions of a son who could never receive his mother's love. You can find everything here, but you can't find a mother. A child's life is because of his mother! This is what the song is all about. So play this song for your mother and make her known how grateful you're for her existence!
19. Luka Chuppi
Film: Rang De Basanti
Music: A.R. Rahman
Singer: Lata Mangeshkar, A.R. Rahman
We know that this song does not have a happy note to it, but it's a must include in our list of Mother's Day songs. This beautiful song penned by Prasoon Joshi still leaves us teary-eyed whenever we listen to it. It gives an insight into a mother's heart who is grieving the loss of her son. This song conveys that a mother is never tired of seeing her children and is always worried about them no matter how old they grow.
20. Maa Tujhe Salaam
Album: Vande Mataram
Music: A. R. Rahman
Singer: A. R. Rahman
Surprised? Well, isn't our great beloved India our mother too? This song captures patriotism like none other, and also makes for a great dedication to our mothers, along with 'Mother' India, and 'Mother' Earth.
21. Meri Pyaari Ammi
Film: Secret Superstar
Music: Amit Trivedi
Singer: Meghna Mishra
This beautiful song holds the movie's tone; that is a tale of a girl fighting patriarchy at home and finding her mother helping her out. This lovely song written by Kausar Munir is a must-play this Mother's Day.
22. Janam Janam
Film: Phata Poster Nikhla Hero
Music: Pritam
Singer: Atif Aslam
A list of Bollywood songs about mothers is incomplete without this one. This song is sung by Atif Aslam and composed by Pritam Chakraborty.
23. Phool Jaisi Muskaan
Film: Taqdeerwala
Music: Anand-Milind
Singer: Kumar Sanu, Sadhana Sargam
"Phool Jaisi Muskaan" is a beautiful song that captures the essence of a sweet and innocent smile. Its melody and lyrics are sure to uplift one's spirits and bring a sense of joy.
24. Meri Maa Song
Album: Mother's Day Special Song
Music: Javed-Mohsin, Danish Sabri
Singer: Jubin Nautiyal
"Meri Maa" by Jubin Nautiyal is a touching tribute to a mother's love.
These are some of the best Mother's Day songs in Hindi. Sing or play these songs for your mother and wish her a Happy Mother's Day!
Also Read:
Unique & Creative Mothers Day Gift Ideas
Heart Melting Mother's Day Poems and Songs