Neha Dhupia Joins the New Moms Club, Blessed With a Baby Girl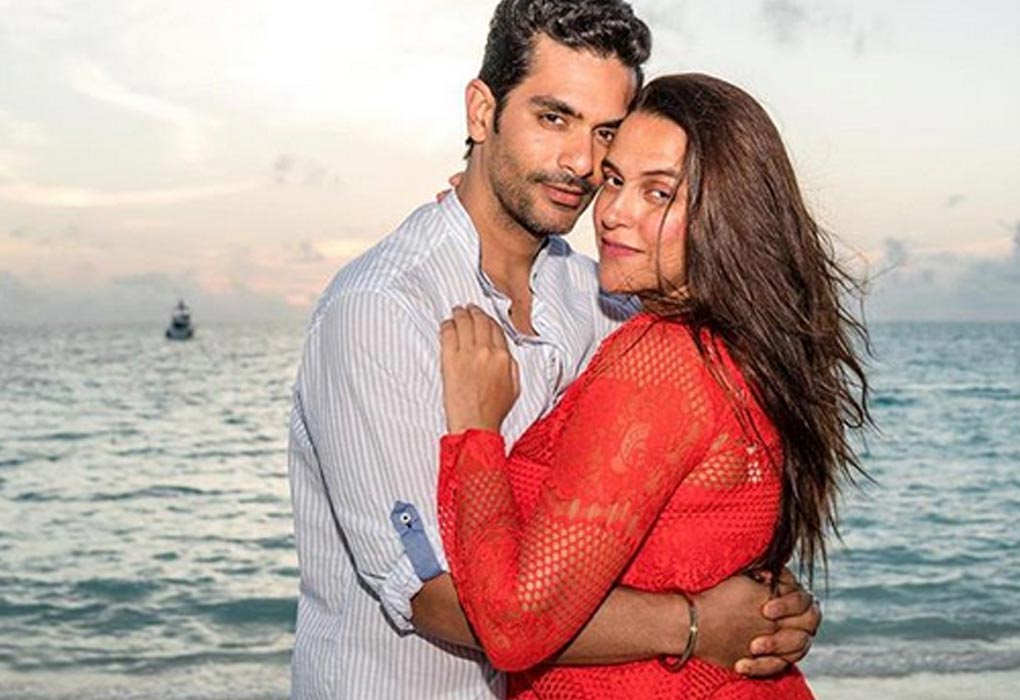 Neha Dhupia and Angad Bedi welcomed their first child, a baby girl, on the 18th of November, Sunday! Friends and family have been pouring in their congratulatory messages to the happy new parents. The couple's friend Sophie Choudry was the first to take to social media to wish them on the happy occasion.
Yaayy it's a girl💖👧🏻 Congrats my dearest @nehadhupia & @angadbedi on the birth of ur princess!!May she be blessed with good health & happiness always! And with u two as her parents, I know her life will be full of love & laughs! Here's to a truly special chapter in ur lives!😘🤗 pic.twitter.com/Hq28fEWDWU

— Sophie C (@Sophie_Choudry) November 18, 2018
The couple got married in May just a few days following Sonam Kapoor's wedding, and in quite a hushed-up and intimate ceremony, taking netizens by surprise, and putting to rest the rumours of their relationship. However, the real surprise came when the news of Neha's pregnancy was announced by the couple with these gorgeous pictures!
https://www.instagram.com/p/Bm3LHxolDAA/
On Pregnancy
As soon as the news of Neha's pregnancy was announced, there were speculations about whether the baby was conceived before the couple got married.
https://www.instagram.com/p/BilwBTDFIL_/
While the couple refuted these rumours at the time of their wedding (which also had people guessing!), Angad Bedi admitted to this fact just a few days ago when he appeared on Neha's podcast show #NoFilterNeha. However, Neha had also previously mentioned that the real reason she wanted to keep her pregnancy under wraps was that she was quite worried that she wouldn't be offered work anymore. In fact, before she made the news public, the actress was also body-shamed for putting on weight and wearing loose clothes.
But the mom-to-be didn't slow down on her pregnancy journey, working hard even till the last few days leading up to the baby's arrival. While she didn't intend on taking a maternity leave, she made sure to clarify that she respected other women who wanted their time off, and that it was just her choice to continue working. Indeed, she appeared in the movie 'Helicopter Eela', and hosted the makeover show 'Styled by Neha' and '#NoFilterNeha' during her pregnancy, among other shows. She also walked the ramp with Angad Bedi during Lakme Fashion Week, the second actress to do so after Kareena Kapoor, and looked ravishing while at it!
Her husband has been extremely supportive and full of praise for Neha as well. He had credited Neha's parents for her confidence and the way she has carried herself throughout the pregnancy, with plenty of strength and grace. Look at the gorgeous actors slaying the ramp at Fashion Week!
https://www.instagram.com/p/Bm7wI85lUrI/
On Her Diet and Fitness Regimen
In an interview, Neha shared the tips and tricks that helped her stay fit and healthy during her pregnancy. Her advice to other women was to find out what suits them best. If keeping active and working helps you, then powering through pregnancy is exactly what you should do; if loads of rest is in order before the big birthing experience, then that's what you should focus on, according to Neha. As per her doctor's advice, Neha continued her pre-pregnancy habits when it came to her diet or exercise.
One good thing that worked out for Neha is that her cravings were for healthy food – as long as there were tomatoes in her dishes in the first trimester, she was happy. The cravings shifted to okra and ghee rotis in her second trimester, then savoury items right in the middle of the night! She had five meals a day (mid-morning and evening snacks included); smaller meals more often during the day helped her sail through morning sickness in her sixth and eighth months. Other healthy snacks that were part of her diet included soaked and peeled almonds (6 a day), sugar-free granola with milk, and gluten-free pizza, apart from home-cooked meals. Neha mentioned that she had the tendency to put on weight slightly quickly; her mother's advice not to eat for two but just enough for one hungry adult helped her regulate her meals, and thus, her weight, throughout her pregnancy.
https://www.instagram.com/p/BptwSUAn0KH/
Neha supplemented the benefits received from her diet with exercise too. Given that her stamina was strong enough for her to continue certain intensive workouts, she put it to use during the first few weeks of her pregnancy while shooting for an adventure show and pulling off some praiseworthy stunts. However, she mentioned the importance of sticking to what is routine and not trying out anything new during pregnancy, and that too with professional guidance and advice only. She also maintained her swimming and yoga routines for a good duration of the pregnancy, giving it up when it didn't agree with her body. Her background as an 'army child' helped her stick to her fitness regime.
Interview Source – Mumbai Mirror
Neha Dhupia's Pregnancy Fashion
The actress stayed true to her signature sense of style during her pregnancy. In the initial days when the news hadn't yet been revealed, Neha's Instagram pictures feature her in breezy patterned clothes with oversized accessories. But the style diva that she is, none of these clothes looked out of place; if anything, it was quite a smart (and pretty!) way to hide the growing bump!
In fact, moms-to-be can actually use Neha Dhupia as inspiration to style their own '#StyledByNeha' pregnancy looks, with these few tips!
1. Oversize and lightweight is the way to go
Not only does it give you more room and comfort, but it can also be used to create an easy-breezy-Boho-chic look!
https://www.instagram.com/p/Bp65zAPn-Tr/
2. Layering up does not make you look fat
On the contrary, it lends sophistication to your look and also helps cover the bump, if that's something you're looking for.
https://www.instagram.com/p/BoJHDYAFKAQ/
3. Accessorise
Oversized and chunky accessories can play up any look, especially if you're wearing solid colours.
https://www.instagram.com/p/BmsGV4nF9CO/
4. Empire-line silhouettes are your best friend
Comfort and style in one look; what more could you ask for!
https://www.instagram.com/p/Bns_NdlFJ-W/
Neha Dhupia's baby shower was another event that was celebrated with much glamour and style; take a look!
https://www.instagram.com/p/BoY7_a_lbeY/
https://www.instagram.com/p/BoXF3xwll7z/
https://www.instagram.com/p/BoW9JZfA35x/
We wish the new parents all the happiness with their bundle of joy; welcome to the world, Junior Bedi-Dhupia!
Also Read: Neha Dhupia and Angad Bedi Share First Glimpse of Their Baby Girl 'Mehr'