10 Hottest Bollywood Dads Whose Kids Are Their World!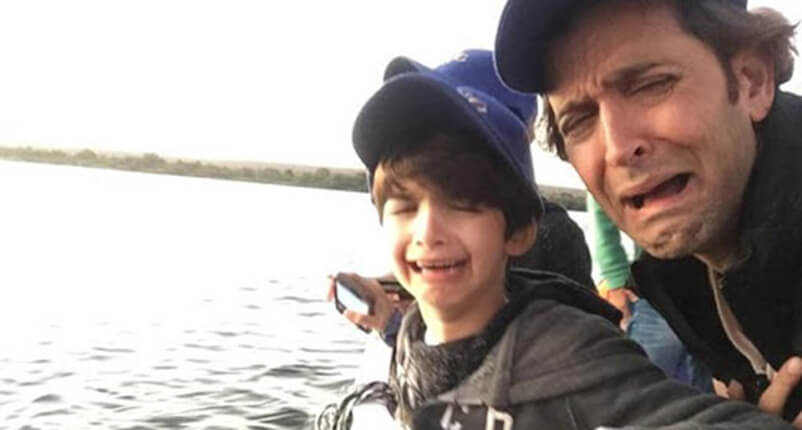 This is it ladies! Get ready to sigh when you see these hot dads go gaga over their little ones. Whether it is advocating the 'children are your friends' theory or keeping them away from the limelight – these celebrity dads are creating quite a buzz!
It's time to see who makes the A-list of the hottest celebrity dads in the country! It's going to be tough choosing between first-time dads sharing cuddly moments with their tots and veterans in the field of parenthood stealing our hearts with their sweet gestures.
Here's our list of the top celebrity Dads this year. Get ready for hotness!
1. Hrithik Roshan
https://www.instagram.com/p/BSMMAUcAojk/

The divorce might have broken things up between the Hrithik and Sussanne, but that doesn't deter the yummy dad to spend quality time with their children, Hrehaan and Hridhaan. Hrithik is often seen taking his two adorable boys to award functions, to exotic holidays, and even to their school Sports Day. Recently, on a holiday in South Africa, the trio went crocodile hunting! Now you know the reason behind those 'crocodile tears' on their faces! Hrithik also gets his sons to join him for his workout sessions and proudly claims that they emulate him the best they can. It is always a proud moment for Daddies to find their kids looking up to them and copying them in little ways…Here's a Dad who not only knows how to make his kids brave and daring but also makes sure everyone has a lot of fun while at it!
2. Imran Khan
https://www.instagram.com/p/BX0VEEDBTvc/
Dads, listen up! This man here is sure to get your wives comparing (if they weren't already thanks to his chocolate looks)! Everyone is still gushing over his decision to take off from work and be by his pregnant wife, Avantika's, side. Proud father of Imara, Imran is a pro at changing diapers, bottle-feeding the baby, and is known to keep a check of Imara's room wherever he is through a camera.
Is your husband also an expert at sharing parenting responsibilities? Share with us your story in the Best Dad Ever Contest and win exciting prizes!
3. Akshay Kumar
https://www.instagram.com/p/Bo62XeUB1PF/

All dads must take a page from his book on parenthood. No matter how busy his schedule, he always manages to take time out to spend quality time with the kids, Aarav and Nitara. Being an army man's son, he makes sure his kids follow a disciplined lifestyle. Twice in a week he takes his son, Aarav, out for a run before he goes to school and if that wasn't enough even lets his daughter paint his toenails. Sigh!
4. Farhan Akhtar
https://www.instagram.com/p/yHDZ1JldCZ/

The versatile and multitalented actor is definitely one of the hottest celebrity dads around. We absolutely love the way he has been juggling his busy schedule while being a husband to Adhuna Akhtar and father to two beautiful daughters, Shakya and Akira. When asked, the Rock On star melted our hearts by saying that he misses his daughters when he has to go off for a long shoot.
5. Abhishek Bachchan
https://www.instagram.com/p/Bo66lkBjldA/
With a father that the entire nation looks up to, the younger Bachchan has some big shoes to fill in. But that doesn't stop him from being the perfect hot Indian dad and be on this list. One cry from the baby doll Aaradhya has papa running to her! What more! A shoot abroad means Jr. Bachchan must have both Aaradhya and Aishwarya by his side because like he says "it's impossible to stay without them."
6. Ajay Devgan
https://www.instagram.com/p/BqAgHo3AXGd/
This brooding sexy man is married to Kajol and plays daddy to two children, Nysa and Yug. What makes him the best dad? Ajay Devgan makes sure that he doesn't make any movies that his kids can't watch. He likes to teach his children by example. Now that's one principle you need pure love to follow.
7. Arjun Rampal
https://www.instagram.com/p/BjU9MgXgy3v/
Blessed with two beautiful daughters, Myra and Mahikaa with wife Meher Jesie, he is definitely one of the hottest dads that India has ever seen. With his drop dead good looks, Arjun Rampal likes to keep things real at home and treats his kids as friends. He believes in giving full support to whatever his children want to do and will never deter them.
8. Aamir Khan
https://www.instagram.com/p/BqeZTncnKOD/
A man who likes keeping his personal life personal, Aamir might not be spilling the beans on his family. But that doesn't stop him from having them on movie sets for shoots! He's seen accompanying his three children, Junaid, Ira, and little Azad to tournaments, and awards. He's known to give his full support to the causes that his children support and the dreams they have.
9. Saif Ali Khan

https://www.instagram.com/p/BdcKdlFFrbj/
The epitome of the perfect modern dad, Saif has two children, Sara and Ibrahim, with his ex-wife Amrita. This cool dad gives his children the freedom to make their choices (and mistakes). He has been spotted with his children at award functions, movie screenings, and dinner dates. His children were seen enjoying his wedding with Kareena Kapoor and that says a lot about how well he manages being a father.
10. Shahrukh Khan
https://www.instagram.com/p/Bq4P7WsgIrX/
Finally, King Khan had to be in our list, right? The self-made superstar has three doting kids – Aryan, Suhana and the little cutie AbRam. The group loves spending time together over family dinners, vacations and IPL matches. Guess what SRK loves the most about his kids? The fact that they don't let fame and media attention get to their head. Now, that's smart parenting!
No matter how busy these chiseled and groomed dad's are, they make plenty of time for their family. Watching them play with their tots even at important events is sure to make your heart melt. Now this is called being a role model that too with good looks to match!