20 Bollywood Star Kids To Watch Out For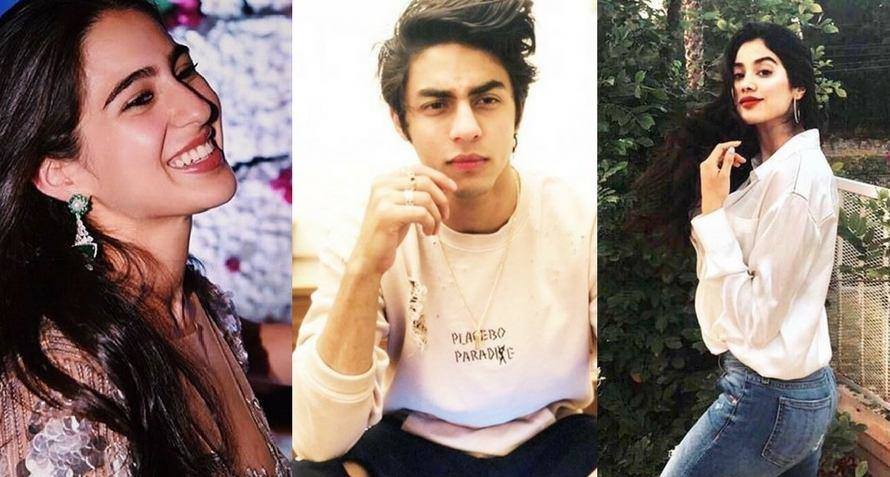 In this Article
Life of Bollywood star kids always interests us. Their massive presence on Social platforms makes us want to dig deeper to know what is going on in their lives. Know who are the most famous celebrity kids of Bollywood.
Don't you feel envious when kids much younger than you are, own a grand car and go for a vacation in Italy? By their appearance it may seem that they are living a simple life—by wearing a plain white shirt and a pair of faded blue jeans—a subtle logo or a tag will reveal just what a fortune those clothes cost.
Some kids in India are born with silver spoon in their mouth, and no matter how much their parents try to keep them grounded, their pictures show otherwise. When it comes to Bollywood kids, the kind of stardom they enjoy will fill you with envy and rage. They live their life to the fullest and do not even accept they have the privilege of nepotism. They have everything we long for but is a distant dream and with minimal effort.
20 Star Kids to Watch Out For
These young kids have everything—fame, wealth, and fans (just because they are star kids!) Read to know about these who are these star kids who are living their lives king size at the cost of their parent's struggles!
1. Ahaan Pandey
Ahaan Pandey is Chunky Pandey's nephew. And his Instagram account will show you how star kids blossom while the seeds are sown by someone else. He is already a social media favourite and from his pictures, you can see that he already has an attitude that actors have after having done 20 successful movies in a row.
https://www.instagram.com/p/Bd7ZZXTn4IL/
2. Aryan Khan
Aryan Khan, son of Bollywood's superstar Shahrukh Khan, doesn't need any introduction. He already has enough fans that will only increase with time. He has worked as a child actor in his Dad's mega movies. He is always in the limelight, thanks to the paparazzi.
3. Suhana Khan
The next on this list is none other than Shahrukh Khan's lovely daughter-Suhana Khan- who also has his looks. Seems like this young diva is all set to make a grand entry in Bollywood.
4. Ahan Shetty
Ahan Shetty is Sunil Shetty's son; his looks say it all. Although this star kid is not much in limelight, his Insta account shows his way of enjoying his father's stardom is different. You will come across many pictures of him vacationing abroad and amazing photographs of the places he has visited, and who wouldn't love clicking pictures if you are holidaying in 'The Bahamas' and 'Naples'!
5. Karan Deol
Karan Deol, son of famous action star Sunny Deol, is soon going to make his debut in Bollywood; the movie is being directed by his own father. Who needs to be launched by others if the blood of Bollywood is so potent in your own family? But this star kid shies away from the media and is hardly seen in any parties.
6. Sara Ali Khan
Daughter of Saif Ali Khan and Amrita Singh has already started working on her debut film and has all the glamour and glitz of a future superstar. This young Princess with her bold and confident looks will soon be the next queen of Bollywood.
7. Jhanvi Kapoor
She is always in the spotlight, be it for her dazzling looks, her long-awaited debut film with Ishaan Khattar or because of her resemblance to her mother. On seeing her pictures on Social platforms you will feel like a mere mortal. This beautiful lady has the same innocence in her eyes that her mother had and is already being appreciated by all.
https://www.instagram.com/p/BbiqgJwB0Ue/
8. Pranutan Bahl
Pranutan Bahl is Mohnish Bahl's daughter. She is a law graduate and whether or not she will make an entry in Bollywood or not is not known. But this elegant lady is sure carrying forward the legacy of her grandmother Nutan, who was a famous actress of her times. She is not followed by media like other star kids but she sure has all the reasons to be.
https://www.instagram.com/p/BRfS-xPF-lt/
9. Aarav Kumar
This young lad is following his father, Akshay Kumar's steps. Though both his parents try to keep him grounded, media, of course, goes out of the way to spill water on their efforts. Steadily he is turning into a handsome guy and is one of the most sought-after star kids.
10. Aaliyah Kashyap
Aaliyah Kashyap is the daughter of famous director Anurag Kashyap. From the looks of her social media, she is already an internet celebrity and sure knows how to live a celeb life.
https://www.instagram.com/p/Ba6VERHlRNI/
11. Jamie Lever
We all have appreciated Johnny Lever's comic timing, his tone, and the ease with he said his dialogues. And his daughter, Jamie is also on his path. With comedy in her genes, Jamie opted to continue the legacy. She is a stand-up comedian and has also appeared as a host in comedy shows on Television. Check out her Insta account, this charming stand-up comedian is an eccentric beauty!
12. Ibrahim Ali Khan
He is Saif Ali Khan's son and looks just like young Saif did. He started his career as a child actor in his dad's films. He too has many followers on social media so let's see what the future holds for this good-looker.
13. Navya Naveli Nanda
Navya Naveli is the daughter of Shweta Nanda and granddaughter of legendary actor Amitabh Bacchan. The family name and her looks have grabbed her many followers on her Instagram account. She is a pure beauty and we're sure if she chooses to enter Bollywood, she will have a fan following matching up to her family name.
https://www.instagram.com/p/BXejOHngEQA/
14. Aaliya Ebrahim
Aaliyah Ibrahim, daughter of famous 90's actress Pooja Bedi is getting much attention because of her fashion sense. She is a fashion icon and is popular for her bold and confident looks.
15. Ira Khan
Ira is the daughter of Mr. perfectionist, Aamir Khan and Reena Dutta. Like her father, she keeps her life private but how this perfectionists' daughters turns out to be we will have to wait to see.
16. Junaid Khan
Junaid Khan, son of Aamir Khan and Reena Dutta likes to keep it low. This low-profile star kid is nothing like other Bollywood celebrities kids. He has a degree in theatrics and made his stage debut with his mother.
17. Ananya Pandey
Ananya Pandey is the daughter of Chunky Pandey and looks simply stunning. From her pictures on Instagram, she appears to be a fashion diva and is a total party person. And from her slim figure and alluring looks, it seems she is getting ready to slay the audience.
https://www.instagram.com/p/BgObUOiFHjU/
18. Ishaan Khattar
Ishaan Khattar is soon going to appear in Karan Johar's production alongside Jhanvi Kapoor. Ishaan is Shahid Kapoor's half-brother and made an appearance as a child actor in Shahid's movie, Vaah! Life Ho To Aisi.
19. Arhaan Khan
Arhaan Khan is Malaika Arora and Arbaaz Khan's son. He sure is not much captured by media but on Instagram, he has more than 60K followers. In his photographs, he is seen having fun, partying, vacationing, and living the 'good life' to the fullest!
https://www.instagram.com/p/3dnH9KFKkn/?utm_source=ig_embed
20. Shanaya Kapoor
Shanaya Kapoor is the daughter of Sanjay Kapoor and Maheep Sandhu. Owing her looks to her mother, this beautiful girl is friends with SRK and Chunky Pandey's daughters Suhana and Ananya respectively. They have been seen partying together on multiple occasions. Well, to be friends with stars you need to be one of them.
These were some of the kids who are shining in the limelight of stardom their parents have earned. They know not yet, how powerful fame is and how it's absence can leave one in the bylanes of anonymity.