7 Bollywood Moms Share Their Favourite Ways To Dress Up Their Kids!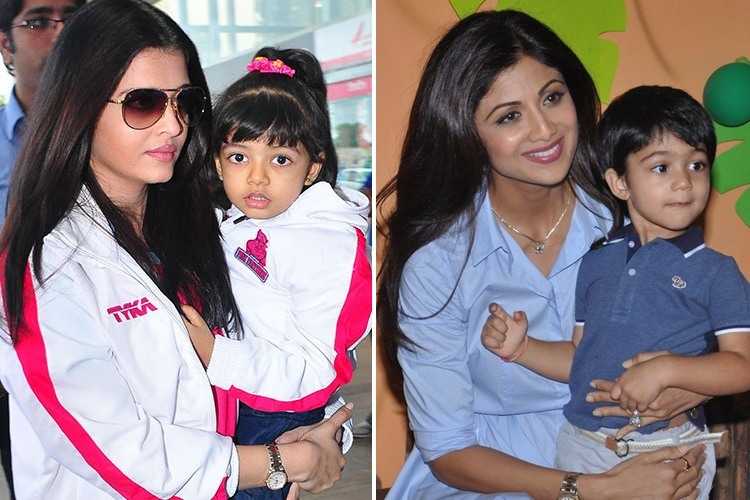 In this Article
Motherhood is hard – very, very hard – but it is full of little perks. There's your child's innocent smile, an impromptu hug and messily drawn I love you, Mom greeting cards. But the inane tantrums, messy rooms and picky eating aside, one of the most fun bits of parenting is this – dressing up your children!
As moms, we adore styling our kids in different clothes, clicking pictures and making sure they have the very best in the style department. Bollywood moms are exactly like that too as we found out when they shared how they dress up their kids.
How Bollywood Moms Dress Up Their Kids
1. Aishwarya Rai
Does this little lady need an introduction? One of the most adorable and famous star kids, Aaradhya often accompanies mommy at various events. Aishwarya loves to dress up the apple of her eye in cute and comfortable clothes in various colours.
However, going by the various shades of pink in her closet, pink is the little girl's favorite color. With matching hair accessories, shoes and socks, Aishwarya makes sure that Aaradhya is always fashionably dressed for any event.
Does your little girl love pink too? There's no harm indulging her choice of colour; her choices are sure to expand as she grows up.
2. Kareena Kapoor
The little Taimur is already a big celebrity! Bebo likes dressing her son in comfortable, casual clothing. He is mostly seen wearing cute jammies and tees in colourful colours like red and blue. Sometimes, Bebo also dresses him up in shirts with cutesy flourishes like a Mickey Mouse badge. We can't help thinking he looks as dapper as Daddy, what do you think?
3. Gauri Khan
Even on an outing with his father, AbRam is the center of everybody's attention! With his casually stylish jeans, t-shirts and complementary shoes, it is easy to see why. He is so trendy that it is easy to find replicas of his outfits on many online shopping sites. Quite the hero he is already!
Just like Gauri, Suhana loves to experiment with her style. So far, she has been seen in various ethnic and western wear, such as Anarkalis, jumpsuits and A-line dresses. Aryan, on the other hand, takes after his father. He has been photographed wearing both jeans and t-shirts and stylish suits. We think they are a good example of how tastes differ among siblings!
4. Twinkle Khanna
Although her parents have mostly kept her out of the limelight, the few times Nitara has been spotted in public is enough to say that she is a fashionable little girl. Dressed in pastel frocks of pink and peach and matching hair accessories, her mommy clearly believes in keeping things casual and girly. Twinkle's son, Aarav, is as fasion conscious as his dad. Earlier this year, he outdid Akshay when both wore suits at the International Fleet Review. So much style!
5. Shilpa Shetty
The designer mum ensures Viaan is comfortable at all times by dressing him up in casuals and jeans. In cool tshirts that are generally white and blue, the little one always looks calm and relaxed. Definitely a tip to remember when styling children – comfort is paramount!
6. Sushmita Sen
Sushmita Sen's daughters Renee and Alisah have often made appearances with her on the ramp. Older daughter Renee has definitely inherited mommy's great sense of style, and Alisah is not far behind. Despite their significant age gap, both girls have been seen wearing matching outfits. The siblings also have a shared love for colourful accessories such as floral tiaras and funky hairbands.
7. Karisma Kapoor
Karisma is one of the most stylish Bollywood mommies, and she makes sure her kids are as well turned out as her. Both Samaira and Kiaan have made appearances in various types of clothes, ranging from comfy casuals to stylish party wear. The siblings often wear matching outfits, and recently, even Karisma wore an outfit that complemented what her kids were wearing. Like Mamma, like kiddos!
Do you also have a styling tip that you love as a parent? While it never is a good idea to obsess too much on fashion and accessories (and yes, that applies to us too!), it can be good fun to occasionally let yourself go. Dress-up time can be a good opportunity to bond with your children and show them how mom can be cool too!
So, bring on the cute hairclips, frilly dresses and smart sun-glasses. Our little ones are quite the fashion superstars!
?>