Move Over Chhota Bheem – Here Are 15 Shows Your Kids SHOULD Watch!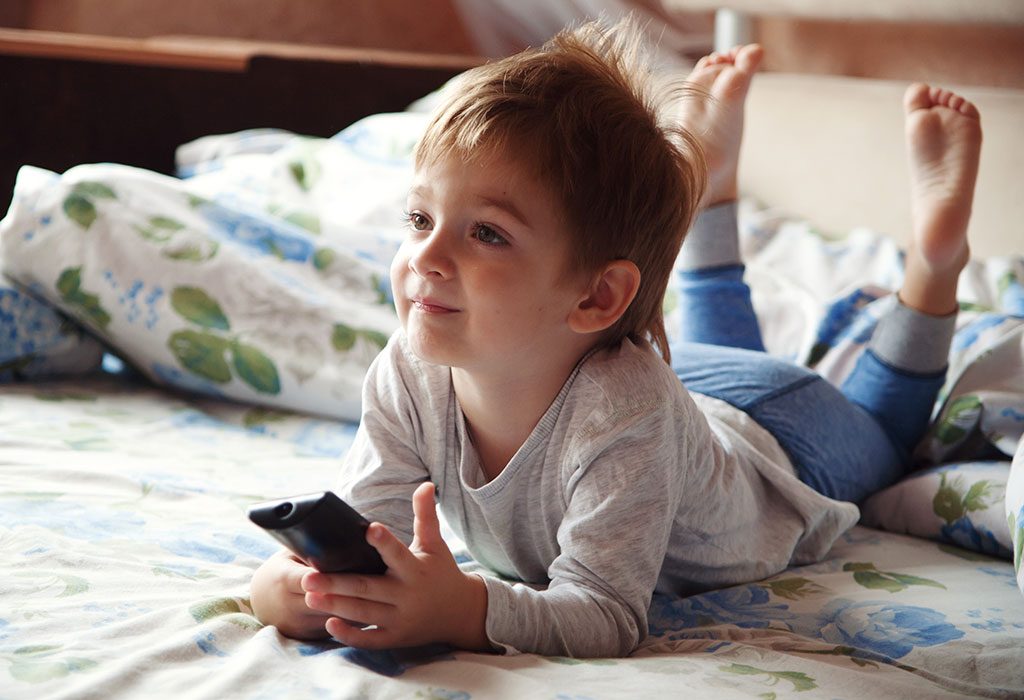 In this Article
Say "television" and "kids" in the same sentence, and most of us are up in rebellion, lamenting the ill effects of the former! TV has been known to make couch potatoes of children and adults alike, and the content shown is often inappropriate or without educational value. But wait – this isn't always the case! There are actually several TV shows that can teach your kids valuable life and educational lessons, all through the screen!
Who hasn't heard of educational TV shows? Every other programme bills itself as a family entertainer, but hey, is this stuff really useful, or even suitable for our kids to watch? Yes, some of it certainly is!
As parents in this era of thoughtful and well-researched film-making, we can tune in to some stellar shows that impart useful lessons to our children, along with entertaining them. They are all available on Netflix, some streaming services, and in CD and DVD libraries near you. From scientific concepts to learning about emotions, delving deep into space to realizing the value of hard work, these TV shows have it all!
The Best TV Shows for Kids You Can't Miss Out On
1. Curious George
Most of life's best lessons are picked up on account of one striking trait – curiosity! Kids are curious by default, and as parents, we must encourage them to explore and unravel the mysteries of life. Just like little George who, together with the Man with the Yellow Hat, learns something new everyday.
Why We Recommend It: Aside from the obvious message on curiosity, the show also teaches kids about various cognitive and scientific concepts like colors, the weather, sound and plant life. Learning with Curious George isn't just learning; it's oodles of fun!
2. Creative Galaxy
Say hello to Arty, your friendly alien next door who always has a unique solution to every problem – and yes, they are always arty! Together with his friend Epiphany, Arty goes all over the universe to unravel how people use creativity to solve day to day problems.
Why We Recommend It: This is one of the most creative representations of art we have seen and is sure to stimulate your little one. The series also has some great messages about caring for others and their hardships – yes, even people in other planets!
3. Peg + Cat
It's not just dogs who can be best friends; cats can too! Peg and her kitty travel all over the place in this delightful series. As they travel, they also learn to solve problems and make new friends – all using the essential (and often feared) Mathematics!
Why We Recommend It: This TV show wins hands down when it comes to making Math interesting. The duo uses number skills to get along their journey, coupled with other skills like rhyming and working in a team.
4. Daniel Tiger
Who said tigers can't be gentle-mannered and homely? Daniel here lives together with his family, including his grandparents, and they are one big, happy bunch of people – oops, tigers! The underlying message is that of kindness and respect – qualities that come in handy all through your life, when you learn new lessons as a child and even when you are all grown up into an adult.
Why We Recommend It: We think this is one of the best series to teach kids about interpersonal relationships and social-emotional skills. The tigers manage to beautifully tell kids to be considerate, take turns, and value the people in their life.
5. Super Why
Okay, so here's one superhero TV show that we are going to endorse. Whyatt Beanstalk and his friends can change into superheroes before they jump into books! The books contain clues to solve the day's problem – there is one each day – and the gang manages to crack them using super-powers. Except that the powers focus on literacy skills!
Why We Recommend It: If your child has started to read simple text, this show can set them off on the journey to become book-lovers. There are stark lessons on letter identification, sounds, spelling and word recognition, all thoroughly entertaining.
6. Wallykazam
If you think the name is hard to pronounce, wait till you see the adventures he gets into! This cute troll and his dragon friend Norville have fun adventures in a forest. And yes, they have a magic stick to help them out. But this is unlike your ordinary magic stick; you can actually create words and sounds with it!
Why We Recommend It: This is another striking example of educational TV that combines thrilling adventures with lessons in literacy and language skills. Your kids can learn a lot about phonics, letters and the association between letters and sounds.
7. Doc McStuffins
Never mind what our children ultimately grow up to be, they all want to be doctors when they are young! This is what Doc wants to do as well, and she has a doctor's coat and stethoscope to look the part. Doc lives in a family that belies gender stereotypes – her mom goes to work while her Dad stays back. Our little girl grows up with a lot of compassion and independence – something your kids can imbibe as well.
Why We Recommend It: If you have been looking for a way to teach your kids about germs, this is it. Doc cares about cleanliness, a healthy lifestyle, and endorses good habits all kids must develop. Plus, her rapport with her parents and her stuffed patients is endearing to watch.
8. Tumble Leaf
True to its name, this nature-friendly TV show features sweet little animals who live in harmony with the green world around them. There's the blue bear Fig and his animal friends who learn new things about Mother Nature every day, jump into puddles helter skelter, and yes, they are all tumbling cute!
Why We Recommend It: We love the way this show weaves together science and problem-solving, reading and cognitive development. There are also abundant lessons about the exciting world we live in, which is bound to arouse your child's curiosity.
9. Ben and Holly's Little Kingdom
Here's how fairy tales really need to be made. Princess Holly, Ben Elf and Ladybug Gaston are buddies who live in a little kingdom where there's lots of grass. They share adventures that are magical in every sense of the word! After all, there's always something to learn in the Little Kingdom which is, really, not so little after all.

Why We Recommend It: This is an adorable tale of friendship, magic and adventure – staple food for your child if you want him to develop a bright imagination. We especially love how all the adventures have undercurrents of kindness, teamwork and the willingness to learn from mistakes.
10. Peppa Pig
Piggies are too cute to handle and this one's no exception! In fact, we have a whole family of pigs – Peppa, her baby brother George, Mama Pig and Daddy Pig. Peppa comes across various problems typical to childhood; yes, thunder-claps can be very scary! But her family and friends always have her back.
Why We Recommend It: What we love best about this one is its focus on familial relationships, including sibling rivalry and companionship. Also, there's some super animation, not to forget the snorting!
11. Clifford
Presenting Clifford, the Big Red Dog, who is renowned for spinning any everyday situation into something spectacular! He's the pet to a little girl and rather, err, bigger than the other houses in town. He is also the perfect teacher of various human lessons, kindness and positive thinking above all.
Why We Recommend It: Well, can we just say "it's too cute"? Clifford really is endearing and the way he presents his lessons is simple enough for your kids to grasp. There's also a lot of fun, liveliness and happiness on the show.
12. Ready Jet Go
If your kids are fascinated by space and what lies beyond the sky, this show is your go-to-option. Jet Propulsion and his family leave their home planet to visit Earth. They gradually figure out how things work on Earth, and we mean in terms of human relationships as well. And oh, in case you were wondering, there is a lot of space travel that goes on too!
Why We Recommend It: Our team voted this one as the best show to understand science, astrology and space. It's lucid, intriguing and has that rush of discovery. Plus, there's also a wonderful lesson on living in a culture and setting unlike yours.
13. Dora The Explorer
Dora always has adventure up her sleeve, and Boots, her monkey, gives her full company in this! As Dora travels over rivers and mountains, using her maps and overcoming the roadblocks in her way, we can't help but be entranced. The "We did it, we did it!" at the end really feels triumphant.
Why We Recommend It: Dora's formula is simple and easy to emulate – a can-do attitude, patience and a thinking approach to problems. Though the show is a bit simplistic, it is still entertaining for young kids.
14. Octonauts
Welcome, underwater adventurers! This eight-member team led by Captain Barnacles keeps a lookout for any trouble underwater. Together, they can take on all sorts of challenges – tackling a giant squid and helping a young lobster included!
Why We Recommend It: Even as adults, we found the whole window-to-the-sea fascinating. There's plenty in here to stir imagination and creative problem-solving as well.
15. Sesame Street
Finally, this classic must be mentioned in every reckoning of TV shows that teach good values to kids. Cookie Monster, Big Bird and Oscar the Grouch all live together in this urban neighborhood. The show traces their day-to-day learnings which feel as real as if they were happening in your living room.

Why We Recommend It: There's a reason Sesame Street has carved an eternal place for itself in television history. The show has a dynamic curriculum (read script) which covers everything from letters and numbers, interpersonal relationships, healthy eating, music and dance, to even learning foreign languages!
What television shows does your kids watch? Do you have another suggestion that could feature here? Tell us in the comments below.