10 Simple and Delicious Paneer Recipes for Kids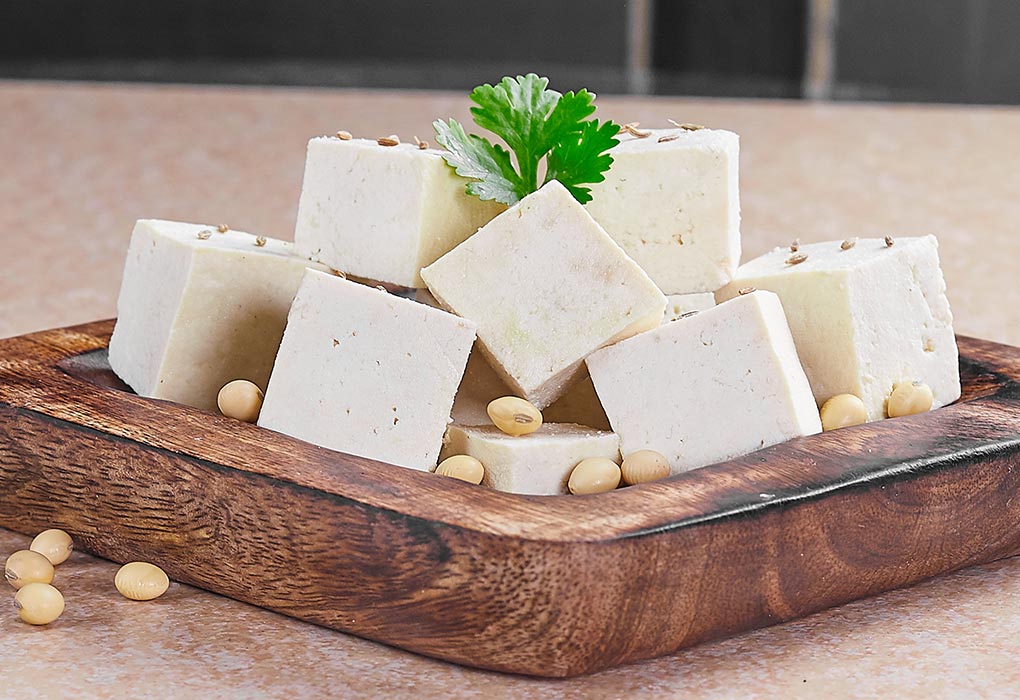 Most vegetarians look up to paneer as their favourite dish. Whenever they go out for dinner or lunch, the first thing they look for in the menu is some paneer dish. And why shouldn't they? It tastes delicious. It also contains essential nutrients and is rich in calcium and protein. Paneer, also known as cottage cheese is widely used in Indian dishes. As a mom, you keep looking out for new recipes for your kids, don't you? So, here are 10 easy paneer recipes for kids that are easy to prepare and delicious to taste.
Video: 5 Delicious and Quick Paneer Recipes for Your Kids
Easy & Quick Paneer Recipes for Children
If you are looking for some amazing paneer snack recipes for kids that can easily go in their tiffin boxes, then your hunt is over. Here are some easy recipes that you can start making within no time.
1. Tandoori Paneer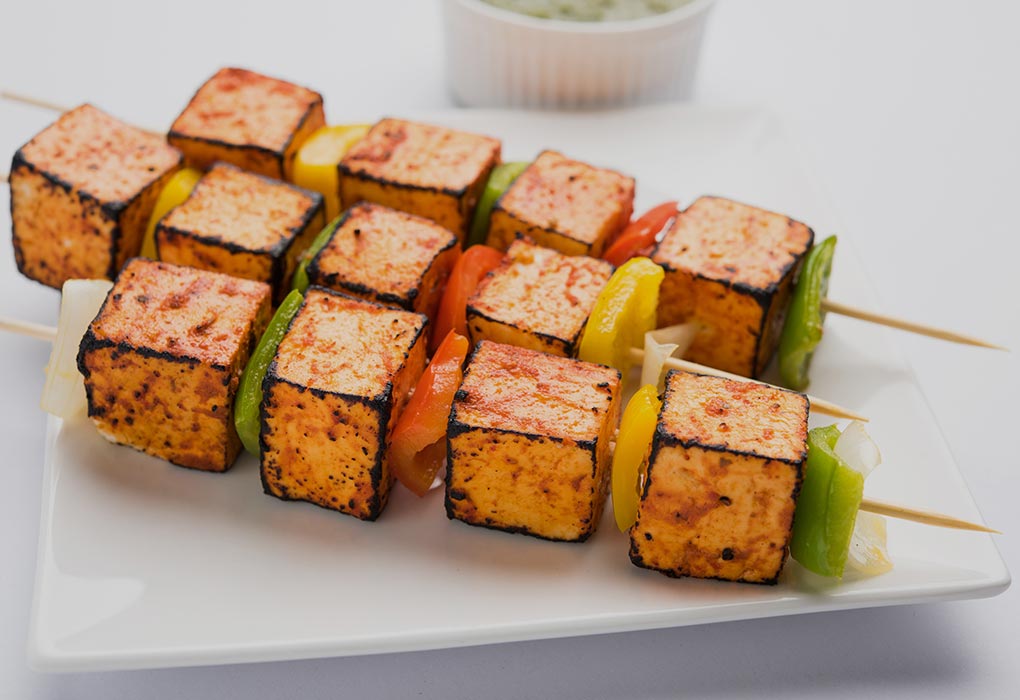 Ingredients
Paneer cubes
Marinade
Greek yoghurt
Mustard oil
Lemon
Grated ginger
Garam masala
Crushed garlic cloves
Dried fenugreek leaves
Finely chopped green chilli
Red chilli powder
Salt
Crushed cumin seeds
How to Make
Add chilli, garlic and ginger in a mixer and grind well.
Place the paneer cubes in a dish and add the ginger garlic paste over it along with lemon juice and some mustard oil.
Mix all the other ingredients in a bowl along with yoghurt to make a paste. Add this to the paneer and marinate for an hour.
Place the cubes on an oven tray and bake them for about 15 minutes.
Later, skewer them using bamboo sticks, flanked with onion and pepper, and barbecue them like kebabs.
Serve them with a delicious meal and watch your kids salivate over them.
2. Paneer Pasta

Ingredients
Cooked pasta
Finely chopped paneer
Finely chopped onion
Finely chopped tomato
Ginger garlic paste
Tomato sauce
Red chilli powder
Garam masala powder
Coriander leaves
Oil
Salt
How to Make
Heat some oil in a pan and add onions and ginger garlic paste to it. Sauté it till golden brown. Then add finely chopped tomatoes with tomato sauce and cook it for a few minutes.
Add a few cubes of paneer and mix them together. Add some water and cooked pasta in it.
Keep stirring until it is mixed evenly and cook it on the medium flame for a few minutes.
Add some coriander and garam masala to it and mix it properly. Later, garnish with grated paneer.
Pair this delicious dish with some soup and watch your kids drool over it.
3. Paneer Roll

Ingredients:
Crumbled paneer
Mozzarella cheese
Breadcrumbs
Finely chopped onion
All-purpose flour
Salt and chilli powder
How to Make
Mix some all-purpose flour and water in a bowl to make a soft dough.
In another bowl, add paneer, salt, cheese, onion and chilli powder and combine them.
Roll a small ball of the dough with a rolling pin and place a spoonful of the paneer mixture on this rolled dough. Wrap the mixture with the dough and then coat it with the breadcrumbs.
Place the roll in oil and deep fry it until golden brown.
Serve it with some ketchup.
Give this to your child in his tiffin box or you can give it as an evening snack.
4. Paneer and Corn Kebab

Ingredients
Crumbled paneer
Corn kernels
Grated carrots
Salt
Oil
Finely chopped fresh coriander
Raisins
Cashews
Breadcrumbs
Turmeric
Green chillies
Amchur
Red chilli powder
Fenugreek powder
How to Make
Put the corn kernels in a mixer and grind them until they turn into a powdered mixture.
Take a bowl and add all the ingredients together, save for salt and cashews.
Separate the mixture into equal sections and make kebabs out of it. Put half a cashew in each kebab.
Place these kebabs in a refrigerator for half an hour. Following that, bake them for about 15 minutes until both sides have golden brown shade.
Paired with the right chutney, these kebabs can be the perfect option for a breakfast or an evening snack for kids, as well as the entire family.
5. Kale Paneer

Ingredients
Cleaned and chopped fresh kale
Chopped garlic cloves
Paneer cubes
Kosher salt
Whole milk
Garam masala
Cayenne
Vegetable oil
How to Make
Add some oil to a non-stick pan and toss the paneer cubes in it until they turn golden brown. When done, keep them aside in a plate.
Add some garlic to the pan and cook for a minute. Follow it up with kale and some salt and cook for a few minutes. Later, reduce the heat and let them cook for about 10 minutes, for the kale to get soft.
Add milk, garam masala, and cayenne and stir well.
Finish it up by adding paneer cubes to the kale and cook for a few more minutes.
One of the most delicious dishes of all time, this is guaranteed to leave your kids wanting for more.
6. Paneer Bhurji

Ingredients
Crumbled paneer
Small pieces of tomato
Small pieces of onion
Salt
Chilli powder
Turmeric powder
Jeera
Oil
Chopped coriander
How to Make
Take a pan and add oil to it. Add jeera and wait for it to crack. Once it does, add chopped onions and tomatoes to it.
Later add salt, turmeric and chilli powder and fry it until it cooks.
Add paneer to this mixture and sauté it for a few minutes. Garnish it with coriander for a great taste and look.
Quick, easy and delicious, this recipe is every vegetarian's delight.
7. Tawa Paneer

Ingredients
Ginger garlic paste
Paneer
Chaat masala
Salt
Chilli powder
Coriander powder
Capsicum
Oil
How to Make
In a bowl, add the paneer cubes along with all the ingredients, except capsicum. Add some water to it to make a paste. Place the paneer cubes in the mixture and let it marinate for about 4 hours.
Chop the capsicum into fine pieces and sauté it with some salt.
Take a pan and add some oil to it. Place the marinated paneer and allow it to sizzle. Follow it up by adding capsicum pieces into it.
Let it cook for a few minutes then raise the flame to slightly burn the paneer pieces on either side.
This mixture can now be used as an accompaniment or even as a filling.
Stuff this inside a paratha or pair this with some great steaming rotis for your kids to have a blast.
8. Paneer Croquettes

Ingredients:
Grated paneer
Boiled potatoes
Chopped onion
Small green chillies
Chopped cilantro
Salt
Lemon juice
Black pepper
Eggs
Corn flour
Crushed corn flakes
Vegetable oil
Chopped walnuts
Chopped golden raisins
How to Make
In a bowl, combine some boiled potatoes and grated paneer.
Add some salt, onion, lemon juice and green chillies to it along with some chopped cilantro.
Roll this mixture into small balls and stuff them with cashew and chopped raisins.
Take the cornflour mixture in a plate and roll these balls in them.
Take slightly beaten eggs and roll the balls in them.
Let the balls deep fry in oil until they turn golden brown.
Showcase this fancy preparation of paneer to your kids and watch them squeal with delight.
9. Paneer Puff

Ingredients
Puff pastry
Crumbled paneer
Vegetable oil
Green peas
Cumin seeds
Chopped green chilli
Mustard seeds
Turmeric powder
Chopped ginger
Coriander powder
Garam masala powder
Chaat masala
Black salt
Lemon juice
Chopped fresh cilantro
Salt
How to Make
Take a pan and add some oil to it. Add mustard seeds and cumin seeds, with ginger and green chilli and sauté for a minute.
Add crumbled paneer and green peas to the mixture and cook it for another minute.
Add salt and spices together and let it cook for a few minutes.
Add a dash of lemon and chopped cilantro and turn off the heat.
Take a puff pastry and open it up, dividing it into two squares.
Put a good quantity of the mixture inside the square and fold them together to create a triangular shape.
Close the edges by using a fork and bake them for about 15 minutes at 200 degrees.
It can be served with tea or coffee.
10. Paneer Cheese Rolls

Ingredients
Crumbled paneer
Mozzarella cheese
Finely chopped onion
Salt
Chilli powder
Maida flour
Breadcrumbs
How to Make
Take a bowl and add maida and water to it. Mix it together to have a thick consistency.
In another bowl, mix cheese, onion, salt, chilli powder and crumbled paneer with your fingers. Roll the mixture into small balls and flatten them into a roll.
Put the rolls in the maida mixture and then roll them through the breadcrumbs.
Take a deep pan and add oil to it. Place the rolls in it and fry them until they are golden brown.
Pair these with ketchup or pudina chutney for great taste.
Surprising your kids with a restaurant-style fancy dish will definitely get their attention and they will fall in love with your cooking. This is not only hygienic as compared to the food your kids relish outside, but also healthy enough to give your kids great nutrients.
Also Read:
Cooking Without Fire Recipes for Kids
Healthy Egg Recipes for Children
15 Delicious Bread Recipes for Kids