8 Tasty Crock Pot Recipes For Kids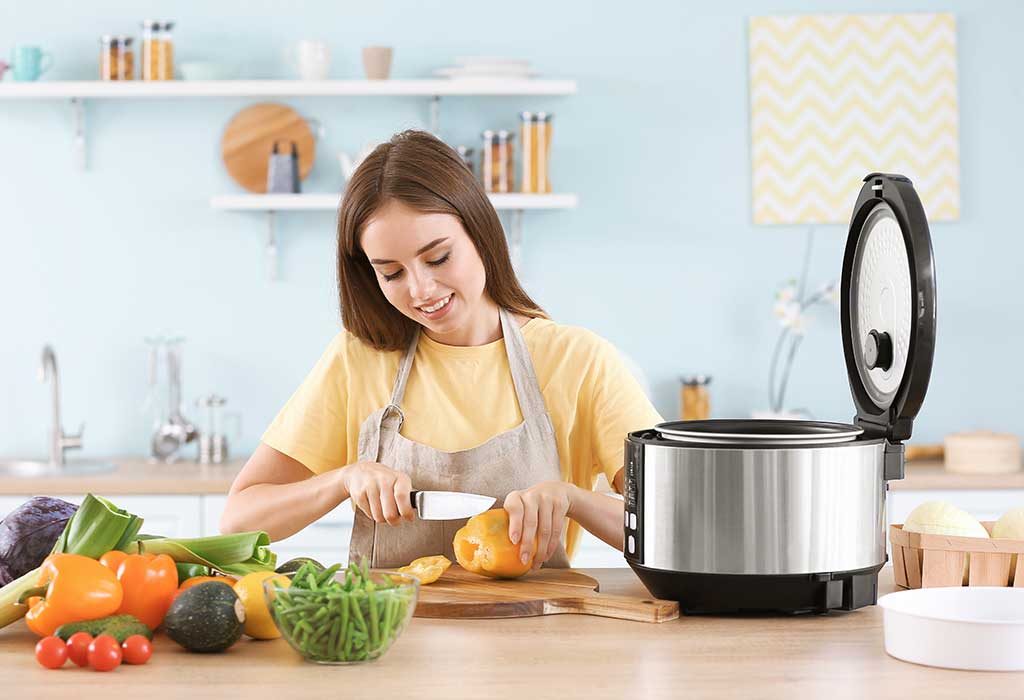 In this Article
Being a parent is a full-time job. Matching your kid's energy is almost impossible; on top of that, the worry of a wholesome meal is always on your mind. Healthy slow cooker toddler-meals is the answer for you. These dishes otherwise might take up hours of prep time and require you to be present in the kitchen. But, slow cooker/crock pot recipes for kids can help you spend those extra hours with your children while ensuring tasty, yet nourishing meals for them. Here are some simple yet delicious crock pot recipes you can make for your little one.
Delicious Slow Cooker Recipes Your Child Will Definitely Eat
The recipes require the ingredients given below and only a few kitchen equipments, one of which is a crock pot. Now is the time to unpack the crock pot your mother gifted you last Christmas and make some finger-licking good meals for your kid.
1. Chipotle Beef Tacos Topped With Pico de Gallo
Ingredients
2 lb. Lean Beef Chunks
4 Tomatoes
1 Small Jalapeno
1/4th Cup Cilantro
1 Large Red Onions
2 Garlic Cloves
Diced Avocado
1 Can of Tomato Sauce
1 tbsp Chopped Chipotle in Abodo
1 tbsp Sauce from Chipotle in Abodo
½ tsp Ground Cumin
Kosher Salt
Pepper
2 tbsp Fresh Lime Juice
Sour Cream
8 Small Corn or Flour Tortillas
Prep Time
25 Mins
Servings
4 Servings
Method
Take a 5 to 6-quart slow cooker.
Pour and stir the tomato sauce, chipotle, and abodo with the ground cumin.
Add 1/2 teaspoon salt in it.
Add 2 cloves of garlic along with thinly sliced pieces of 3/4th of the red onion. Give it a good stir.
Gently add the beef chunks to the mixture in the cooker. Place the lid on and cook the beef until it shreds easily. You can either cook it on a high setting for 4.5 to 5.5 minutes or 7 to 8 minutes on low heat.
Make the Pico de Gallo 10 mins before serving. Finely chop the remaining onion, toss it in a bowl with tomatoes, jalapeno, cilantro, lime juice and season it with 1/4th teaspoon of pepper and salt.
Once the beef is cooked, remove all the extra fat floating on the top. Shred the beef with two forks.
Warm the tortillas. Fill them with the shredded beef mixture and top it with Pico de Gallo, diced avocado, and some sour cream.
Serve the hot tortillas with lime wedges.
2. Bolognese Sauce
Ingredients
1 ½ to 2 lbs. Lean Ground Beef
2 tbsp Tomato Paste
1 Finely Chopped Medium Carrot
1 Finely Chopped Medium Yellow Onion
2 to 3 Minced Garlic Cloves
2 Finely Chopped Stalks of Celery
2 Cans of Whole Peeled Tomatoes
1 tbsp Olive Oil
2 tsp Kosher Salt
½ tsp Dried Thyme or 1 tsp Fresh Thyme Leaves
½ tsp Freshly Ground Pepper
½ tsp Dried Oregano
1/8 tsp Ground Nutmeg
1 Bay Leaf
1 Cup Milk
1 Cup Dry White or Red Wine
Cooked Pasta
Shredded Parmesan
Prep Time
25-30 mins
Servings
6-8 Servings
Method
Heat the olive oil in a skillet pan.
Add the finely chopped onion, carrot, celery to the hot oil and season with 1 tsp of salt. Cook the mix for 6-8 minutes until the onion is translucent.
Add the minced garlic and tomato paste to the mix. Cook for another 30 seconds.
Add the ground beef next. Cook until the meat is just brown.
Add the herbs – thyme, oregano, pepper, nutmeg, and the remaining of the salt. Stir the mix well.
Pour 1 cup of milk into the pan, bring it to a simmer.
Continue cooking it for the next 10 minutes until the milk is completely reduced and absorbed.
Pour the wine next, and simmer for another 10 minutes, make sure it is completely reduced.
Transfer the mixture to a 6-quart cooker.
Strain the tomatoes from the can and reserve the juice for later.
Add the tomatoes to the cooker; mash them with a ladle or squish them with your hands.
Add the bay leaf, stir the mix well.

Add the tomato juice you saved earlier from the can to the mix if it looks too dry.

Put the cooker lid and let it cook for another 6-8 minutes. Keep checking for consistency in the last 30 minutes. Let the extra juice dry up if it's too soupy, or add the tomato juice if it's too dry.
Serve the finished sauce with cooked pasta. This is one of the best kid-friendly crock pot meals that that even the adults will enjoy.
3. Slow Cooker Lasagne
Ingredients
1 lbs Ground Beef/Ground Turkey
1 Medium-Sized Onion, Chopped
4 Garlic Cloves, Minced
Freshly Chopped Parsley
2 24 ounce Cans of Marinara Sauce
10 Lasagne Noodles, Uncooked
10 Ounces of Shredded Mozzarella Cheese – About 2 ½ Cups
Grated Parmesan Cheese
1 tbsp Olive Oil
Salt and Pepper as per taste
Prep Time
20 Mins
Servings
8 Servings
Method
Heat the olive oil in a skillet pan.
Put the chopped onion in the pan. Cook it for 1 to 2 minutes until the onion starts to soften.
Put the ground beef (or turkey) in the skillet and cook until it is brown.
Add the minced garlic to the mix and cook for another 30 seconds.
Remove the skillet from the heat.
Spread 1 cup of the marinara sauce at the bottom of the cooker.
Make one layer of uncooked lasagne noodles.
Top it with 1/3rd of the meat.
Then later, add a cup of marinara sauce.
Add 1/3rd of the 2 cups of shredded mozzarella cheese. Reserve ½ cup of mozzarella cheese for later use.

Make two more layers as per the steps give above.

Make one last layer of uncooked lasagne noodles and top it with the remaining ½ cup mozzarella cheese.
Slow cook the lasagne for 4 minutes on slow heat.
Once you switch off the flame, let the lasagne rest for 20 to 30 minutes before serving.
Garnish it with grated Parmesan cheese and chopped parsley.
4. Pulled-Pork Sandwiches With Cabbage Slaw
Ingredients
1 Pork Butt or Shoulder
1/4th Cup Brown Sugar
1/2 Cup Ketchup
1 tbsp Chilli Powder (optional)
1/4th Cup Cider Vinegar
1/2 Cup Sour Cream
1/2 Green Cabbage
1/2 Cup Cilantro
Kosher Salt
Pepper
4 Rolls
Potato Chips and Pickles
Prep Time
15 Mins
Servings
4 Servings
Method
Whisk the ketchup, chilli (optional), sugar, and 1/4th cup of vinegar in a 5 or 6-quart cooker.
Add 1/2 tsp salt and pepper.
Add the pork to the cooker and toss it well. Put the lid on. Cook the pork until it is tender. You can choose to cook it for 7 to 8 minutes on low or 4 to 5 minutes on high.
45 minutes before serving, whisk together the sour cream, remaining vinegar, 1 tbsp of water, and 1/2 tsp of salt and pepper each.
Add thinly sliced cabbage to the sour cream mix. Toss is well. Let it rest for some time. You cabbage slaw is ready.
Add cilantro before serving.
Shred the pork and add the desired amount of gravy. Fill the rolls with pork and layer it with the cabbage slaw. Serve the sandwiches with potato chips and pickles.
5. Chicken Parm Meatballs
Ingredients
2 lbs Ground Chicken
2 Large Eggs
1/2 Cup Minced Yellow Onion
3 Garlic Cloves, Minced
1/3 Cup Chopped Parsley or Basil Leaves
1/2 Cup Panko Breadcrumbs
2 Cans (25 ounces) of Marinara Sauce (Divided in Two Parts)
1/3 Cup of Grated Parmesan Cheese, plus more for garnish
2 Cups Shredded Mozzarella Cheese
1/2 tsp Freshly Ground Pepper
1 tbsp Kosher Salt
1 tsp Dried Oregano
Prep Time
15 Mins
Servings
6 to 8 Servings
Method
Whisk the eggs in a bowl with a fork.
Add the breadcrumbs, Parmesan, minced onion, garlic, oregano, parsley, salt, and pepper. Mix them well.
Add the ground chicken to the bowl and gently mix it well with your hands, but be sure not to break the chicken too much.
Pour one part of the marinara sauce in a 6-quart cooker and keep it aside.
Fill a medium-sized bowl with water. Take approximately 2 tbsp. of the chicken mix and make meatballs with your hands, wetting them with water as and when required to avoid it sticking to your palms.
Place all the meatballs in the cooker with the marinara sauce. Pour the rest of the sauce over the meatballs.
Cook the meatballs on low for 6 to 8 minutes.
Open the lid and sprinkle the shredded mozzarella cheese.
Cover the lid and cook for another 15 minutes. Garnish with parsley and serve with Parmesan.
6. Chicken Pot Pie Chowder
Ingredients
12 ounces Skinless Chicken Breast, cut into pieces
2 tbsp Low-Sodium Chicken Base
12 ounces Red Potatoes, cut into 1/2" pieces
1 Medium Onion, Chopped
2 Finely Chopped Garlic Cloves
8 Stems of Thyme
1 ½ Cup of Frozen Peas and Carrots
2 tbsp Cornstarch
1 Cup Corn Kernels
Kosher Salt
Freshly Ground Pepper
1/2 Cup Half-and-Half
1/2 Cup White Wine
4 ounces Cream Cheese
Cooked Bacon, Chopped
Parsley, Chopped
Prep Time
20 Mins
Servings
4 Servings
Method
In a crock pot, whisk white wine, chicken base, and 4 cups of water.
Add the chicken pieces, potatoes, onion, garlic, thyme, 1/4th tsp salt and an equal amount of pepper. Toss the contents well.
Cover the cooker with the lid and cook the contents for 5 to 6 minutes on slow or 3½ to 4½ minutes on high. Make sure the chicken is cooked through, and the potatoes are tender.
Whisk together half-and-half and cornstarch in a small bowl.
Pour it in the cooker.
Add the cream cheese, peas, carrots, and corn and cook for another five minutes until the vegetables are heated.
Serve the chowder with cut pieces of cooked bacon and parsley.
7. Hash Brown Casserole
Ingredients
Cooking spray
1 lb Uncooked Pork Sausage, casings removed
4 Large Eggs
1 Small Onion, Diced
1/2 Medium Red Bell Pepper, Diced
1 (30-ounce) Pack Frozen Shredded Hash Browns
8 ounces Shredded Cheddar Cheese (2 Cups), divided into two parts
8 ounces Sour Cream
4 ounces Cream Cheese
1 tsp Kosher Salt
1/2 tsp Freshly Ground Black Pepper
1/4 tsp Ground Mustard
1 tbsp Unsalted Butter
1 cup Whole Milk
Prep Time
15 Mins
Servings
8 to 10 Servings
Method
Spray some cooking spray in the 6-quart cooker.
In a large bowl, whisk the eggs, milk, cream cheese, sour cream, mustard, some salt, and pepper. Keep the mix aside.
Cook the sausage on medium flame in a skillet for 7 to 8 minutes.
Break the sausage into smaller pieces and cook it until the meat is brown.
Move the sausage to the cooker.
Add butter to the skillet pan.
Add onion and bell pepper to the butter and cook for 5 to 6 minutes until the onion is golden brown and the bell pepper is softened. With a wooden ladle, transfer the contents to the cooker.
Add the frozen hash browns (do not thaw), the egg mix, a cup of cheddar cheese to the cooker. Stir the contents well and layer it smoothly.
Cover the cooker and cook the contents for 7 to 8 minutes.
Use a cooking thermometer to check the temperature. Pierce the casserole, it should show a reading of 160 degrees F.
30 mins before the cook ends, sprinkle the remaining cheddar on top of the casserole and continue cooking until the cheese melts.
8. Hot Cocoa
Ingredients
1 ½ Cup of Semi-Sweet Chocolate Chips
1/4 Cup Cocoa Powder
1 tsp Vanilla Extract
1 Cup Heavy Cream
6 Cups Milk
1/2 Cup Sugar
Marshmallows
Prep Time
5 Mins
Servings
8 Servings
Method
Add chocolate chips, cocoa powder, vanilla extract, heavy cream, milk, and sugar to the cooker and stir it well.
Cover and slow cook for 2 minutes on a low flame, stirring the contents occasionally.
10 mins before serving this hot delight to your children, add the marshmallows to the cooker and let them melt a little.
Add more marshmallow as a garnish while serving.
Hope we have inspired you to try these recipes in your kitchen at the soonest. The reward, of course, will be the happy little faces at your table during mealtime. Not only will your kids love these dishes, but even the adults will devour your food.
Also Read:
Easy and Quick Recipes That Kids Can Make
Best Chocolate Recipes for Kids
Recipes for Children: Cook Yummy Dishes Without Fire
?>