Smoothies for Kids – Recipes and Tips for Preparation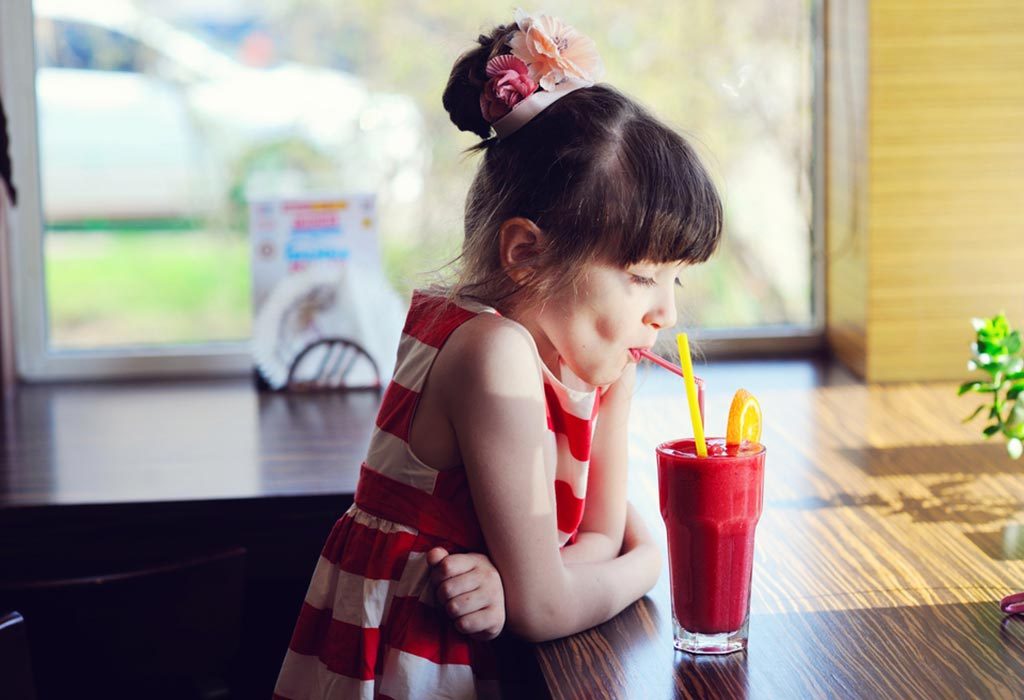 Smoothies are a cold beverage with a thick consistency made with a combination of raw vegetables, fruits, nuts, milk, ice-cream, you name it! It could be a combination of different ingredients of your choice.
Homemade vs Packaged Smoothies – Which is Better for Your Child?
Anything homemade is always a healthier and safer option since you know exactly what has gone into the smoothie just prepared. Ready-to-go smoothies may be too sweet or tend to have hidden preservatives. It is necessary to read the nutritional content of the purchased smoothie to know what ingredients have been added and their proportions.
The best part about preparing a homemade smoothie is that it can be customized and creative. You can also involve your child in the smoothie making process where they could help decide on choosing healthy ingredients. It also is a fantastic way to beat the heat.
Tips for Preparing Healthy Smoothies at Home
Kids tend to get fussy about food. But who can say no to a smoothie? To ensure that your child gets all the essential nutrients, this magical drink is your solution. Here are some creative tips to make your child look forward to having them.
While introducing smoothies to your children make sure you add all their favourite ingredients like chocolate or ice-cream. You can sneak in a couple of fruits.
Instead of adding sweeteners like sugar, let the combination of fruits be the natural sweeteners like a ripe banana, it's pretty sweet.
Preparing a smoothie can be an exciting process. Get your kids to create a smoothie by letting them decide on the ingredients. They would look forward to drinking what they prepared.
Incorporate seasonal fruits since they aren't grown all year round like mangoes, watermelons and strawberries to name a few.
Even though the smoothie is delicious but having a pale coloured drink, your child might not find it appealing. So instead, focus on adding the proportions of ingredients in such a way that leaves you with a bright and attractive coloured smoothie. Kids find that appealing.
Every time you prepare a smoothie, try to add a new ingredient. It adds a new flavour to the drink.
If your child doesn't like eating vegetables, here's what you can do. Vegetables like spinach and broccoli are mild in flavour. You can further add sweet and tangy fruits like strawberries, bananas or oranges. They wouldn't even guess there are vegetables in there.
10 Delicious Smoothie Recipes for Children
Making an interesting combination of smoothies for children is easy! Kids can be in charge of pressing the buttons of the blender and choosing their own combination of ingredients. If your children are much older, give them the opportunity to prepare their very own smoothie by themselves.
We have compiled 10 delicious ideas on different kinds of nutritious smoothies for kids along with the recipes.
Green Smoothies
This gorgeous bright green drink is packed with richness of green leafy vegetables and fresh fruits. Try out these super simple recipes.
1. Spinach Apple Smoothie
According to studies, raw spinach contains higher amounts of vitamin C, it protects against heart diseases, repairs and regenerates tissues, supports a healthy immune system.
Green apples are loaded with antioxidants; this can prevent various forms of cancer.
What you will need
1 cup chopped spinach leaves
1 ripe banana
1/2 apple, peeled and chopped
1 cup grapes (seedless)
1 cup yoghurt
How to make
Slice the bananas and apples into smaller pieces. Remove seeds from grapes if any.
Transfer the chopped fruits and spinach leaves and yoghurt into a blender. Blend the mix till it turns into a smooth, thick liquid. Serve fresh.
2. Strawberry Banana Green Smoothie
Bananas serve as a powerhouse of potassium, calcium, magnesium etc. If your child is anaemic, this is a good source of iron. Since it's a high fibre food, it's really good for the heart.
Strawberries help in proper brain function, rich in antioxidants, improves the immune system and prevents various types of cancer.
The green element is spinach. Since it is bland in flavour, your kids would never guess there's spinach added to the smoothie. This vegetable gives that rich green colour to the drink. Kids need to be tricked sometimes.
What you will need
1 cup spinach
½ cup strawberries
1 banana
1 cup milk
How to make
Chop the spinach, strawberries and banana into small pieces.
Transfer the chopped fruits and spinach leaves and milk in a blender. Blend it until it turns into a smooth, thick liquid. Serve fresh.
Breakfast Smoothies
The moment children wake up; they know exactly what they want for breakfast. Starting your child's day with their requested smoothie could be fulfilling as a parent.
1. Berry Cherry
Cherries contain beta-carotene which is an excellent source of vision, immunity and overall health. Bananas are rich in antioxidants and potassium.
What you will need
¼ cup Horlicks
½ cup cherries (deseeded)
1 cup milk
½ a banana
Fresh cherries for garnish
How to make
Put everything in the blender and blend until it is of smooth consistency. Serve chilled with fresh cherries.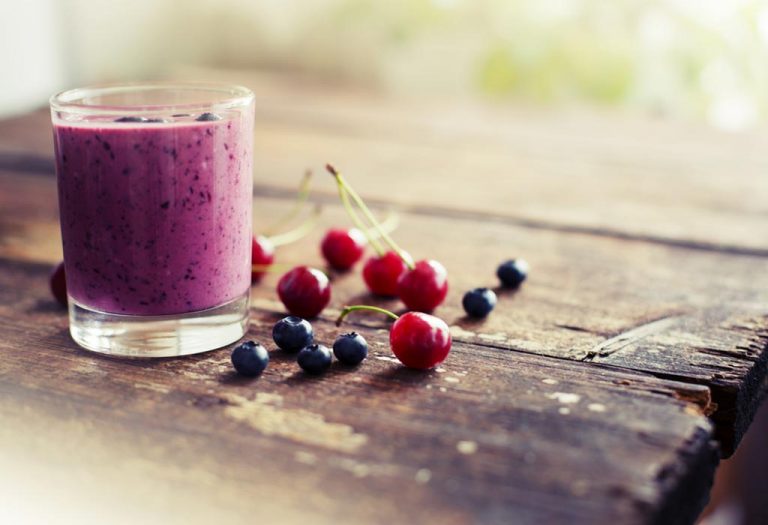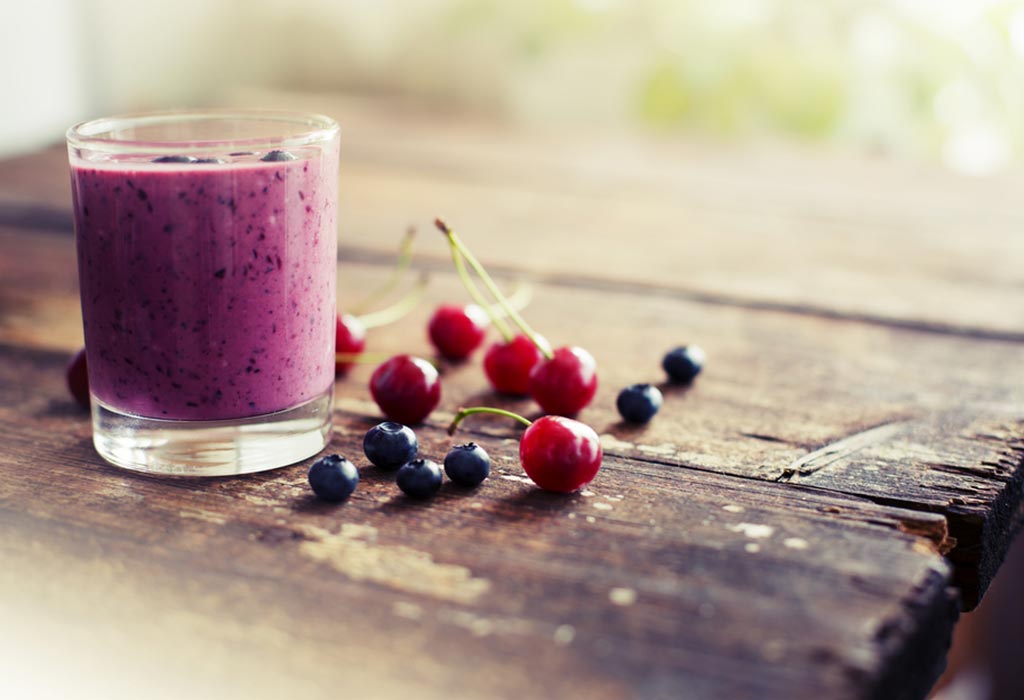 2. Apple Cinnamon Shake
Cinnamon is a special spice since it helps fight bacteria and fungus infection. Green apples are known to be rich in antioxidants, prevents diabetes and asthma, high on fibre etc.
What you will need
2 tablespoon Horlicks
3/4th cup milk
½ a green apple chopped
1 teaspoon cinnamon powder
1 scoop of vanilla ice-cream
How to make
Boil the cinnamon powder into a 3/4th cup water until the water subsides to 1/4th cup.
Blend in the Horlicks and ¼ cup of milk. Gradually add the apple pieces, vanilla ice-cream, cinnamon mixture and the remaining milk and blend well. Serve chilled.
Fruit and Vegetable Smoothie
This kind of smoothie is perfect for fussy kids. They have no clue there are vegetables hidden in their smoothie.
1. Orange Carrot Smoothie
Oranges are a rich source of Vitamin C and carrots Vitamin A delightful combination that takes care of your skin and eyes.
What you will need
4 fresh oranges
2 cups ice.
1 boiled carrot
1-2 tablespoons honey
1 teaspoon vanilla extract
How to make
Squeeze the pulp and juice of the oranges.
Boil and cool the carrot. Boiling and softening it helps blend well into a smoothie mixture.
Add all the ingredients in a blender and serve chilled.
2. Beetroot Pomegranate Banana Smoothie
This baby pink coloured smoothie is packed with antioxidants. Beetroots boost immunity, rich in vitamin C and fibre. The antioxidants in pomegranate protect cells from damage, reduce inflammation etc.
What you will need
1 banana
1/4 cup chopped cooked beetroot
2 dried figs ( Can soak the figs in hot water)
1/2 cup pomegranate seeds
water as per requirement
How to make
Mix everything in a blender until you get a smooth mixture. Serve immediately.
Protein Smoothies
Proteins are essential for any age group since it's involved in muscle building, tissue repair and taking care of the immune system. This smoothie is an ideal fuel for a child that's on-the-go most of the time.
1. Pineapple Coconut Milk Smoothie
Not only are they unique tasking tropical fruits; pineapples have the ability to cure cough and colds, reduce inflammation, boost the immune and respiratory system, the list goes on. Coconuts, on the other hand, are an excellent source of hydration. It improves blood cholesterol, promotes healthy bones and teeth etc.
What you will need
1/4 cup uncooked rolled oats
1 teaspoon chia seeds
1 cup unsweetened coconut milk
1/4 cup yoghurt
1 cup frozen, fresh, or canned pineapple pieces
1/2 teaspoon vanilla extract
1 to 2 teaspoons honey or another sweetener
How to make
Blend the chia seeds and oats to get a powdery mixture.
Add coconut milk, yoghurt and pineapple pieces and continue to blend.
Once you get a thick consistency, keep it in the refrigerator for at least four to five hours to soften the oats. Shake well before drinking.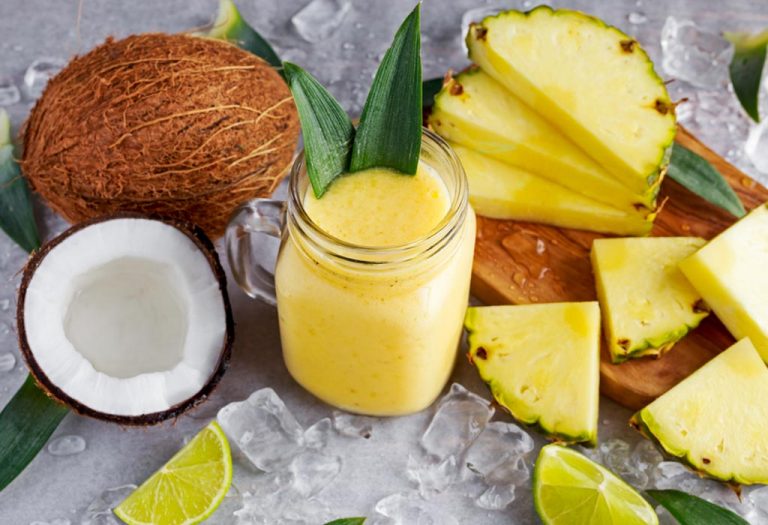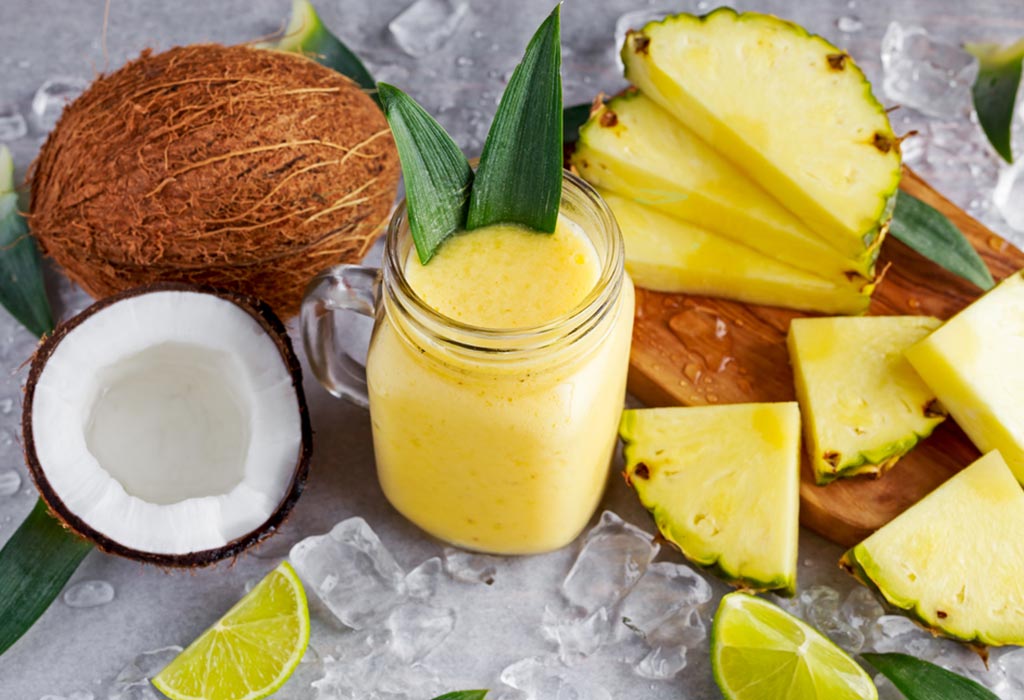 2. Chocolate Peanut Butter and Milk
Peanut butter and milk along with chia seeds are packed with proteins. This smoothie tastes completely of peanut butter.
What you will need
1 cup milk
2 tablespoons peanut butter
1 to 2 tablespoons cocoa powder
1 to 2 tablespoons honey
1 tablespoon chia seeds
How to make
Blend the chia seeds, peanut butter, cocoa powder, honey and milk until it forms a thick liquid. Serve chilled
Chocolate Smoothies
Did you know that chocolate can give you healthier skin? The cocoa present in chocolate can fight against diarrhoea. Consuming milk chocolate can also improve verbal and visual memory. Who would have thought that!
1. Chocolate Banana Smoothie
This smoothie can be easily served as a dessert. I mean, who can say no to that!
What you will need
1 cup of milk
1 Tablespoon honey
2 bananas
1 Tablespoon cocoa powder.
How to make
Slice the bananas into smaller pieces.
Transfer the chopped bananas, honey, cocoa powder and milk into a blender. Blend for about two minutes until the mixture turns into a smooth, thick liquid.
2. Chocolate Almond Milk Smoothie
Almonds are a source of vitamin D, protein, copper etc. It keeps blood sugar under control.
What you will need
½ cup milk
¾ cup chocolate yoghurt
2 tablespoons cocoa powder
Ice cubes
How to make
Put everything in a blender and mix until the consistency is smooth. Serve chilled.
Smoothies for children are actually great for all ages. Your spouse might like the bright coloured mango smoothie while your kiddo might enjoy the green spinach one. You never know unless tried. This meal can be served for breakfast, a mid-day snack, dessert or even a complete meal since it's that filling.
Also Read: Bread Recipes for Kids