Love Letters For Husband – Sweet Romantic Notes For The Man You Love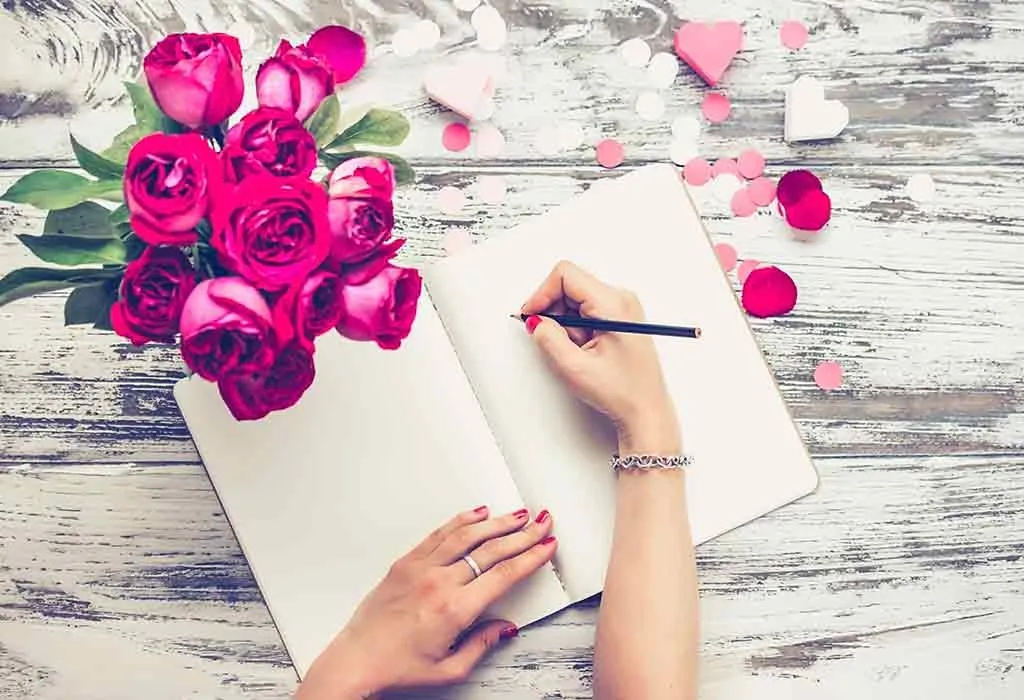 A lot of people have the misconception that men do not like to be cared for and showered with attention like women do. Men are tender and vulnerable beings under all the stereotypes that society forces on them. Is there anything that's a more classic ode to love than a love letter? A sweet love letter allows you to express your deepest feelings in a unique and heartfelt manner. Not to worry, it doesn't have to be cheesy or a long, drawling letter like the lovesick letters you might have seen in books and movies. There is no 'correct' way to write a love note, so go ahead and just be yourself. Your man is sure to love something that comes from the heart more than any fancy gift or dinner you might arrange. Even a short-worded note as a beautiful love letter for your significant other can work magic. This page is dedicated to inspiring you to make your own love notes that reflect you and your relationship with your best man.
If you're having starting troubles, don't fret. Lots of people struggle to put into words what they feel for their partner. A love note can be anything from sneaking a sheet of note paper into his laptop bag when he isn't looking to a little post-it note left on his shaving mirror. Below are just a few pointers that could be useful when it comes to how to write a romantic love letter to husband.
Tips for Writing a Love Letter to Husband
Keep it direct and simple: Write out what you feel in the first words that come to your mind. It's okay if it isn't flowery or if it doesn't feel very poetic. You just need to be honest and the words will automatically flow out.

Use examples in your text: Bring out examples of things that he has done for you or bring out a time he made you feel loved and special. This makes it personalized and intimate as well. Try something along the lines of 'I remember that night when you did the sweetest thing…' or 'You make me feel like a queen when you pamper me with…'

Use similes or metaphors: While you don't have to compose a flowery sonnet, you can add to your description using these literary tools. If you or your husband have a favourite writer or poet, go ahead and quote them! It just shows that you pay attention to the things he says. Why not try something like 'Your love feels like a warm cup of coffee, giving me energy and will to get through everyday'

Another example is 'For my shining knight in armour, I write this letter to let you know that without you, my life would be completely dull. I am so grateful to life for presenting someone like you to me, and I want to let you know what you mean to me. I can't imagine spending the rest of my life with anyone but you. You bring out the best in me and you make me the happiest person on this planet'.

Sample Love Letters For Your Husband
Different occasions need different celebrations to keep them fresh. Keep reading for some ideas on how to write love notes for your husband to use on different occasions:
Notes for When It's His Birthday:
It's an accepted belief that you're never too old to celebrate your birthday. Maybe you're throwing a party for your husband or inviting some friend over for dinner. I'm sure he would enjoy that, but a small romantic gesture from his loving partner would go a long way in making his day truly special. Here are some ideas:
1. Love trail
Just like leaving a trail of biscuits in a forest to find your back, leave your hubby a trail of love notes to find his present, or to find you!

You can use heart shaped notes and leave them all across the house, from the front door to your secret spot. This game combines the excitement of a classic birthday treasure hunt with the prospect of an intimate, romantic surprise!

You can make it challenging by writing riddles or leave clues in famous sonnets. Here's an example: 'Romeo! Romeo! Wherefore art thou? Find where in the house Romeo would like to hide with the rest of his friends to find your first clue' – the answer is the bookshelf.

Another example could be 'Look in the pocket of that shirt I love you to wear on our date nights'. It's that easy.
2. Pillow note
A classic letter left under his pillow, or wrapped around his toothbrush, or maybe even snuck into his work bag can go a long way to make the husband feel special on his special day.

Say something like 'Happy birthday to my sweetheart… I just want to be here for you and help all your dreams and wishes come true…'

Another example is 'I treasure you every single day of the year, but maybe just a little more today because it's your birthday..'.

You can even send him a loving email if he's not in town, with cute little e-love greetings!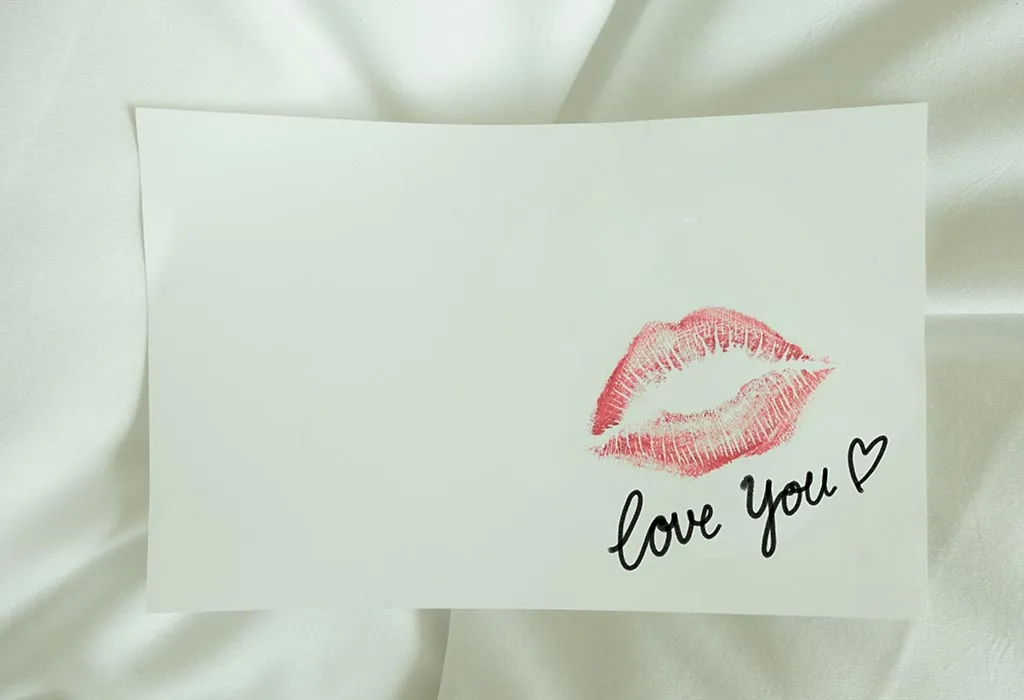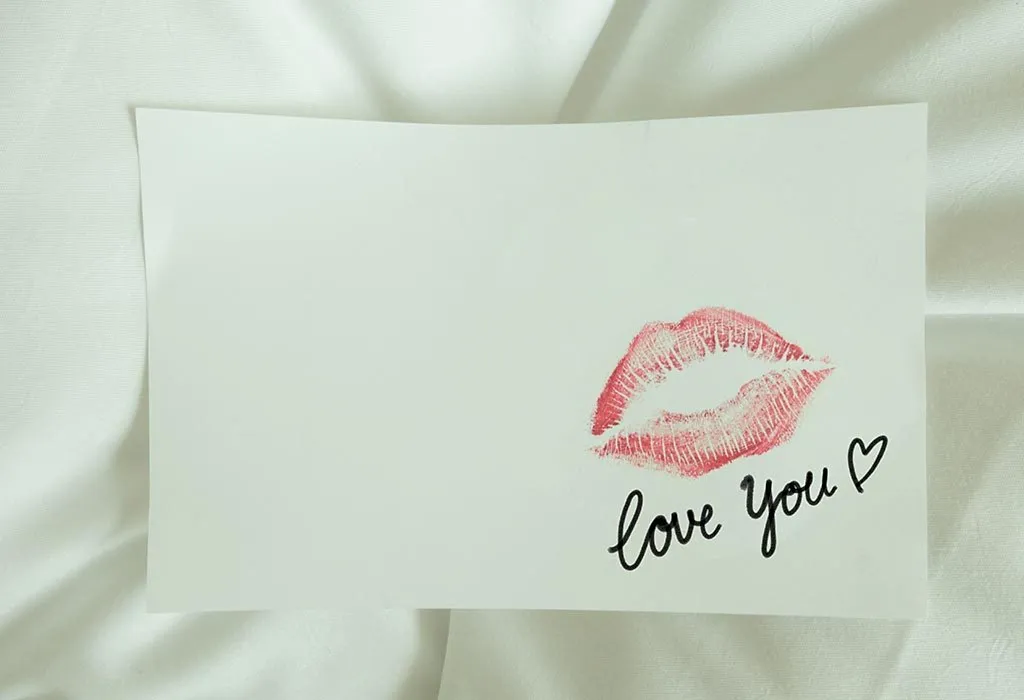 For When It's Your Wedding day/Marriage Anniversary
A wedding is one of the most important events in anyone's life. You are fortunate and blessed to have found someone to spend the rest of your life with. Growing old together is one of the sweetest things that a couple can hope for. Be sure to fill your marriage with tidbits of love, expressed as love letters and love notes. What better occasion than a wedding anniversary to document what your husband's companionship means to you? Go ahead and take a look at some of these wedding day and anniversary love note ideas:
1. For a wedding day love letter or note:
This is the perfect time to write something short and sweet, and will bring a genuine smile to your to-be-partner's face on a day when the two of you might not get as much time together as you would like.

With friends and family surrounding you, it might be difficult to get a quiet moment alone, but a

short love letter

left in his dressing room or sent to him by a messenger could be that little something you two have that's just yours and no one else's moment to share.

Here are some things that you can say 'I am so excited to spend the rest of my life with you that I couldn't even sit still to write this note'

Another idea is 'In just a few hours' time, you will be mine to hold, care for, and cherish. I'm the luckiest girl in the world''
2. For when you're celebrating a wedding anniversary:
'X many years or months ago, we took pledged ourselves to each other. When I think back to that fateful day, I remember the jitterbugs and the butterflies I felt every time you looked at me. Even today, when you walk into a room, my heart beats faster. You fill me up with such emotion and joy it's hard to put into words. Here are some of my efforts. I can't imagine my life without you. I want to share every tender moment, every life event, all the ups and downs that life might throw at us with you.'

A way to talk about what the future hold for you could be 'Contemplating the future is daunting at times, but with you by my side it is like looking forward to a bright new morning.'

Celebrate the two of you as a couple with something as simple as 'I can say with complete confidence that marrying you was the best decision I have ever made. Here's to you, and here's to us!'

Don't be afraid to bring in personal anecdotes about some experiences you shared over the years, or a funny memory from your wedding ceremony!
For When He Is Away:
What's more tragically romantic than loving someone from afar? A romantic love letter to husband from wife is how thy used to express their feelings, back in the old days before we had the internet and instant messaging. A classic love letter of this nature, even if sent by email on an MS Word document is instantly touching and deeply loving. Here are a couple of ideas:
1. In the middle of his absence:
When it has been a few days and you're starting to miss him, try something like 'I know it has only been X number of days or weeks, but it already feels like a lifetime away from you. I miss you a lot my darling, and I can only hope that you miss me too! Come back soon.'
2. Towards the end of his absence:
If he's coming back home in a few days, bring in that element of anticipation with something like 'I count down the days, hours and minutes until you will be my side again. I missed you more than you can imagine, and I can't wait to hold you in my arms soon! Come back home soon!'

Sign off with 'your ever faithful' or 'your most ardent admirer' for a feel of a classic brooding romance novel set in your very life.
Love Letter Ideas For When It's Valentine's Day
Love it or hate it, you can't ignore Valentine's Day. Some couples look forward to this day for weeks leading up to it, and in all honesty, who can blame them? A day set aside to celebrate love is the most beautiful thing to have on the calendar. If you aren't convinced by the commercial aspects of Valentines day, but just want an excuse to celebrate your relationship, stop overthinking it. You can make your celebration as large or as small and intimate as you would like. Don't think of it as a cliched day only meant for swooning college kids and couples who love to show everyone how much in love they are. Think of it as a break from your everyday routine with your husband, something fresh from the daily tasks of eating dinner or watching a tv show together before you fall asleep. It's a great way to reminisce about your most intimate moments together, and just live in the moment, where the only thing you're feeling is love! Below are a few suggestions for inspiration:
1. Be nostalgic:
Do something that brings up a fond memory for the two of you – maybe recreating the first time you met, or your first date.

Try something like 'Everyday with you feels like the first day. You give me butterflies in my stomach and make me feel like a teenager again. I love doing with you just like I love doing nothing with you. On this Valentines Day, I just want you to know how much I cherish you and how much you mean to me.'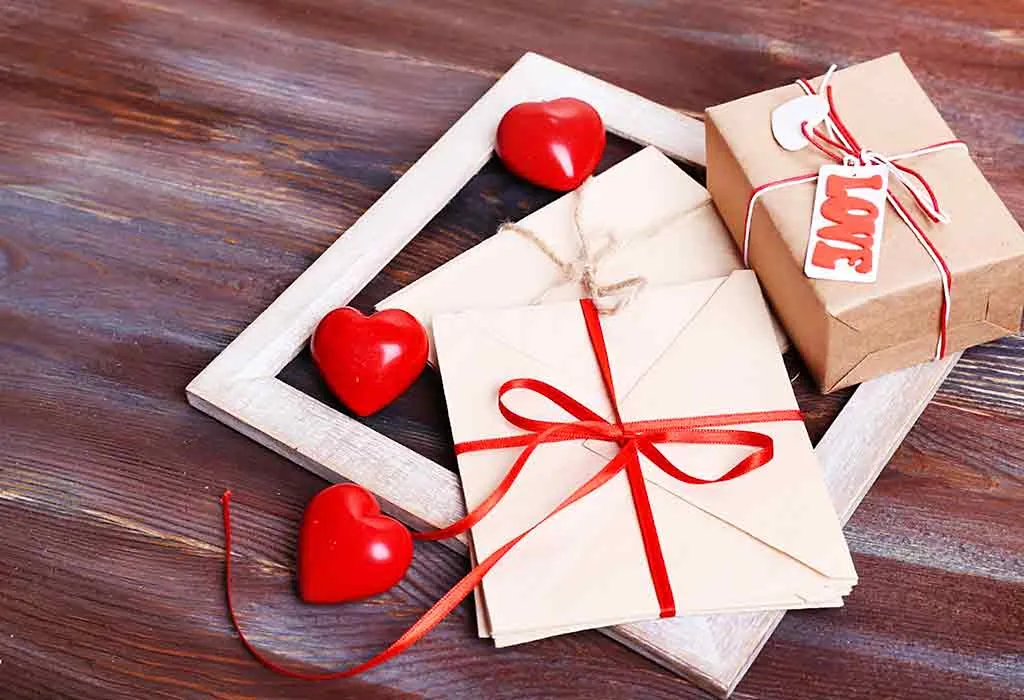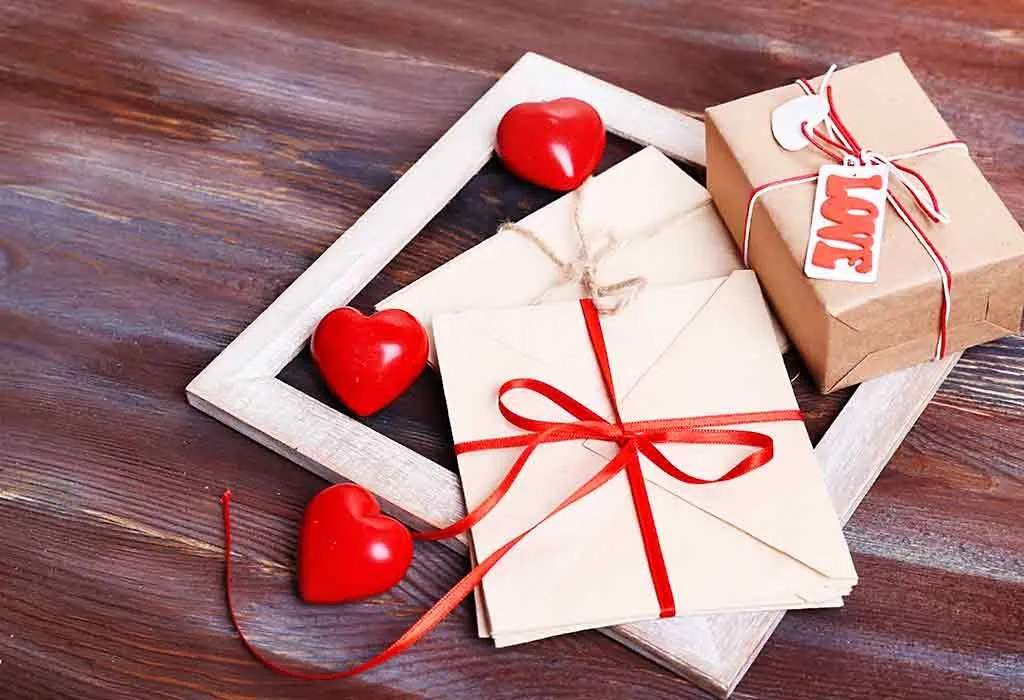 2. Be naughty:
Leave him a trail of love notes to find, each with a playful message.

How about something like 'I couldn't get any work done today because I was preoccupied thinking about you. All day I dreamt of the lovely moments we have together, and how I'm so lucky to have you all to myself for the rest of my life!'

Sign off with a cute nickname that he has only for you! – don't hold back or feel shy about it.
3. Bring out the nature of your everlasting love:
This is the penultimate nature of love, and there's no better time to bring it up than on Valentine's day.

Try something along the lines of 'My love for you only grows with each passing day. It evolves, and changes as I learn new things about you, but its essence remains the same. I will love you when you're feeling low and I will love you when you're away too. I feel so blessed that I get to share this life with you!'

You can also quote a favourite poet or writer and make it personal. Think back to any piece of poetry or song lyric that the two of you share. Just as an example, try something along these lines:
'I see you everywhere I go. In the words of Edgar Allan Poe, who wrote to his love Annabel Lee:
"For the moon never beams, without bringing me dreams
Of the beautiful 'insert your hubby's name'
And the stars never rise, but I feel the bright eyes
Of the beautiful 'insert your hubby's name' "
Give credit where it is due. Don't try to pass of a famous poet's work as your own. Feel free to use your favourite song lyrics in this manner as well. If the two of you have a special song, use that!
For When You Should Appreciate and Motivate Him For An Achievement
Everyone likes to be rewarded when they do something good, but it's hard to express these longings even to your loved ones. In any healthy relationship, being open with each other is important, so it's as important to appreciate as it is to criticise and give advice. Don't shy away from sending a beautiful letter to husband about feelings of pride and appreciation.
1. For any favour he did for you:
Maybe he stayed up late to make you dinner, or maybe he went the extra mile to pick up a gift for your parents- let him know that his thoughtful deed did not go unnoticed.

Write him a note that says something like 'Now I know what they mean when they say people do crazy things for the ones they love. Thank you for …'
2. For when he hit a milestone at work:
This is a big deal to most people, and you should let him know that he deserved it so that he never doubts himself. Try something along the lines of

Sign off as 'your number one cheerleader' or 'your number one fangirl'
For when you just want to scream 'I love you so much' letters do just the trick. The perfect mix of personal, classic and thoughtful, you will enjoy how fun they are to share with your love one once you start writing! Go ahead and shower you husband with this quiet show of affection, and he will be grateful for it. Happy writing!