Double the Joy! 16 Celebrity Parents Blessed with Twin Babies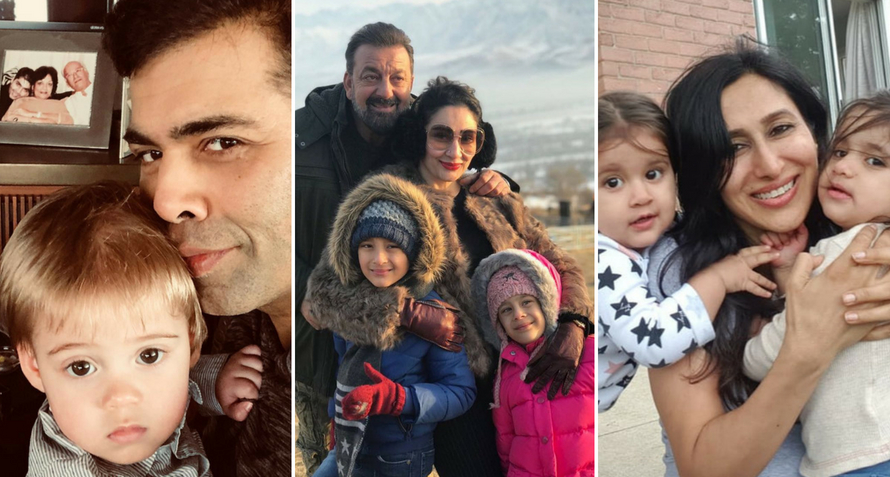 In this Article
We love celebrities. We love angelic twins. When we combine these two things we love, we get the perfect combination of cuteness and stardom. It can be fascinating to know more about celebrity parents of twins and how they handle the pressure of being mommy or daddy to not one but two precious babies.
Celebrities seem to live in a parallel universe where everyone has perfect bodies, 32 hours in a day, beautiful families, and careers to die for. While reality is often different from what gets portrayed onscreen, there's one thing that we can all agree upon. Looking at baby pictures instantly cheers us up!
Plus, when we're talking about twins, the joy just gets multiplied manifold! These famous twins of the proud celebrity parents are sure to win hearts. Let's meet the lucky parents who have been blessed with two bundles of joy at once!
Celeb Couples With Twin Babies
1. Angelina Jolie and Brad Pitt
Angelina and Brad became parents to fraternal twins, a girl and a boy, on the 12th of July, 2008. They named the kids Vivienne Mercheline and Knox Leon respectively. Although no longer together, they are currently co-parenting their six children.
2. Sanjay Dutt and Manyata
Sanjay Dutt and his third wife Manyata are also blessed with twins. The little ones have beautiful names: the boy is called Shahraan and the girl Iqra.
3. Jlo and Mark Antony
Jennifer Lopez, one of the world's hottest singers and actresses, married Mark Antony, the soulful singer, in 2004. She gave birth to a son Maximilian David and a daughter Emme Maribel in 2008. Needless to say, these famous celebrity twins' snapshot became the highest paid picture at the time.
4. Ricky Martin and Carlos Gonzalez Abella
In 2008, Ricky Martin became a father to twin boys Matteo and Valentino with his life partner Carlos Gonzalez Abella.
5. Celina Jaitley and Peter Haag
This gorgeous, doe-eyed dame married Austrian businessman Peter Haag on 23rd July 2011 in Austria. This celebrity mom gave birth to twins, Winston and Viraaj Haag, on 24th March 2012. In September 2017, the couple became parents to another set of twin boys, although the incident turned out to be 'bittersweet'. Arthur and Shamser were born on 10th September, but Shamser lost his life due to a serious condition soon after his birth. Celina took to social media to announce the birth of her new babies, and mentioned that while the loss of her baby was heartbreaking, a part of him lives through his brother who survived.
6. Celine Dion and Rene Angelil
The famous Canadian singer took the help of IVF treatment and delivered two healthy fraternal twins on 23rd October 2010.
7. Mariah Carey and Nick Canon
The melodious singer's twins are as famous as she is. Her twins, Moroccan and Monroe, were the paparazzi's favourite even before they were born. The celebrity mom can often be seen playing in the park with her twins.
8. Sarah Jessica Parker and Matthew Brodericks
The Sex and the City star welcomed twins Marion Loretta Elwell and Tabitha Hodge in 2009. They were born through surrogacy.
9. Muhammed Ali
The undefeated boxing legend was the proud parent of twin daughters Jamillah Ali and Rasheda Ali-Walsh.
10. Shatrughan Sinha and Poonam Sinha
The veteran actor and politician is father to gorgeous daughter Sonakshi Sinha and two fraternal twins, Luv and Kuush Sinha. The handsome men are steadily making their place in the film industry.
11. Sunny Leone and Daniel Weber
This couple has made it to our lists on couples who chose adoption and surrogacy, and make an appearance yet again in this list too! Sunny and Daniel became parents to twin boys, Noah and Asher, earlier this year.
12. Karan Johar
KJo welcomed his 'double bundles of joy' via surrogacy in February last year. The twins, Yash and Roohi were born prematurely, and despite the initial complications that are common of premature births, they are happy and healthy today.
13. Hiten Tejwani and Gauri Pradhan Tejwani
The TV actors who got married in 2004 had twins, son Nevaan and daughter Katya, back in 2009.
14. Karanvir Bohra and Teejay Siddhu
It's impossible to not have come across these two and their twin girls who are making waves on the internet with their adorable shenanigans. Bella and Vienna are famous on Instagram; and one look at their account managed by their mom will show you why!
15. Roger Federer and Miroslava Federer
The power couple got lucky twice when it comes to twins! Miroslava gave birth to twin girls, Myla Rose and Charlene Riva, in 2009, and were blessed with twin boys, Lenny and Leo, in 2014. The quartet makes for a gorgeous picture!
16. Neil Patrick Harris and David Burtka
The stars became parents to girl-boy twins, Harper Grace and Gideon Scott, back in 2010 via surrogacy.
Nothing raises the cuteness quotient like lovely twin babies. We sure love our celebrity parents of twins for bringing these bundles of joy into the world!