Understanding How a Father Plays the Perfect Role in a Child's Development
While society often paints the picture of a father as the sole breadwinner and the mother as the sole caregiver for the children, it is very important for a child to have both father and mother to play a role in their overall development. While moms are usually the ones who take charge of the upbringing of the child as they are more nurturing, a father has a very important role to play if he wants his child to grow into a well-balanced adult.
Importance of a Father in a Child's Life
The children with involved dads are likely to be more confident, emotionally secure and form better social bonds. Their educational outcomes are often better than children with dads who are less involved, and also they are more likely to have better communication skills and better intellectual functioning. The importance of a father in child's development is undeniable as children are able to learn to better regulate their behaviour during the playful and stimulating activities a father is more likely to provide.
What Is the Role of a Father in Child Development?
Here we look at the main reasons why it is important for a father to be involved in the development of a child:
1. Protector
An Involved father provides his child a feeling of security, whether physical, emotional, mental or spiritual. When a child knows, his or her father will be there for him no matter what the situation is, it builds in them a sense of confidence, security and stability that can never be replaced.
2. Educator
As the head of the family, a father must teach his children the basic principles and values for them to follow in their lives. It is the duty of a father to instruct his children about the code of conduct that needs to be followed while living in the society, also how to face the world and he must teach them to be disciplined, well-mannered and respectful. With a father playing his role well, a child will be more motivated to keep working on themselves.
3. Role Model
Parents are always being watched by their children, observing what you do and how you treat others. A father is an important role model for his children as they will learn what a man should be from his example. His sons will imitate his behaviour and develop into men with similar characteristics as their fathers, and the girls will also use their fathers as role models, often seeking the same characteristics he displayed in the mate that they seek out when they are old enough. Fathers must always model good behaviour for his children so that their sons grow up kind, respectful and honourable towards the people around him. Daughters will be able to understand that a man should be kind, gentle and caring towards his women, yet strong and able to protect them.
4. Friend
Forming a healthy relationship with your child will set the stage for the two of you becoming friends as adults. Though it is always important to make sure that you set boundaries so that your children do not take advantage of you, having a close and friendly relationship with your children will make them less likely to stray from the right path and fall into undesirable habits. Children will be less likely to become depressed, and it is easier to guide your children when they are comfortable around you.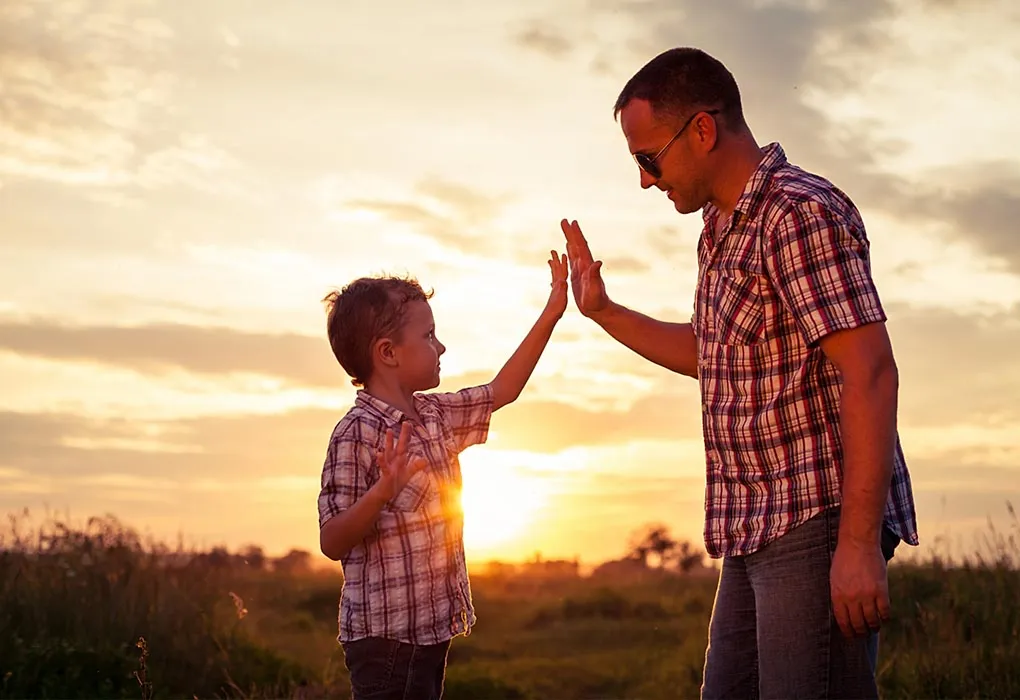 5. Entertainer
Fathers are more often the ones who are more involved in monkeying around with the children. They are more able to keep up with their kids during play as it is more taxing on the body. An involved father will enjoy having his children ride around on his back, play catch and other physical activities that can sometimes be strenuous. He can often teach them to solve problems during play and form strategies during play. Playing with children will help them to become more flexible, fit, build their muscles and develop better hand-eye coordination. Not only that, but children will also learn how to follow the rules and to be a good sport during playtime. All of this often helps them to form bonds with each other.
6. Counsellor
A father should not only be a friend and entertainer but should also be able to counsel his children if they ever need it. This is especially important for young boys, and when girls become confused as to why boys act a certain way, having their fathers there to explain things to them will help them to grow in their character and understanding. Your children should be open about their problems or difficulties so make sure to open up to them about your own childhood and the lessons you learnt while growing up. Help them to solve their problems with sensitivity and confidence, be they school related or personal matters. Teach them the right way to handle a difficult situation and allow them to know that you are there for them, even if all you can do is hold them in your arms. All of this will help them learn how to solve their problems and will play a huge role in their emotional, mental and spiritual development.
7. Trainer
Be the life coach that your children need and teach them the important life skills that they will need for when they are starting to find their own place in the world. Teach them to ride bikes, how to fix their broken toys, how to create things and how to swim. There are so many other things that a father can teach his children. Your children will look to you for guidance and will wait and work hard to earn your approval. Be encouraging and consistent and give them plenty of opportunities to earn your praise.
8. Partner
Being a good partner to your wife is a very good example to set for your children and something that is often overlooked. Not only will they be able to observe how a man and woman can work together to create unity and harmony in the home, but they will benefit from growing in such an environment. In homes where both the parents are not involved in the upbringing of the children, the balance is usually upset, and the children will become prone to guilt, anxiety and stress, which will often cause them to have poor health.
Men and women are not the same, and each of them have their roles to play in the upbringing of the children. This is why it is often very difficult for single parents to step into the role of both parents. The approaches that men and women have towards parenting are completely different, but when working together, can be a very good thing for your child. While mothers may be more cautious with their children, fathers tend to allow and even encourage their children to take healthy risks that will help in their growth and development. So don't shy away from interacting more with your children; not only will you help them grow and develop into well-balanced adults, but you will create memories together that you and the kids will hold dearly in your hearts for your whole lives.
Also Read: How to Be a Good Father