57 Unique & Creative Mother's Day Gift Ideas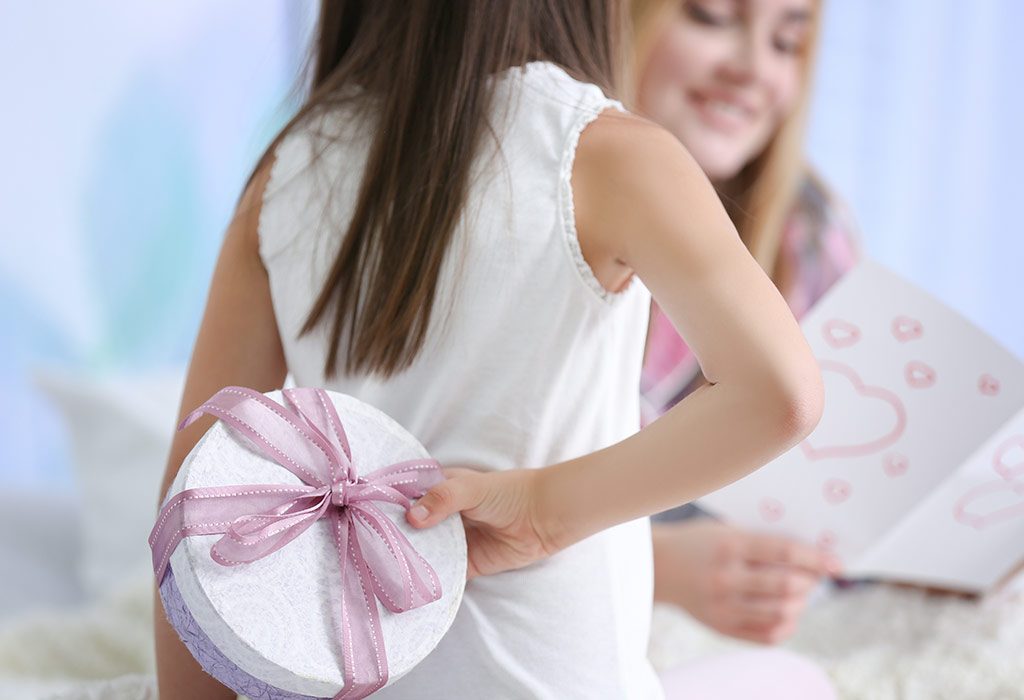 Moms always know what to get for their kids, and it's only fair that they get their share of special treatment on Mother's Day. You can get little things that you know your mom would love and use or make things on your own to add a personal touch to the whole gifting experience. There is no doubt that your mom will love anything that you give her or make for her. But if you're undecided about what to get your mom this Mother's Day, then here are a few ideas of good Mother's Day gifts that may be worth considering.
24 Best Mother's Day Gifts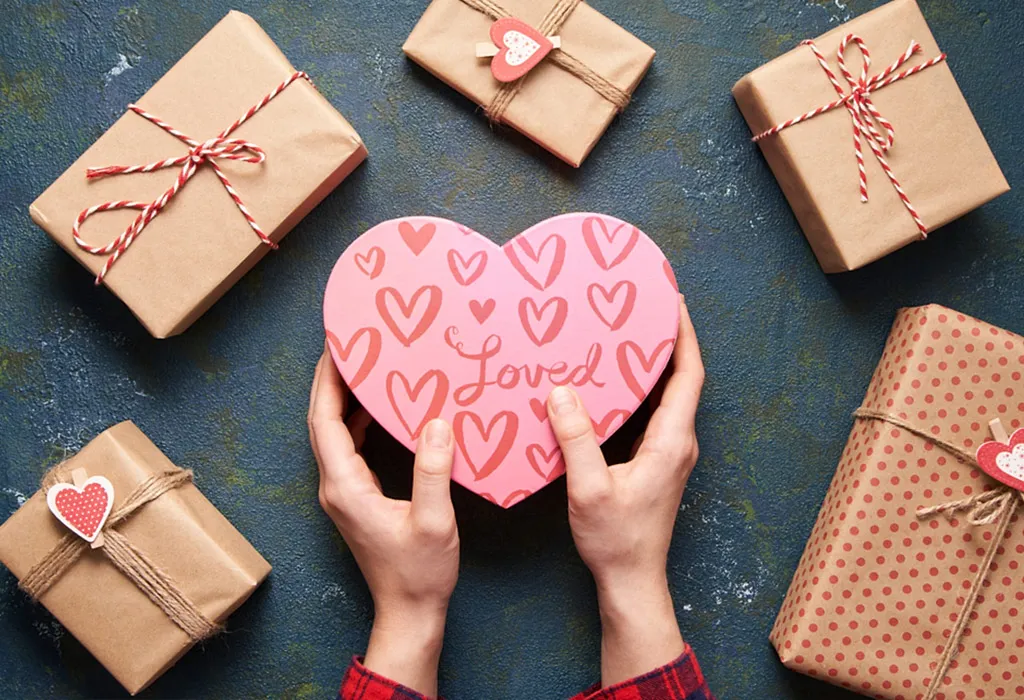 Here are some wonderful choices of mother's day gifts that will surely bring a smile to your mom's face. You can also add your own touch or use a combination of these to make a unique gift that would mean something special to your mom.
1. World's Best Mom Goodies
Reminding your mom that she is the best can be done in a way that she is bound to remember. Mugs, pillows or kitchen magnets on which 'World's Best Mom' is printed can be perfect for Mother's Day. You can add more items to the list to suit your mom's needs. These are the things that your mom will use every day and be reminded of your gift.
2. Customised Wooden Photo Plaque
Get a picture of your mom, or of you and your mom engraved on a wooden photo plaque and gift it to your mom. You can even get a picture of the whole family on it, with a special message for mom. It's a simple gift that speaks volumes and one that she will remember for years to come.
3. Necklace
A lovely little necklace that your mom can wear every day can also make for great mother's day gifts from daughters and sons alike. You can even pick up some bracelets, bangles or earrings, whatever your mom loves wearing the most and make a set out of it that she will definitely love.
4. A Planner or a Diary
If you are aware that your mom has been trying really hard to plan her day or follow a diet, you could gift her a planner. It can be a gift that she uses every single day and one that finally allows her to plan her day and pen it down or simply use it as a journal to record the memories that she makes with you. It can turn into a beautiful habit that she can look back at years from now.
5. An Ice Mould
If your mom loves her beverages and wine cold, then what better than an ice mould! You could make it special by filling it up with some water and adding slices of citrus fruits or herbs to it to add to the look. It's the perfect gift for your mom that she can flaunt when her friends come over for a get-together.
6. Handy Clutch
If she's always losing coins and little items like her lipstick in the corner of her bag, you can think of gifting her a little clutch. She can use this to keep all those things organised and pull them out of her bag whenever she needs it in a jiffy.
7. Gift her a Book
Has she been talking about a book she wants to buy or does she simply love reading? What better gift to give a reader mom than a book she would enjoy? Give her the chance to sit back and enjoy mother's day with a book in hand. Pick up a book that she's always wanted to read or get her one that will interest her.
8. Add to Her Garden
If your mom has been nurturing a beautiful garden, nothing would please her more than gifting her little saplings that she's always wanted to add to her collection. You can also think of getting her some handy tools for her garden. Hand pruners, garden tool bag, etc., can be perfect for her.
9. Treat Her to Ice Cream
Mommies love ice cream too. Buy her a whole bucket of the sundae that she can sit and enjoy with you or the family. Make Mother's Day a family affair that everyone can enjoy. You can also take her out for an ice cream party!
10. Hanging Garden Grow Kit
Another wonderful gift for a garden-loving mom is a grow kit that will allow her to enjoy a mini, indoor-hanging garden. The kit can have a hanging terrarium, decorative rocks and more for a fancy little hanging garden indoors.
11. French Press
If a morning cup of coffee is something that your mom cannot miss, a beautiful French press machine can lift her mood. It's petite, doesn't take up a lot of space, and makes a mean cup of coffee.
12. Vases and Aromatic Candles
Do you see your mom always trying to decorate the interiors of your home? Or is collecting aromatic candles or vases her hobby? Then these are just right. You can choose from a variety of these and choose the one that your mom would love.
13. Bed Wedge Reading Pillow
Nothing can beat the comfort of being able to lie down on the bed and read a good book. This pillow is designed for readers and nests between the headboard and the mattress to give your mom a comfortable reading position.
14. Custom Coasters
Is she a stickler for table etiquettes? A set of customised coasters to keep her guests from leaving a mark on her favourite table-top can be a wonderful gift for her. You can have the coaster engraved with messages or get ones with pictures that she would enjoy.
15. Framed Family Tree
A family tree with customised branches and names, all framed into a pretty picture, is sure to be a tearjerker mother's day gift from kids. You could even have a few quotes or messages added to it.
16. Customised Apron
Is baking or cooking something that your mother enjoys doing? An apron with the 'World's Best Mom' written on it can be something that she would love. You can also pick some lovely designs of aprons if your mom would like those better.
17. Bonsai Plant
A bonsai plant is perfect for moms who would love to keep an indoor or balcony garden. They are low maintenance and look lovely in their little pots. Gift one to your mother this Mother's Day to put a smile on her face.
18. Cookbook
Proud of how your mom always whips up new recipes for you? Give her the chance to add more recipes to her list with a cookbook gift. She may love it enough to try something out right then.
19. Jewellery
Jewellery is said to be a woman's most prized possession. And buying a unique jewellery piece that's both rare and thoughtful can be one of the best gifts for your mother. Take it a step ahead by adding on a monogram pendant and gift wrapping it in a beautiful handcrafted box or a cover paper.
20. Wall Garden
All moms will love a small piece of natural beauty on their patio walls. Gift your mom a beautiful wall garden, and she can sit outside with a cup of coffee to admire it.
21. Bath Bombs
What's better for a mom than a day where she has to do the bare minimum and just relax? Make this happen with a set of natural handmade bath bombs. Let her have her day of pure relaxation.
22. Spa Gift Coupon
A rejuvenating and calming spa experience will be a gift that your mother will be thankful for. She can catch up on some well-deserved and much-needed pampering at a spa and will always remember this thoughtful present for a long time!
23. Customised Smartphone Case
Add a personal touch to your mom's phone case by gifting her a customised cover for her phone. The customised cover photo can be anything like her favourite family photo, your mom and dad's photo, etc. She'll love to carry around her favourite people and moments with her all day.
24. Portable Speaker
A portable speaker is indeed a unique gift that you can gift your mother on this special day. She can take this speaker anywhere she goes in the house or yard and even on trips. If you wish to make this gift more unique, you can customise it by getting her name or photo printed on the speaker.
16 Mother's Day Gift Ideas for Mother-in-law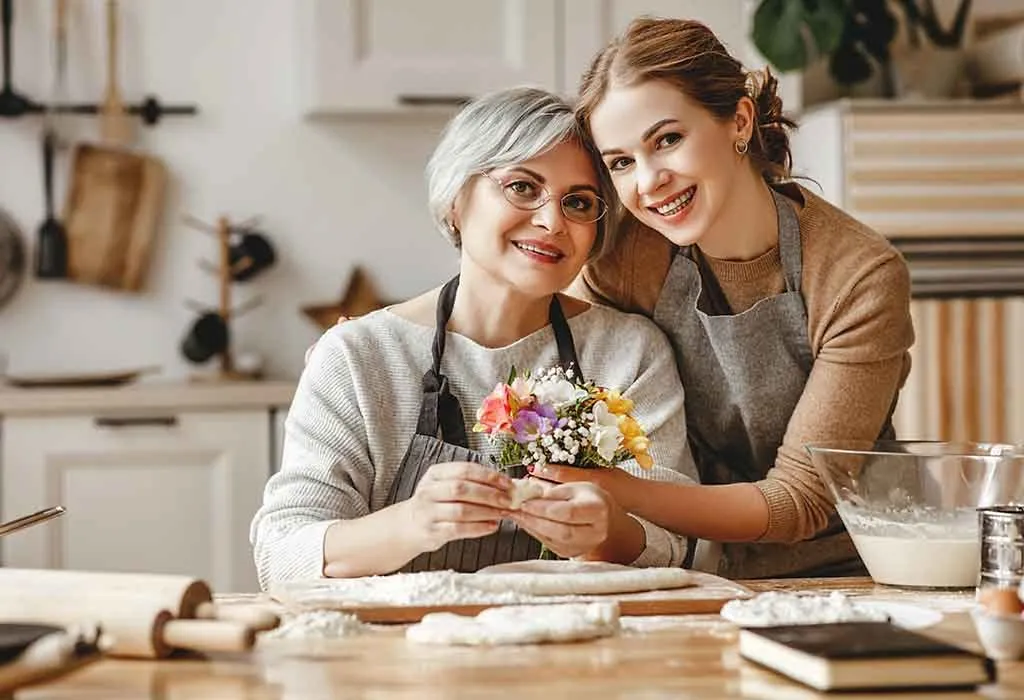 It can be difficult to find a gift that both fits your mother-in-law's personality and shows that you care. But these gift ideas for her will do just that! After all, this is the woman who brought up your lifelong partner and made them the person they are today. Whether she's an amazing cook, or someone who needs some time off to pamper herself, this list of gifts will surely put a smile on her face!
1. Spa Gift Basket
Which woman isn't stressed these days? Give your mother-in-law a gift that will help her relax this Mother's Day – she'll be so thankful! You could gift her a spa gift basket full of luxurious products and bath goodies for a relaxing day. If she's the type who loves massages or a mani-pedi, you can also give her a gift certificate to a nearby spa.. Don't forget to add in a very soft bathrobe or slippers!
2. Custom Cutting Board
For many, a kitchen is a place for creating beautiful memories and comfort for the whole family. Keeping this in mind, a custom cutting board would be a truly gratifying gift for your mother-in-law. She'll be thrilled with this very personalized and practical gift.
3. Bed Linens
All of us deserve some beauty sleep, and that's what makes some comfy bed linens the perfect gifting option. Keep in mind your MIL's preferences in terms of colour, design and material. And When selected with care, a beautiful gift of bed linens can be tough to beat!
4. Bracelet
If you're looking for an understated gift for your mother-in-law, you can't go wrong with a bracelet! Find a design that is as special as she is. You can also create a customised bracelet for her, by adding a personal touch, such as a photo, an engraving, or her birthstone.
5. Personalised Mug
If your mother-in-law is a tea or a coffee drinker, she'll reach out for a mug every day, so isn't upgrading her mug of choice, a great idea for Mother's Day? You can personalise it with her name, or an inspiring quote by her that has stuck to you!
6. Lamps
Lamps are one of the most amazing home decor gifting options. Practical, functional, and when chosen with care, they can change or improve the look of any room. When you gift a lamp to your mother-in-law, it will immediately bring a smile to her face as this is a symbol of elegance and positivity.
7. Embroidered Purse
One of our favorite gift ideas is a pretty embroidered purse. It's one of those gifts that will never go out of style. Your mother-in-law will love to carry it for parties, brunches, and family gatherings where she won't need anything but her makeup, phone, and some cash. It's a must-have for the contemporary mom-in-law look!
8. Jewellery Box
You can never go wrong with gifting your mother-in-law with a stylish jewellery box to store all of her favourite jewellery and trinkets. Choose one that is functional as well as looks pretty and will adorn her bedside table.
9. Essential Oils Diffuser
While a trip to the spa is pleasant, this gift idea will let your MIL take a luxurious spa break whenever she desires, from the comfort of her home! Select her favourite essential oil and watch as this gift brings a smile to her face and freshness to her home!
10. Designer Scarf
Mother's Day is the ideal opportunity to show our mother-in-law just how much we love and appreciate them by gifting them something that they may not usually buy for themselves. Scarves are a great accessory that can brighten up any outfit by adding pattern, colour, and texture – and they're the perfect gift to thank your MIL for all that she's done for you!
11. Dinner Set
It's a known fact that every mom takes pride in the dinner set that she owns, and which is usually laid out only for special occasions, family gatherings or parties. So why not gift your mother-in-law a trendy yet elegant dinner set which she will proudly show off to her guests as a gift from her darling daughter-in-law!
12. Perfume
If you're still scratching your head wondering what to gift your MIL this Mother's Day, a new perfume would be the ideal gifting idea. Maybe your mother-in-law is loyal to her current perfume, or if she's looking for a change, there are many fragrance options to choose from!
13. Yoga Mat
Your mother-in-law probably already has a yoga mat, but does she really have a great mat or just something affordable she picked up from the nearby store? Get your MIL the best yoga mat that provides a high-density cushion effect for a comfortable experience, and help her take her Yoga to the next level!
14. Cookie Cutters
If your mother-in-law is into baking, then this is an apt gift for her. Choose from a wide range of shapes and sizes. You'll be left spoiled for choice!
15. A Journal
Have you come across your MIL penning down some random thoughts or doodles on any sheet within her reach? Then a journal would be the perfect gift to show her how much you care. She will always remember you for this practical but very thoughtful gift!
16. Flowers
Flowers are always a safe bet and ideal option for any event. And the best part is that they are easily available! You can simply buy a bunch of tulips, white lilies, or roses, or you can even get a customised bouquet with different flowers for your mother-in-law!
17 Homemade (DIY) Mother's Day Gifts
Here are some Mother's Day gifts that you could make for your mother:
1. Painted Bead Bracelets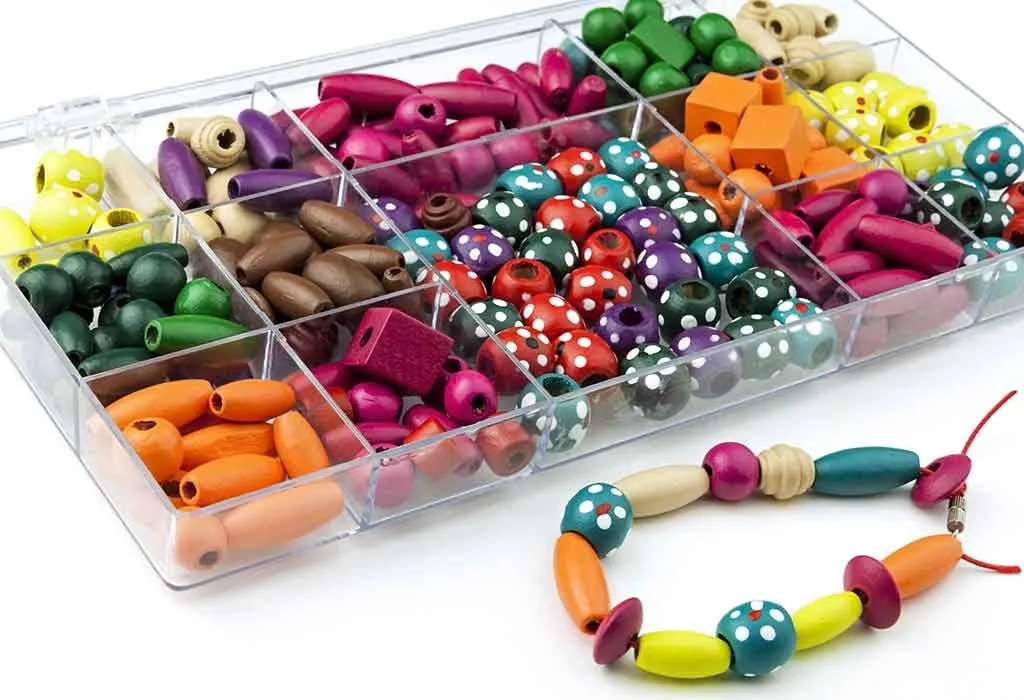 Make a beautiful and personalised bracelet for your mom that she can be proud to wear. It's simple and can be done in collaboration with your siblings if they're up for it. If you're an only child, you can do all of it yourself.
What you will need
Wooden beads
Ribbon
Paint
How to make
Pick up some wooden beads and paint them or decorate them as you would like to. You can add your personal touch to it. If you have siblings, each bead could represent a sibling, and it can be personalised as per their preferences.
Once you're done painting, let the beads dry.
Now pass a ribbon through the holes of the beads to make a bracelet. Tie the ribbon in a knot on both ends of the beads to keep them from slipping out.
Write a small note along with it and gift your creation to your mom.
2. Heart on Canvas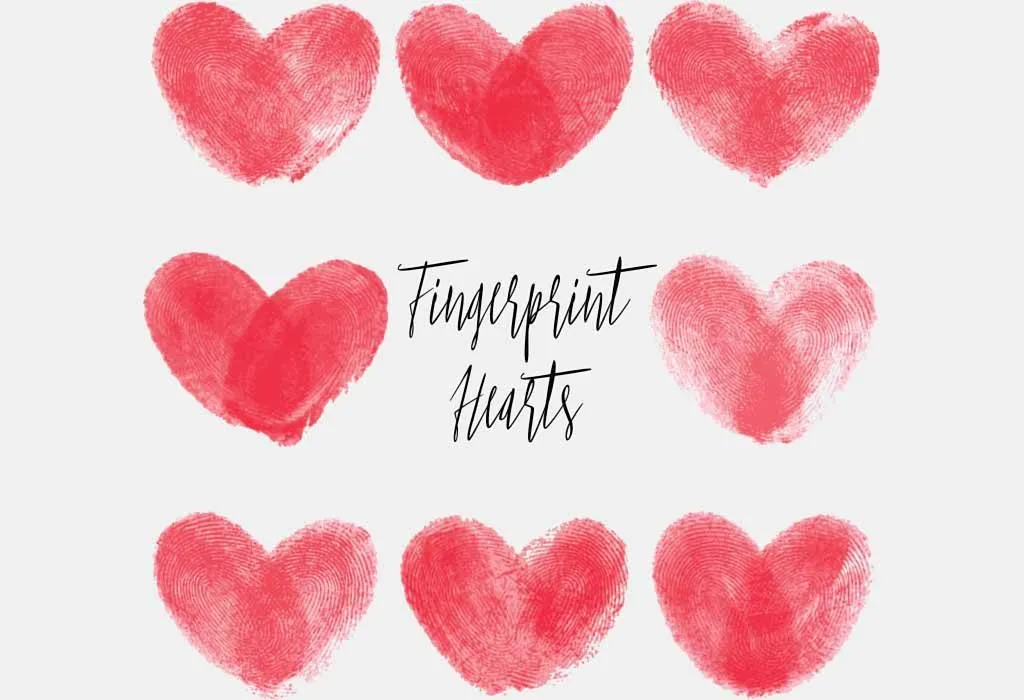 What's better for a mom than an artistic representation of her children's love? This fingerprint art will give her memories for years to come.
What you will need
How to make
Get a small canvas. Now dab some paint on your fingers and press the fingers onto the canvas.
Now using some paintbrushes, carefully turn these prints into beautiful hearts.
You can also have all your siblings put their fingerprints on it to make it a combined gift.
Once you're done, you can write a message on the board before gifting it to your mom.
You can also date it so that she can still remember the moment years later.
3. Spring Rolls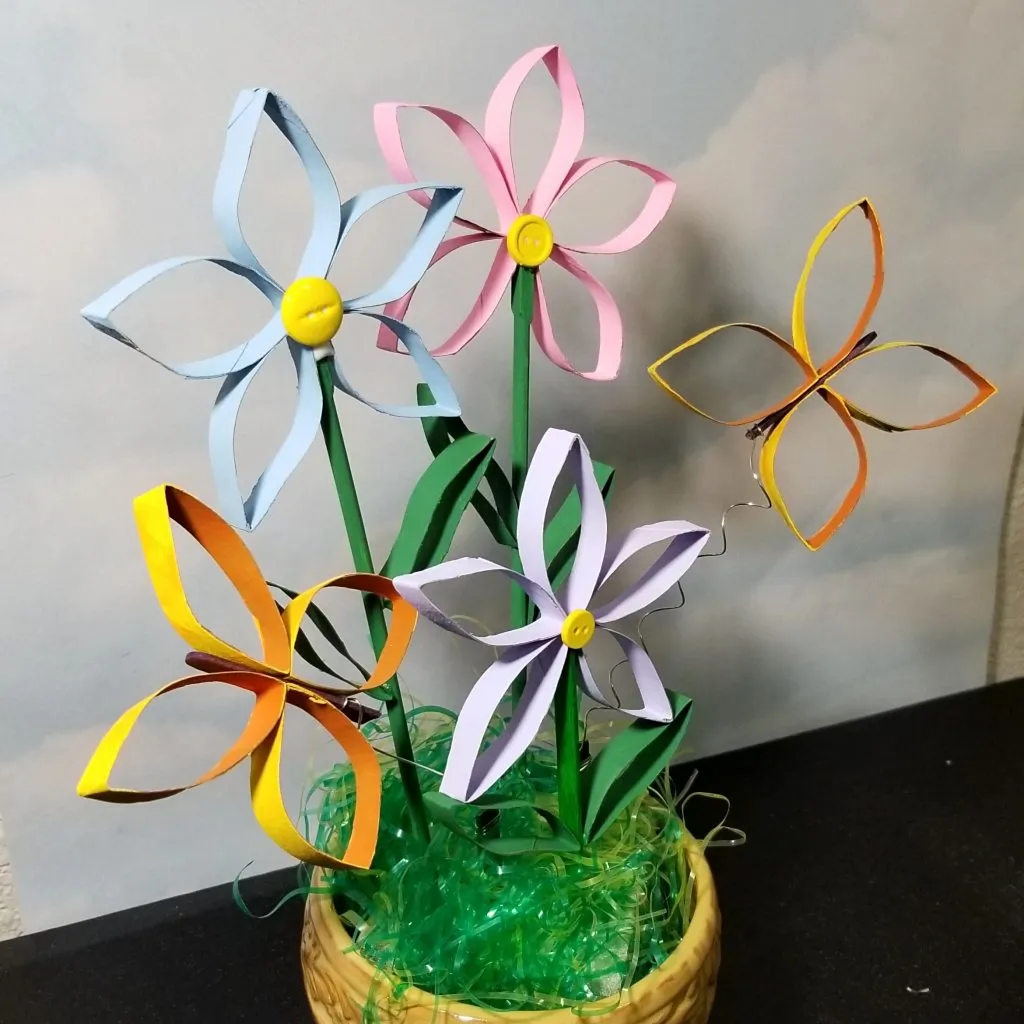 Source: Pinterest
Show your mom that you can turn waste into art with this toilet roll flower art. It's simple, and it's something that your mom can keep on her bedside table.
What you will need
Empty toilet paper rolls
Paint
Stapler
Glue
How to make
Take an empty toilet paper roll and fold it right in the middle. Repeat this with another three rolls.
You will then need to staple the open ends of each roll with the other to make it look like a flower. You may ask for help from an adult to do this.
You can stick a paper ball at the centre of the flower to give it a finished look.
Now fold another roll in half and insert a skewer through its centre to make it look like the stalk and leaves.
Stick the other end of the skewer to one of the rolls on the flower to finish it.
4. Mini Succulent Garden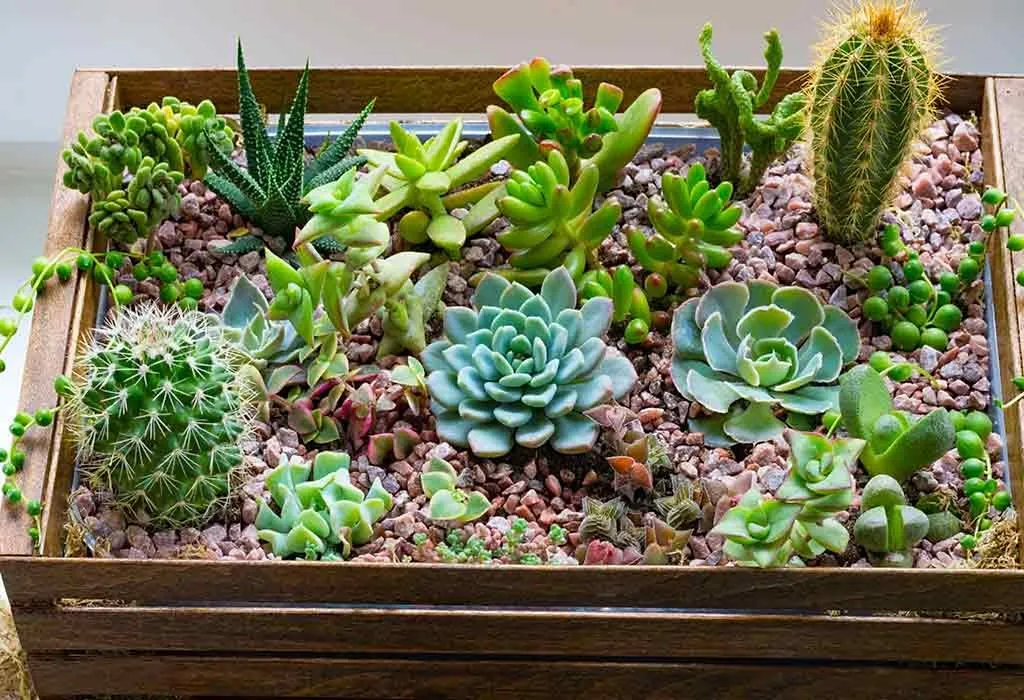 Creating a mini version of your mom's favourite garden succulents for her tabletop can go very well as a mother's day gift.
What you need
Small pots. You can use recycled pots or teacups or just about anything that will hold a few pebbles and soil.
Small pebbles
Soil
Cuttings of various succulents
Popsicle stick
Craft glue
A small piece of a chart paper
How to make
You can pick out small clippings of succulents like agave, cactus, aloe, etc., from your mother's garden or elsewhere.
You will need to cut these clippings carefully and allow them to sit out of direct sunlight for two or three days until they develop a callous. You may need to get some help from an adult for this.
Pick up some pebbles from the garden and add them to the base of the pot that you are using. You can even decorate and paint the pot for added charm.
After this, cover the pebbles with some soil.
Now, dig tiny wells in the soil and neatly place the succulents.
Cut a popsicle stick in half.
Make a small heart out of the chart paper and write a message like 'Love you, mom'.
Stick this to the end of the popsicle stick before sticking the stick into the soil.
5. Clay Pots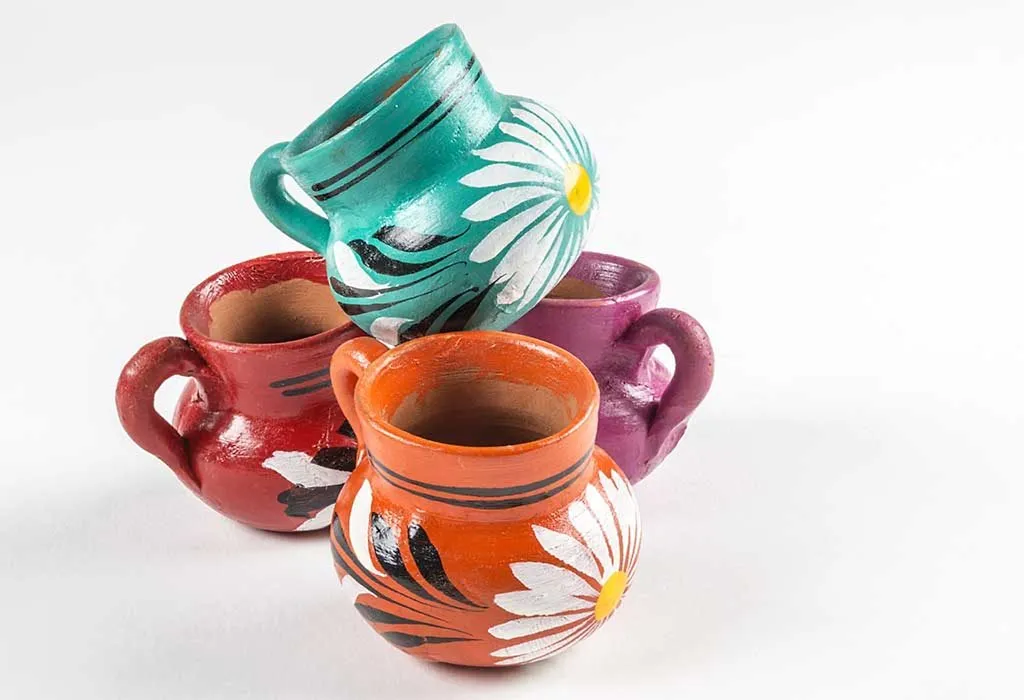 Get your hands dirty for this present. Using some air-dry clay, you can make wonderful pots for your mom that you can decorate as per your wish.
What you will need
Air-dry clay
Paint, beads, buttons, etc
How to make
Take the air dry clay and squeeze it with your hands to loosen it a little.
Then make a crab claw with your hands and stick only the thumbs in the middle of the clay.
Using your fingers, start pinching the edges of the clay in order to give it the shape of a pot.
You can get creative and create different shapes as you would like.
Once you're happy with the shape, you can allow it to dry.
You may need to let it dry for a day before you begin to paint.
You can now stick beads or paint over it to make it look all the more beautiful.
6. Personalised Candles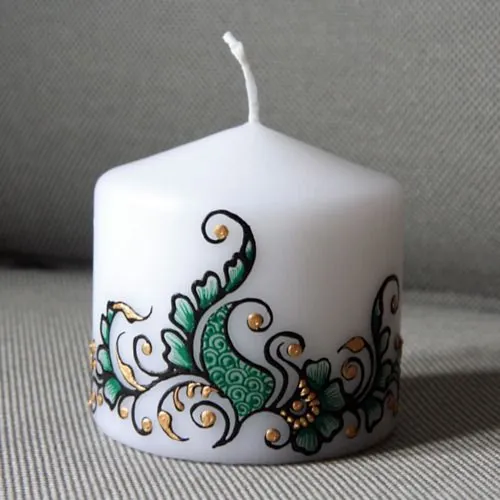 Source: Pinterest
Add a custom design to a beautiful candle, and gifting it to your mom can also be a great option for Mother's Day. This is simple and doesn't take that long either.
What you will need
Thick pillar candles
Toothpick
Paper towels
Paint
How to make
Etch a design or a message on the candle with a toothpick. You can do this yourself or get help from an adult.
Brush off any excess wax on the candle.
Paint the design with a paintbrush. Using a paper towel, wipe the paint on the surface off.
You can use a damp cloth to remove residues from the design as well.
7. Handprinted Tote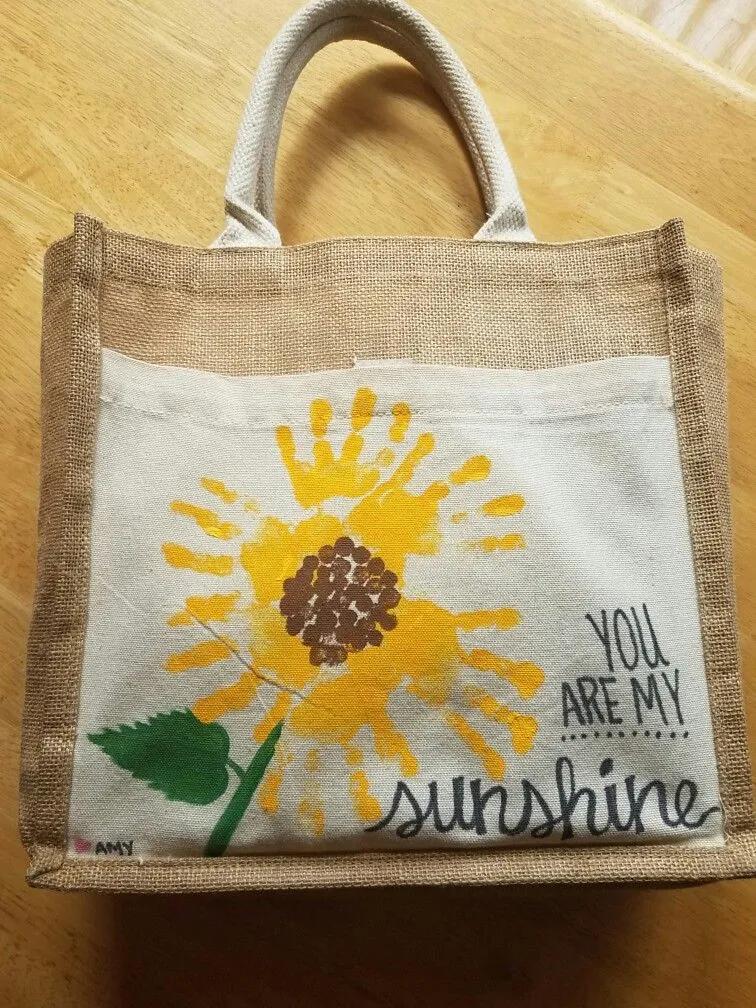 Source: Pinterest
Make a personalized tote bag for your mom to carry things around as your perfect mother's day gift. It's as simple as getting one from the store and decorating it.
What you will need
How to make
Get a simple tote bag. It's better if it's in plain colours, like white or beige.
Insert cardboard or plastic inside the tote to prevent the colours from seeping to the other side.
Apply paint on your hands and make handprint designs on the tote.
You can make five handprints in a circle to look like the petals of a flower and use paint to complete the stalk and the leaves.
Once you're done with the design, let it dry and gift it to your mom.
8. A Box of Love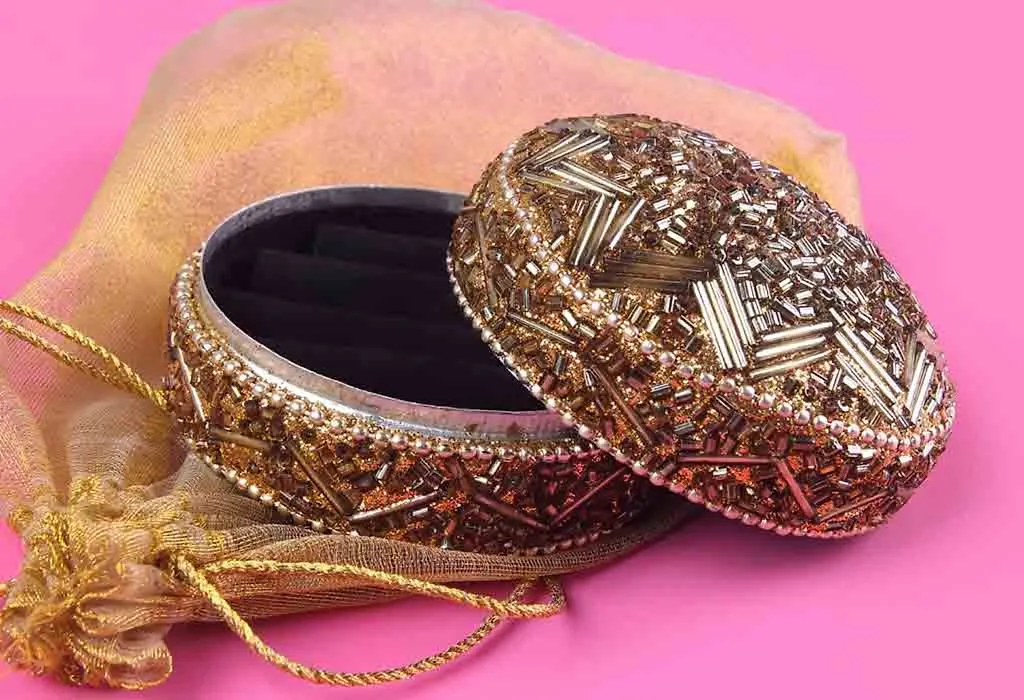 What do you give a mom that has everything or desires nothing? Love! You give her love wrapped in a beautiful little box that will always remind her of you.
What you will need
A simple old box. Any square box or jewellery box will do
Ribbons
Paint
Decorative beads, gems, etc.
How to make
Paint the box to make it look brighter and prettier.
You can add any decorative embellishments you want on the box and let it dry.
Wrap a ribbon around the box and tie it into a nice knot.
Gift this to your mom with a poem and remind her that whenever she needs some love, all she has to do is clutch this box close to her heart.
9. A Jar Full of Memories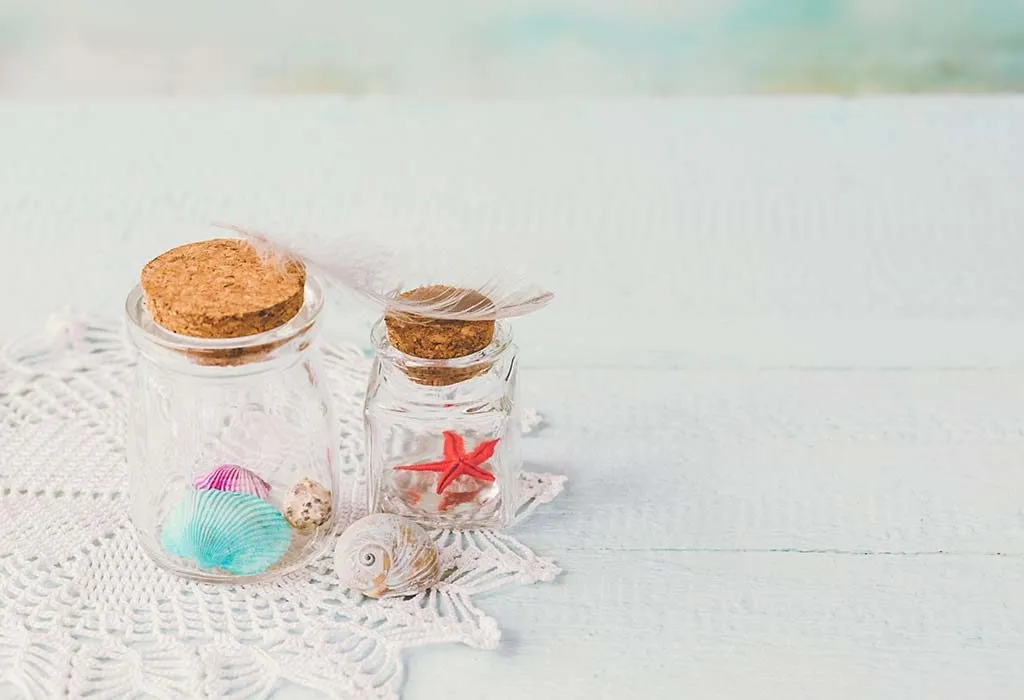 Do you remember a time you spent together as a family that you wish you could revisit? Does your mom often talk about it too? This jar of memories idea is a perfect way to help her keep those memories within reach.
What you will need
Photos, items or anything that links to the moment or vacation in question
A Jar
Ribbons and cards with messages
How to make
Collect everything you can remember from that moment that would rekindle the memory. It could be pictures, a keepsake you picked up, etc.
Now arrange them in a jar. You can also add some ribbons around the jar or use tiny placards that carry messages for your mom in the jar.
This is a perfect gift for the tabletop for your mom and the one you would've put a lot of thought into.
10. Minibook – 'Ten things I love about You'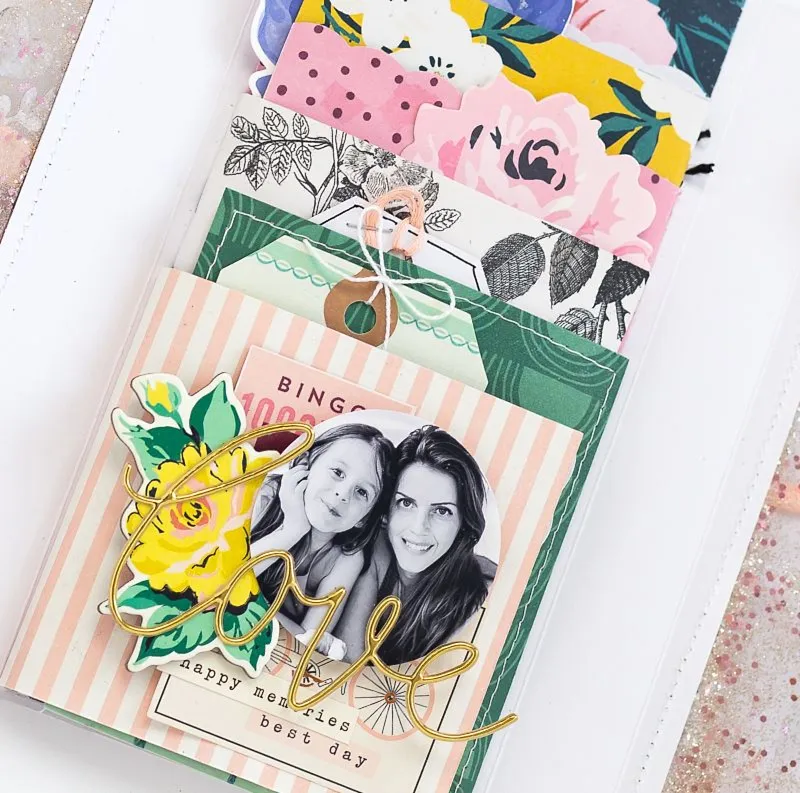 Source: Pinterest
Reminding your mom that she is special is a perfect way to lift her spirits up on mother's day. This mini-book is a simple gift that requires a lot of thought and can get the whole family to be a part of it.
What you will need
Cards
A ring or a ribbon to tie the cards together
Pens or colour pencils
Magazine clippings or any print that reminds you of mom
How to make
Look for images and writings that remind you of your mom to make the mini-book colourful.
On each card, write why you love your mom. It can be because she gives the best hugs or makes the best cookies. You can even draw little images next to them.
Once you've got all the ten cards in place, you will need to make a hole on the left end of each card to allow a ribbon or a ring to pass through.
Once the holes are made, you can tie all the cards together and make a mini-book out of it.
Gift this to your mom with a rose or a bouquet, and she will be the happiest.
11. Herb Garden Planter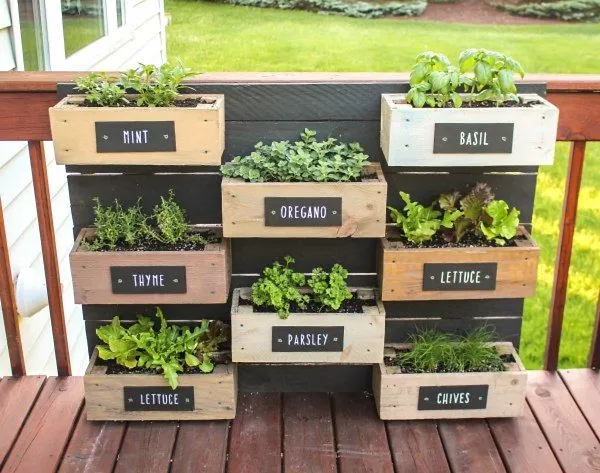 Source: Pinterest
Now, who would not love growing herbs in the comfort of their home – all year long! Some of the popular herbs to have are mint, basil, thyme, and rosemary. Now wouldn't your mom love this?
What you will need
Wooden planter box
Flower pots
Herb saplings
Potting soil and pebbles
Chalkboard paint
Chalk
How to make
Paint two coats of chalkboard paint on the wooden planter box. Let the first coat dry before applying the second one.
Place the pebbles in each flower pot to allow for proper drainage.
Plant your herbs in the post with the potting soil. Place each pot in a wooden planter box.
Write the names of each herb on their respective planter boxes with the chalk.
12. Gift Wrapping Paper Bouquet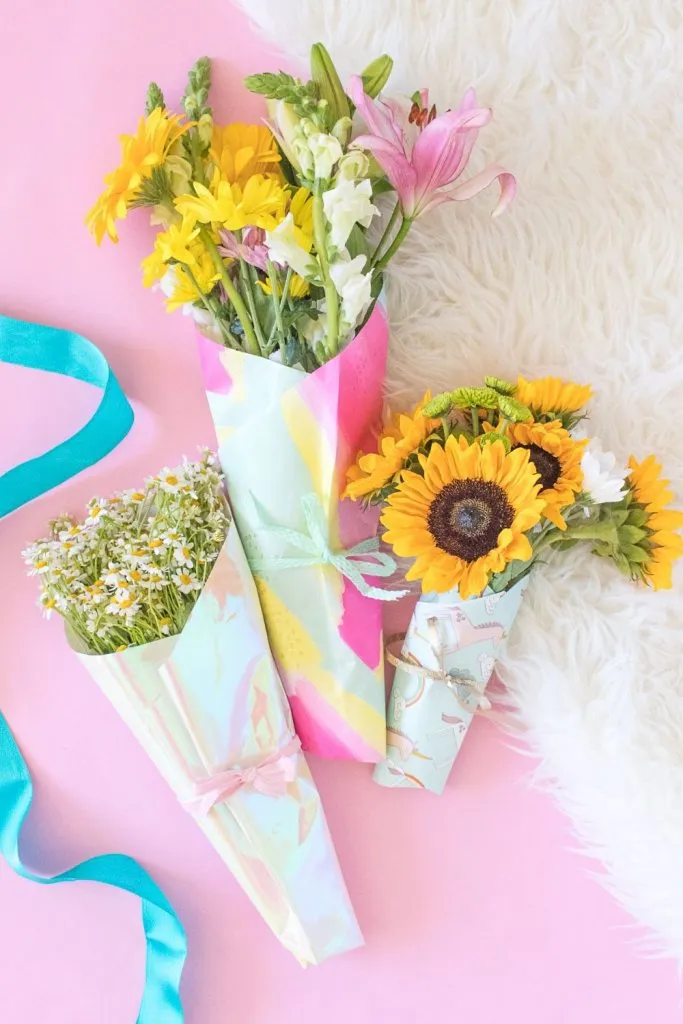 Source: Pinterest
Rather than settle for the usual store-bought bouquet, let's look at how to wrap a bouquet of flowers with gift wrapping paper for a gift that is sure to be appreciated. Take a colorful or printed wrapping paper and swiftly wrap a bouquet of flowers knotted with a ribbon for a beautiful gift idea that is perfect for Mother's Day!
What you will need
Wrapping paper
Damp kitchen tissue roll
Plastic wrap
Ribbon
Tape
Flower bouquet
How to make
Trim the flower stems.
Cut a square piece of the gift wrapping paper proportionate to the bouquet size. Place it face down with the pointed end on top.
Place the plastic wrap on top, followed by a damp kitchen tissue. The plastic wrap prevents the towel from leaking onto the paper.
Place the flowers on top of this and wrap the stem bottom in the wet tissue and plastic wrap to maintain the freshness.
Ensure that the flowers are placed in the corner of the wrapping paper. Fold the bottom up to flatten it so that it meets the centre of the stems.
Fold over one side and tuck it slightly inside. Then fold over the remaining side and tape it to the back of the bouquet so that it's secured.
Tie the ribbon bow around the wrapped flower bouquet. You can also add a tape piece to the back to prevent it from slipping.
13. Lemon Body Scrub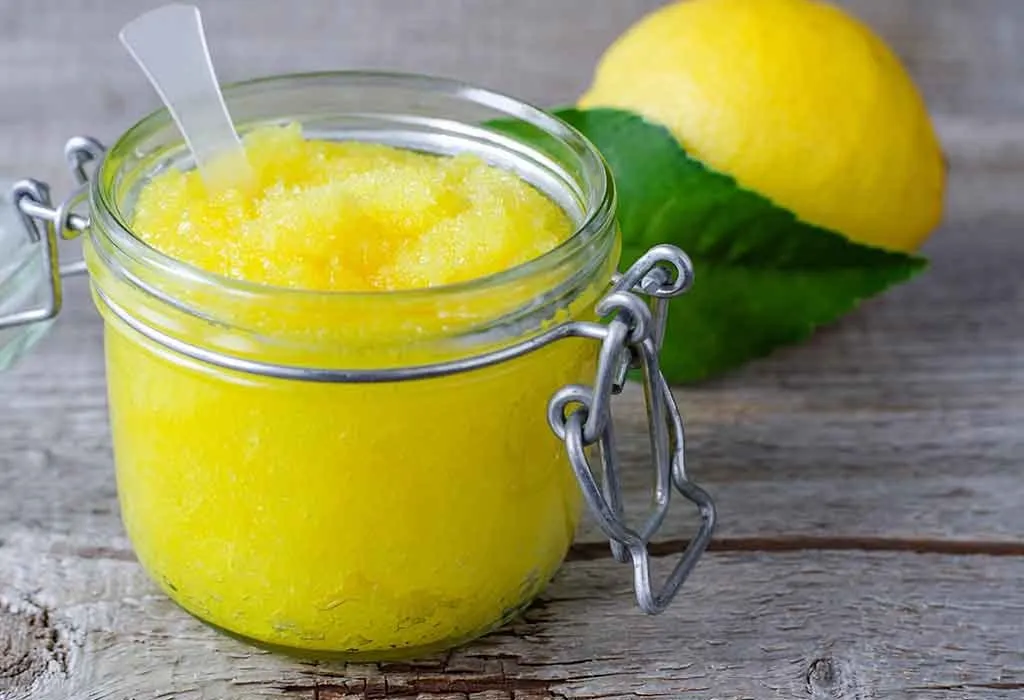 Homemade scrubs are very easy to make and don't cost much. Plus they also make for great DIY gifts! Let's learn how to make a lemon sugar scrub.
What you will need
½ cup organic coconut oil
2-3 tbsp of lemon zest
1 ½ to 2 ½ cups of sugar
10 drops of lemon essential oil
How to make
Take a glass bowl and melt the coconut oil in it for 30 seconds or until it becomes liquid in nature.
Mix the lemon zest and lemon essential oil with the previously melted coconut oil.
Add in the sugar and mix until the whole thing is well combined. Start with 1 and 1/2 cups of sugar and gradually add 1/2 cup until you reach the desired consistency.
14. Pearl Hairpins
Pearls make everything just more beautiful. These are tiny little hair accessories that are so easy to make. With Mother's Day coming up, these pretty pearl hairpins would make great presents.
What you will need
Bobby pins – 2
5mm pearls (or depending on size) – 12-14
12-14 inches of thin wire
Pliers
How to make
Cut the wire into 7-inch pieces. This makes it easier to work with shorter pieces of wire.
Now, loop the wire through the hair pin's end and bend it such that it creates a little hook on end. The shorter end should be approximately 5mm.
Next, twist both ends together to combine, thus securing them. (You can use pliers for this if you have them.) About three twists are more than enough to securely hold together the two wire pieces.
Next, string a pearl onto the wire and pull it through till it reaches the bobby pin's end.
As you're holding the pearl at the top of the bobby pin, wrap the wire between the two prongs on the hairpin.
You can continue adding pearls, tightly enclosing the wire between the bobby pin's prongs after each pearl. To complete the hairpin, wrap the wire around the hairpin's end three-four times and cut off any extra wire.
15. DIY Coaster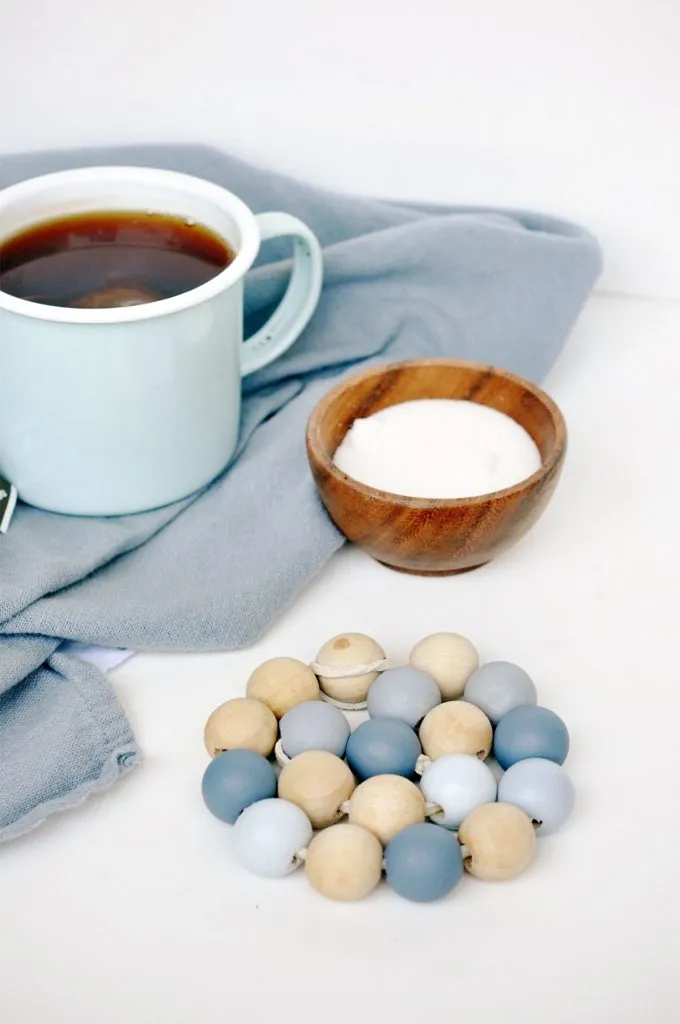 Source: Pinterest
Your mother is going to love this simple yet chic gift, without a doubt!
What you will need
Wooden beads
Leather string
Paint
How to make
Paint each bead in the colour of your choice and let it dry.
Cut the leather string to about 10 inches in length. You will require about 19 beads to make the coaster.
Tie a knot at one end of the leather string and add each bead in a random pattern. Once you have just 2 inches of the string left, tie it into a loop that's big enough to wrap itself securely around a bead.
To use it as a coaster, wrap the bead string in on itself and tie the loop of rope over a bead to secure it.
16. Mother's Day Coupons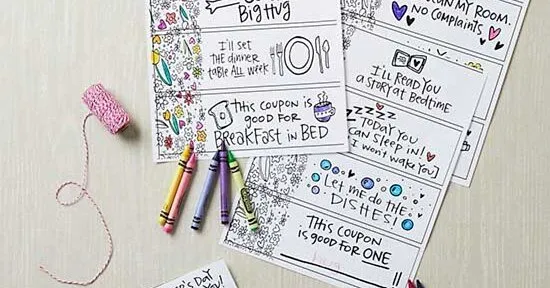 Trust us, this is one of the most inexpensive gifts, your mom will ever receive!
What you will need
Card paper
Scissors
Sketch pen
Stapler
How to make
Cut each card paper into mini strips of 4"x2".
Write any simple task you would want to do for your mother on each strip with the sketch pen.
Staple these strips together to form a booklet.
17. Recipe Holder
This is one of the most thoughtful DIY gifts for a mom who loves cooking and has recipes from over generations.
What you will need
Jumbo craft sticks
Acrylic paint jars
Glue
Permanent marker
How to make
Arrange 8 craft sticks horizontally. Now, glue 2 jumbo craft sticks vertically across this horizontal arrangement.
Stick 4 more jumbo craft sticks over each of the vertical craft sticks.
After the glue has dried, paint the craft sticks in pink colour.
Glue 5 of the jumbo craft sticks horizontally to the vertical craft sticks that are at the side.
Stick a jumbo craft stick at the bottom to create a base.
To create a pistachio colour, mix white and green colours. Now paint the craft sticks mentioned in steps 4 & 5.
Take 2 jumbo craft sticks and paint them white.
Stick the craft sticks diagonally across the front side of the recipe holder.
Write "Mother's Recipes" over the white craft sticks.
These Mother's Day gift ideas for kids are just suggestions that you could use to create your own version and make a special and customised gift that she would love without a doubt. Making her these little gifts and giving the little things that she can use will add to this experience and give her wonderful memories to cherish for life.
Also Read:
Heart Melting Mothers Day Poems and Songs
Mothers Day Card and Craft Ideas for Kids
Lovely Mother's Day Quotes & Wishes