Genelia Deshmukh Tells Us Who She Thinks is a Successful Mother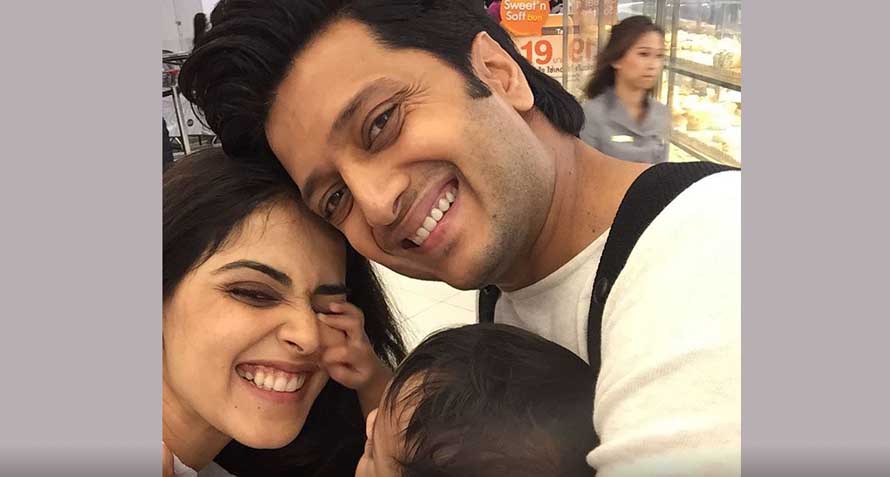 Any new mother knows that being a new mom comes with its fair share of highs and lows. Riddled with challenges and frustrations, it is natural to compare oneself to other moms who seem to have it all together, to feel like you are the only one who is failling. Young mom Genelia Deshmukh, who recently gave birth to her second son Rahyl, addressed this widespread issue beautifully. She has revealed her definition of a successful mom and we think it is spot on…
Who's a successful mom? Someone whose baby never cries, whose house is always in perfect condition, whose kitchen always has the best food, and who manages to look spotlessly clean and fresh all the time? Or is it someone who does her best to keep her baby and household happy, failing now and then, but not losing her determination? Genelia Deshmukh is a young mom to two children. She is going through the challenges that all new mothers face, and with two little boys to care for, life isn't easy for her. Like every woman in India, she knows the societal pressures on mothers to do everything with a smile. Despite trying very hard, there always are people who judge a mother for her decisions, the way she plans her day, or the choices she makes for the baby. And if she fails, there is no end to the criticism. This is what propelled Genelia to share her own definition of a successful mother.
Here is your mantra for defining your success as a mother. We think it is absolutely correct!
After Genelia shared this on social media, other moms came forth, idenitifed with her and made their support vocal. One mom shared how she has a joint family but caring for her little one and doing all the chores is still very hard at times. Yet another mom expressed her happiness that mothers today share these sentiments. She is glad that women realise that the willingness to try is more important than being perfect all the time.
Ever since Genelia entered the phase of motherhood, she admits her life has completely changed. She has made her baby her first priority and is a hands on mother. She believes in doing everything for her baby even though it leaves her drained by the end of the day. And like every loving mom, she does this not out of compulsion, but out of pure love.
"I think being a mother is the most rewarding feeling. In fact, as the days go by, I remember my own mum. I think motherhood makes you thank your own mom the most."
Source: https://indianexpress.com/
Luckily for her, both her mother and mother-in-law give her sound advice, but encourage her to trust her instincts and make her own choices. Of course, she is not alone in her parenting journey. Right from the time she was pregnant, her husband Riteish has been just as involved and responsible as her. He is an active Daddy who spends time with his kids and is always there for his wife at the same time.
"Riteish has changed diapers, given Riann a bath and sat up with me in the night. I'm thankful my husband doesn't think that bringing up the baby is just my job and enjoys it just as much."
Still, being a mother is a hard job, and Genelia gets real about it. She accepts that despite the support, it is not easy figuring out how to take care of such a tiny being. She acknowledges the importance of being happy for both the mother and the child. Happy mothers, she feels, are better equipped to handle their priorities, be more positive, and cheer up their babies.
Finally, the one thing that has helped Genelia handle her new role and be good at it is this: staying true to herself. She proudly claims that she is just as much herself now as she was before becoming a mother. In fact, even a monumental change like marriage hadn't changed her personality. In this gorgeous mom's opinion, a mother should be true to herself no matter what, not just for herself but also for the sake of her child. No matter what tips people around you give or just how perfect other mothers seem to be, relying on your instincts is the best thing ever. Mothers don't need any tips to look after their baby; they learn from experience and they learn fast. What ultimately matters is that you and your baby should make the most of these early years; there will never be any more quite like these again!
"There's so much advice given by everyone around, some unwanted as well. I just want to tell new moms to enjoy their babies. I for one, love experiencing every moment and I'm sure each mom feels that way. No matter how much you've been told by others, it's your own experience that matters."
Thank you Genelia for setting the record straight on motherhood, the role of fathers in bringing up a child, and being true to yourself. Here's wishing you continue to enjoy this magical journey called motherhood!