James Name Meaning and Origin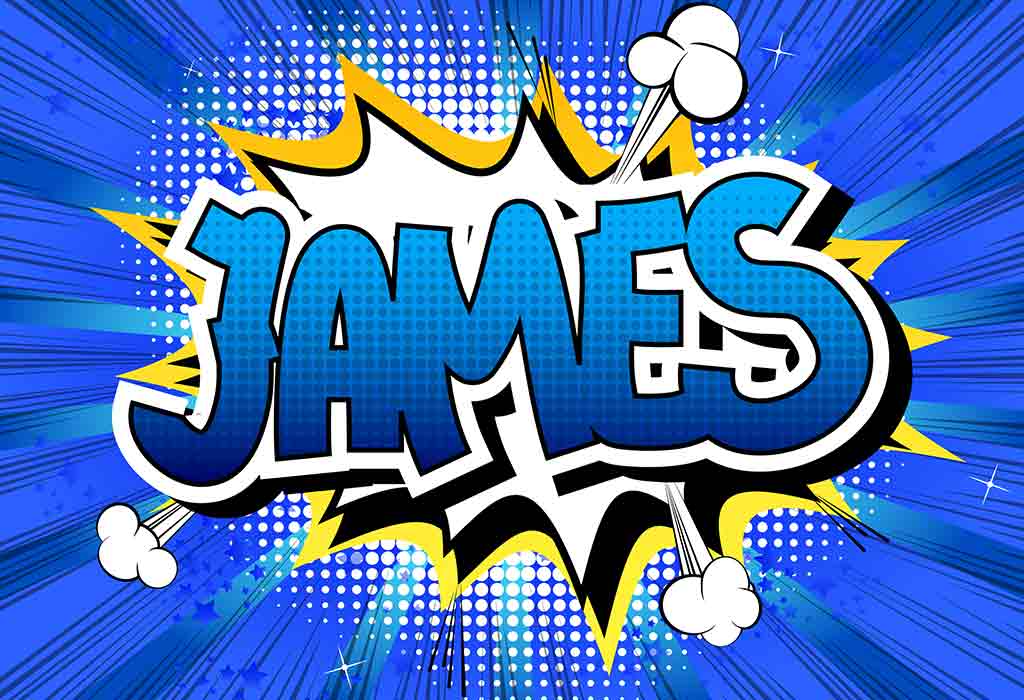 James is a very popular name and has Biblical and Royal connections. It is a highly loved name that has been within the top 10 baby boy names for decades. So, one can say that James is, pretty much, a timeless name. It has become even more famous due to many legendary celebrities bearing the name and taking its legacy forward. So, if you are considering names for your little boy, then James should not be left out under any circumstances!
What Does James Mean?
The name James has a stimulating history, including that it's a translation of another super common "J" name for boys: Jacob. In fact, the meaning of James is also the same as that of Jacob, that is, "supplanter" or "replacer." It has been derived from the Latin word Jacomus, which means "May God protect." The name has been famous since the 17th century and has found its way into many of Shakespeare's plays, a big fan of the name.
Origin
James is a modern successor of Iacobus, the Latin version of the Hebrew name Jacob, another one amongst the highest baby names for boys from the past many years. James has biblical roots and was the name of two apostles within the New Testament. It also has royal roots and was the name of sorts of both England and Scotland.
Gender
Male
Pronunciation
Syllables
1 syllable
Length/Letter
5 letters
Name Variations/Spellings
Different cultures follow different trends concerning spellings and variations. And considering that James is a very popular name, there are different variations and other spellings for James, which enlightens the cultural significance across various religions and nationalities. Following is the list of James name variations found in other cultures.
| | |
| --- | --- |
| Name | Origin |
| Jamie | Hebrew |
| Jameson | British |
| Jay | Latin |
| Jaycee | American |
| Jacob | Hebrew |
| Jaime | Spanish |
| Jamy | Hebrew |
| Jimmy | Hebrew |
| Jameze | Hebrew |
| Jaylee | American |
How Popular Is the Name James?
James has been a trendy name and was among the top 10 boys' names for many decades. However, it faced a period of decline between 1993 and 2013, when its usage reduced drastically. However, as per the Social Security Administration data, the name was revived in 2014, when it made it into the top 10 most popular names for boys. As per the US administration data, the name has consistently been in the top 20 names since 2000, peaking at 4 in 2017 and 2018. As per the latest data, the James popularity index has allowed it to reach the 6th most popular name for boys in 2020.
Another reason for the increasing James baby name ranking in the US is that many celebrities, like Ryan Reynolds and Blake Lively, have chosen the name for their baby. And people do follow such trends of keeping their baby name the same by following their favorite celebrities. While it has many name variations, like Jim, Jamey, and Jimbo, James remains the most popular.
Interest in James – Worldwide
Over the last ten years, the search trend for James has been quite inconsistent. It reached the highest score of 100 in July 2014, while the lowest was in March and June 2020 with 46.
Interest in James – the US
Looking at the search trends over the last ten years in the US, James was at its peak in July 2014 and May 2019 with a score of 99 and 100, respectively. It was the lowest in September 2021, with a score of 49.
Popularity of the name James
URL: https://www.ssa.gov/cgi-bin/babyname.cgi
Where Is the Name Most Searched?
Search trends of James – Worldwide
According to the Google search trends, James was the most popular in the United Kingdom over the decade, with a score of 100 in July 2014. This is followed by Ireland, United States, Australia, and New Zealand, rounding up to the Top 5 countries.
Search trends of James – the US
South Carolina is the 23rd populated city in the US, and the name James has been most searched in South Carolina over the last ten years. The rest of the sub-regions like Virginia, the District of Columbia, and Alabama were next in the list where the name James was searched the most.
Middle Names That Go With James
Choosing a middle name that sounds appropriate and most suitable for James is equally essential to keep the meaning of the name intact and meaningful. Below are listed some double names with James that you can think of choosing for your little munchkin:
| | |
| --- | --- |
| Ezra | Emmet |
| Jason | Everett |
| Jude | Hayes |
| London | Harrison |
| Oscar | Henry |
| Adam | Liam |
| Adrian | Thomas |
| Daniel | Tyler |
| Dylan | Timothy |
| Elijah | Oliver |
Famous People Named James
People love and idolize celebrities, and many celebrities have increased the popularity of the name James by giving their newborn babies the name. Some of the most popular personalities who have the same name are:
| | |
| --- | --- |
| Celebrity Name | Profession/Famous For |
| James Taylor | Cricketer |
| James Van Der Beek | American Actor |
| James Brown | Singer |
| James Blunt | Singer |
| James Cameron | Movie Director |
| James McAvoy | American Actor |
| James Dean | American Actor |
| James Harden | Basketball Player |
| James Franco | American Actor |
| James Corden | Comedian |
| James Stewart | American Actor |
Similar Names & Last Names
You can find a variety of first, middle, and last names for baby names like James. There is also a wide variety of family names for James that will be suitable. Other names for James are listed below:
Names That Sound Like James
Many names sound similar to James, and names that rhyme with James form the perfect alternatives. Below we have listed some names that sound similar to James and will help you to keep a modern and unique name for your baby:
| | |
| --- | --- |
| Aimes | Ames |
| Aymes | Eames |
| Jadan | Jaden |
| Jayden | Jamese |
| Janice | Jones |
| Jung | Jengo |
| Jonas | Jamaica |
| Jawanza | Janus |
Sibling Names Related to James
Choosing appropriate sibling names that go with James is essential because nowadays, parents prefer to name their children, which are relatable and complement each other. Below we have listed sister names for James and brother names for James for you to choose from:
| | |
| --- | --- |
| Sister Names for James | Brothers Name for James |
| Emily | Andrew |
| Abigail | Caleb |
| Olivia | Liam |
| Sarah | Peter |
| Alice | Luke |
| Carla | Marcus |
| Lily | David |
| Amalia | Morgan |
| Faith | Ceaser |
Nicknames for James
Parents or loved ones prefer to bestow their children with adorable nicknames just to tell them how much they adore them. There are many nicknames, and for the name James, you can give address your baby with:
| | |
| --- | --- |
| Jim-Jam | John |
| Jamie | Jimbo |
| Jay | Jimmie |
| Jameboy | Jammie |
| Jimmy | Jemma |
| John | Jeremy |
| Jim | Jam |
| Jem | Jemmy |
The name James has a lot of importance across the globe, most significantly relating to Biblical Origins. The name has stood firm through the ages since 1900. Despite its classic usage, the name is still going strong, with many parents still choosing the name for their babies. So, just like any other classic name, you can never go wrong by choosing this name for your son!
Sources/References
Social Security Administration: https://www.ssa.gov/cgi-bin/babyname.cgi
James Name Popularity in the United States: https://trends.google.com/trends/explore?date=2011-08-29%202021-09-29&geo=US&q=james
James Name Popularity Across the World: https://trends.google.com/trends/explore?date=2011-08-29%202021-09-29&q=james
James Name Interest in the United States: https://trends.google.com/trends/explore?date=2011-08-29%202021-09-29&geo=US&q=james
James Name Interest Across the World: https://trends.google.com/trends/explore?date=2011-08-29%202021-09-29&q=james