How to Make a Cootie Catcher for Kids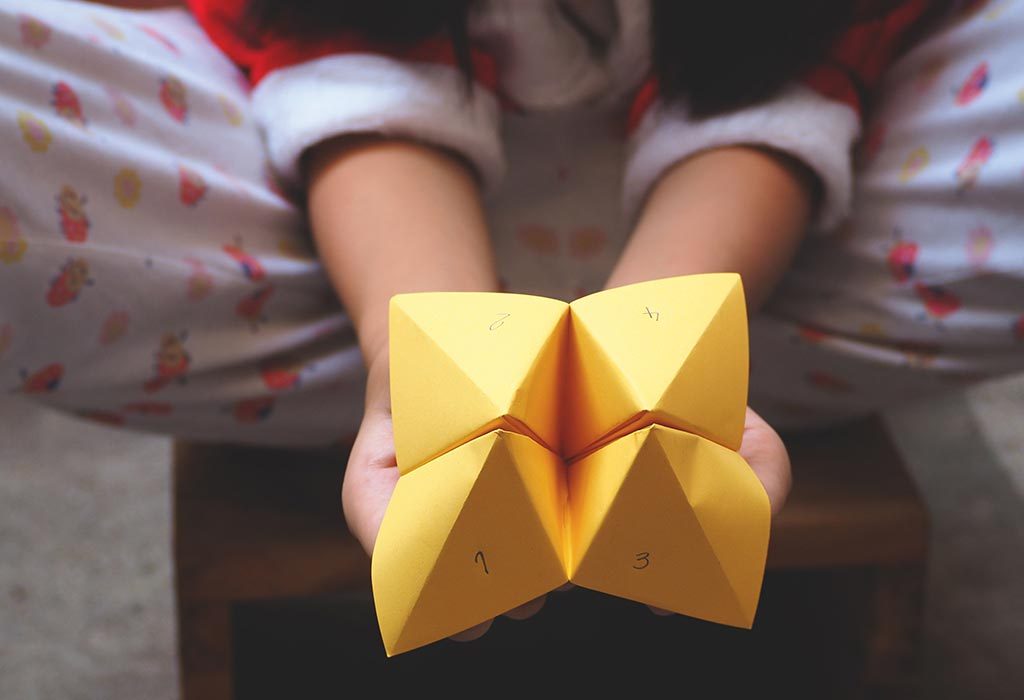 Paper is one of the best mediums when it comes to art and craft activities for kids. And if you grew in the 90s era, you must be well acquainted with one of the best papercraft activities for kids: a cootie catcher, also known as a paper fortune teller! There is no doubt that cootie catcher was a rage amongst youngsters during those times. And if you want to teach this great origami craft idea to your kiddo that made you and your friends have loads of fun together, then it will be a great idea to browse through this post! This post teaches how to make a paper fortune teller or a cootie catcher in some simple and easy steps!
What Is a Cootie Catcher?
If you are looking for some words to describe what is a cootie catcher to your kiddo, well, in the simplest words, a cootie catcher is a form of origami craft made with paper. Cootie catcher is also known by various other names such as salt center, chatterbox, buffalo shakers, fortune tellers, Himmel and Hoelle, etc., but it is played with equal excitement and fervor by children from various parts of the globe.
If your memory has faded a bit or you don't remember how to fold a cootie catcher, the following DIY steps will help you brush up your skills and help you and your kid master this age-old art of making this wonderful origami craft.
DIY Cootie Catcher for Children – Step by Step Instructions
If you wish to know how to make a cootie catcher, here's what you will require and the steps you need to follow:
Materials Needed
Blank paper (preferably a square sheet of paper)
Four different colored marker pens (pick any colors as per your choice)
A black or any dark-colored marker pen for writing
A pair of scissors
Instructions
If you don't have a square paper handy, then you can take an A4 sized sheet and make it into a square sheet. For that, you will have to take one edge of the paper and fold it diagonally as you crease the center.
With the help of scissors, cut off the extra paper to get a perfect square. Make sure this step is done correctly or else the cootie catcher may not come out perfect.
Take all the corners of the square sheet one by one and fold them to the center of the sheet so that you get a perfect 'X' or cross shape in the center. Crease all the corners well to secure the shape.
Flip to face the X side of the paper downwards. Again, bring all the four corners of folded paper to the center of the paper and secure the creases.
Now, fold the square in half and then again fold the rectangular shape that you get, into half.
Open to get nice crease on all the sides. You will have four triangular shapes showing on one side of the folded paper and four-square flaps on the other side.
You can take colored markers to write names of colors or use these markers to draw any shape on the four flaps, for example, you can make a circle on each flap in different colors.
You can write numbers on each side of the triangle on the other side of the paper. Though you get four big triangles by folding, there is a demarcation to further divide the four triangles into eight smaller triangles.
Flip open each triangle and write anything that you wish, under every number. You can go crazy by writing funny predictions.
Once you are done with coloring and writing on your cootie catcher, ask your kiddo to gently flip his fingers under the square flaps.
The cootie catcher is ready to be played with! Start by asking which color the person wishes to choose and then ask them to pick a number from 1 to 8 that is written inside. Once a number is chosen, the prediction written underneath is told to that person. This is as simple and easy as it goes!
Cootie catcher or paper fortune teller is a great activity idea for children that can help them overcome boredom anywhere and anytime. The kids can have crazy fun by learning to make this super easy craft activity. Well, as a parent you can also ask your kid to make a cootie catcher in making various decisions such as which color clothes to wear on different days of the week or what should be the breakfast, lunch or dinner menu. The sky is the limit by what can you and your kiddo achieve with this fun origami tool.
Also Read:
DIY Dollhouse Ideas for Children
DIY Playhouse Ideas for Children
DIY Bubble Solution for Children