Easter Egg Filler Ideas For Children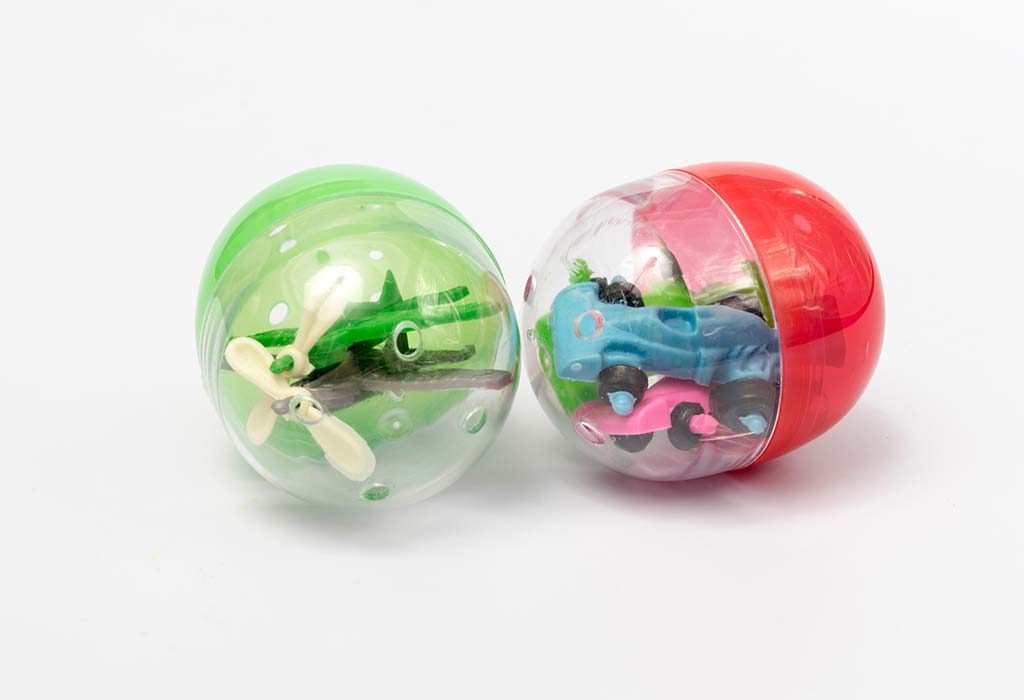 In this Article
Easter is approaching, which means that it is time to plan your little one's holiday egg hunt! By now, children everywhere would be daydreaming about hunting for those little Easter eggs and finding all the fun stuff hidden inside! But those eggs do not have to be stuffed solely with jelly beans, wrapped chocolates, and other sugary treats; instead, go for fun creative, non-candy Easter egg fillers your children would love!
Awesome Easter Egg Filler Ideas for Kids
Avoid the sugar overload this year and consider these creative Easter egg filler ideas!
1. Stickers
Stickers fit perfectly inside the little plastic eggs, hence make for a great option for easter egg fillers. A bunch of stickers can be a fun treat for children who love to create crafts with stickers and just cannot seem to get enough of them. You could get small sheets of stickers, cut them into small pieces, or roll the sheets to fit into the plastic eggs. Along with stickers, you could even include small erasers in the shapes of your little one's favourite cartoon characters. These mini character erasers can make colouring projects and homework a bit more fun, cute, and colourful!
2. Building Blocks
You could look for age-appropriate blocks that are small enough to be kept inside plastic Easter eggs. They are perfect for children who love to build things and play. You can send your little one on a hunt around the backyard and then spend the evening building forts, towers, and other fun creatures with the new Easter egg toy fillers. These new blocks can be stored in the original box after your child is done playing with them. Small Lego pieces and Lego characters will also work if your little one has an extensive Lego set.
3. Small Musical Instruments
Little children adore music and interesting sounds. Therefore, small egg instruments like bird whistles and egg shakers can be perfect additions to the Easter egg hunt. You could purchase instruments that are small enough to fit the plastic eggs, or you could get bigger-sized plastic eggs that could accommodate the instruments. It is a great way to add some more interesting musical instruments to your little musician's collection!
4. Egg-Shaped Chalk and Crayons
These festive, little items always trend during the Easter season since they are perfect egg fillers. You can fit them inside the little plastic Easter eggs, or you can simply hide them as they are. In homes where children are obsessed with drawing, crayons and chalks would always be in demand, and you can use this opportunity to replenish that stock. Moreover, instead of placing the chalks and crayons in a box, you could ask your children to place them in egg cartons.
5. Alphabet Magnets
Why not combine the fun of Easter hunt with learning? You could hide little alphabet magnets inside plastic Easter eggs and get your kids to hunt all the letters down. Your kids will be having fun playing Easter hunt without realising that they are learning! Make the activity exciting by hiding the letters of certain words in different Easter eggs and then motivating your children to find the alphabets and form the words. This way, you could teach your children new words, too!
6. Socks
A few extra pairs of socks can come handy when you are in a rush to get your child dressed and cannot find the other sock. So this Easter, pick a few colourful socks with symbols or characters your child loves, roll them up, and fill one sock in each plastic egg. Ask the kids to then go hunting for the eggs and match as many socks as they can. This is a great last-minute addition for Easter!
7. Jewellery
Many children love fancy and shiny objects they can wear. Then, why not fill those plastic eggs with pretty pieces of jewellery? You could place a bracelet, a necklace, a pair of earrings, a fancy watch, or even a little ring inside the eggs. Stick-on earrings are also a great option. Have fun choosing the accessories for your kids for this game.
8. Puzzle Pieces
For this Easter egg filler, purchase a puzzle; something your children would enjoy. Then, divide the pieces, so each egg has an equal number of puzzle pieces and then start filling the eggs. This would make the Easter egg hunt more fun since the kids would be motivated to find all the eggs to complete the puzzle. Puzzle pieces as egg fillers simply add excitement and make the activity even more fun.
9. Animal Figurines
Kids enjoy playing with small animal figurines. If you get them in appropriate sizes, you can put them inside plastic Easter eggs and watch the children get surprised with every animal they discover. You could purchase a bunch of their favourite animals separately or get an entire pack containing several little figurines. You could also have themes, such as forest animals or farm animals. You could also make this activity educational by teaching your children more about each animal they discover!
10. Clues
Turn this Easter egg hunt into something more thrilling and mysterious by hiding clues inside the Easter eggs. Create a treasure hunt by leaving clues in each egg that will lead kids to the next egg. The final clue can lead to a fun reward or prize! Kids will definitely have a blast when they experience the excitement of a treasure hunt.
11. Flower Seeds
If your children have a green thumb and love gardening and nature, why not hide flower seeds inside the Easter eggs? You can go for flowers, fruits, or vegetables and after the kids have found their seeds, they could plant and nurture them. Grown-ups might need to supervise and educate kids to take care of their little plant buddies. It can bring the family closer together and give you a lot of time to bond with your little ones.
12. Snack Pouch
If you are looking to try something new this year, then you could go for reusable snack bags as fillers. This option is creative and cute, and children will definitely love it. You can find so many of these pouches online in various designs. Go for the one you think the kids will love the most. These pouches are also very versatile since they can be used to hold other things, like crayons.
13. Bath Bombs
Surprise your little one with a festive Easter bath by hiding kid-friendly bath bombs inside their little plastic Easter eggs. You can find them in many vibrant colours and scents. Go for the one your children are likely to enjoy. These colourful, dissolvable, and scented balls will turn your child's bath-time into a temporary wonderland!
14. Crackers
Crackers are a great non-candy egg filler idea your children will enjoy. You can purchase the ones in little bunny, or egg shapes to match the holiday theme. This option is great for parents looking a healthy, non-candy Easter egg filler for their kids.
15. Stamps and Mini-Ink Pads
You can never go wrong with something that can add to your kids' creative supplies. Hide a mini-ink pad and some stamps of various designs in each egg so your child can have a collection of stamps. The stamp pads run out pretty soon, so these can even act as a back-up option, helping avoid disappointments.
These Easter egg filler ideas for toddlers would not only ensure your children stay healthy during the holidays, but also make sure they have fun with their rewards!
Also Read:
How to Decorate Easter Eggs
Is the Easter Bunny Real?
Super Funny Easter Jokes for Kids