Homemade Kadha for Treating Cough and Cold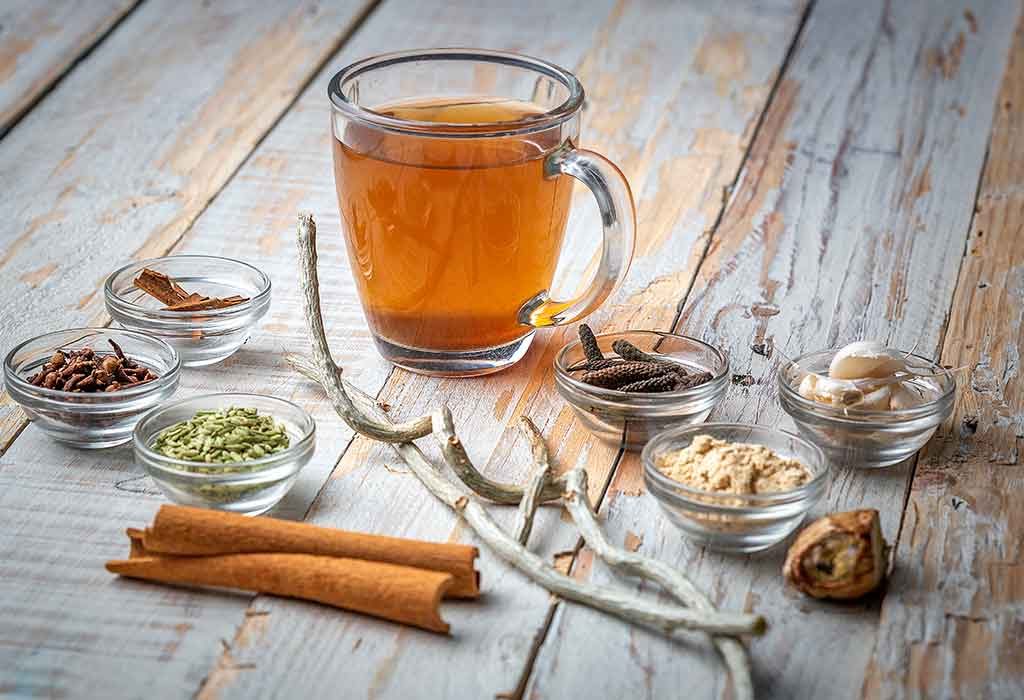 India is home to immeasurable Ayurveda remedies from ancient times. In Ayurveda remedies, 'Kadha' is commonly proposed as a cure for fighting flu, cold, cough, and infections. Kadha refers to a medicinal drink, prepared from mixing different edible herbs and spices that are readily available in most Indian households. Ayurvedic kadha can not only protect you from seasonal infections triggered by changing weather conditions but may also work wonders for building your immunity.
Advantages of Drinking Kadha for Cough and Cold
There can be many advantages of drinking kadha for cough and cold. Some of the benefits are as follows:
Averts Cough/Cold and Monsoon Allergies: As per experts, kadha's anti-viral and anti-bacterial properties because of its fundamental ingredients like tulsi, ginger and cloves can work competently to fight against cough and cold.
Reduces Mucus: Kadha can prove to be a healing drink owing to the presence of black pepper, cloves and tulsi leaves that help lessen mucous due to cold and cough.
Pacifies Cough: The common ingredients in kadha are cloves, tulsi and honey, which possess antiseptic and anti-inflammatory qualities that can soothe the irritated throat and bring relief from cough.
Boosts Immune Levels: One of the ingredients of kadha is ginger, which can help increase immunity and aid in fighting microorganisms that trigger seasonal infections.
Improves Hepatic and Renal Health: Consuming this healthy drink is suggested to promote the health of the liver and kidney. Poor kidney and liver can increase the risk of health issues like jaundice, loss of appetite and improper digestion.
Useful in Treating Stones: The wondrous kadha can also prove beneficial in treating stones and inflammations. Regular consumption of kadha can produce good results in this regard.
How to Make a Basic Kadha for Cough, Cold and Flu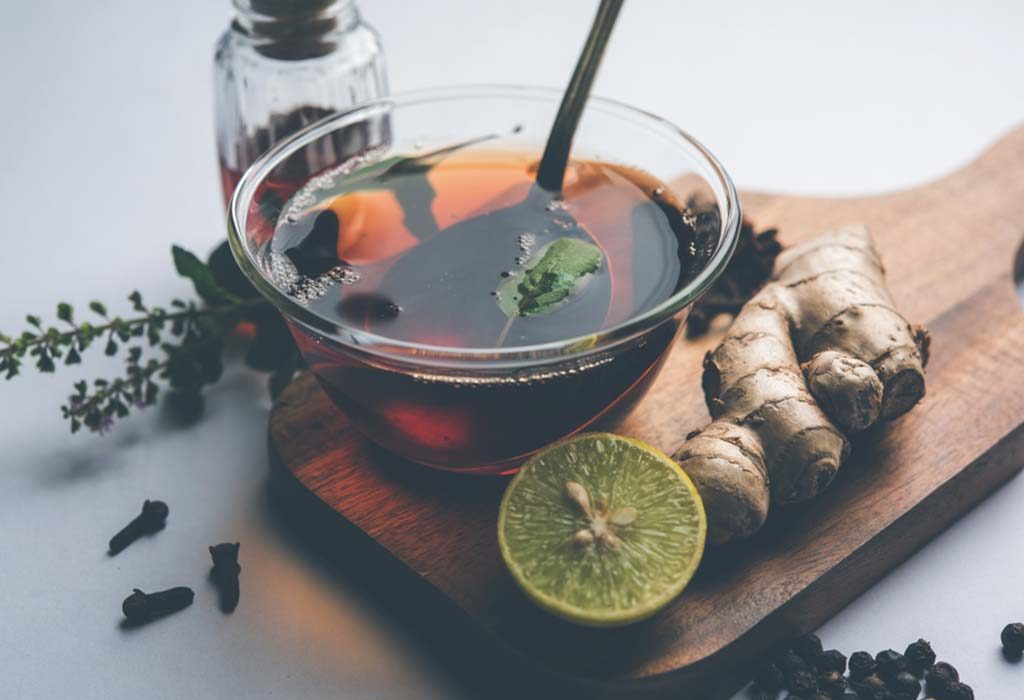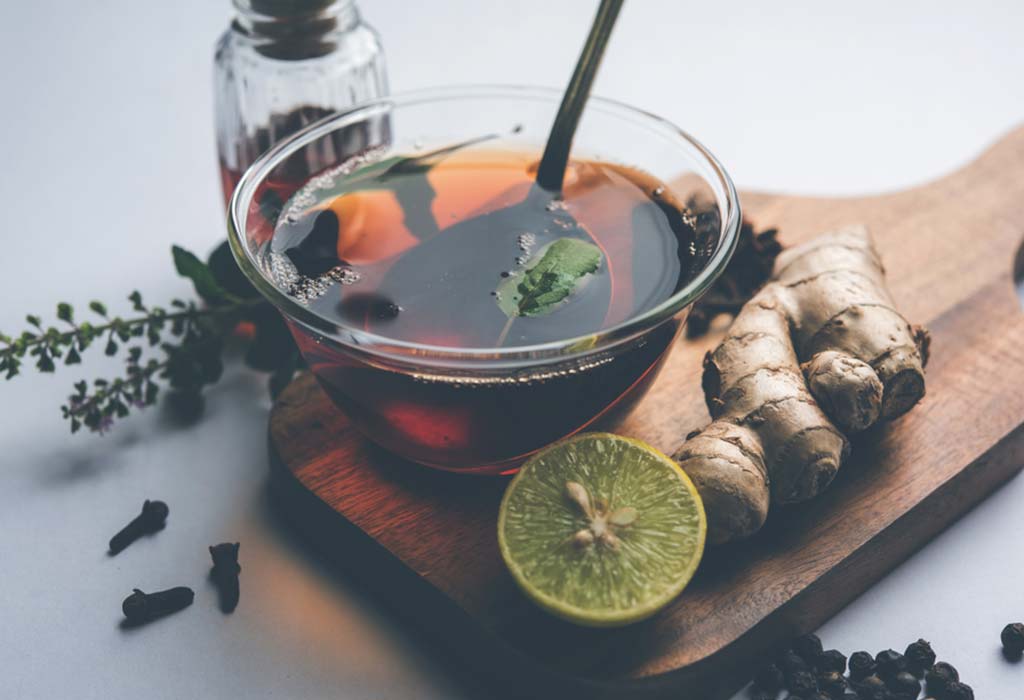 Kadha can be made ready in several ways. It is an amalgamation of many ingredients. In fact, every family may have a unique kadha recipe of their own. It is usually prepared by boiling various whole spices and herbs in water to release their medicinal qualities and benefits. Natural immunity boosters like honey, tulsi and ginger are frequently blended with the spice mixture to make the decoction more powerful. Here's how you can make a basic kadha for dry cough, cold and flu:
Ingredients:
Water: two cups
Ginger: one inch (peeled)
Cloves: 4-5 pods
Black pepper: 5-6
Tulsi leaves: 5-6 fresh leaves
Honey: ½ tsp
Cinnamon: two-inch stick
Mulethi (liquorice): optional
How to Prepare:
Take a saucepan, add two cups of water and boil it.
Grind together cloves, ginger, cinnamon, black pepper. You can also crush them in a mortar and pestle.
Add the crushed items to the boiling water.
Add the tulsi leaves too.
Allow the water to simmer on medium heat for around 20 minutes or till the mixture reduces to half.
Strain the concoction into a glass.
Add honey to balance the flavours.
Some Other Easy Kadha Recipes for Kids
Kids are more susceptible to common ailments like cold and cough because their natural immune system is still evolving. Here are some easy kadha recipes for cough and cold you can try:
1. Ginger Kadha
Ginger kadha can be great for cold for babies. It can also prove successful in tackling congestion and sore throat.
Ingredients:
Ginger: ½ inch
Ghee: ½ tsp
Black pepper: 2-3
Tulsi leaves: 4-5
Honey:1/2 tsp
Water: two cups
How to Prepare:
Heat the ghee in a pan.
Crush ginger and black pepper and add them to the pan, along with the tulsi leaves.
Pour water and bring it to a boil.
Let it simmer for a few minutes.
Strain the mixture, add honey, and serve warm.

2. Cinnamon Kadha
Cinnamon kadha is infused with powerful medicinal properties that can aid in fighting cough and cold in kids.
Ingredients:
Cinnamon: two small sticks
Cloves: three pods
Honey: ½ tsp
Water: two cups
How to Prepare:
Take water in a deep pan.
Add crushed cinnamon and cloves to it.
Let the water boil for a few minutes.
Strain the liquid and add honey if required.
3. Fennel Seed Kadha
Fennel seed kadha is packed with anti-bacterial qualities that can prove highly beneficial in warding off cough and cold.
Ingredients:
Fennel seeds:1/2 tsp
Ginger:1/2 inch
Cloves: 5 pods
Tulsi leaves: 4-5
Honey: ½ tsp
Water: two cups
How to Prepare:
Take water in a saucepan.
Add fennel seeds, cloves, crushed ginger and tulsi leaves.
Bring the water to a boil and let it simmer for about 10 minutes.
Strain the blend, add honey, and serve.
4. Black Cardamom Kadha
Black cardamom kadha can strengthen immunity and protect against infections like cold and cough.
Ingredients:
Black Cardamom: 4
Cumin: ½ tsp
Carom(ajwain): ¼ tsp
Cinnamon: 1 stick
Turmeric powder: a pinch
Tulsi leaves: 4-5
Water: two cups
How to Prepare:
Boil water in a saucepan.
Add black cardamom, cumin, carom, cinnamon, turmeric powder and tulsi leaves to it.
Allow it to boil for a few minutes.
Strain the mixture and serve hot.
Warning and Precautions
Some of the things that you may like to keep in mind are:
Take care to add the spices in the prescribed quantity. Surplus of any ingredient may lead to heartburn, a burning sensation in the stomach and food pipe, or nausea.
Avoid storing the kadha for long. It is best to consume a freshly prepared kadha to extract maximum benefit from it.
If your symptoms of cold and cough persist, it is advisable to visit a doctor.
Every seasonal change brings about seasonal flu type infections that become the reason for recurrent cold, cough and fever. Kadha is a wonder Ayurvedic home remedy that can efficiently help fight cold, cough and infections. With the ingredients, whole spices, and herbs conveniently found in Indian households, kadha is an inexpensive, useful and easy home remedy to battle infections and strengthen immunity. Thus, it may be best to include kadha in your lifestyle to prevent seasonal diseases like cough, cold, and to stay healthy.
Also Read:
Home Remedies for Fever in Kids
Home Remedies for Cough in Kids
Home Remedies for Cold and Flu in Infants & Children
?>