Eating Bottle Gourd (Lauki) During Pregnancy – Is It Safe?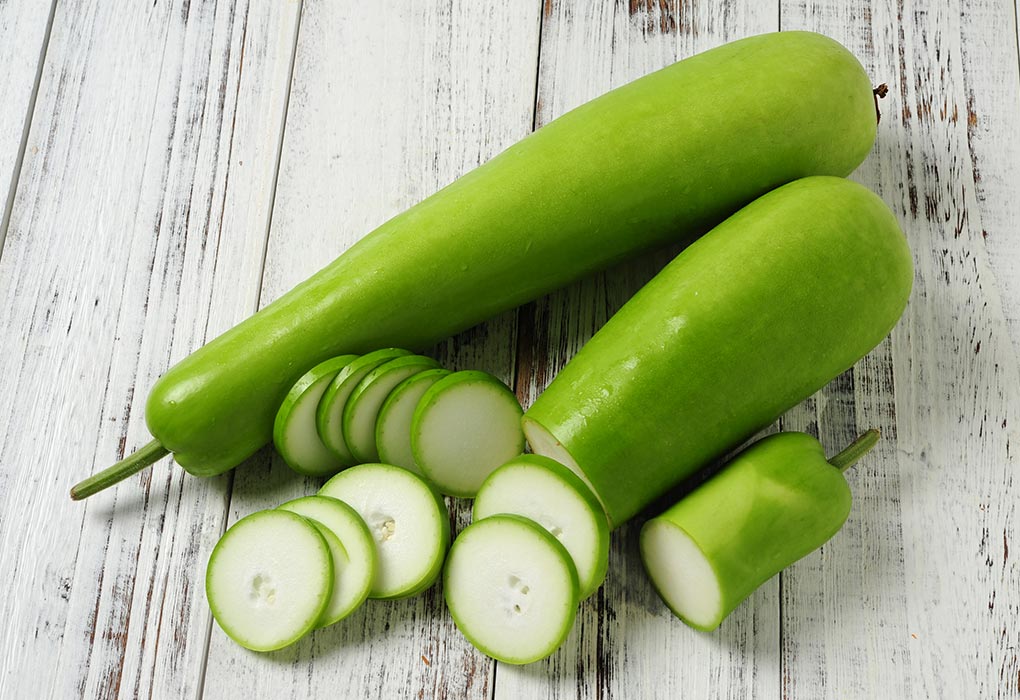 Bottle gourd is not liked by all for its bland and sour taste, but it is actually a very healthy vegetable. It offers a number of health benefits, especially for pregnant women! Pregnant women need to strengthen their immune system as their nutrients get used up very fast in the path towards the delivery of their baby, and eating bottle gourd can fulfil that need.
Can Pregnant Women Eat Bottle Gourd?
Bottle gourd can be consumed by pregnant and breastfeeding women. Eating bottle gourd during pregnancy can help keep you hydrated as it is packed with minerals and water. It is also rich in antioxidants which can keep your skin cells healthy. If you are breastfeeding, even better because it helps in milk production and weight loss post-delivery. Including bottle gourd in your pregnancy diet can prove nutritious and beneficial both for you and your baby, too.
Nutritional Value of Bottle Gourd
Read the following table to understand the nutritional value of bottle gourd.
| | |
| --- | --- |
| Principle | Nutrient Value |
| Energy | 14kcal |
| Carbohydrates | 3.39g |
| Protein | 0.62 |
| Total Fat | 0.02 |
| Cholesterol | 0mg |
| Dietary Fibre | 0.5 |
| Vitamins | Nutrient Value |
| Folates | 6mg |
| Niacin | 0.320mg |
| Pantothenic Acid | 0.152mg |
| Pyridoxine | 0.040mg |
| Riboflavin | 0.022mg |
| Thiamin | 0.029mg |
| Vitamin A | 16IU |
| Vitamin C | 10.1mg |
| Electrolytes | Nutrient Value |
| Sodium | 2mg |
| Potassium | 150mg |
| Minerals | Nutrient Value |
| Calcium | 26mg |
| Copper | 0.034mg |
| Iron | 0.20mg |
| Magnesium | 11mg |
| Manganese | 0.089mg |
| Phosphorus | 13mg |
| Selenium | 0.2mg |
| Zinc | 0.70mg |
Source: https://www.nutrition-and-you.com/bottle-gourd.html
Benefits of Bottle Gourd During Pregnancy
Bottle gourd carries a host of different health benefits. Some of the benefits of eating bottle gourd are listed below:
1. Prevents Constipation
Bottle gourd is low in fats and cholesterol and rich in fibre. Pregnant women who have excess weight and constipation can benefit from eating it as it improves gut health and regulates bowel movement.
2. Helps Release Heat
Not many know but bottle gourd can help release heat from your body during pregnancy. Cut cold slices of bottle gourd and place it under the soles of your feet to release excess heat from your body during pregnancy.
3. Limits Your Intake of Unhealthy Food
During pregnancy, you may experience cravings for unhealthy food items like cake and ice cream. Since bottle gourd is almost 96% water by weight, it can fill you up and prevent such hunger pangs. It can also help quench your thirst.
4. Provides Essential Minerals
Bottle gourd is rich in minerals like sodium and potassium. During pregnancy, loss of sodium in your body can result in fatigue. To replenish the lost sodium in your body, eat bottle gourd as it is a good source of sodium. You can even drink bottle gourd juice during pregnancy if you like.
5. Cures Headaches
You can have bottle gourd in the form of a cooked vegetable guilt-free as it is extremely low in calories. The seeds of the bottle gourd also can cure headaches, especially those which accompany morning sickness during pregnancy. If you have bottle gourd in any form at least once every day, such irritations which are side effects of pregnancy can be reduced.
6. Alkaline in Nature
The juice of a bottle gourd is alkaline in nature, hence, it can balance the acidic juices in your stomach. Many pregnant women suffer from acidity and heartburn. Bottle gourd can help solve that as it balances and neutralizes the effects of acidity in your stomach.
How to Include Bottle Gourd in Your Pregnancy Diet
You can have bottle gourd in the form of a juice, sweet, or as a cooked vegetable dish. You can also include it in a salad as long as you use some dressing which tempers its bland taste. You can make bottle gourd halwa or stir-fry it. It must be always washed, peeled, and deseeded before cooking.
Bottle Gourd Juice Recipe
Bottle gourd juice can help cure urinary tract issues and insomnia. It can also improve your health and give you healthy, glowing skin. It is very simple to extract bottle gourd juice and it should be consumed fresh. Below is the recipe: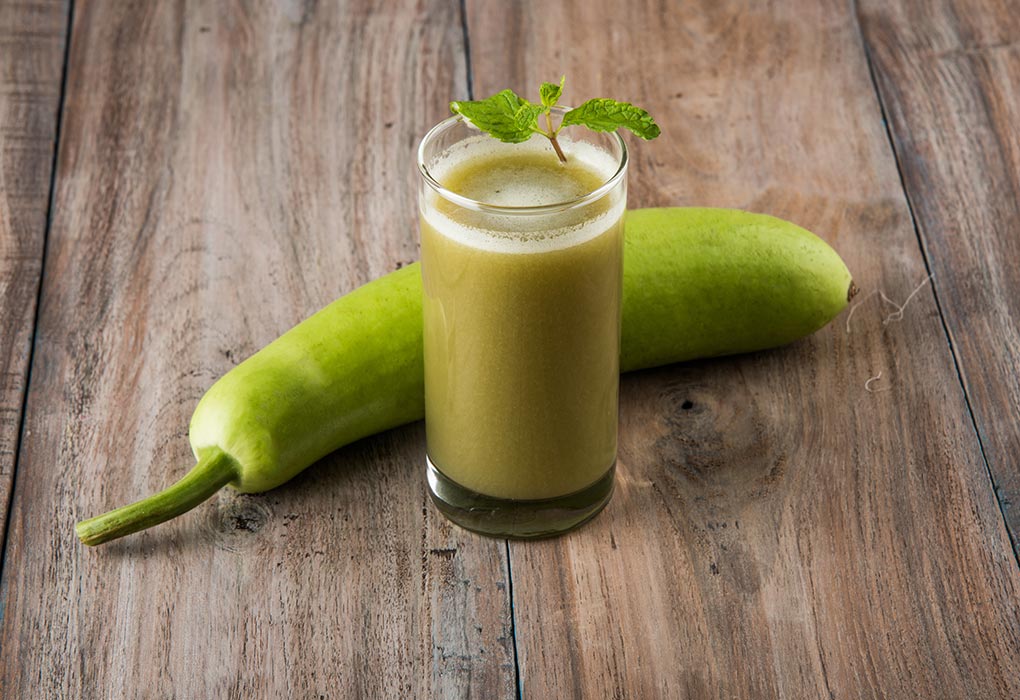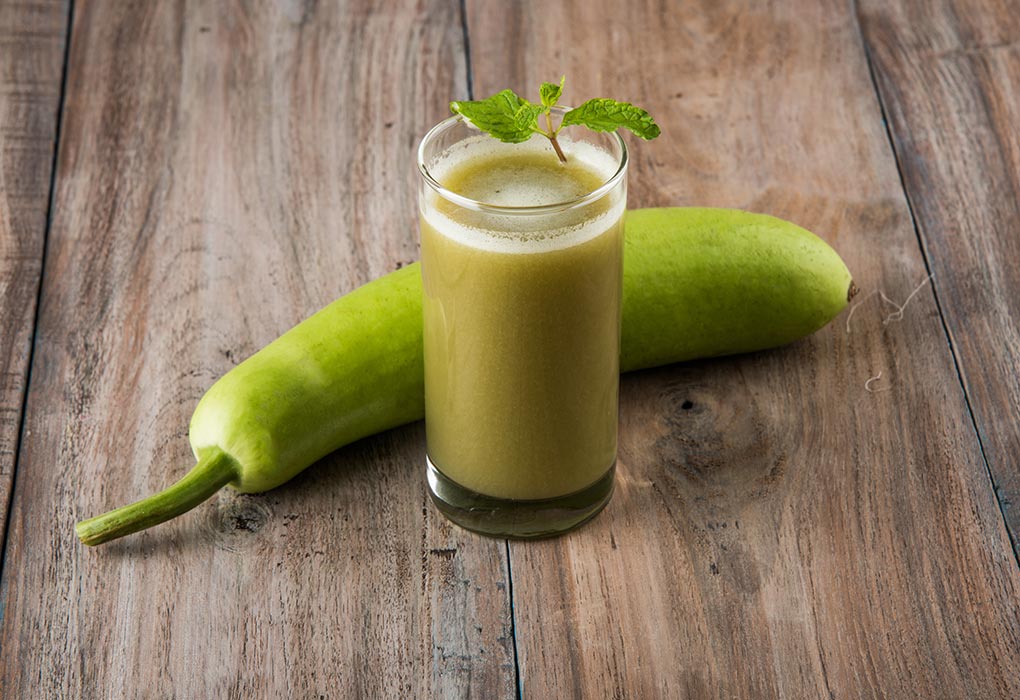 What You Need
One bottle gourd
Half teacup water
Ginger, mint leaves or Amla
Rock salt
Ice cubes
A blender and a vegetable peeler
How to Make
First, wash and clean the bottle gourd with water.
Peel the bottle gourd using a peeler.
Use a spoon to remove the seeds.
Cut the bottle gourd into small pieces.
Put it in a blender and add half a teacup of water.
You can add some ginger or mint leaves or amla to add some flavour.
Blend everything together.
For a final touch, add some rock salt and ice cubes.
Your bottle gourd juice is done and ready to drink!
As you can see, bottle gourd is extremely nutritious and beneficial to be consumed during pregnancy. So, eat it during pregnancy without any concern.
Also Read: Eating Horse Gram during Pregnancy