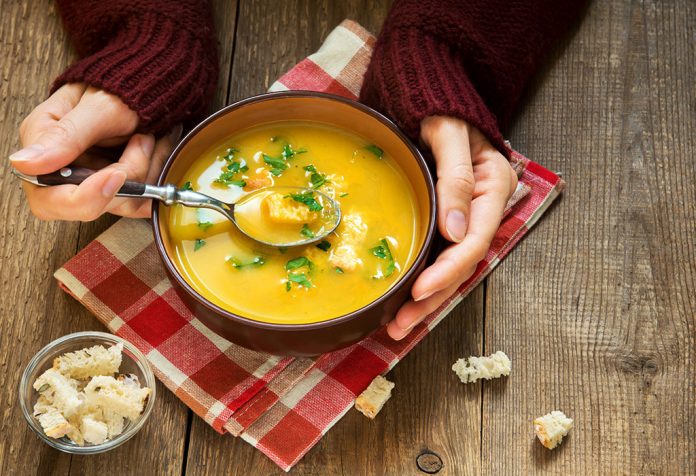 With the excitement of a baby along the way, people often begin to buckle their belt for the 9 months of caution up ahead. While everything the mother-to-be does is under scrutiny, one of the first things to which she pays attention to is her diet. It is needed to have a diet that not only suits the mother through those nauseous mornings and sleepless nights, but is also healthy for the foetus. Soups are very nutritious and easy to consume. Here are 10 soup recipes that you must try out if you are expecting:
10 Delicious and Nutritious Soups for Pregnant Women
1. Tomato Soup
Something tangy yet filling to keep you warm on cold days.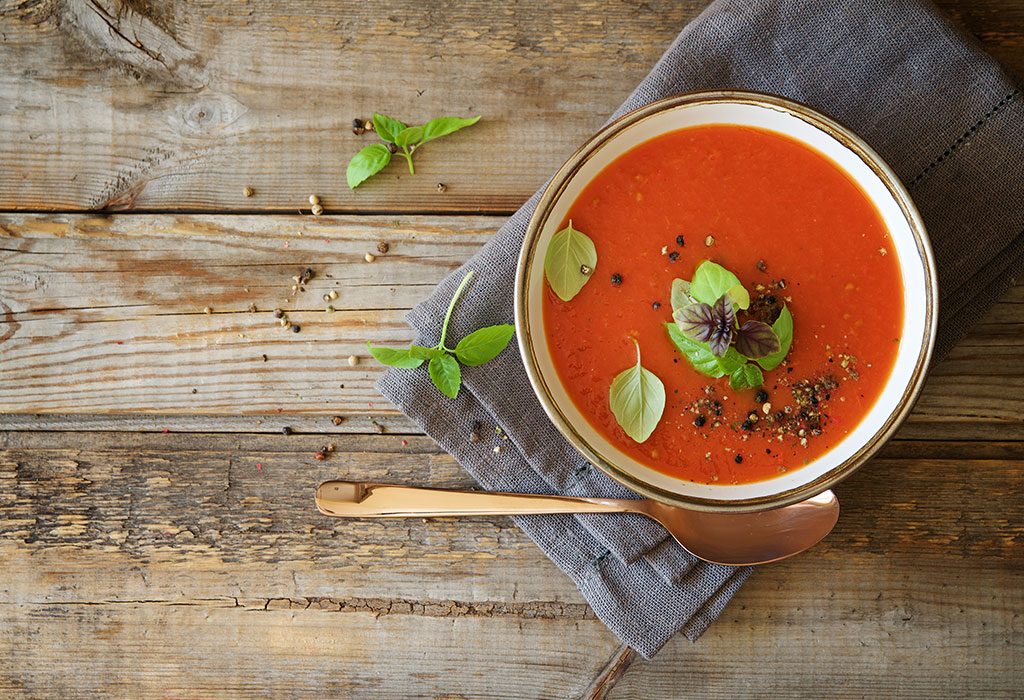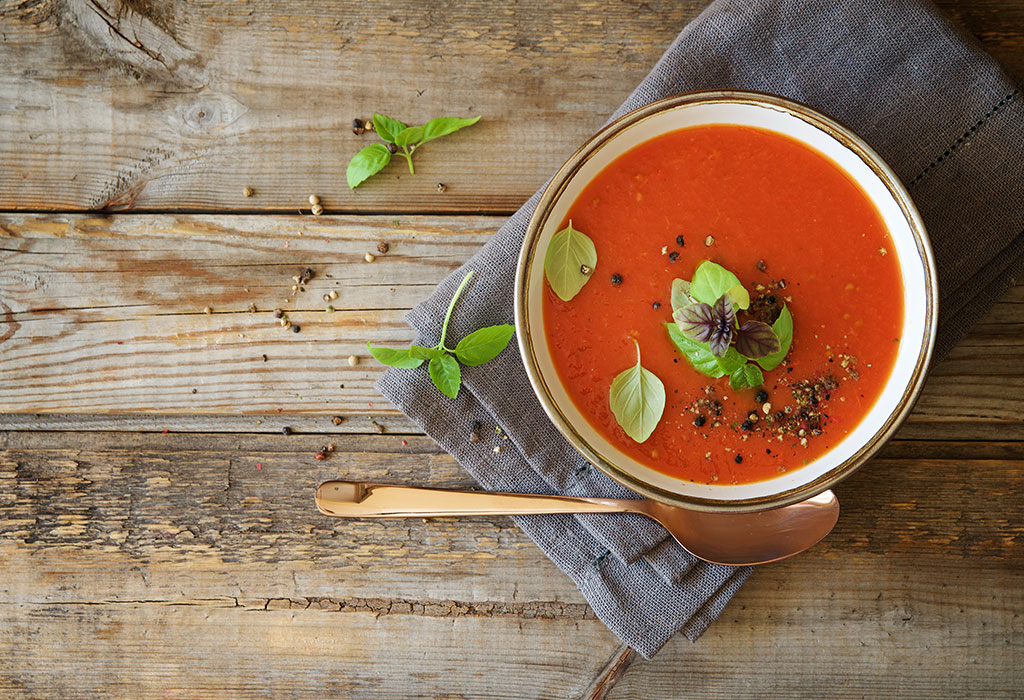 Ingredients
5 chopped tomatoes
¼ cup of yellow gram
½ a chopped onion
2 teaspoons sugar
½ cup of milk
Salt and black pepper according to taste
Method
Add the tomatoes and gram to 4 cups of water, and boil till the tomatoes are soft.
Turn off the flame and grind the mixture once it has cooled down.
In a pot, add oil and fry the onions slightly till they are light brown.
Add the tomato mix, milk, sugar, salt and pepper to the onions and mix it well.
Stir occasionally till the soup boils and then let it stay on simmer for 5 minutes.
Benefits
Tomatoes are rich sources of Vitamin A, Vitamin C and folate. They also contain iron, which helps to keep the mother and the child strong. Tomato soup during pregnancy is also known to reduce hypertension, and the fibres in the fruit help reduce uncomfortable situations such as diarrhoea and constipation.
2. Broccoli Soup
Absolutely healthy and still delicious.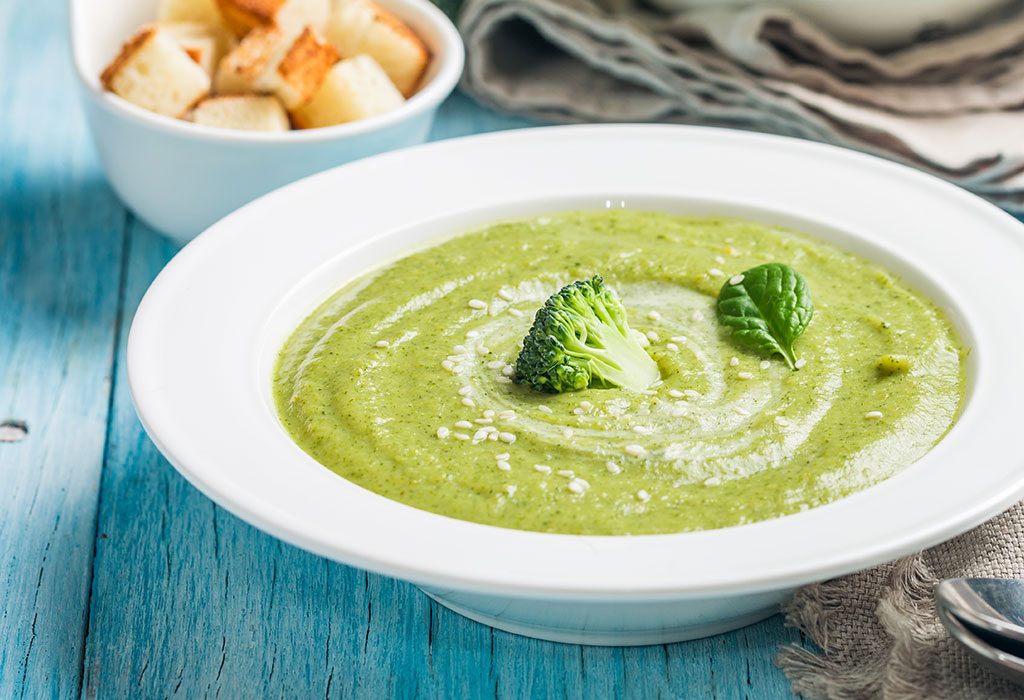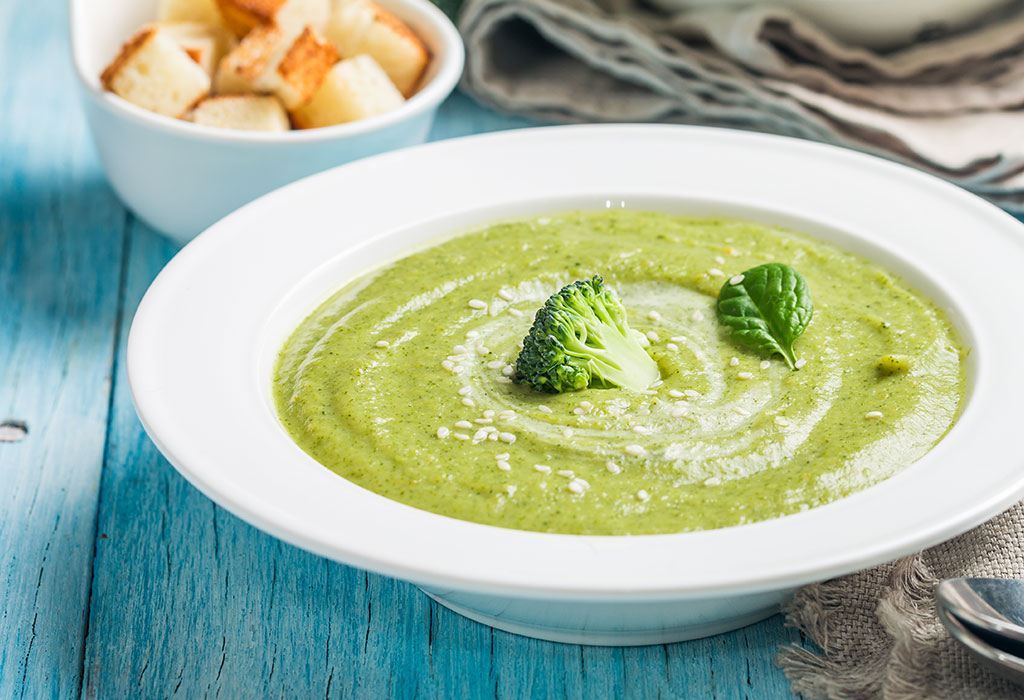 Ingredients
1 cup broccoli
1 teaspoon oil
½ cup chopped onions
½ cup milk
Salt to taste
Method
Saute the onion in a saucepan with oil till it turns translucent.
Pour in 1 ½ cups of water with the broccoli and cook on medium flame with the lid on. Stir occasionally.
Let the mixture cool down and blend it.
Pour the mixture in the saucepan with milk, salt and pepper. Mix well and bring to boil.
Serve hot.
Benefits
The broccoli broth may not be the first on anyone's 'must-try' list but it definitely is worth it! Broccoli is a potent source of Vitamin A and folic acid. This helps the mother maintain strength during the fragile first and last trimester.
3. Mutton Soup
Something flavoursome for the non-vegetarians.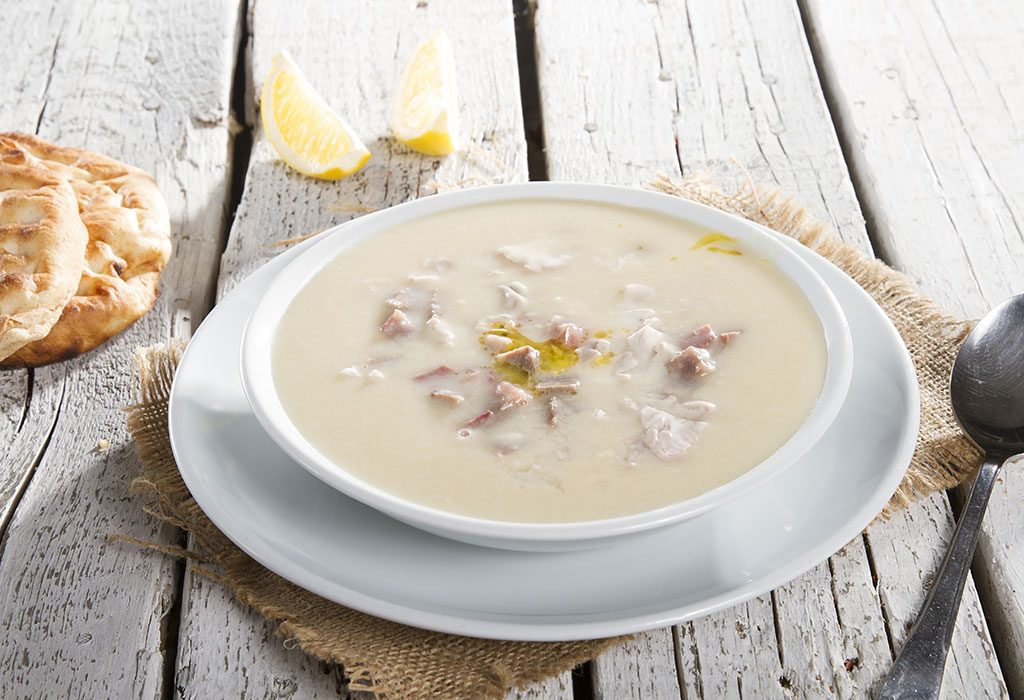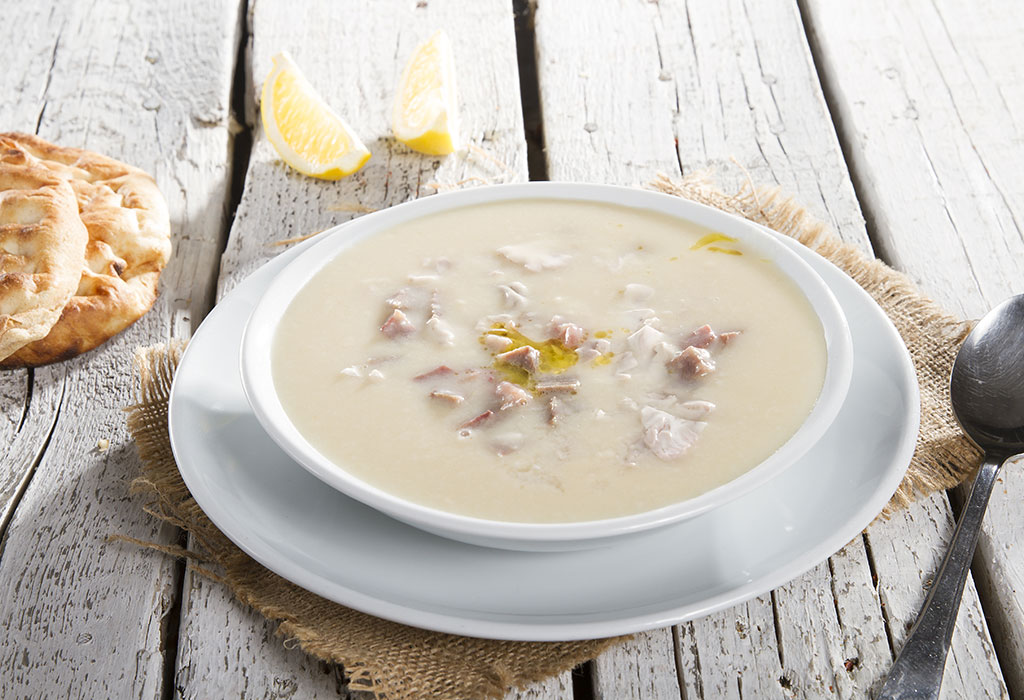 Ingredients
250 grams leg piece mutton
1 chopped onion
1 chopped tomato
1 teaspoon cumin seeds
1 teaspoon pepper
4 grated garlic cloves
½ grated ginger piece
Curry leaves
Coriander leaves
Method
Add all your ingredients to a pressure cooker with 4 cups of water.
Add salt according to taste.
Cook the broth till you hear 5 whistles.
Serve with garlic bread.
Benefits
Mutton soup during pregnancy is not just beneficial for a pregnant woman with its protein, iron and calcium content, but also for her health after she has had the child.
4. Greek Lemon Soup with Chicken and Pasta Shells
A fancier option for a full meal.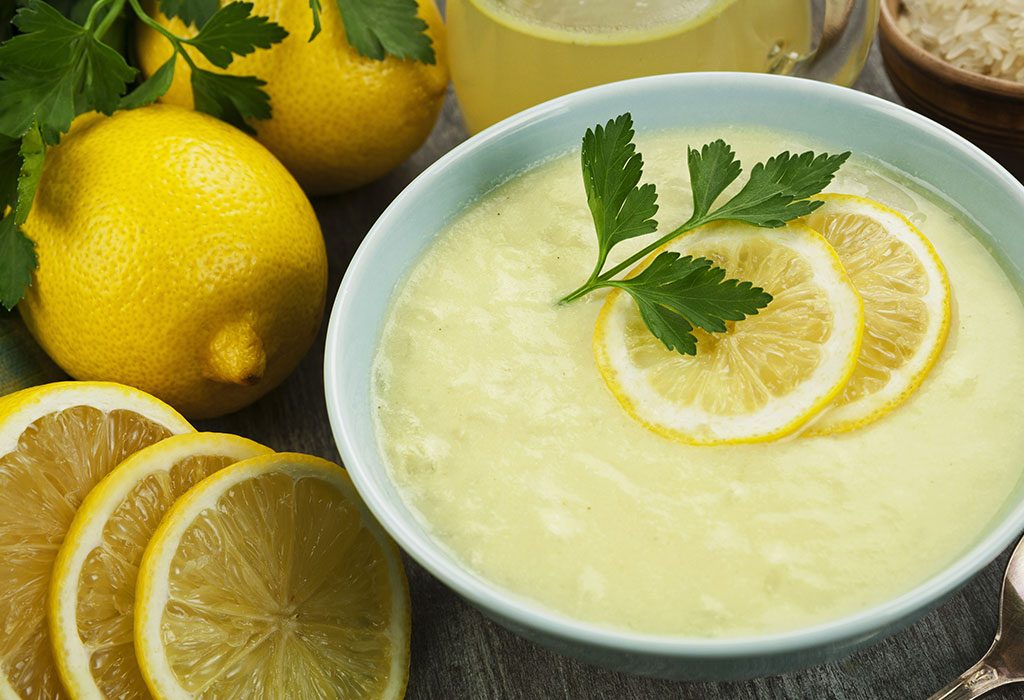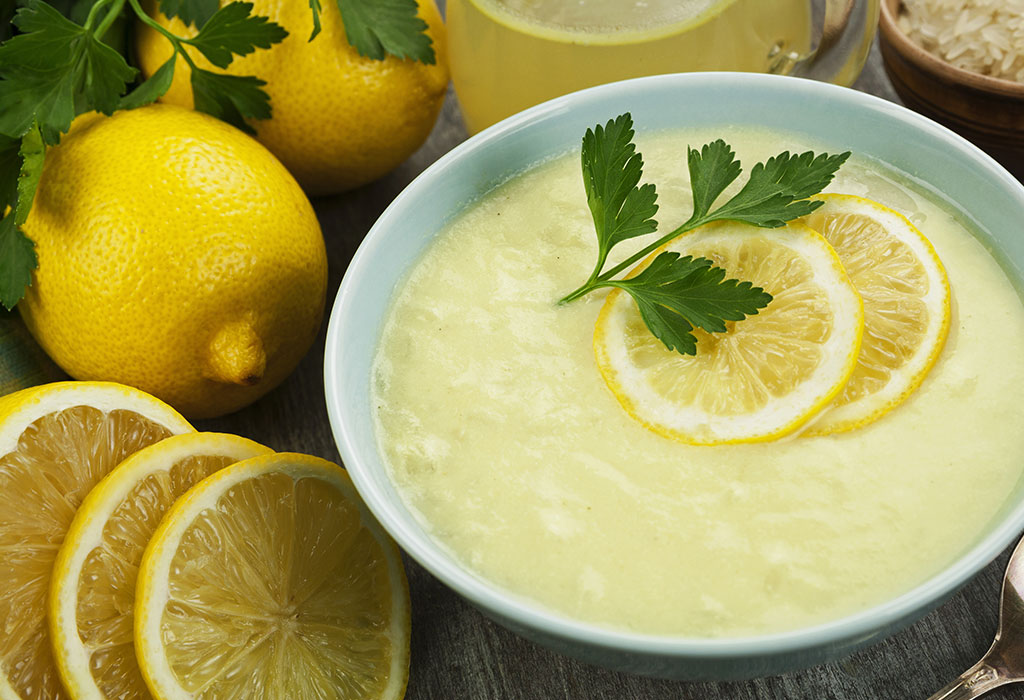 Ingredients
6 cups chicken broth
½ cup preferred pasta (orzo, penne, ribbon)
6 egg yolks
1 ½ cup shredded chicken
¼ cup fresh lemon juice
Salt and black pepper according to taste
Method
Bring the broth to a boil in a saucepan. Add pasta and boil for around 7 minutes.
Beat the egg yolks in a bowl till light in colour. Slowly add one cup portions of the hot broth while whisking the mixture. Make sure you whisk it hard but do not cook it.
Add the mixture to the saucepan, cook at medium heat and whisk occasionally.
Cook for 5-7 minutes till the consistency reaches to a creamy texture. Add the lemon juice.
Add the chicken and cook till the chicken is heated throughout. Add salt and pepper and serve with bread-sticks.
Benefits
This soup contains egg yolks which are known to help improve the cognitive functioning of a child. The chicken in the soup fulfils the protein requirement for a mother.
5. Chicken Shorba
A thick, healthy alternative for those who like more fuller options when it comes to their food.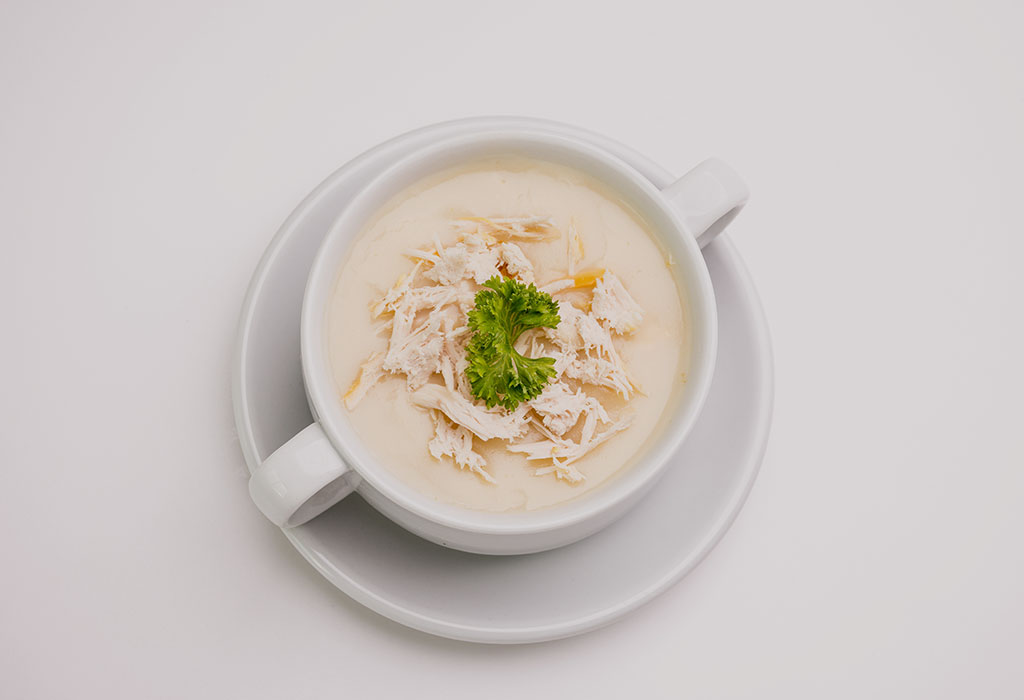 Ingredients
500g chicken bones
100 grams cut boneless chicken
10 cloves chopped garlic
1 teaspoon butter
1 tablespoon oil
1 ½ tablespoon refined flour (maida)
Salt and pepper to taste
Method
Add chicken bones to 4 ¼ cups of water with garlic. Cook till reduced to 2 ½ cups.
Strain and set aside.
Stir-fry boneless chicken in butter till it's tender.
In a saucepan, add oil and cumin seeds. Heat for a little while; add maida and stir for 1 minute.
Add the stock, chicken and salt and pepper.
Simmer for 3-4 minutes and serve hot.
Benefits
This soup, apart from being high in protein content, is easily digestible.
6. Creamy Spinach Soup
A palak soup recipe for pregnancy – just as good as Popeye would have wanted!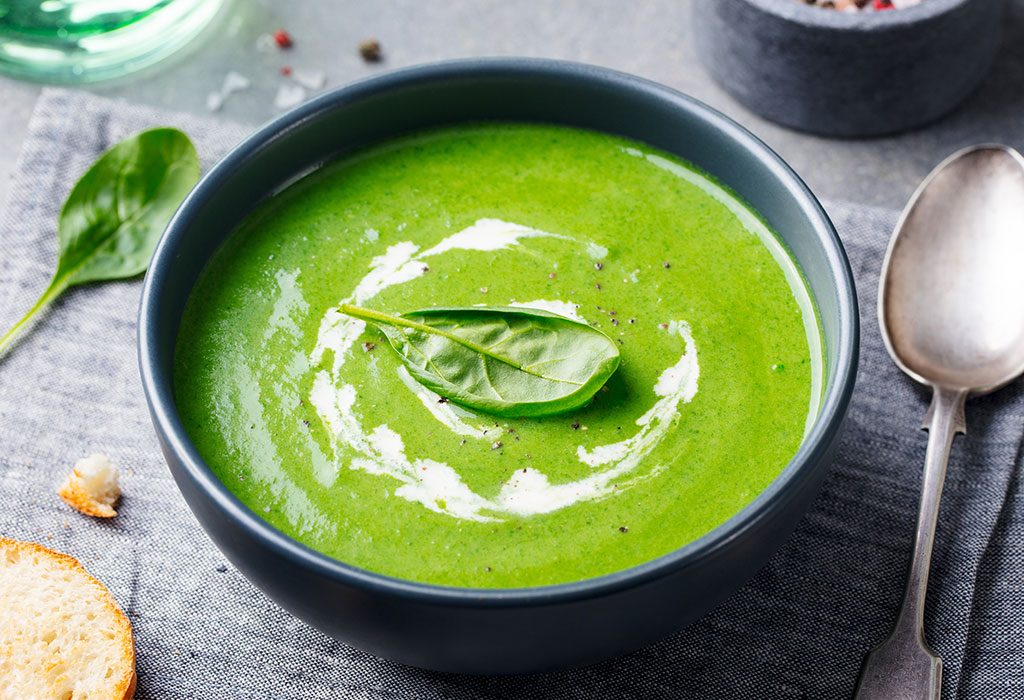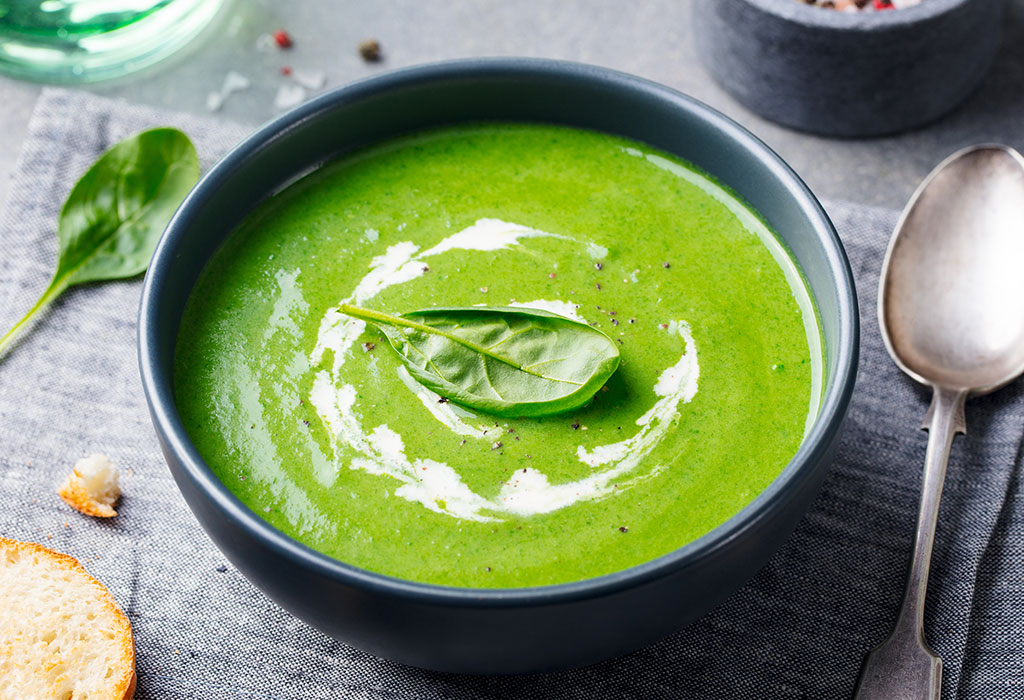 Ingredients
25g butter
1 chopped onion
2 teaspoons chopped chives
900ml vegetable or chicken stock
700g fresh spinach
100g cream cheese
Nutmeg to taste
Method
Using some butter, fry the garlic and onion until soft.
Add spinach, stock and chives.
Boil and then simmer for 5 minutes.
Blend the mixture and add cream cheese and nutmeg.
Simmer for a few more minutes till you reach the required consistency.
Serve with bread.
Benefits
Filled with vitamins, this is a soup that will fill you up for a meal. The vitamins, fibre, and other nutrients promote digestive health, is low on calories, and reduces hypertension.
7. Cucumber and Mint Soup
A cold soup for those who battle warm weather every day!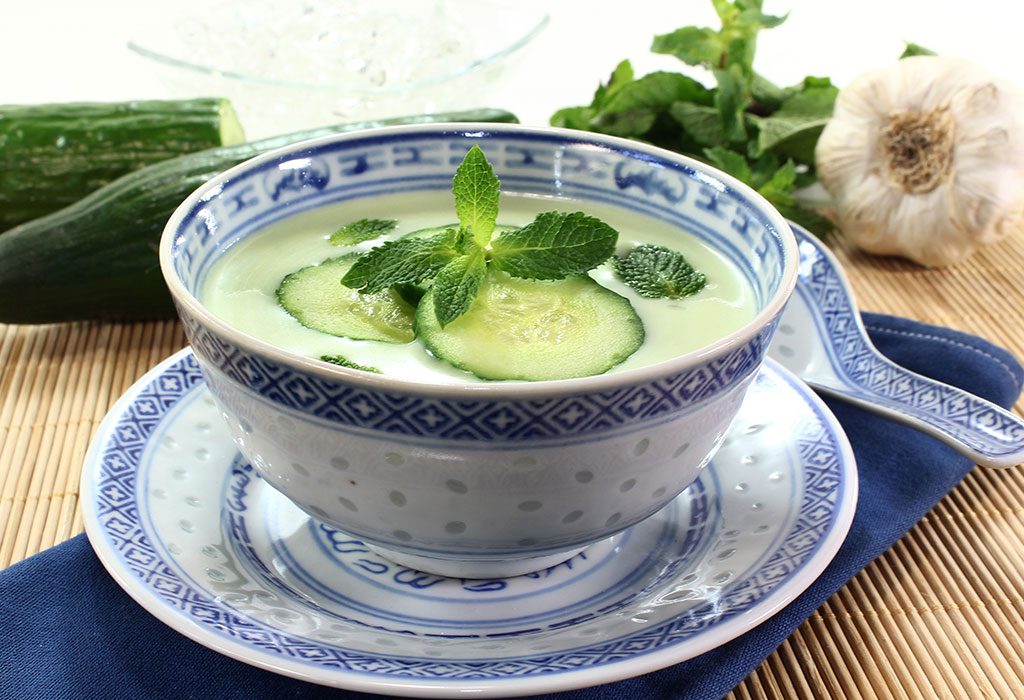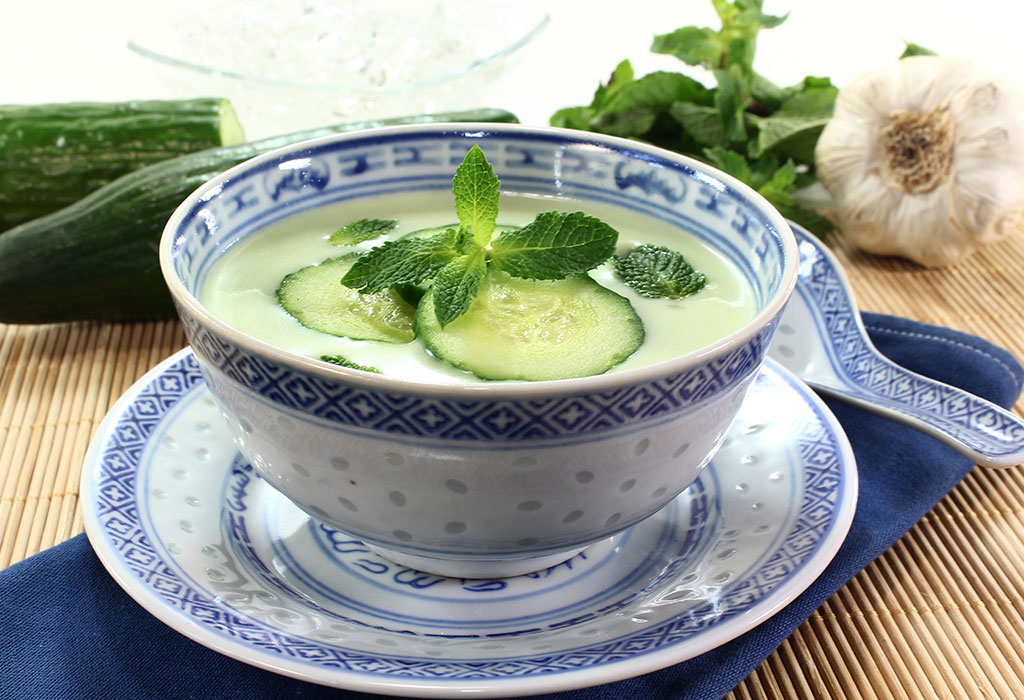 Ingredients
1 peeled and chopped cucumber
1 crushed garlic clove
300ml of yoghurt
3 tablespoons fresh cream
2 tablespoons chopped mint leaves
1 tablespoon ground coriander
Salt and pepper according to taste
Method
Add everything to a mixer and blend till you reach a creamy consistency.
Serve with chopped cucumber or garnish with mint leaves.
Benefits
A cold soup, this is great for summer days and the easiest to make. It is packed with Vitamin B, C, iron, and zinc that are vital to keep you strong and have a healthy pregnancy.
8. Bean Soup
An alternative for your usual Rajma dal dish!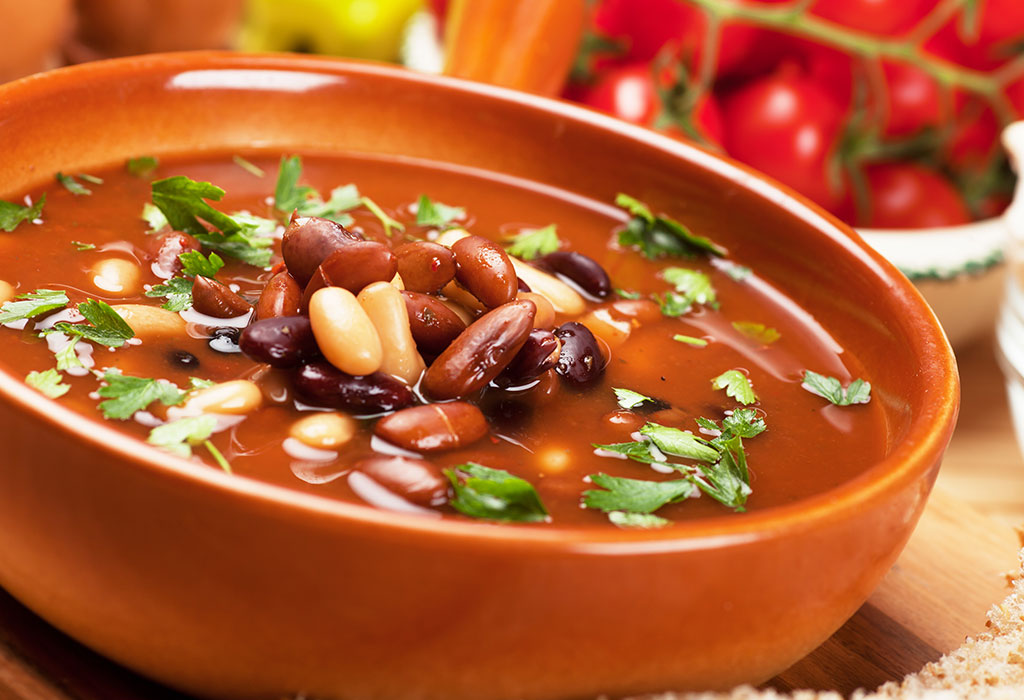 Ingredients
¾ cup soaked kidney beans
½ cup chopped onions
3 chopped tomatoes
1 teaspoon chopped garlic
1 teaspoon lemon juice
1 tablespoon oil
½ teaspoon of chilli powder
Salt to taste
Method
In a saucepan, fry the onions will oil for 1 minute. Add the tomatoes with the garlic, chilli and salt and fry for 1 minute.
Pour 3 cups of water, and the beans and pressure-cook it till soft.
Blend the mixture and add lemon juice.
Serve with coriander.
Benefits
This soup is high in carbohydrates, fibre, and iron. In addition to this, it is also low in calories.
9. Leek and Potato Soup with Bacon
Warm and healthy, and topped with bacon. Nothing gets better than this.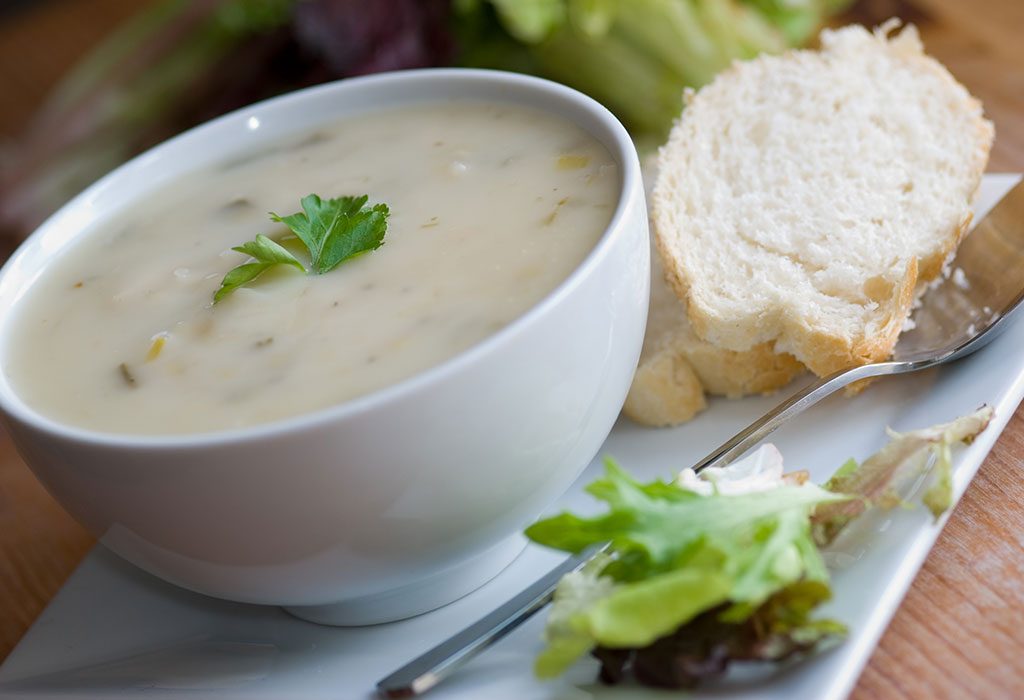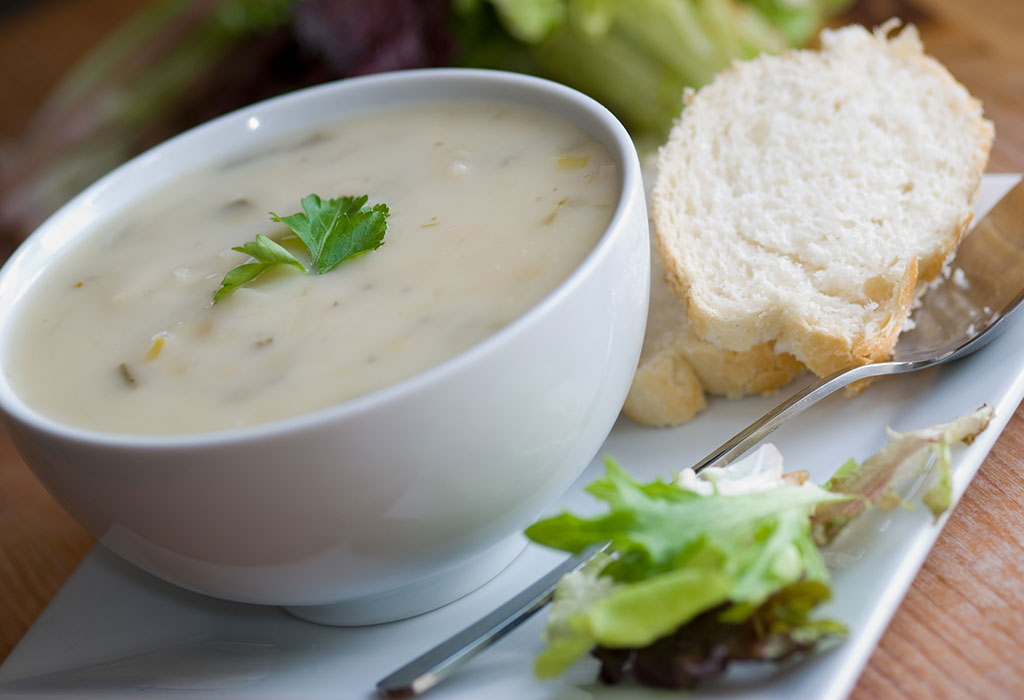 Ingredients
1 tablespoon olive oil
1 chopped onion
30g chopped bacon
1 large or 2 medium chopped leek
2 chopped potatoes
1 cup milk
Salt and black pepper according to taste
Method
Heat the oil in a saucepan.
Add the onion, bacon and leeks. Add potatoes once the bacon is cooked and continue cooking for a few minutes.
Add the stock and bring to a boil. Simmer the soup and mash the potatoes to add thickness to the soup. Add milk, salt and pepper, and simmer till the soup seems creamy.
Serve with fresh cream.
Benefits
This soup is a great alternative to tomato soup in the winters. Leeks provide the body with calcium and Vitamin B6, which are helpful in reducing awful morning sickness and develop stronger bones.
10. Moroccan Chickpea Soup
For those who cannot let go of their exotic tastes!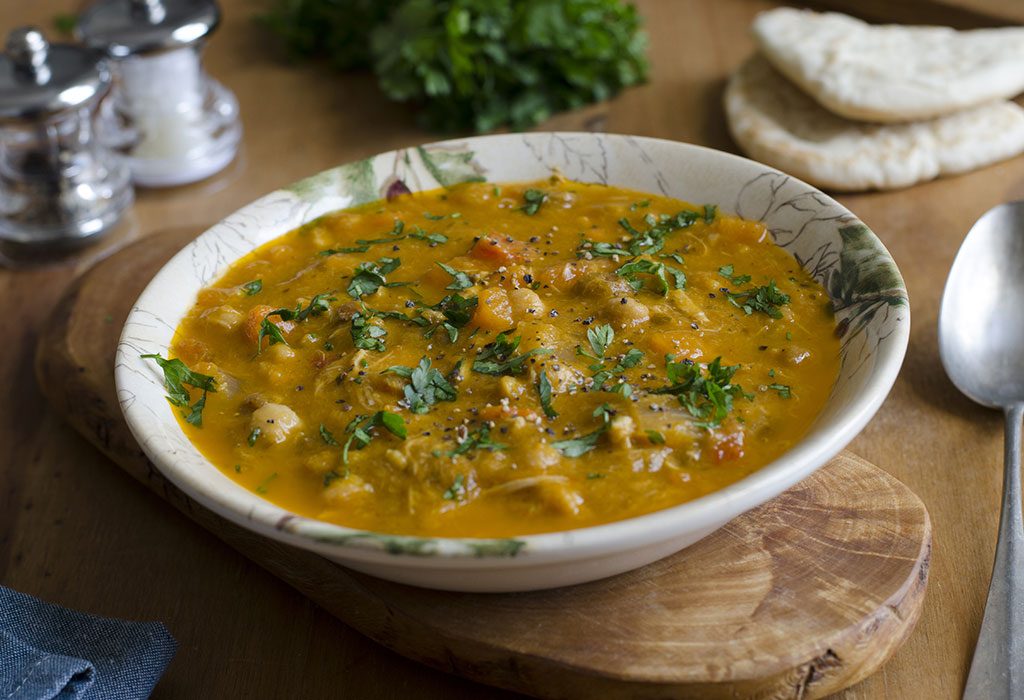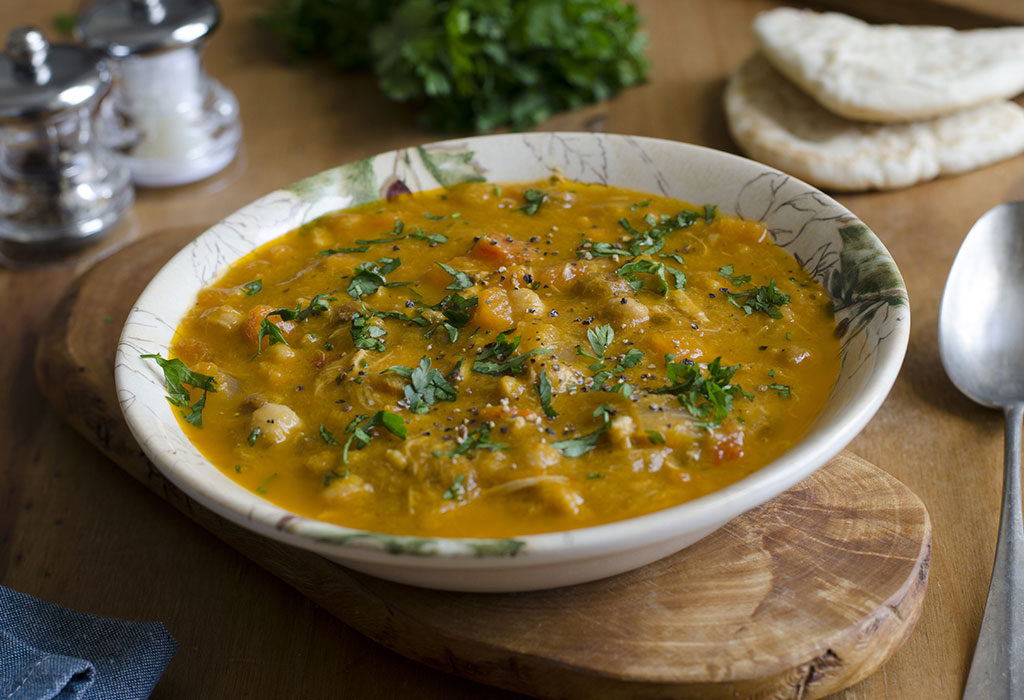 Ingredients
1 tablespoon olive oil
1 chopped onion
2 chopped celery sticks
600ml boiled vegetable stock
400g soaked chickpeas
400g chopped tomatoes
½ lemon
Method
Add oil, onion finely chopped, celery sticks chopped, and 2 spoons of cumin powder to a pan. Stir till soft.
To that, add the stock, tomatoes and chickpea. Simmer the soup for 8 mins.
Add the lemon, salt and pepper to taste and sprinkle some herbs (optional).
Serve with bread.
Benefits
Chickpeas are a source of potassium and fibre, which help keep the mother's blood pressure and cholesterol in check.
In the delicate condition of health that tags along with pregnancy, a woman needs to be very careful as to what goes into her body. Everything the woman consumes is also consumed by the child. Thus, it is important to shift to healthier options for food. Soups are nutritious as well as filling. For the best future for yourself and your child, opt for the liquid diet route when your health calls for it!
Also Read: Healthy and Refreshing Pregnancy Juices