Is It Safe to Consume Mussels During Pregnancy?
Pregnancy is the time when women have to exercise most caution while choosing what to eat. This is particularly the case for eating certain meats and seafood that carry a higher risk of parasitic infections and heavy metal concentration. Mussels are a delicacy in many coastal countries around the world.
As long as they are cleaned and cooked well, they are tasty, nutritious, and have low mercury content. If you wonder whether to continue eating mussels or add them to your diet during pregnancy, continue reading to find out all you need to know about mussels and pregnancy.
What Are Mussels?
Mussels belong to a class of marine invertebrates called Bivalve mollusks that include other species such as oysters, clams, and scallops. These animals are called filter feeders, meaning they survive by filtering out and feeding on nutrients that flow through the water where they live. Since they have to filter through a large quantity of water to accumulate enough nutrients, they also end up collecting a larger amount of microorganisms in their tissues. Mollusks have been consumed for centuries by humans, and it is advisable to clean them thoroughly with hot water and soap to get rid of the bacteria and parasitic organisms that live in them.
Nutritional Facts of Mussels
Mussels are highly nutritious as they contain a significant amount of micronutrients. The following table gives the nutrient profile of 100g of mussels.
| | | | |
| --- | --- | --- | --- |
| Nutrient | Amount | Nutrient | Amount |
| Calories | 172 kcal | Vitamin B12 | 24 mcg |
| Carbohydrate | 7.39 g | Riboflavin (B2) | 0.42 mg |
| Fiber | 0 g | Thiamin (B1) | 0.30 mg |
| Sugars | 0 g | Folate | 76 mcg |
| Fat | 4.48 g | Niacin (B3) | 3.0 mg |
| Saturated | 0.85 g | Pantothenic acid (B5) | 0.95 mg |
| Monounsaturated | 1.01 g | Vitamin C | 13.6 mg |
| Polyunsaturated | 1.21 g | Choline | 65 mg |
| Omega-3 | 0.94 g | Vitamin A | 91 mcg |
| Omega-6 | 0.18 g | Vitamin E | 1.10 mg |
| Protein | 23.80 g | Vitamin B6 | 0.10 mg |
Source: https://www.nutritionadvance.com/mussels-nutrition-benefits/
Is It Safe to Consume Mussels During Pregnancy?
One of the commonly asked questions is, "are mussels safe during pregnancy?" The answer is yes, as long as it is cleaned and cooked thoroughly. Since mussels are filter feeders, they accumulate large microbes, including the Echinococcus and Toxoplasma gondii species. The risk persists in both farmed and mussels caught in the wild.
The concern is primarily around the transmission and subsequent outbreak of protozoans such as Cryptosporidium, which can be harmful to others along with pregnant women. There is also a higher risk of accumulation of Toxoplasma gondii oocysts in the mussels, which can cause a toxoplasmosis infection with serious outcomes for the fetus.
Safe cleaning and cooking practices need to be followed while preparing dishes out of mussels. They need to be washed with hot soapy water and cooked until the shells burst open. Open shells after cooking are a good sign of thoroughly cooked mussels. Pregnant women should never consume raw or undercooked mussels as there is a high risk of infection from organisms such as Vibrio vulnificus and the microbes, as mentioned above. Before you plan on including mussels in the diet, it is ideal to consult your doctor about the risk and benefits.
When to Consume Mussels in Pregnancy?
Mussels can be consumed at any point during the pregnancy. Most women are still experiencing nausea and vomiting during the first trimester. Therefore, if the smell of seafood triggers nausea, it is best avoided. Regardless of when the mussels are consumed during pregnancy, it is essential to clean and cook them thoroughly. Caution must be used when consuming mussels in a restaurant.
Recommended Intake
The cause for concern when it comes to seafood is the presence of mercury. While shellfishes have very low mercury content, it is ideal to limit consumption during pregnancy. The recommended intake is about two or three servings per week which are about 6 ounces of mussels. If you have other seafood and fish as part of your weekly diet, include mussels in the total seafood quota for the week.
Health Benefits of Consuming Mussels While Pregnant
Mussels are loaded with plenty of micronutrients that are essential for the body. Once you have the go-ahead from your doctor, you can include them in the diet. Here are some of the health benefits of eating mussels:
Potential Side Effects of Eating Mussels When Pregnant
Mussels also have side effects, especially during pregnancy. Here are some of those:
Ways to Safely Cook Mussels During Pregnancy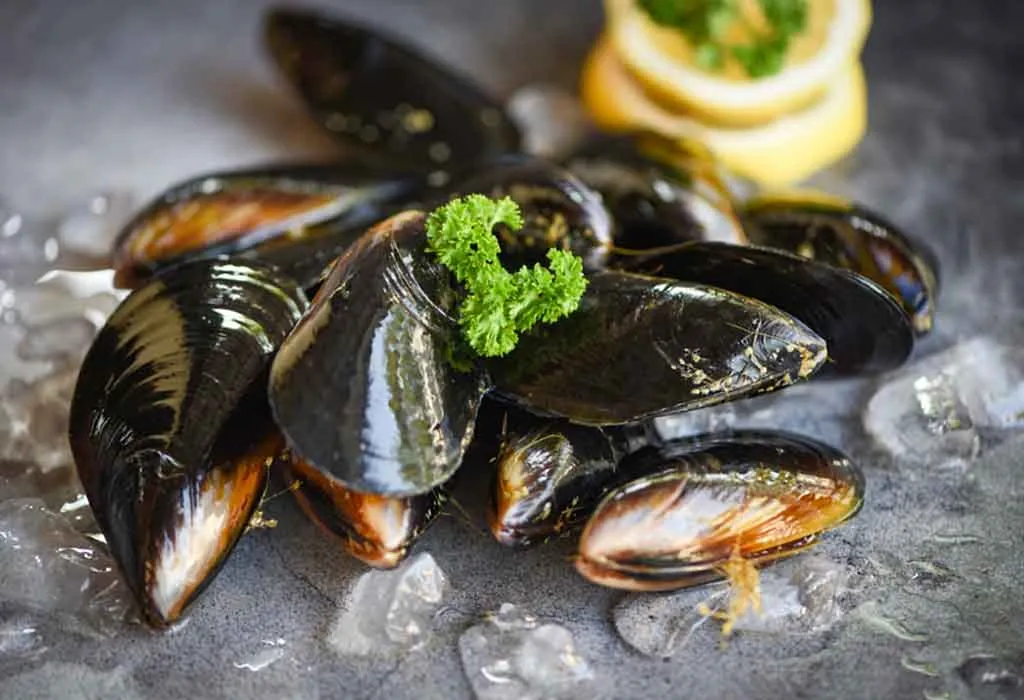 Consider these tips before you add mussels to your diet:
Mussels Recipes to Try During Pregnancy
There are dozens of recipes to cook delicious mussels. Here are our top picks:
1. Garlic Butter Mussels
Simple to make and delicious mussels dish.
Ingredients:
Total Cooking Time: 45 minutes
Servings: 2 servings
Method:
Put the mussels into a heavy boiling Dutch oven that has a lid. Add enough water to completely submerge the mussels and place the oven on high heat until it starts boiling. Boil continuously on high heat for 5 to 10 minutes until the shells pop open while occasionally stirring the contents. Wait until most shells have opened and discard those that don't
Strain the mussels and store them in a bowl covered in tin foil. Do not discard the water the mussels were boiled in; save it for later use.
Use the same boiling Dutch oven to heat the butter over a medium flame. Add the shallots into the molten butter and then the garlic and sauté the mixture for three to five minutes until it becomes tender.
Next, add three teaspoons of parsley, lemon peel, and lemon juice. Pour the water, in which the mussels were boiled, back into the Dutch oven along with the mussels.
Continue to boil the mixture on medium heat for ten to fifteen minutes until the taste is satisfactory. Add some of the freshly ground pepper and season with a tablespoon of parsley before serving.
2. Steamed Mussels in Tomato Broth
This simple and yet delicious mussels dish has a tangy twist of tomatoes.
Ingredients:
Total Cooking Time: 45 minutes
Servings: 2 servings
Method:
Place a Dutch pot over low heat and pour oil over it, and wait till the oil gets hot. The pot needs to have a tight-fitting lid to enable boiling and retaining the flavors. Add garlic to the oil and cook for about 3 minutes until it turns golden brown.
Add the chopped tomatoes to the pot and turn up the heat to cook them for a while. Stir the tomato mix every minute or so to ensure even cooking. Add a little water and continue to boil.
Add the freshly cleaned mussels to the tomato broth and cover the lid tightly. Allow the mussels to boil and steam in the tomato broth for 15 minutes or more until the shells open up. Stir at regular intervals to mix uniformly and spread the heating all around. Stop cooking once most, if not all, of the shells have opened. Discard the unopened mussels.
Serve the mussels with the tomato broth with sprinkled parsley on top.
Mussels are delicious seafood items that you can include in your weekly quota of seafood. They are an excellent source of lean proteins and are loaded with plenty of essential nutrients. It is important to thoroughly clean the mussels and cook well to ensure they are safe to consume.
Also Read:
Eating Crab while Pregnant
Eating Shrimp in Pregnancy
Is It Safe to Eat Prawns during Pregnancy?