Foetal Development: Growth in First, Second and Third Trimester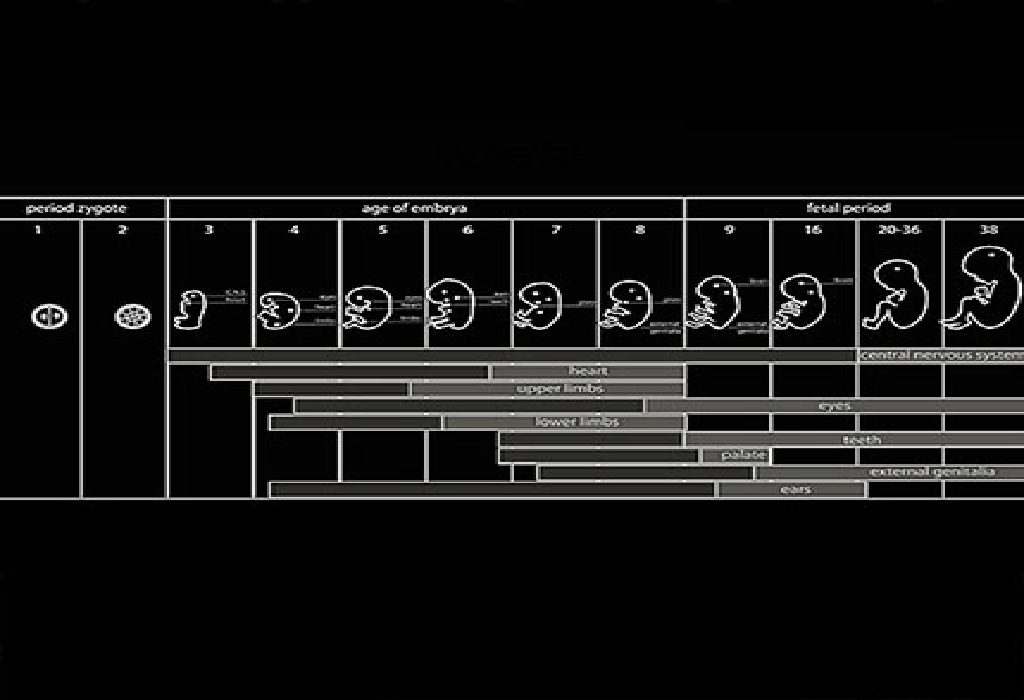 In this Article
Pregnancy translates to a lot of external changes in your body. Knowing how your baby is growing each day, helps a lot in dealing with pregnancy in a better manner.
After twenty-four hours of fertilisation, the egg, which is a single cell, starts to divide into many cells inside the fallopian tube and this process continues for nearly three days. What follows is a series of developmental changes that lead to a full-grown baby. The divided cells pass from the fallopian tube to the uterus and then get attached to the endometrium. This entire procedure is called implantation. These cells then combine together and form a ball called embryo. The entire process of pregnancy is divided into three stages, called the trimesters. Each stage witnesses a major change:
First Trimester Foetal Growth
Month 1

The first month of pregnancy includes many things, such as conception, fertilisation and implantation. After the woman ovulates, egg fertilises within around 24-28 hours. A single cell that fertilises, starts to divide at a rapid speed and is known as a zygote. During fertilisation, major factors such as your baby's eye colour, hair colour and gender are all determined. What follows is the implantation within the uterus, however, if this does not take place, it is the case of ectopic pregnancy (a complication in pregnancy when the implantation takes place outside the uterine cavity). Next in line is the formation of the umbilical cord, amniotic sac and yolk sac. As the month closes, your baby becomes approximately 2mm in length and enters the early stages of development.
Month 2

This week signifies, initial formation of the neural tube, heart, liver, arms, legs and other major body organs. During the sixth week, his heart will begin to beat and can be easily detected through ultrasound scanning. Other things such as placenta, eyes, ears, bones and mouth also begin to form. The toes and fingers of your baby will start developing, but they remain webbed. At this stage, your little one is one and a half to three and a half inch long and may weigh around 1-2 grams.
Month 3

You can easily witness the baby's leg and arm movement through an ultrasound in this month. All the major organs completely develop by the end of this month. The sex organs continue to grow, but are not formed completely. The tadpole structure gives way to a more human-like face and by the end of this month, your baby weighs around 1 ounce and is 3-4 inches long.
Second Trimester Foetal Growth
Month 4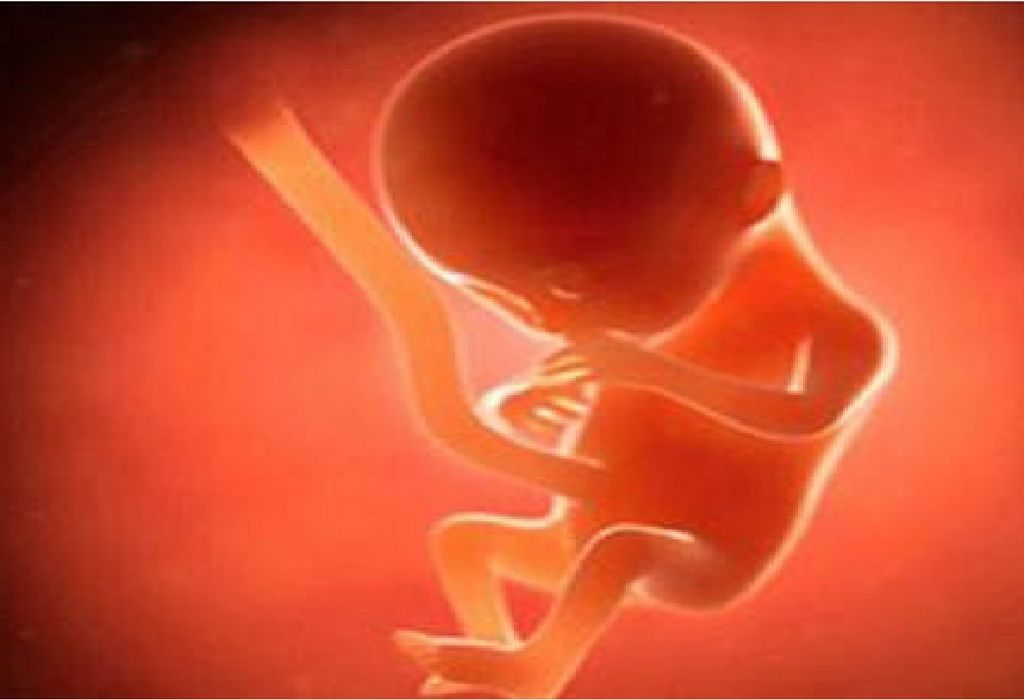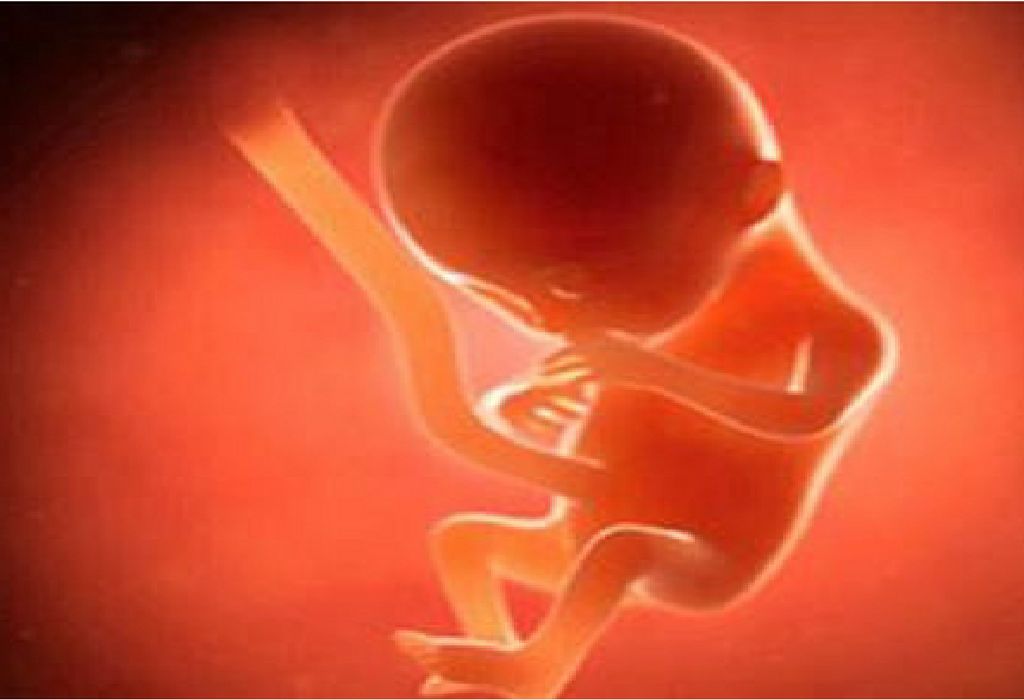 By this month the baby's hair and teeth start to develop. His digestive system begins to take shape and the first stool, known as Meconium is also present in his intestines. As this month comes to an end, the baby weighs 5-8 ounces and is approximately 5-6 inches long.
Month 5

Lanugo (fine hair) start covering the baby during this phase. His eyebrows and eyelashes start taking form. This is the stage when your baby's fingerprints and footprints develop, while he also begins to suck his thumb. A lanolin like covering begins to form on his skin like a protective cover, this is known as Vernix. By the end of this month, the baby weighs around ¾-1 pound and is 7-8 inches long. You might start to feel the little one's movement within the womb.
Month 6

This stage involves the development of antibodies and the immune system. By this time he has an evolved grip and startle reflex, the lungs and alveoli are also forming well. As the month comes to an end, the baby is around 9-10 inches long and weighs around 1½-2¼ pounds.
Third Trimester Foetal Development
Month 7

By this stage, the baby can open his eyes and produce tears. He is quite active with his movements within the womb. Another milestone achieved is that the baby can have hiccups. His bones and body fat also begin to develop by now. By this month's end, he weighs around 3-3½ pounds and is 11 inches in length.
Month 8

The baby is almost formed by this month and there is no new development. However, he is maturing each day and preparing himself for the life that awaits out of the womb. This time for the baby is defined by REM (Rapid Eye Movement) sleep, a dreamy state of sleep with random, rapid eye movement. He weighs around 5-6 pounds and is around 13 inches long.
Month 9

This is the time when the baby is preparing for birth. He will be spending a lot of time resting, but also exhibits active periods. During this time, he is facing down and weighs around 7-8 pounds with a height of around 19-21 inches.
Also Watch: Month by Month Foetal Development
Watch how your baby develops in your womb- month by month
Your baby will continue moving lower into your abdomen in order to get ready for birth. Babies born between 37 and 42 weeks are considered full-term babies. Babies born between 32-37 weeks are considered premature babies and they might need intensive neonatal care upon birth.