Eating Singhara Fruit (Water Chestnuts) During Pregnancy – Benefits and Usage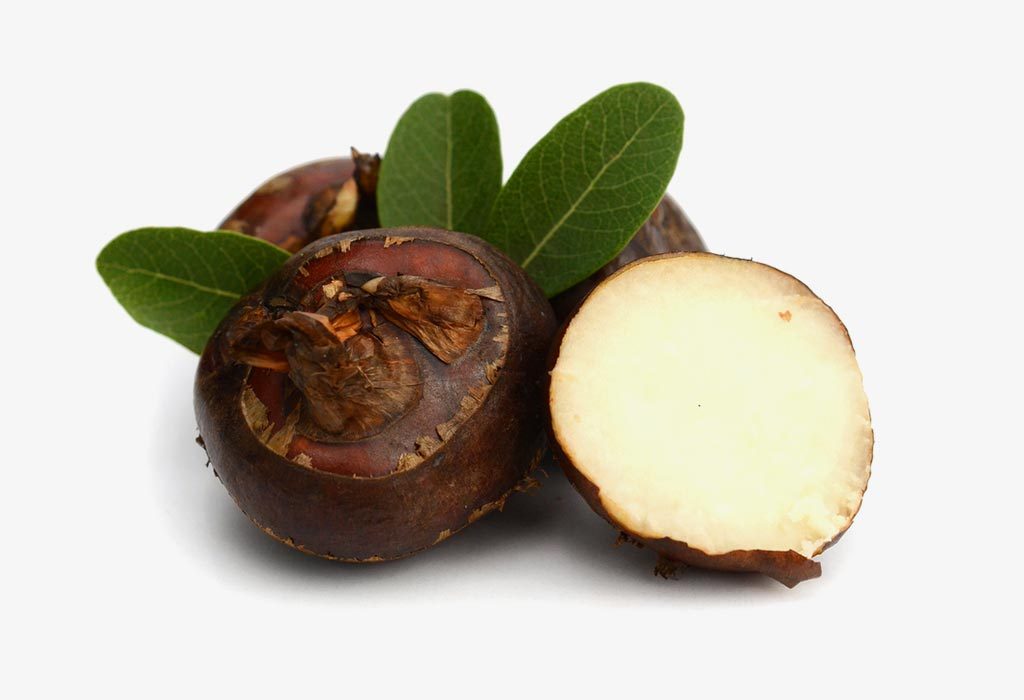 When a woman is pregnant, her pregnancy cravings can range from unhealthy foods to healthy items to even some unusual food items. If you are pregnant, yes, you will have to make healthy food choices (and you will), but there will be days when you will want to eat something that you haven't craved for in months or perhaps years. One such food item or fruit that we completely forget about (but love to eat) is singhara. Singhara or water chestnuts taste delicious and are mostly enjoyed in the raw or cooked form. But if you are pregnant, you might wonder if they are safe for consumption during pregnancy. So let's find out!
Can You Eat Water Chestnuts During Pregnancy?
If you relish eating water chestnuts, then here's good news for you. You can eat water chestnuts during pregnancy. Water chestnuts or singhara are an excellent source of various minerals and vitamins, and can prove to be beneficial for your health during pregnancy.
Nutritional Value of Water Chestnuts
Water chestnuts are very healthy. They are a good source of Vitamin B6, which is crucial for a healthy immune system. Singhara are also low in calories and they contain hardly any fats. They have zero cholesterol. Water chestnuts are thus a magical fruit for a pregnant woman. During pregnancy, they will offer you much-needed nutrition without making you gain unhealthy weight.
Benefits of Eating Singhara During Pregnancy
Here are some benefits of consuming singhara during pregnancy.
Singhara possesses anti-bacterial and antioxidant properties. They can strengthen stomach muscles and lower acidity, fatigue and heartburn.
Eating singhara aids in the treatment of pregnancy hypertension.
Singhara helps in water retention and balancing blood pressure.
How to Consume Water Chestnuts in Pregnancy
Water chestnuts can be eaten fresh when in season or you can buy the canned versions of it. Singhara could be used as the main ingredient in cooking or as a flavouring ingredient. It is most commonly used in the form of flour. It can even be made into a paste to be applied on the body. In conclusion, singhara can be used in various ways for consumption. Here are a few ways in which you can eat water chestnuts.
1. Fresh Fruit
Water chestnuts taste delicious when consumed raw. So you can have them whole. You can also consume them by adding them to a fresh salad.
2. Porridge
One of the best ways of consuming singhara is in the form of porridge. Singhara porridge can be very beneficial for you during pregnancy. To make singhara porridge, sauté the required singhara flour in a bit of ghee and add a pinch of cardamom. Add milk slowly and steadily until you reach the consistency of porridge. You can add jaggery for taste.
3. Singhara Kheer
If you crave something sweet during pregnancy, make healthy singhara kheer. Boil some milk and add some singhara flour to it. Add in a pinch of nutmeg powder, mix well, and let it cook. Garnish with dry fruits and enjoy healthy singhara kheer.
4. Singhara Halwa
Roast the flour in ghee, add some sugar and water. Add some ghee on top and let it cook. Garnish with some chopped almonds and enjoy the halwa.
5. Stir-Fry Salad
Take some blanched singhara, blanched chopped capsicum, some greens and beans in a bowl and mix well. Now, take some olive oil in a pan and heat it. Add the above mix, then stir-fry it. Sprinkle cornstarch water when required. Garnish with your favourite seasoning.
6. Singhara Chapati
If you are not in the mood of eating whole wheat chapatis, you can make singhara chapati. Use singhara flour to make the chapatis and enjoy with your favourite gravy.
7. Methi Singhara Fry
In a blender, take some poppy seeds, curd, cashew nuts, salt, and white pepper, and blend to make a paste. Shallow fry chopped singhara with some methi leaves in a pan. Add the paste to the pan and mix well. Stir well and garnish with chopped coriander leaves.
8. Singhara Pulav
Peel the singharas and boil them for a few minutes. Add boiled and peeled singhara to your pulav before putting in the rice to have singhara pulav.
9. Singhara Sabzi
Make your regular mixed vegetable, then add boiled and peeled singharas to it, and mix well. Add salt and pepper to enhance the taste.
10. Singhara Paste
Many women are affected by eczema during pregnancy. Application of dried singhara powder mixed with plain water on the affected area can help it heal quickly and provide relief from eczema.
Singhara is not an exotic fruit and is easily available. You can enjoy it during pregnancy but don't eat too many singharas as it may lead to side effects such as nausea or an upset stomach. Better yet, consult a doctor before including singharas in your pregnancy diet.
Also Read: Walnut during Pregnancy