10 Healthy and Tasty Smoothie Recipes for Pregnant Women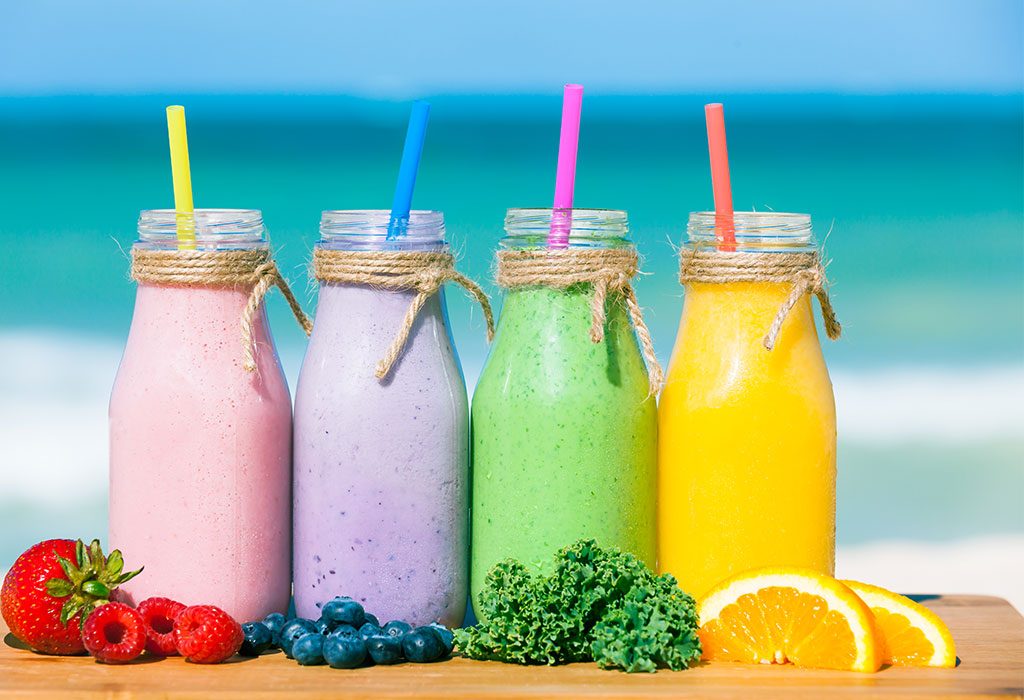 In this Article
Fruit smoothies for pregnant women are recommended by doctors, nurses, relatives, friends, and nearly everyone around you. And for a pretty good reason. With the necessity of a well-rounded nutritional diet and the focus on ensuring all the vitamins and minerals intake of the mother stays on point, putting together an entire meal plan and ensuring its availability round the clock can easily get taxing for anyone. Compared to all that, putting together a quick smoothie by mixing some ingredients, running it in a blender, and relishing a taste that is too hard to resist, is a much better option any day of the year.
Nutritious and Easy to Make Pregnancy Smoothies
Making sure you consume the right smoothies that provide a great balance of taste and nutrition is also very important. We have put together a list of top 10 smoothies that can make decision making easy for you.
1. Fuzzy Cocktail Smoothie
Start off with this snazzy smoothie recipe that puts together the sweet and tangy flavours along with a dollop of nutrition.
Benefit
The various ingredients that form the smoothie are rich in a variety of minerals and vitamins, as well as a good source of omega-3 fatty acids.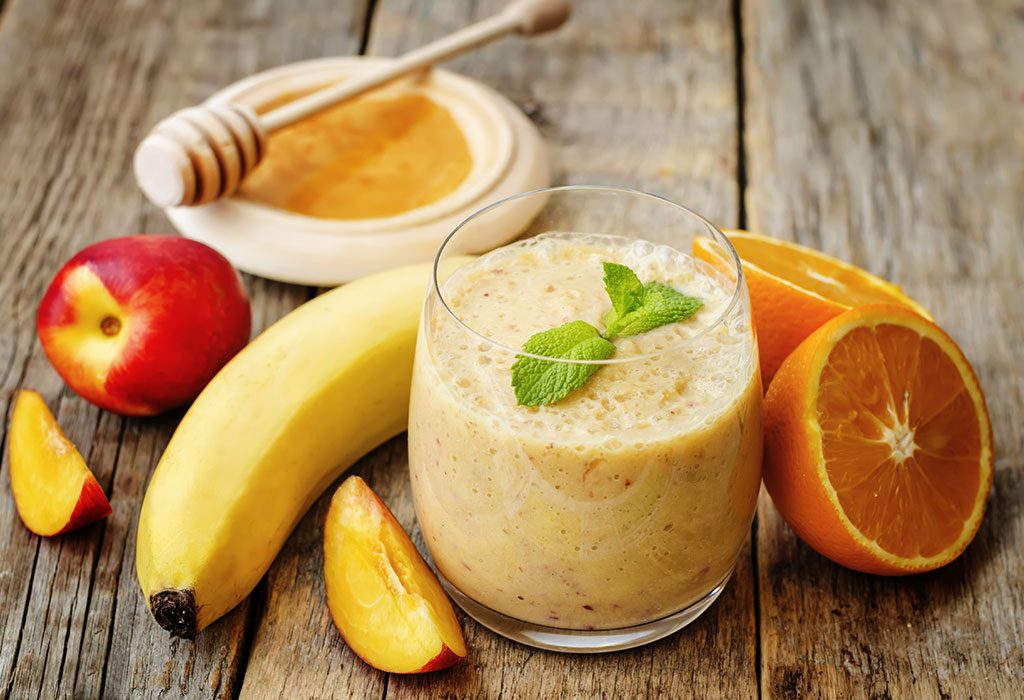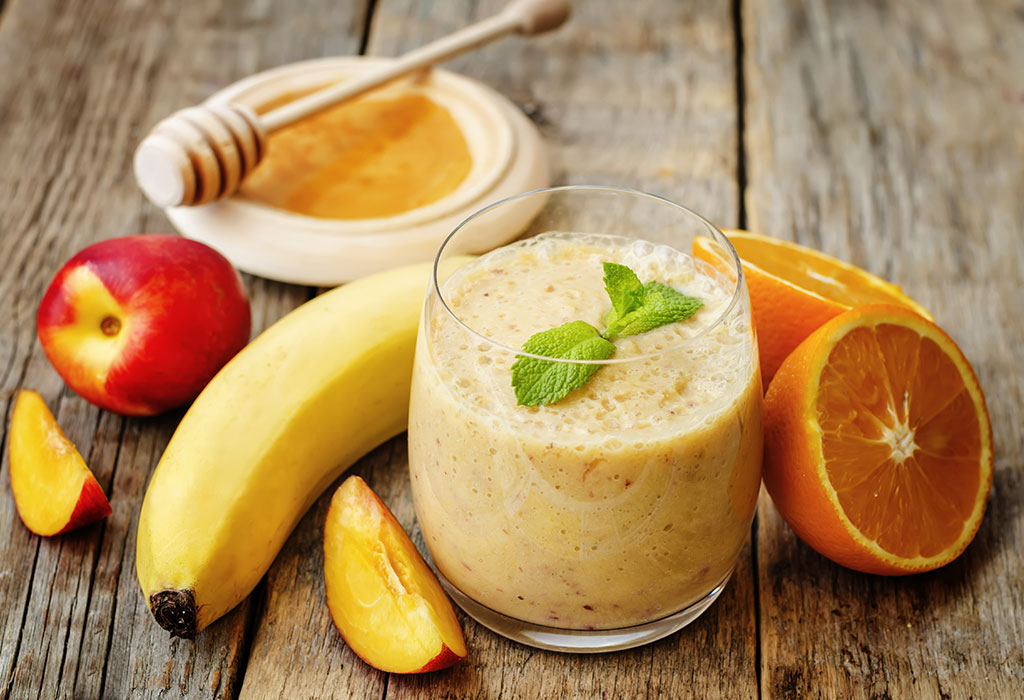 Ingredients
How To Make
Take your blender container and put all the ingredients in it together. Chop down the fruits if possible to ease the blending process.
Run the blender until it reaches the desired consistency. Adjust the quantities of milk and juice accordingly.
Pour the blend into the glass and enjoy.
2. Margarita with a Twist
Who needs an alcoholic margarita when this non-alcoholic version is just as tasty and more nutritious than anything else.
Benefit
This is one of the popular smoothies for pregnancy nausea as the gorgeous taste and aroma can help reduce the feeling of morning sickness.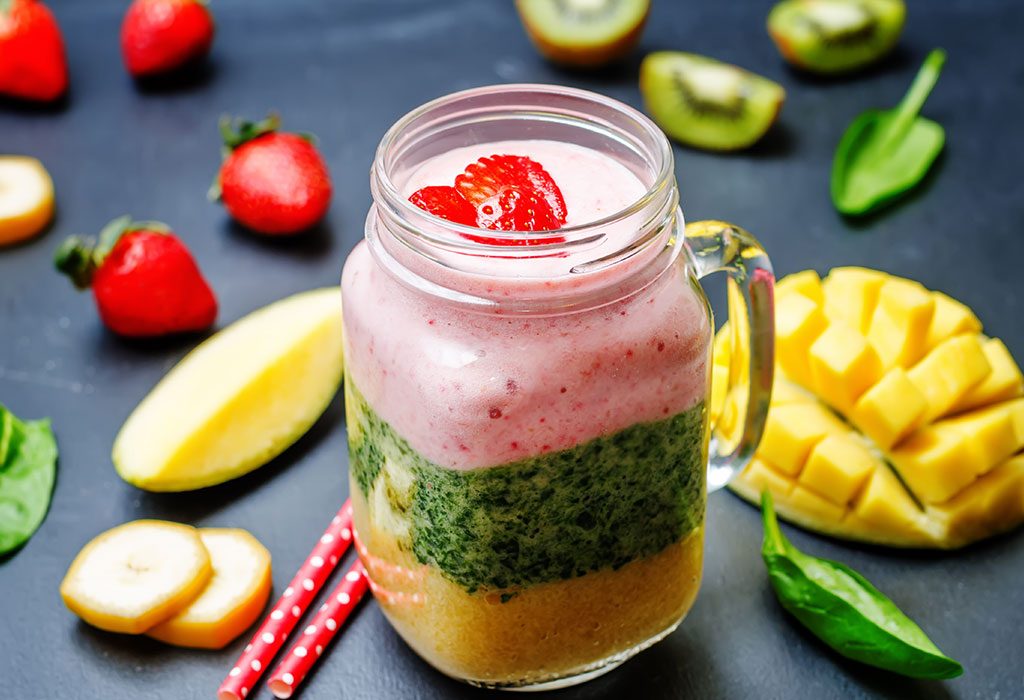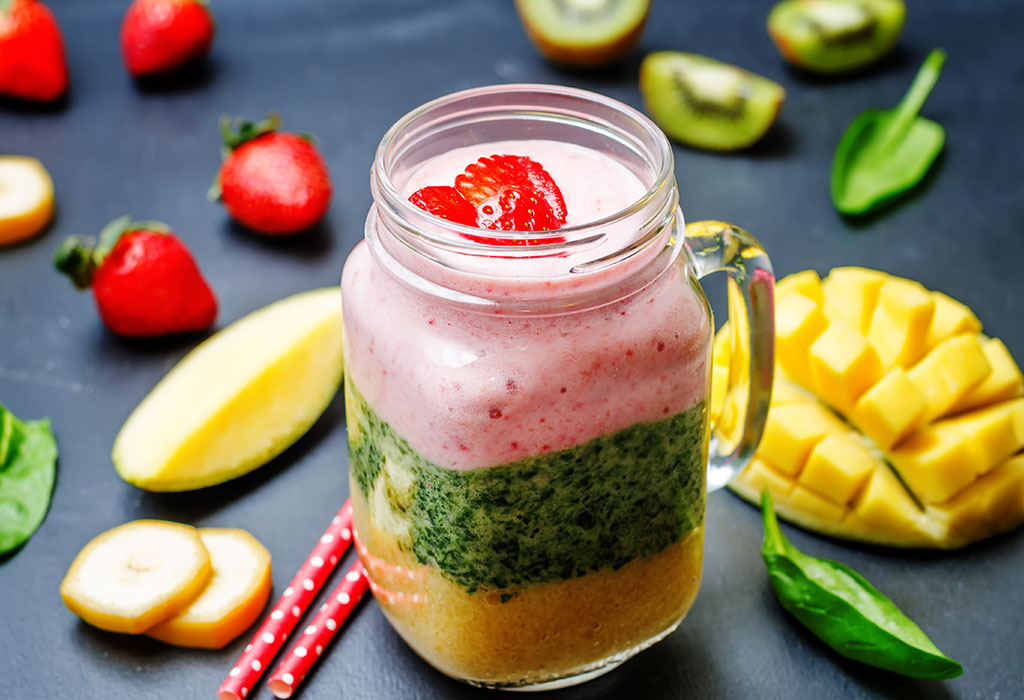 Ingredients
Strawberries, frozen
Mango, frozen
Banana, frozen
Peeled lime
Peeled and deseeded orange
Coconut milk
How To Make
Take the blender container and add only the coconut water and coconut milk to it. Follow it up with the oranges and lime, preferably chopped and the broccoli all into it.
Run the blender with these constituents until they are all smooth and fine.
Add the rest of the ingredients and run the blender once again until the smoothie gets the right consistency.
Pour into a nice glass and relish it.
3. The Green Healthy Smoothie
This might resemble one of those bitter health drinks, but wait till you take the first sip.
Benefit
As delicious and nutrition filled as it might be, you don't need to stick to the same ingredients and can mix and match with other alternatives.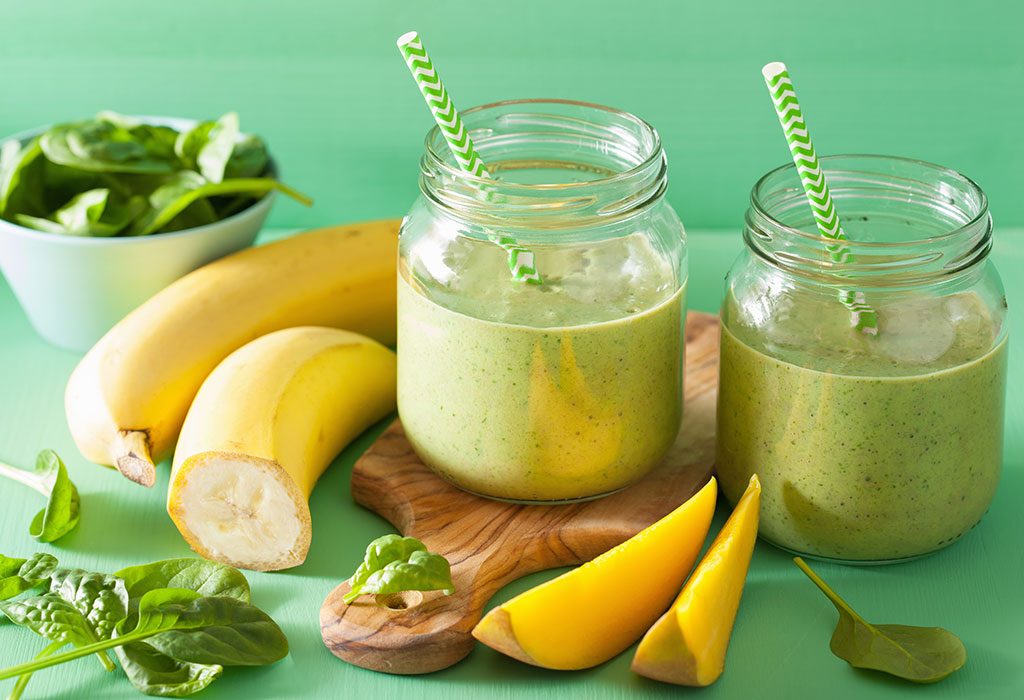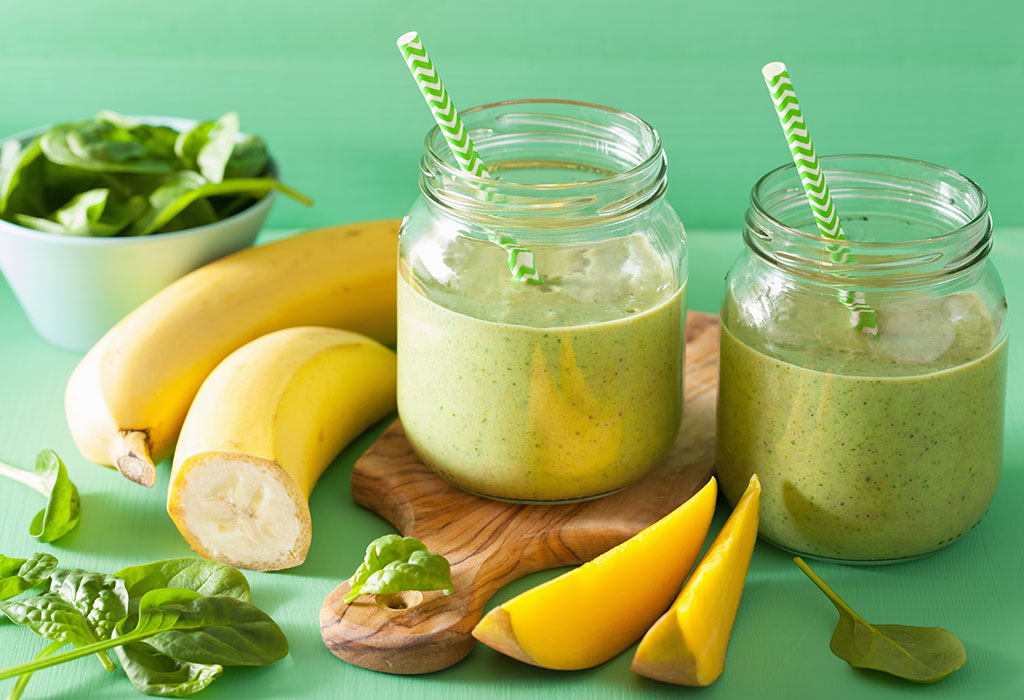 Ingredients
Banana, frozen
Mango, frozen
Pineapple, frozen
Coconut water
Spinach or broccoli or any other green vegetable
How To Make
Add all the ingredients one by one into the blender until they are filled properly.
Run the blender fully at high speed to form a good texture.
Pour this in a nice mug, pop in a straw and sip away.
4. The White Nut Smoothie
Remember the nice milk based drinks you would have at festivals? This is just as celebratory as those.
Benefit
The inclusion of various nuts and other ingredients ensures a good source of omega-3 acids. Adding avocado can provide you with the fats for building up your energy, too.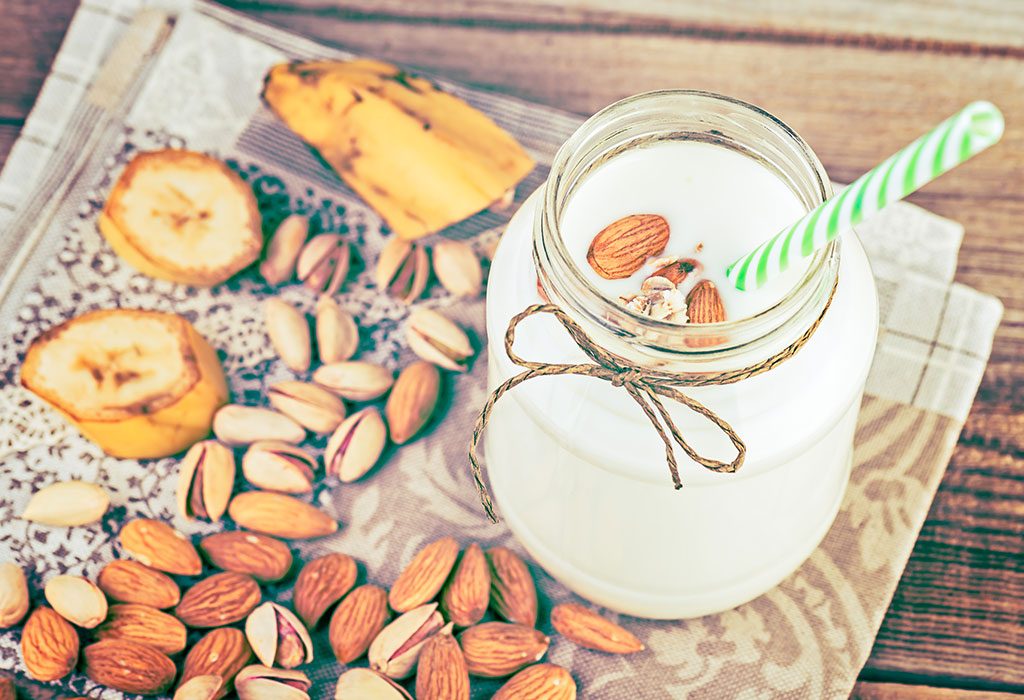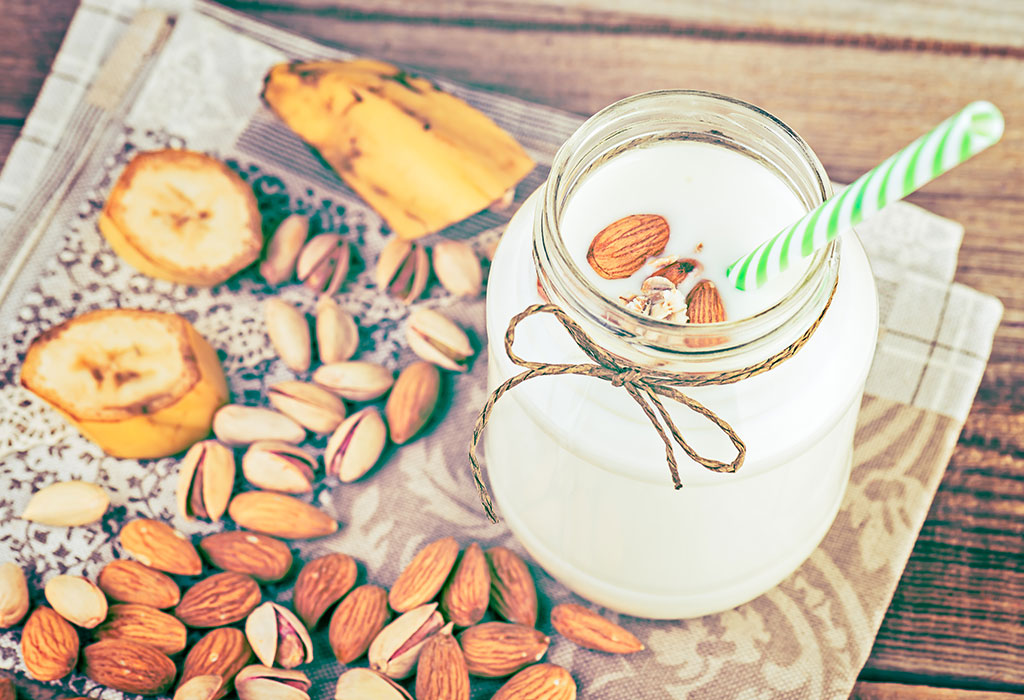 Ingredients
How To Make
Start by adding the fruits, then the nuts, and finally adding the milk as much as needed all into a blender.
Run the blender until the full mixture attains a nice thick and creamy texture.
Use a tall glass for this one, garnish with some more nuts if needed, and enjoy.
5. Peanut Butter Smoothie
And you thought only sandwiches were great. With just the first sip, this smoothie would be too hard to resist.
Benefit
For women with chocolate cravings, this is a blessing in disguise since it satiates those cravings as well as provides with healthy proteins along with it.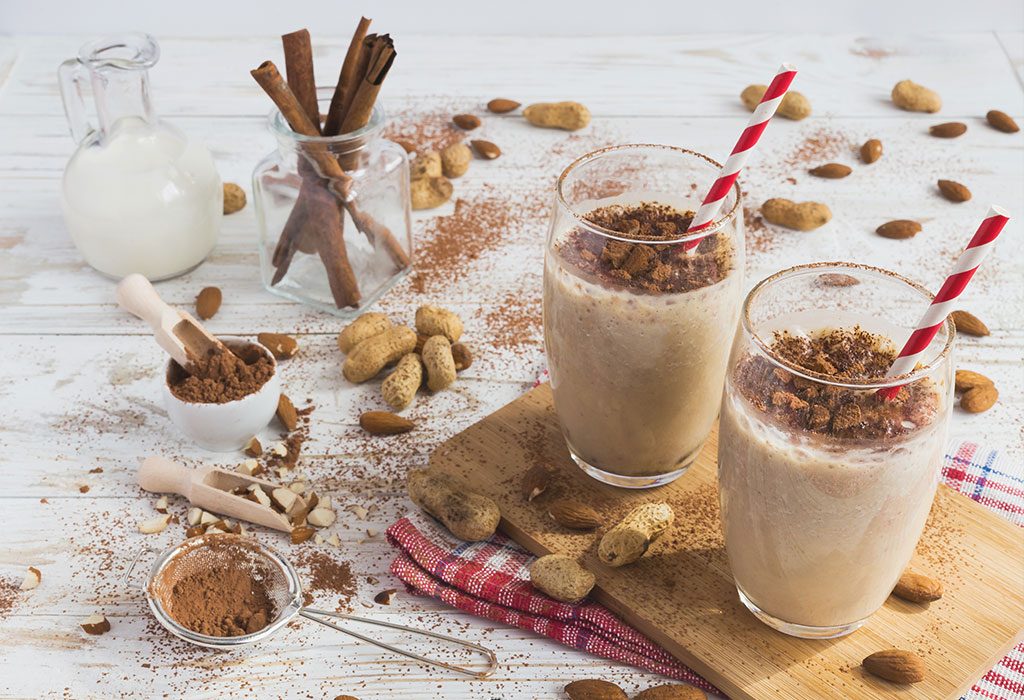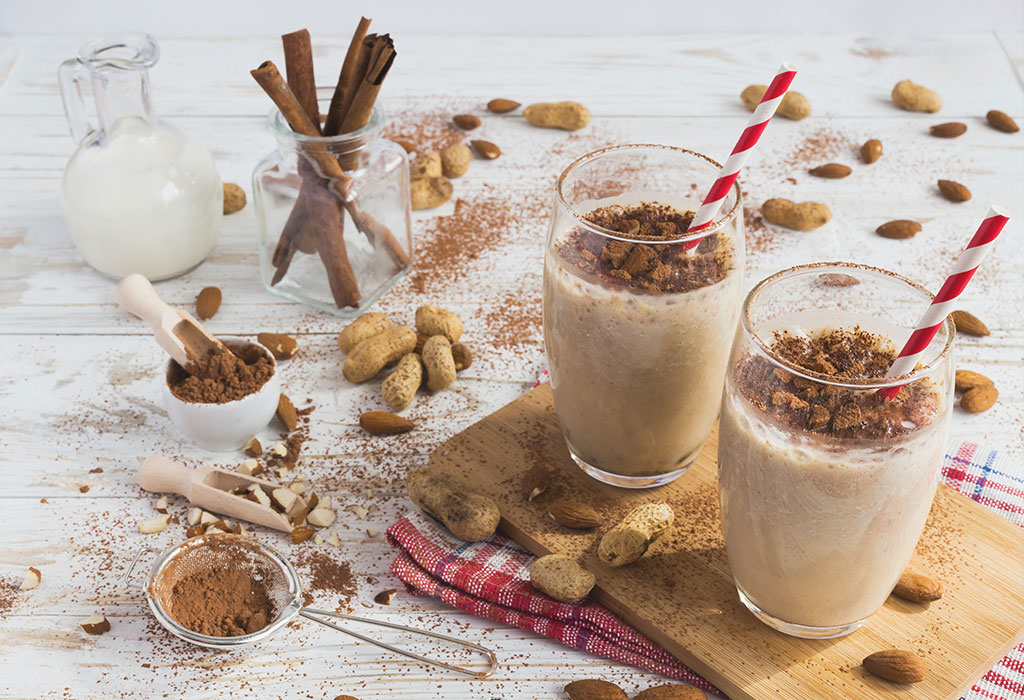 Ingredients
Banana, frozen
Cocoa powder, unsweetened
Soy milk
How To Make
Start by adding the solid ingredients and then add the soy milk at the end, all inside a blender.
Run the blender for some time and check the thickness. If you want a thinner shake, add some more soy milk.
Once blended well, take it out in a cup and drink it up.
6. A High Protein Tropical Smoothie
A great pregnancy protein smoothie, this one contains enough flavours to stimulate all your taste buds.
Benefit
Combining both sweet and tangy flavours, the fibres in other ingredients adds a texture to it that makes it thicker than usual.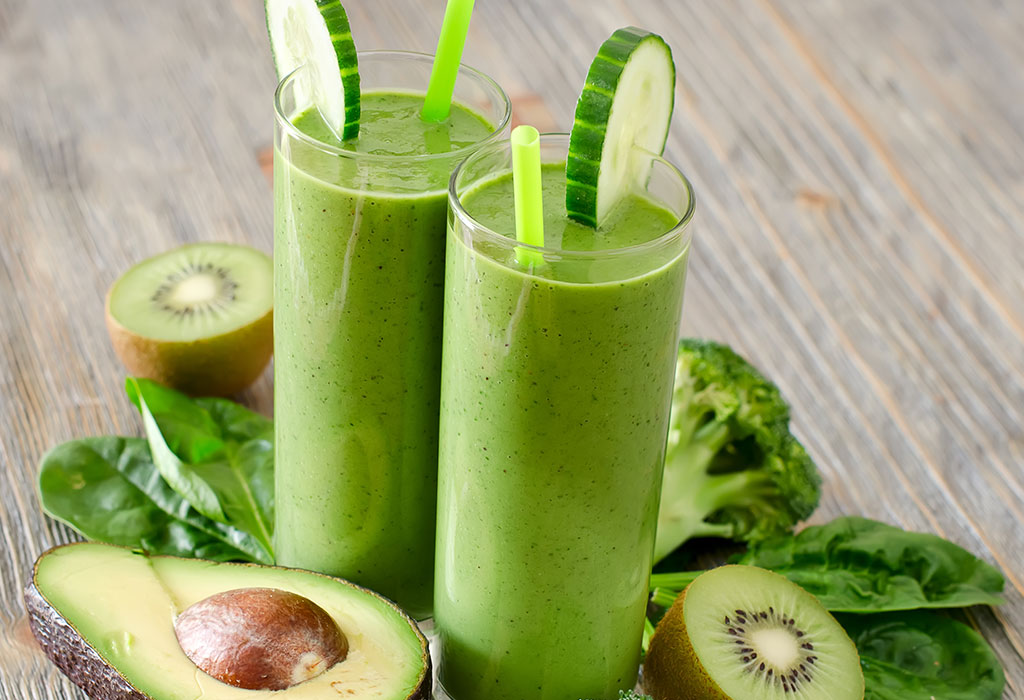 Ingredients
Cold water
Flax seeds, grounded
Slivered almonds
Chickpeas
Peeled kiwi
Tropical fruit mix, frozen
Broccoli, frozen
How To Make
Use a coffee grinder first to put together the almonds and the flax seeds and ground them well until they are as fine as powder.
Then add this to the blender, along with the rest of the ingredients and run the blender till it all smoothens out.
Take it out in a small glass, slit a kiwi on the edge, sit back and relax with it.
7. The Iron Powered Shake
What's more powerful than a shake that puts together two of the most important ingredients necessary in pregnancy? Nothing else.
Benefit
All the ingredients make this an iron-rich smoothie for pregnancy that is balanced with vitamin C and other nutrients as well.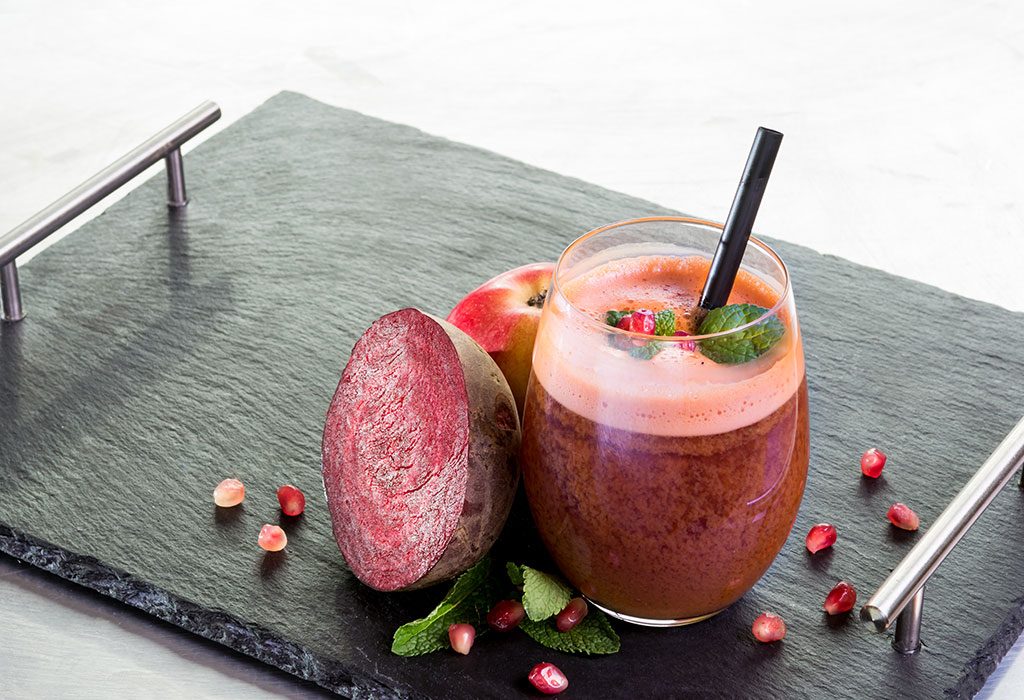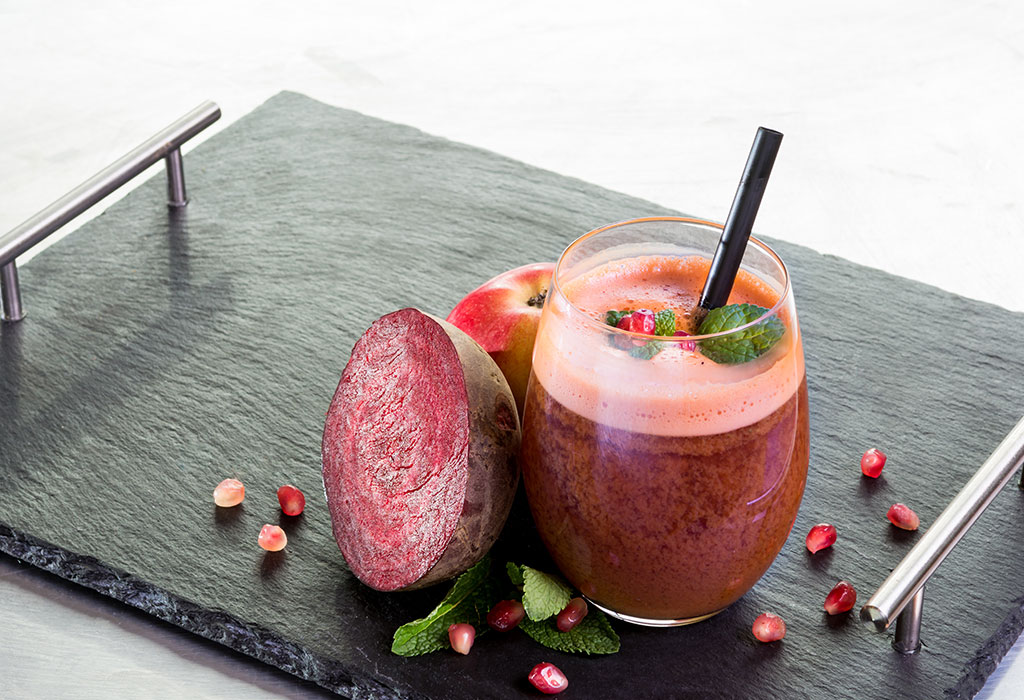 Ingredients
Dates pitted
Diced beetroot
Spinach, frozen
Water
Orange juice
How To Make
Add the fruits and other solids in the blender and top them off with honey, water and juice.
Now run the blender until they all mix together properly.
Pour this in a tall glass and enjoy yourself.
8. The Energiser
This might sound like the name for a battery but that's what it is – A source of quick energy for you.
Benefit
Not only is this smoothie thick and dense, but it also contains a great combination of flavours that can lift your mood instantly.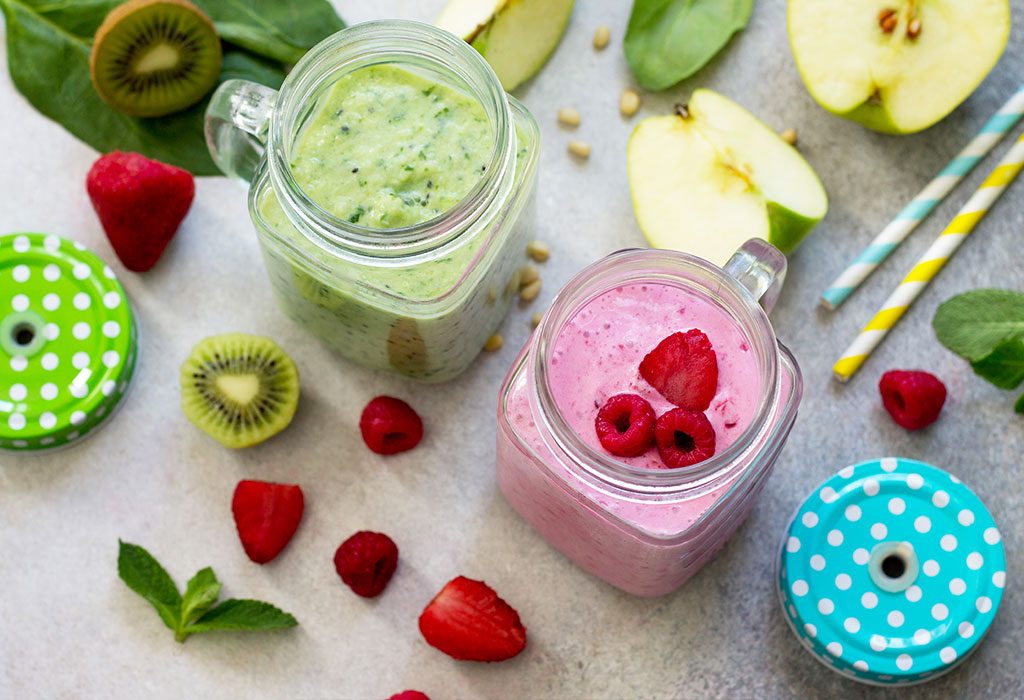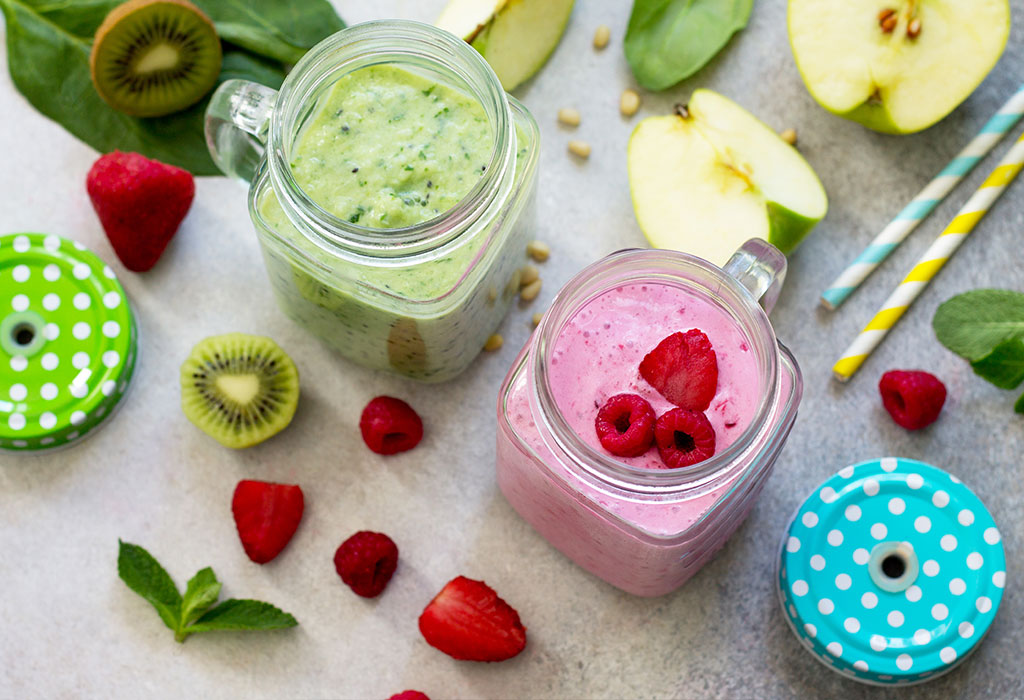 Ingredients
Vanilla yoghurt
Avocado
Spinach, frozen
Mixed berries, frozen
Orange juice
Coconut milk
How To Make
Put together all ingredients one by one into a blender and close it.
Run the blender until they all mix together and become consistent.
Pour this in a mug and energise yourself instantly.
9. Peanut Butter Prune Smoothie
Yes, the combination does sound strange but this is honestly one of the healthiest smoothies to come across.
Benefit
The presence of prunes and ripe bananas in this smoothie elevates the fibre content in it, making this one of the best pregnancy smoothies for constipation relief.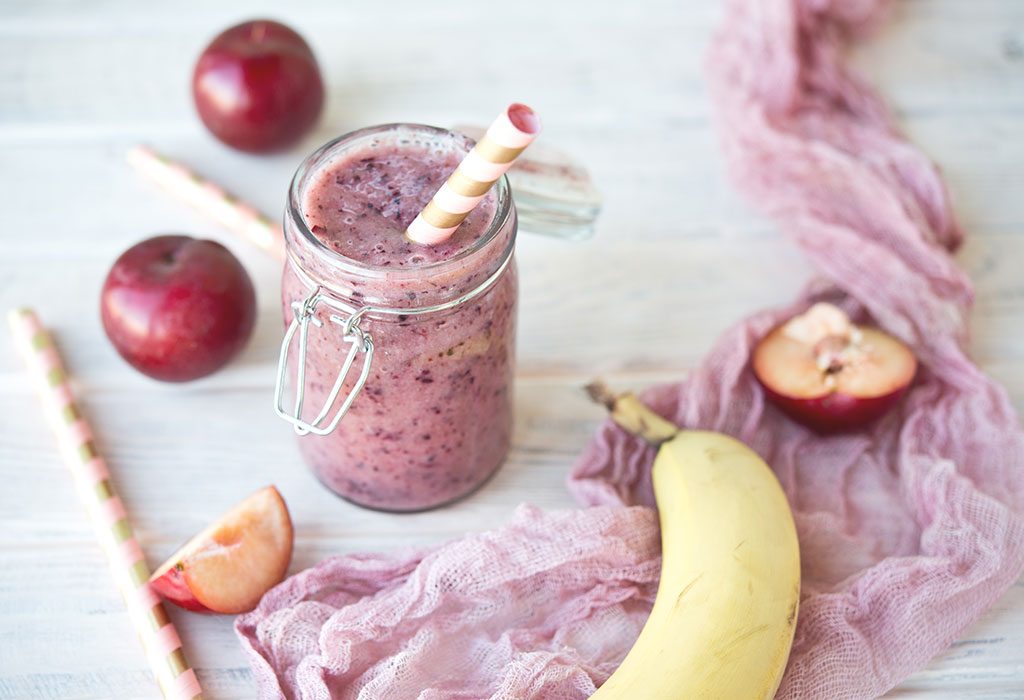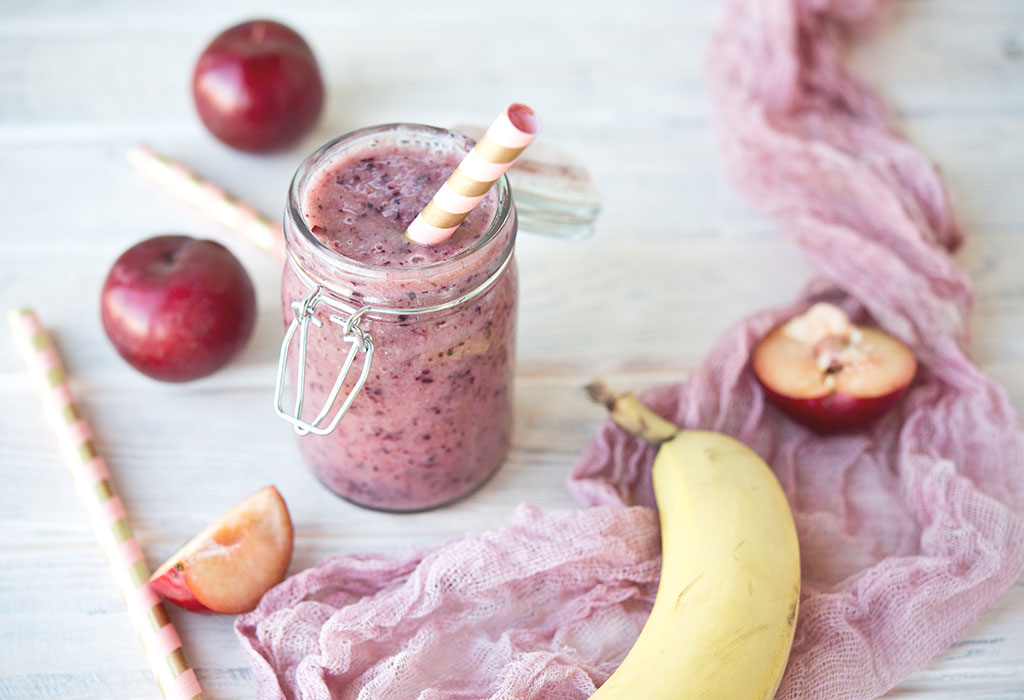 Ingredients
Ripe banana, frozen
Dried plums
Peanut butter powder
Coconut milk
How To Make
Put all of this quickly in a blender and run it at full speed to blend it right away.
Pour this in a glass and enjoy the flavour while it is still cold.
10. The Nausea Treatment
Yet another easy way to counter your morning sickness with this great recipe for a smoothie.
Benefit
The sweet and sour flavours of the fruits combined with the taste of ginger make for a great balance of health and taste.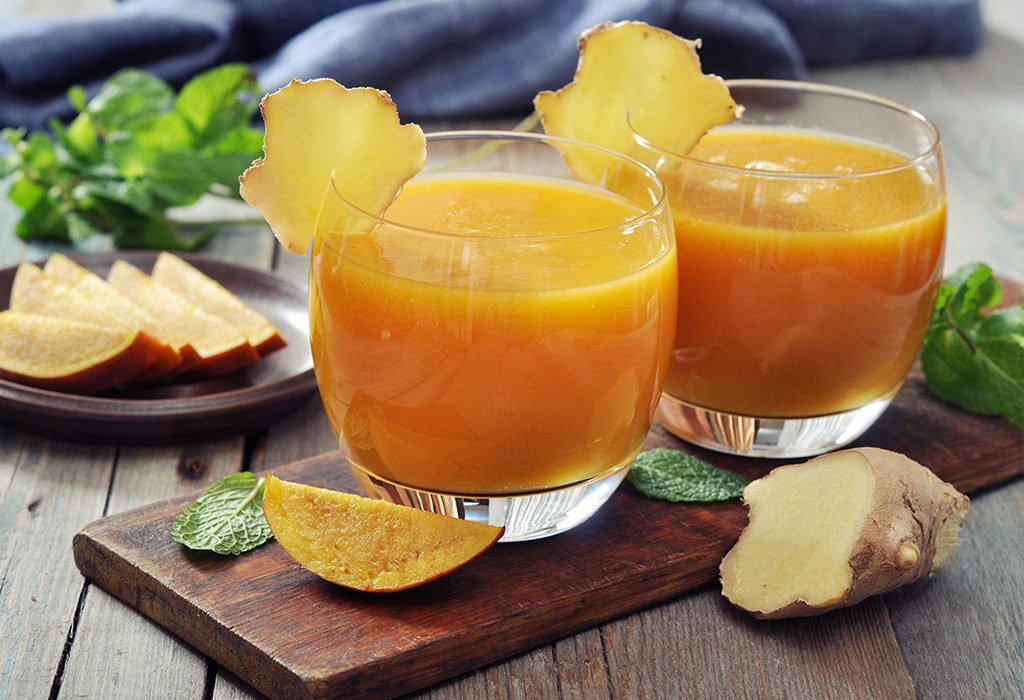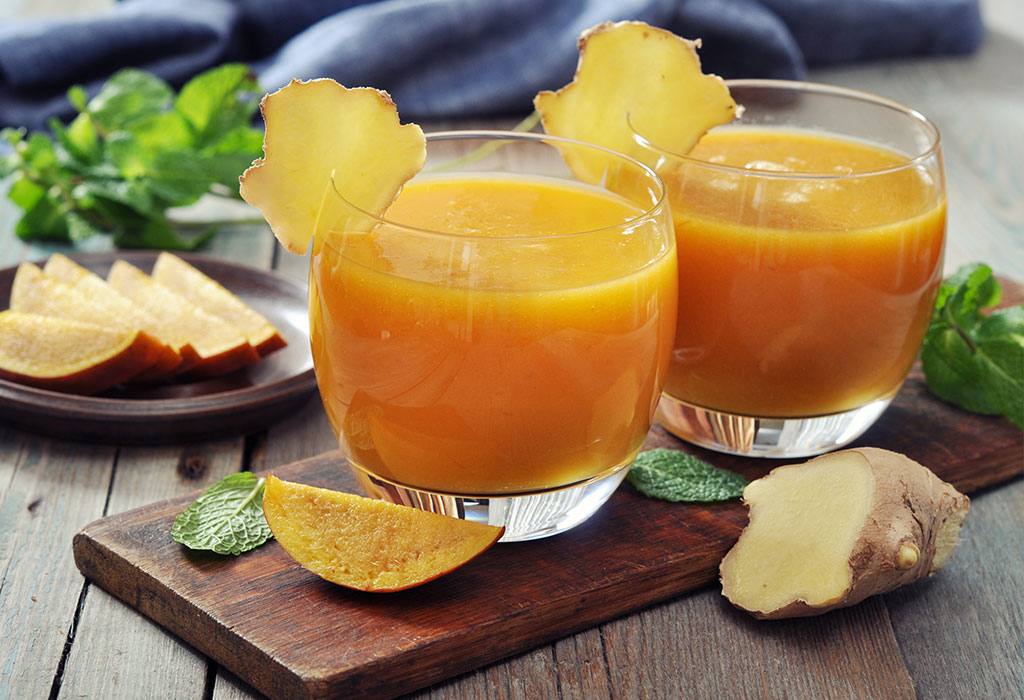 Ingredients
Mango, frozen
Ginger, grated
Lemon juice
Apples
Water
How To Make
Combine all fruits in the blender and run it thoroughly.
Follow it up with ginger and water and blend it further. Then drink slowly.
Taking care of cravings as well as making sure you get the right nutrition is a tightrope walk when you are pregnant. Opting for healthy breakfast smoothies during pregnancy helps you attain that sweet spot and relieve you of many problems while providing you with a tasty experience.
Also Read:
Healthy Snacks to Eat During Pregnancy
Healthy Breakfast for Pregnancy