Cute Baby in Pumpkin Photo Ideas for Your Little Ones
Autumn is the most beautiful season of the year when the weather becomes cooler, and trees tend to change their color. Also, it's the beginning of the holiday excitement, and don't forget the bountiful harvest of pumpkins. If you have a cute baby, you cannot miss the chance to click the adorable baby pumpkin photoshoot. Pumpkins work as a perfect prop, and you can easily find them at your nearest local farm; also, they give the seasonal vibe to the pictures.
Tips for Taking Good Baby-in-a-Pumpkin Photos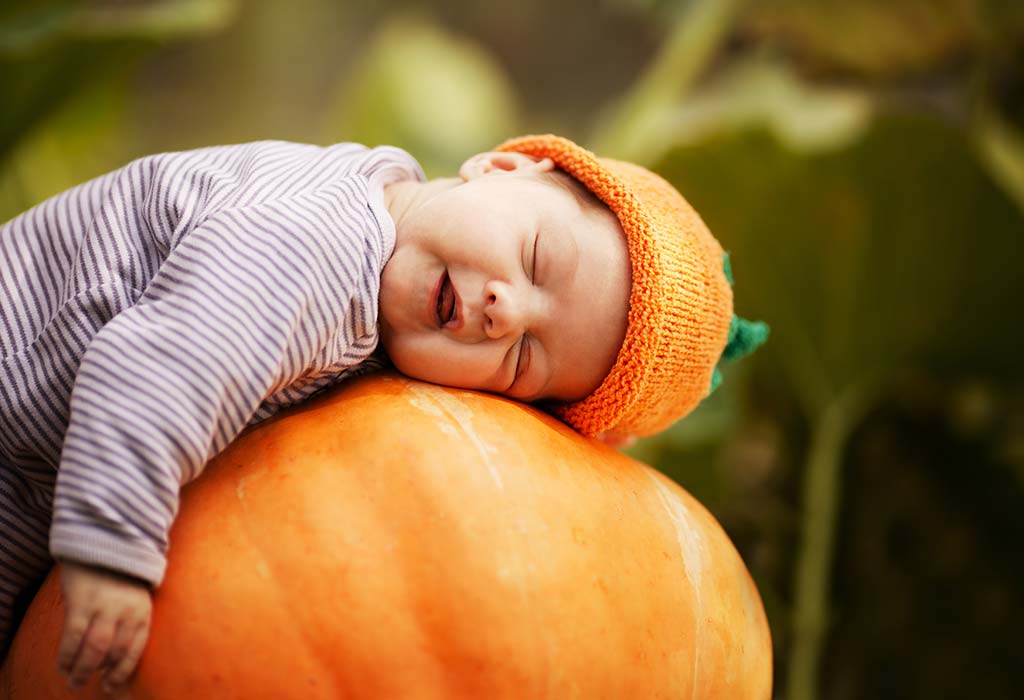 If you are planning for a pumpkin photoshoot with your baby, there are several things that you should keep in your mind. Cutting and carving pumpkins could become messy before putting your baby inside them. Here we have covered some tips for parents to avoid the unwanted fuss when you are ready to click.
1. Buy a Perfect-sized Pumpkin in Advance
The first thing to keep in mind is the size of the pumpkin. Pick the right size at least a day before the shoot to ensure your baby fits in it comfortably. Fall offers a bounty harvest of pumpkins, making it a perfect time for a baby in a pumpkin photoshoot.
2. Clean the Pumpkin
As soon as you get the perfect pumpkin, it would be best to clean it inside out. However, do not throw away the seeds; you can use them up later. Also, place a blanket or a swaddle cloth inside the pumpkin so when your baby sits, they feel comfortable and not messy.
3. Carve the Design Beforehand
Carving the pumpkin is the most important step you need to do in advance. Center carving should be big enough for your baby to fit in, and when you are carving for legs, they must be close to each other for your baby to feel cozy and pleasant.
4. Select a Perfect Background and Lighting
Take your setup outdoors for natural background during daylight. The beautiful fall colors would give an amazing backdrop to your picture. Click a picture to check the arrangement and lighting before putting your baby in it.
5. Prepare Your Baby
Here comes the hero of the project whom you need to take good care of. Make sure the baby has taken a full nap and is not cranky. Feed your baby before the photoshoot so they are full and happy.
6. Keep Their Favourite Toys Handy
Babies may feel a bit scared seeing the fuss around, but you can easily handle this with their favorite toys. A rattle or a teether would work fine. Just keep them handy.
7. Keep Everything Ready Before the Shoot
Whatever is your ideas for the shoot, the props, the setup, and the camera, everything should be ready before you bring your baby around.
8. Ask for Help
You may need help creating the setup or with the camera or even soothing your baby during the shoot. Take the help of your partner or family or friends.
9. Don't Stop at One Click
Take many pictures as babies tend to shake and move their bodies in a jiffy. You can always select that one perfect shot out of many.
10. Relax and Don't Force the Baby
If your baby cries a lot when you put them in a pumpkin, don't force them. Just relax and give them some time. Try to divert their mind, play with them, make them happy, and try again. Remember, you need a single good shot.
Most Lovable Baby-in-a-Pumpkin Pictures
Like every parent, if you too have a dream of clicking adorable pictures of your tiny boo that you will relish forever. You are sorted with amazing baby pumpkin costume ideas that can melt anybody's heart. The fall season brings colorful trees, dried leaves, and pumpkins everywhere. Create an adorable seasonal setup that will not look less than any professional photoshoot.
Some of them must be trying this for the first time, so you need to take good care of your baby while juggling the camera and the setup. Here we have gathered some of the simple and exciting babies in a pumpkin photoshoot ideas.
1. A Pumpkin Costume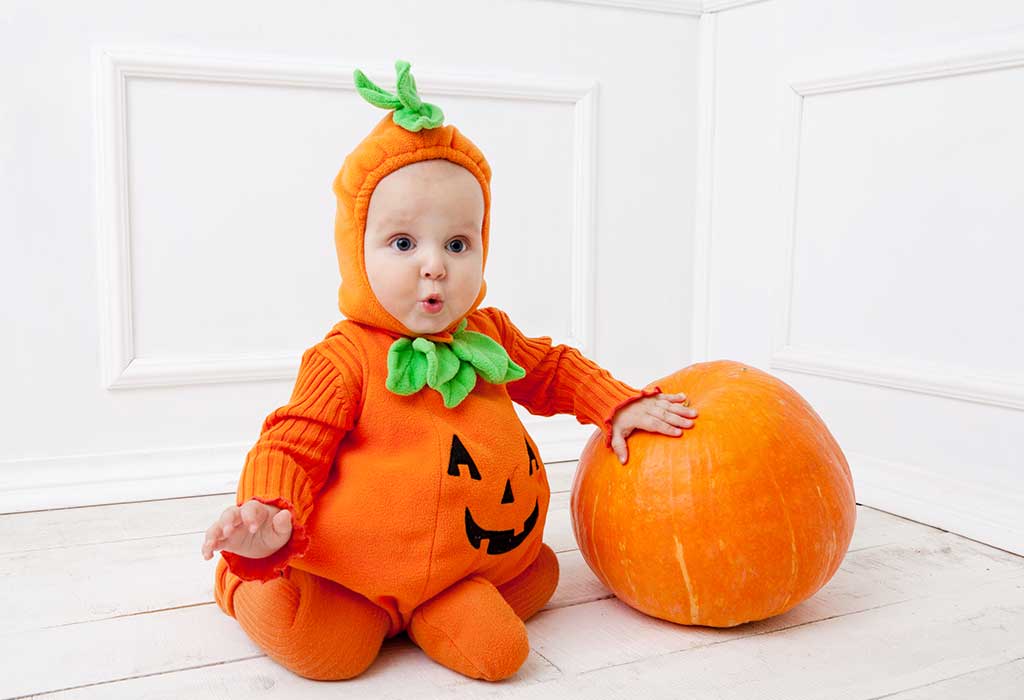 Hold your hands tight because a beautiful baby girl pumpkin outfit will surely take your heart. If the baby is not comfortable inside the pumpkin, make them a pumpkin instead.
2. A Cosy Pumpkin Camper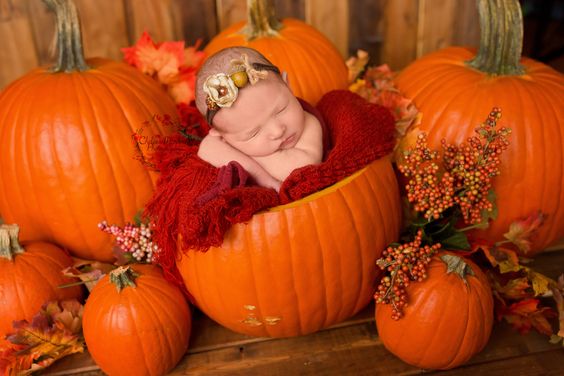 Source: Pinterest
Take a huge pumpkin and carve a big circle in the center. Use some blanket and make a cozy camper for your little munchkin. The baby is sleeping, so you got ample time to click some perfect shots.
3. Pumpkin Carving
Source: Pinterest
Show some pumpkin carving skills and make way for tiny baby legs. This is one of the easiest crafts you can perform with the help of some tips and tricks. The baby pumpkin dress looks adorable and does not require any fancy props.
4. A Fall-themed Pumpkin Picture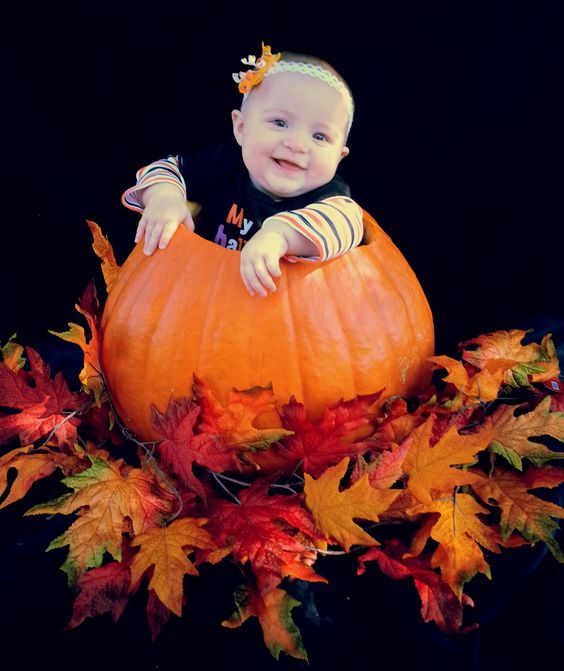 Source: Pinterest
The colorful leaves, scarves, and pumpkins are some of the obvious fall-themed props. Assemble them creatively and click dreamy pictures of your baby for an adorable baby pumpkin photoshoot.
5. Keep It Color-coordinated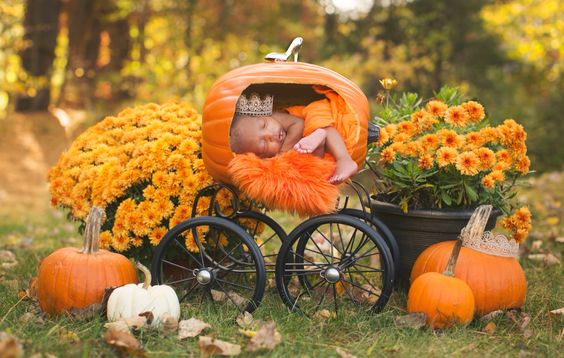 Source: Pinterest
Put your baby in a big pumpkin and add an orange color accessory like a beanie or a headband to make it look color coordinated and attractive.
6. Baby in a Pumpkin Patch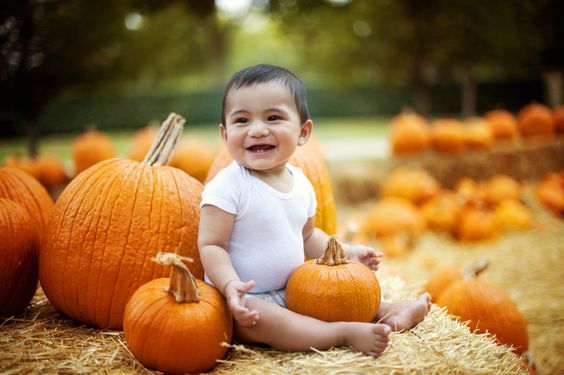 Source: Pinterest
Take your baby on a ride to your nearest local farm and leave them with the pumpkin patch. The natural beauty and lighting will brighten up your pictures. If the baby is very small, you can create the setup at home.
7. A Spooky Pumpkin Head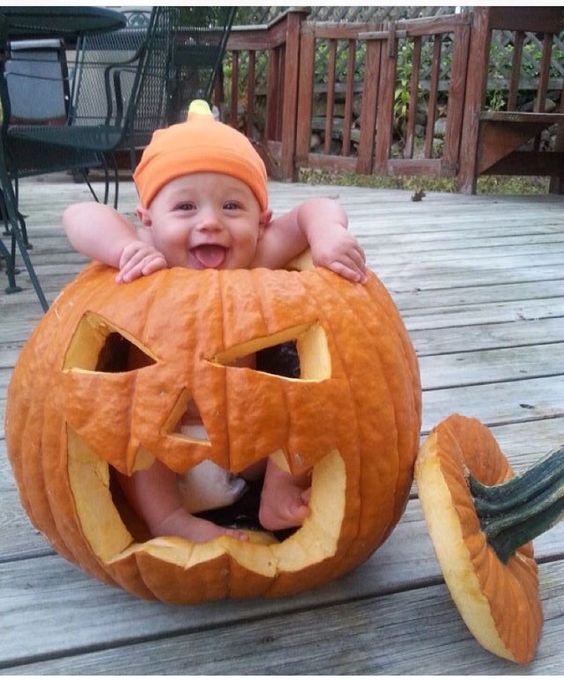 Source: Pinterest
Take a large pumpkin and carve it in the center so that your baby can fit in easily. Also, carve a monster face in front to give a funny, spooky Halloween vibe to the picture.
8. The Bigger the Better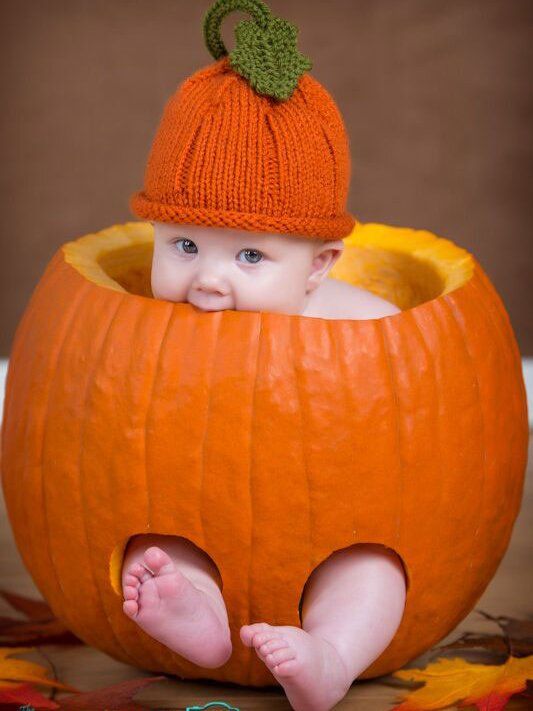 Source: Pinterest
Find a pumpkin bigger than your baby so that they can only peep out their face when you put your baby in. The baby biting the pumpkin looks so charming. Try out this idea and get some adorable pictures of your baby.
9. Take a Snooze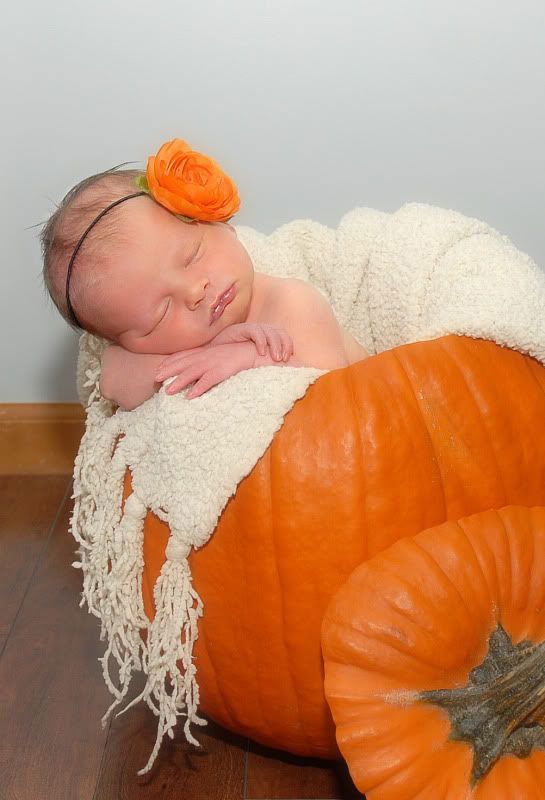 Source: Pinterest
Are you ready with the setup, but your baby has fallen asleep? Don't worry; we have got you covered! Take out your camera and click some snoozing shots of your little bud sleeping over or inside a pumpkin.
10. A Simple Play Day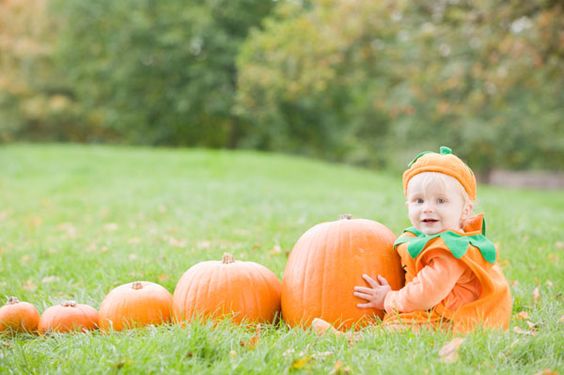 Source: Pinterest
Put some pumpkins in different sizes randomly aligned in your backyard and let your baby play with them. It is a simple idea that you and your baby will enjoy.
Pumpkin is a traditional element of the beautiful autumn season. The modern twist is to put your babies inside them and create adorable memories. Mothers are highly concerned about their babies, so we have got all the tips and tricks to ensure you do not miss out on anything. Take care of your baby while you create perfect shots of them with the pumpkins.
Also Read:
Baby Milk Bath Photoshoot Ideas
Baby Christmas Photoshoot Ideas
Summer Themed Baby Photoshoot Ideas