Chinese Egg Rolls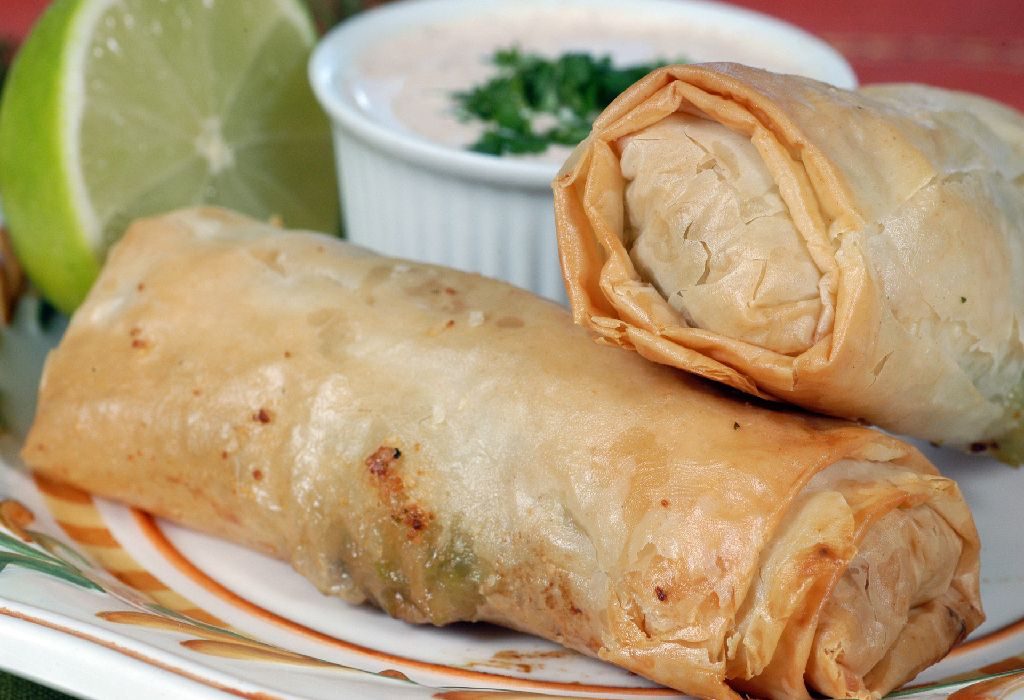 In this Article
These egg rolls are a little time consuming, but trust us every moment spent in preparing these is totally worth its while. You can add a variety of fillings that range from vegetables to chicken, pork, shrimp and so on. Here, we have used a combination of veggies and shrimp, stir fried in sauce to give that authentic Chinese zest. Serve these hot with tomato sauce, perfect for a Sunday evening snack.
| | | |
| --- | --- | --- |
| Serves | Preparation Time | Cooking Time |
| 5 People | 30-35 Minutes | 20-25 Minutes |
Ingredients
1 carrot, chopped to strips
1 red pepper, chopped to strips
1 cup cabbage, shredded
1/4 cup chicken broth
1 egg, beaten
1 package egg roll wrap
4 tbsp vegetable or peanut oil
1 inch ginger, finely chopped
2 – 3 garlic cloves, finely chopped
2 scallions, sliced thinly
2 tbsp soya sauce
1 tbsp sugar
1 tbsp sesame oil
10 cooked shrimps, minced
Salt to taste
Oil for frying
Method
Step 1
Mix chicken broth, soya sauce, sesame oil, sugar and salt in a bowl. Keep aside.
Step 2
Heat a wok over moderately high flame. Add 2 tbsp of peanut oil, add ginger, garlic and scallions. Stir-fry for about 1 – 2 minute.
Step 3
Next, add carrot, red peppers and stir fry for another 2 – 3 minutes. Add cabbage and broth mixture and stir well. Bring it to a boil and cook until the vegetables get soft.
Step 4
Add sesame oil and switch off the flame. Allow it to cool and add minced shrimp.
Step 5
Take a tortilla and place 1 tbsp of filling at the centre. Roll one end to the centre. Now, fold both the sides and brush the top with egg. Continue rolling until all the sides are closed. Make more egg rolls in the same manner.
Step 6
Take a skillet and heat oil on a medium flame. Place each egg roll and fry until it turns golden brown on all the sides. Transfer it to a plate and serve hot with sauce.
Nutritional Information
| | |
| --- | --- |
| Calories | 435 Kcal |
| Proteins | 19.2 g |
| Fat | 19.8 g |
| Carbohydrates | 44.6 g |
| Cholesterol | 160 mg |
| Sodium | 944 mg |
| Potassium | 323 mg |