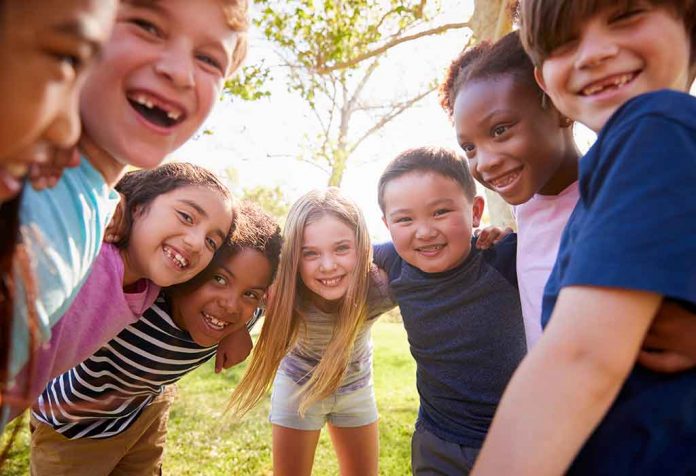 Friends are the closest relations we have to us who are not related by blood. A friend is someone you form a bond with and share a deep affection for that has nothing to do with romance. Friends often have something in common like a hobby or a sport that connects them, but there are also those with different interests who may have been friends since childhood. Friends care about each other and are there to celebrate the good times and be there for each other during the bad.
10 Amazing Poems On Friendship For Your Child
It is a wonderful thing to celebrate friendship, and there is no better way to express your feelings than through poetry. Rhyming poems about friendship for kids is also a great tool to use to teach your children the value of friendship in an impressionable manner. Here are a few children's poems about friendship:
1. The Best Of Friends
By S. Jill Wolf
The best of friends
Can change a frown,
Into a smile,
when you feel down.
The best of friends,
Will understand
Your little trials,
And lend a hand.
The best of friends,
Will always share,
Your secret dreams,
Because they care.
The best of friends,
Worth more than gold,
Give all the love,
A heart can hold.
2. A Friend Is A Treasure
Poet Unknown
A friend is someone we turn to
when our spirits need a lift.
A friend is someone we treasure,
for our friendship is a gift.
A friend is someone who fills our lives,
with beauty, joy and grace.
And make the world we live in,
a better and happier place.
3. Let's Be Friends
By Christine Corona
Would you like to be my friend?
That would be so fine!
We'll run around in your backyard
And then we'll play in mine.
We'll walk to school together.
And share our lunches too.
Oh, what a lucky kid I am
To have a friend like you!
4. Friendship
Poet Unknown
Faithfulness is the key to being a good friend,
Respect them from beginning to end.
Neglect is something never to do,
Depend on them they'll see you through.
Secrets are things you should be able to share,
Helping them out and showing you care.
Inseparable is how we will be,
Preparing for life: just you and me.
5. Ode To Friendships
By Kayla Rae Pich
Friends…
They're the few people who accept silence over conversation.
A relationship like this denies silly promises and persuasion.
You don't feel the need to second guess thoughts or measure words.
Their love comes in wholes, not halves, not thirds.
They're the ones that guide you through when fate takes a turn.
Fights, small and large, end in forgiveness, never a burn.
You forget about first impressions and the feelings they brought.
You're grateful for who they are and you forgive 'em for what they're not.
6. A Golden Chain
By Helen Steiner Rice
Friendship is a Golden Chain,
The links are friends so dear,
And like a rare and precious jewel
It's treasured more each year…
It's clasped together firmly
With a love that's deep and true,
And it's rich with happy memories and fond recollections, too…
Time can't destroy its beautyFor,
as long as memory lives,
Years can't erase the pleasure
That the joy of friendship gives…
For friendship is a priceless gift
That can't be bought or sold,
But to have an understanding friend
Is worth far more than gold…
And the Golden Chain of Friendship
Is a strong and blessed tie
Binding kindred hearts together
As the years go passing by.
7. With A Friend
By Vivian Gould
I can talk with a friend
and walk with a friend
and share my umbrella in the rain.
I can play with a friend
and stay with a friend
and learn with a friend
and explain.
I can eat with a friend
and compete with a friend
and even sometimes disagree.
I can ride with a friend
and take pride with a friend.
A friend can mean so much to me!
8. I Knew A Man By Sight
By Henry David Thoreau
I knew a man by sight,
A blameless wight,Who, for a year or more,
Had daily passed my door,
Yet converse none had had with him.
I met him in a lane,Him and his cane,
About three miles from home,
Where I had chanced to roam,
And volumes stared at him, and he at me.
In a more distant placeI glimpsed his face,
And bowed instinctively;Starting he bowed to me,
Bowed simultaneously, and passed along.
Next, in a foreign landI grasped his hand,
And had a social chat,About this thing and that,
As I had known him well a thousand years.
Late in a wildernessI shared his mess,
For he had hardships seen,
And I a wanderer been;He was my bosom friend,
and I was his.
And as, methinks, shall all,
Both great and small,
That ever lived on earth,
Early or late their birth,
Stranger and foe, one day each other know.
9. The Cake Of Friendship
By Michelle Flores
Preheat the oven of love
With plenty of secrets and hugs
Mix in giggles and laughs
That make your sides split in half
Bake with the love and care
And all the things you both should share
Decorate with the frosting of trust
This is really a must
Enjoy the cake do not eat it fast
Just like your new friendship make it last.
10. Forever Friends
By Amber S. Pence
The friendship we have is so rare to find.
We hate to see each other in a bind.
We have made each other laugh so hard we've cried.
We feel each other's pain if we are hurt inside.
We always can find the right words to say
To help us get through any dreadful day.
We have told our darkest secrets with feeling no shame,
We will tell each other the truth, even if we are to blame.
Thinking of you not being here makes me feel so sad.
We will have to look back on our crazy memories to make us glad.
The miles between us can't keep us apart,
Because we will keep each other close at heart.
From short friendship poems to long ones, we have a few that are great for teaching children the different emotions and forms friendships can take. From exploring how strangers can become friends in Henry David Thoreau's "I knew a man by sight" to learning exactly what true friends are from Amber S. Pence's poem "Forever Friends" we have a collection that covers all aspects of friendship. Poets throughout history and from all across the globe have celebrated friendship in the form of poetry and in many different languages. It does not matter if it is a poem on friendship in English or another language because they all have the same emotions and throughout history, the theme of "friendship" was always covered under the umbrella of love since it is a priceless form of it that everyone should have.
Also Read:
How to Introduce Poetry to Kids
Famous Short English Poems for Children