21 Best Role Play Ideas for Kids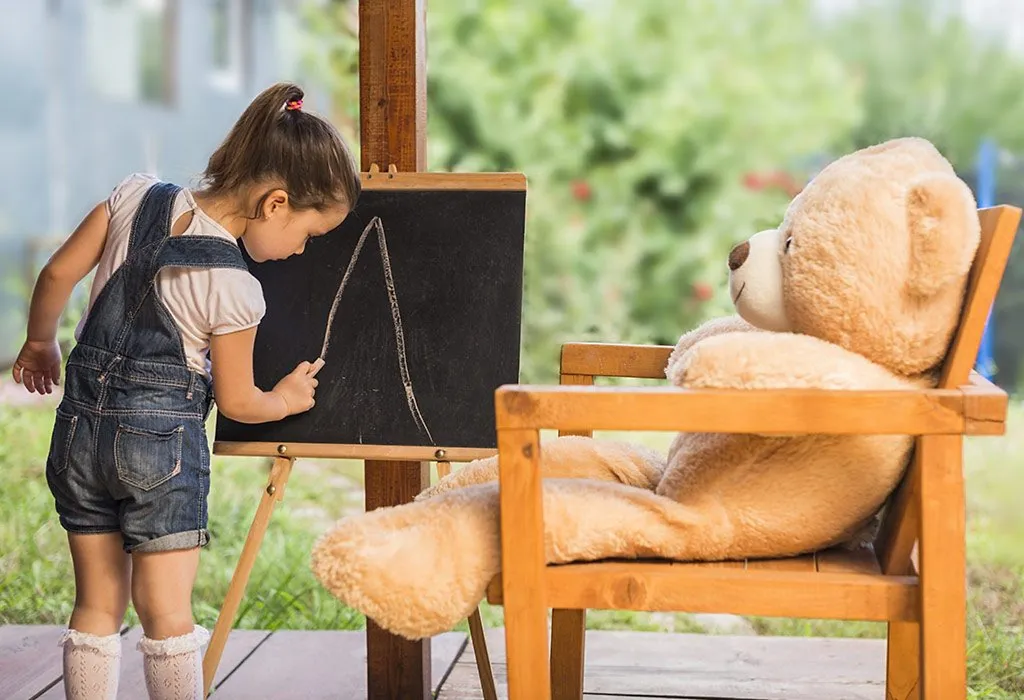 In this Article
In the initial phase of education, every child needs engaging and fun ways to learn. Preschoolers pick up many of the basic, but important life lessons during this phase of their life. Kids love to mimic adults, and in the process, they learn about life. Role-playing activities help them do just that. This article lists down 21 of the best role-play activities for preschoolers that can help gain an understanding of life and the World.
21 Creative Role Play Activities for Your Child
Role-playing games for kids is a fun and interesting way for the kids to learn and to strengthen their imagination. Here are some ideas of such games for your kids.
1. Bakery
Kids can create their own bake-house and bake goodies and sell them to other kids who would be their customers. You can make goodies like cookies and cakes using cardboard paper cutouts and crayons and double baking oven using bookshelves. You can also buy ready-made baking playsets for the same.
2. Fairy Tale Plays
Fairy tales are a great way to spark the imagination of children. Kids can easily relate to fairy tales, and enacting the same by making sets out of coloured cardboard paper can help them memorize the stories as well as inculcate the morals imparted by them. Renditions of 'Three Little Pigs' or 'Goldilocks' are excellent dramatic play ideas for kids to learn and memorize the story as well.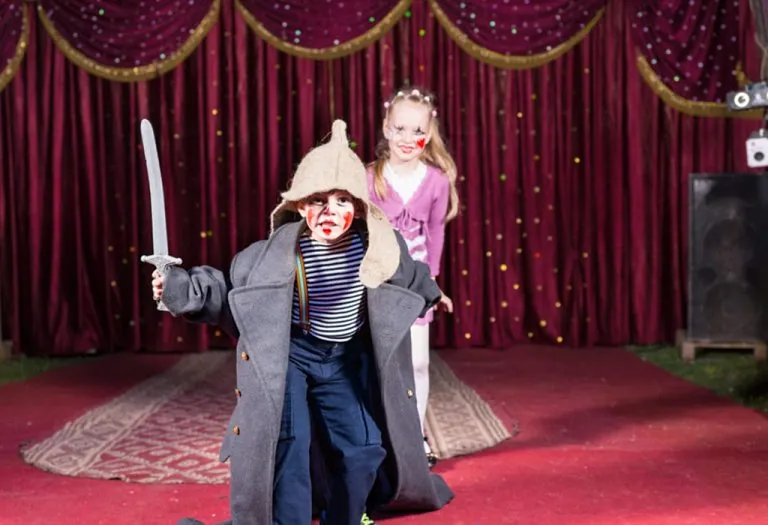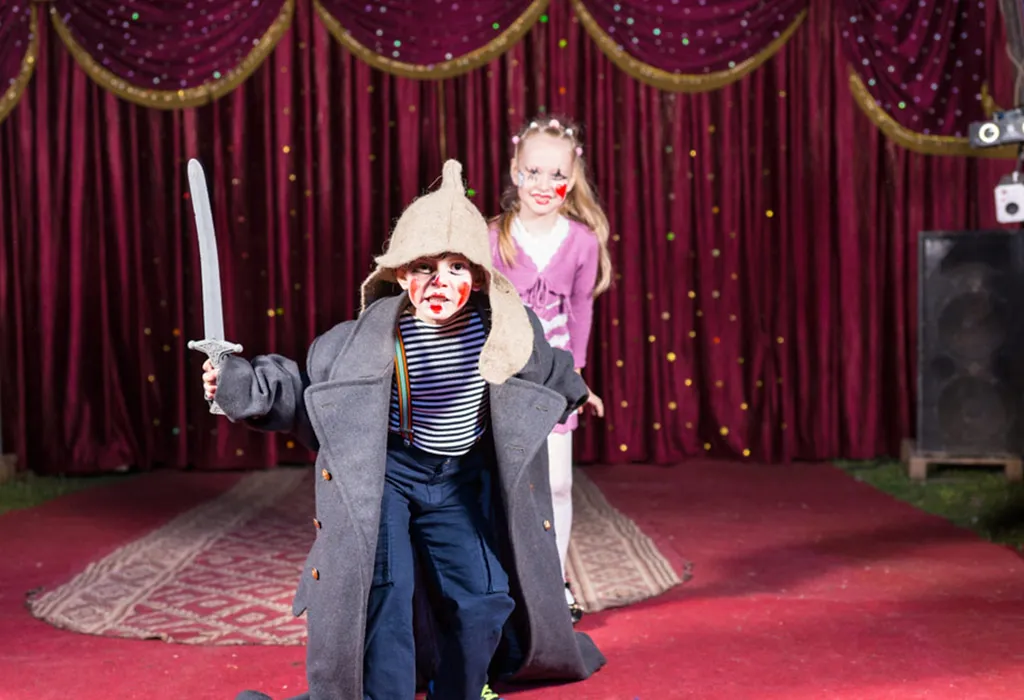 3. Flower Shop
Recreating a flower shop during spring is an excellent role-play idea for kids. The kids will learn about different flowers, the seasons they usually bloom in, and their alternative names too. Take this activity a little further by asking them to make flower cutouts and arrange them in beautiful bouquets with attractive ribbons. This role-play could also strengthen their math skills when they count flowers, and sell the bouquets to their customers.
4. Pizza Parlour
Kids love to eat pizzas! This role-play will help them understand how pizzas are made and delivered to their customers. They can make pizzas slices, ovens and the delivery boxes out of cardboard and coloured chart paper, and pretend to have ridden several kilometres to deliver the pizza on time. Children will be interacting a lot with each other for this activity. They will also learn how eateries and pizza parlours operate.
5. Soda Vending Machine
For this role-play, a soda vending machine can be made with a cardboard box cutout, styrofoam cups and some coloured tissue paper. This can be a great addition to various dramatic role-playing scenarios such as restaurants, pizza parlours, hospitals and so on.
6. Baby Care
Kids often imitate parents taking care of babies and they also care for their toy babies like they are real ones. They are very imaginative and can play with a stuffed toy or a doll, dress them, feed them, take them to school, etc. for hours altogether. This role-playing game doesn't require a lot; just a doll or a toy and some imagination can help them build a perfect world for themselves. However, nowadays there are kits available in the market that come with dolls resembling babies and accessories that kids can play with. This is one of the most effective role-playing scenarios for kids for it teaches them how to care and protect.
7. Ice Cream Counter
Kids can make their own ice cream parlour with different flavours of ice cream by just using felt or playdoh (clay), some empty transparent plastic boxes, an ice cream scoop and a few cones painted out of paper. This helps children enjoy and understand different colours while pretending to eat one of their favourite snacks in the world. If they are old enough to operate their pretend ice-cream counter, they can even have their family and friends visit as customers and get some experience of selling ice cream and keeping accounts.
8. Castles
This one is the most famous role-playing game for kids. They can make their own castles out of bed linen, a few cushions and some sticks. This lets them enjoy the medieval times of being royals in their castles. Each kid can take turn ruling the kingdom, while others are either his courtesans or the people living in the kingdom. Take this a step further by telling them a historical story and allocating roles to enact in the make-belief castle. Sometimes, this game can also be used to teach kids to strategise, a life skill they will need when they grow up.
9. Tea Party
Kids can play with ready-made teacup sets and recreate a scene of high tea or a tea party with their parents, siblings, friends and even their toys. Encourage them to bring all their new friends home for a tea part. This way they will learn to communicate and make new friends. Sometimes, this game can also work as a stressbuster and encourage your child to share their feelings over a cup of their tea.
10. Dinosaur Excavation Site
This activity will bring out the palaeontologists in the kids. You can create this pretend play idea with just a large rectangular tub, some sand to fill it and some plaster of Paris bone replicas which can be buried in the sandbox. Dress them in cargo pants, cotton shirts and large hats to keep them safe from the harsh sun out there when they pretend to excavate the bones. Also give them some brushes to remove sand, dig out the dinosaur bones and have their share of fun and education together. This is one of the most fun role-play ideas for kids.
11. Grocery Store
Kids love pretending to do what adults do while shopping and this role-playing game will help them get some experience shopping for grocery. You can make a pretend grocery store by making products out of empty cereal boxes, aisles out of empty bookshelves and make carts out of cardboard paper and tricycles. This is a highly fun and interesting way of keeping kids occupied in pre-school.
12. Hospital
Kids absolutely love emulating doctors by wearing stethoscopes, prescribing medicines and treating other kids. Hence, this role-playing scenario is a must-try for preschoolers. This game also teaches them to care and nurture, inculcating a sense of compassion in them. They can take turns playing doctors, nurses and patients and even think of what ailments they will cure. Sometimes they come with incredible ideas to progress the game.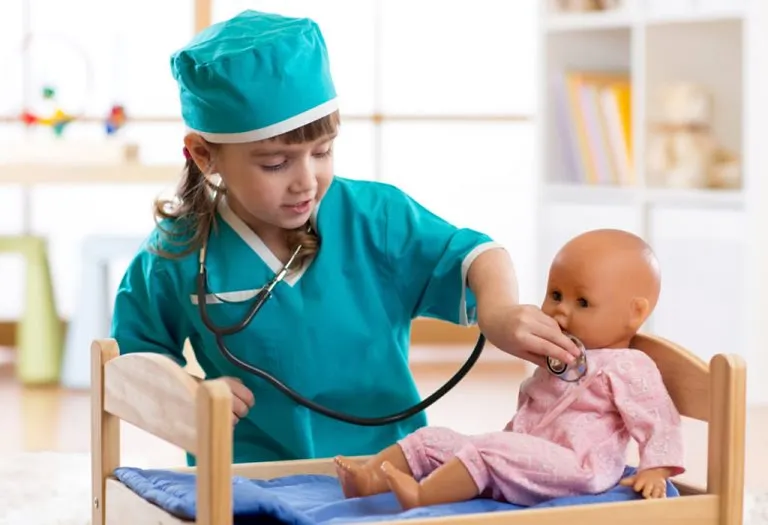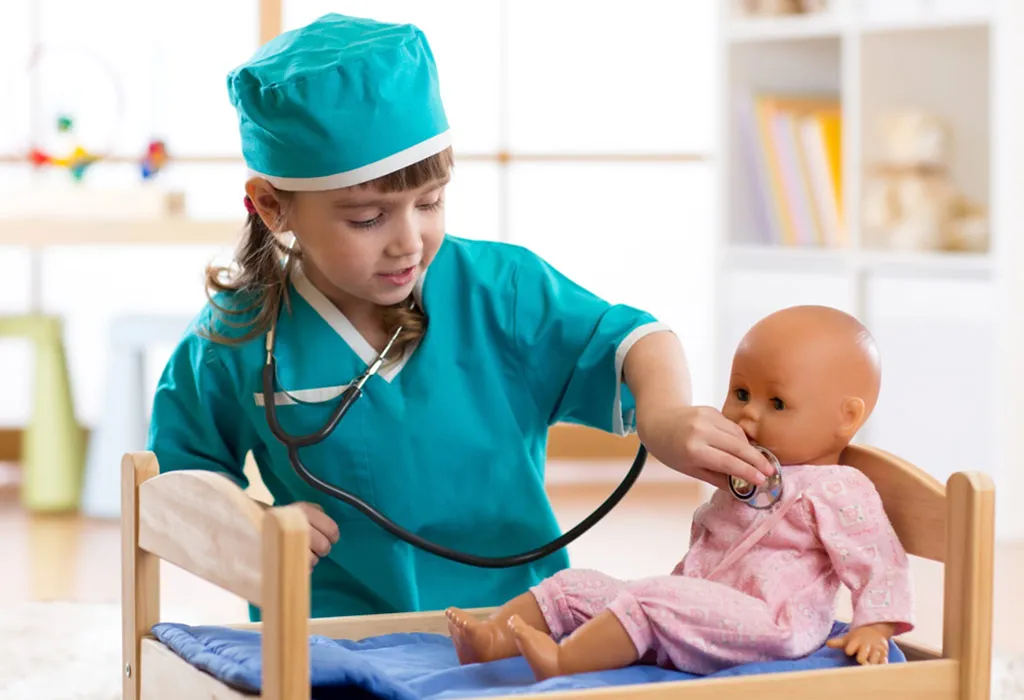 13. Band
This is another favourite among kids wherein they pretend to have a band, make instruments out of used cardboard paper or use their toy instruments or be creative with other toys. Let them go all out by allowing them to sing their favourite songs as they play the instruments. You can also become their manager and take them on a tour, which will consist of live performances at his friends' place; with permission from their parents of course. This level of serious fun will push them to learn the songs and set up performances along with having loads of fun.
14. Construction Engineer
Most kids are fascinated by construction sites. The sheer size of the buildings and the cranes can amaze them. And, when it comes to role-playing this game, they get a chance to pretend to be construction engineers and build towers out of building blocks and Lego bricks. This activity helps the kids to have fun as well as understand spatial orientation and sequence in the process. Hence, this activity is an assured hit with the kids.
15. Sailors
This is a fun activity for kids as they are inspired by lovable cartoons like Popeye. The ship and the mast can be recreated with a few empty suitcases, some boards, some sticks and used bed linen. Kids can also use paper tubes for telescopes and create sailor hats, flags and maps out of paper which can be coloured accordingly. One can also make fishes out of coloured paper and use a stick and some threads to make fishing rods. The kids can learn colour recognition as well as how to use a compass with this interesting activity.
16. Camping
Children can recreate a camping scene by making a tent with used bed linen and a stick and stay inside it. They can also share stories with each other to make the experience even closer to actual camping and have lots of fun in the process. If you want to add some thrill to the game, you could become an animal coming to hunt in the night and the kids and keep themselves safe by hunting down the beast instead.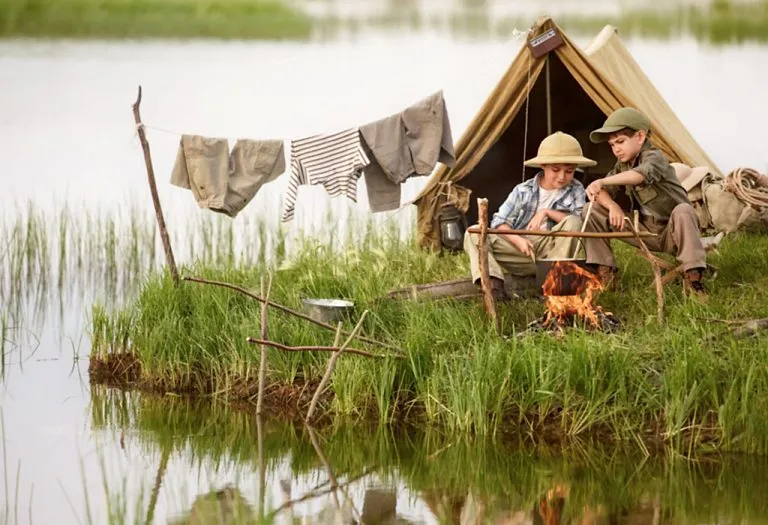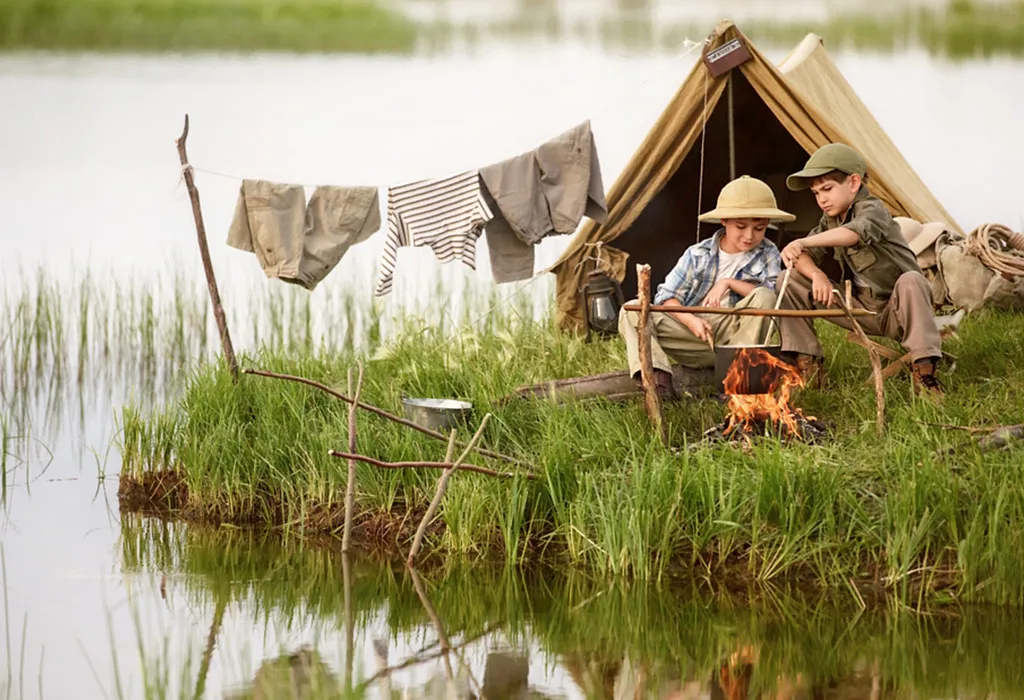 17. Police or Detective
Kids can put their Sherlock hats on for this activity where they can be asked to investigate for a missing object with the help of clues. This can help in fueling the inquisitive minds of children by boosting problem-solving skills while keeping them engaged in the activity.
18. Veterinarian
Kids can act as veterinarians with a doctor's play set and trying to treat stuffed, toy animals in this activity. Kids could actually learn to have compassion towards animals with this activity.
19. Airplane
Children love to recreate this scene as they imagine themselves to be pilots and passengers flying in the sky by pulling chairs together in two rows and recreating the scenes that they regularly encounter on flights. Kids could also learn about new places and how far it is as they pretend to fly from one destination to another.
20. Bank
Kids can create currency notes out of paper and recreate the scenario of a bank where they can give and take the money and learn how to deal with money as well as counting and addition. For older kids, you can also have them borrow money and return it with interest.The kids also inculcate collaboration and cooperation and learn to work with other kids through this fun activity.
21. The Explorer
The explorer is for those who want to instil curiosity and a will to learn about and see new places in the world. This game is recommended for older kids who can read and write. The kids can learn how to read maps, research about them, and then pretend to cover distances via the various mode of transport. This activity could also help your children understand the preparations required for travelling and the various places they can explore when they grow up.
These fun activities can foster the imagination and creativity of kids and also inculcate core lessons for life and help them excel into bright young students in school. They can definitely be tried out to make learning highly engaging and interesting.
Also Read:
Hobby Ideas for Children
Learning Activities for Kids
Listening Activities and Games for Kids