Trick-or-Treating for Kids – Tips for Preparation & Safety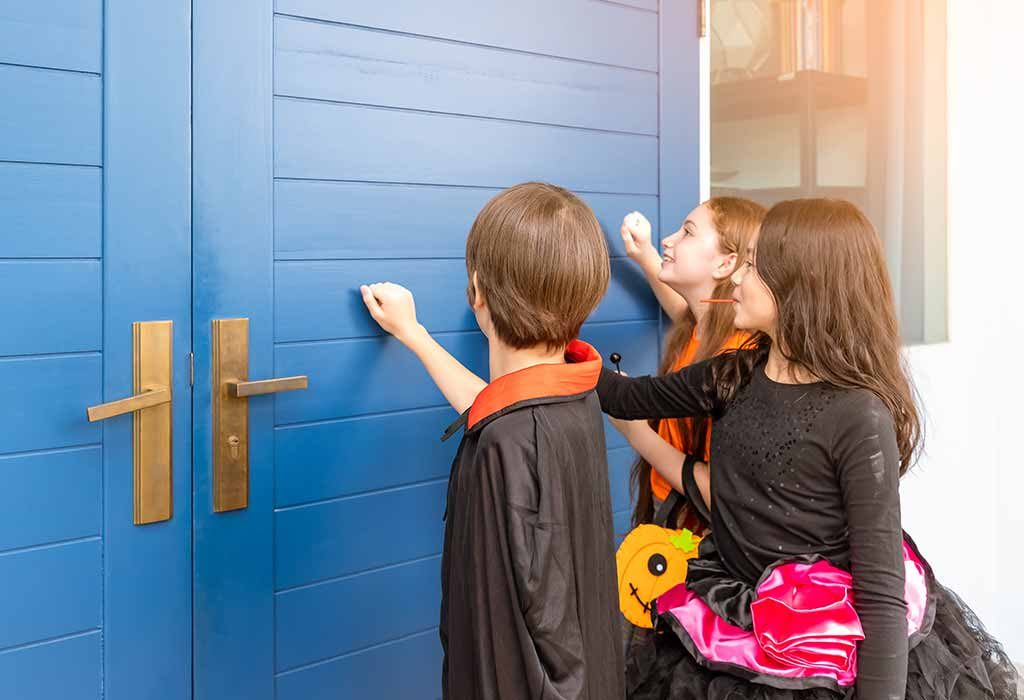 Knock on the door from a stranger asking for treats or a trick to deceive you on Halloween may sound scary, but kids trick or treating has become a loved obsession all over the world. On what day do kids trick or treat? Some families go to organised parties, and some go knocking on doors in their neighbourhood. Of course, some families do not pay any attention to the day, and just let it go by. Irrespective of how you choose to spend the day, here are a few practical tips from preparation, safety measures to alternative ways of spending the day. Read on to find out.
What Is Trick-or-Treating for Kids?
Why does one wait for a stranger to open the door and scream the words "Trick or Treat". What is the importance of trick or treating for children? It is an ancient Celtic custom, but in modern times it is believed to have been borrowed from mumming or guising that were popular in Scotland, Ireland, and England. The most common trick or treat ideas for kids involves dressing up in a costume, singing rhymes, performing card tricks, or even telling a story in exchange for sweets or candies.
Print references to the term trick-or-treat date back to 1927 in Canada, and it gained a hold in the US only in the 1930s. Not particularly liked in the US, it angered and baffled adults when kids came to them with the demand for a treat. The Madison Square Boys Club, New York in 1948 carried a banner saying "American Boys Don't Beg". By the 1950's the practice caught on popularity and was accepted as it got a mention in the media, especially, the comic strip Peanuts.
How Old Should a Child Be to Trick-Or-Treat Without Parents?
You will love dressing your child and escorting them to gather candies. But soon your child will pester you to let them go solo or with their friends. Trick or treat for toddlers is a parent-led activity, but deciding to send an older child alone is a different ball game. According to psychotherapists, there is no acceptable age when you can send your child "trick or treat" by themselves. An 11-year-old could have good judgement and awareness of their surroundings, making it safe for them to go alone than a 13-year-old. With conflicting views, it is entirely up to the parent to decide. You are the best judge of your child's abilities and maturity to handle themselves. Other key aspects that are integral in making this decision is the safety around the neighbourhood, who the child is accompanying, and knowledge of safety rules by the child. According to a recent census in 2017, no criminal activity or untoward incidents have taken place during Halloween.
It is essential to let your child experience the freedom and a sense of independence. You could set some ground rules in the first year- curfew time to get back, discuss safety measures in advance, stress the importance of answering texts or calls, and determine the furthest they can go from your house. If a child understands and is willing to follow these rules, then the child is ready to go on their own.
Trick-or-Treating Etiquette for Kids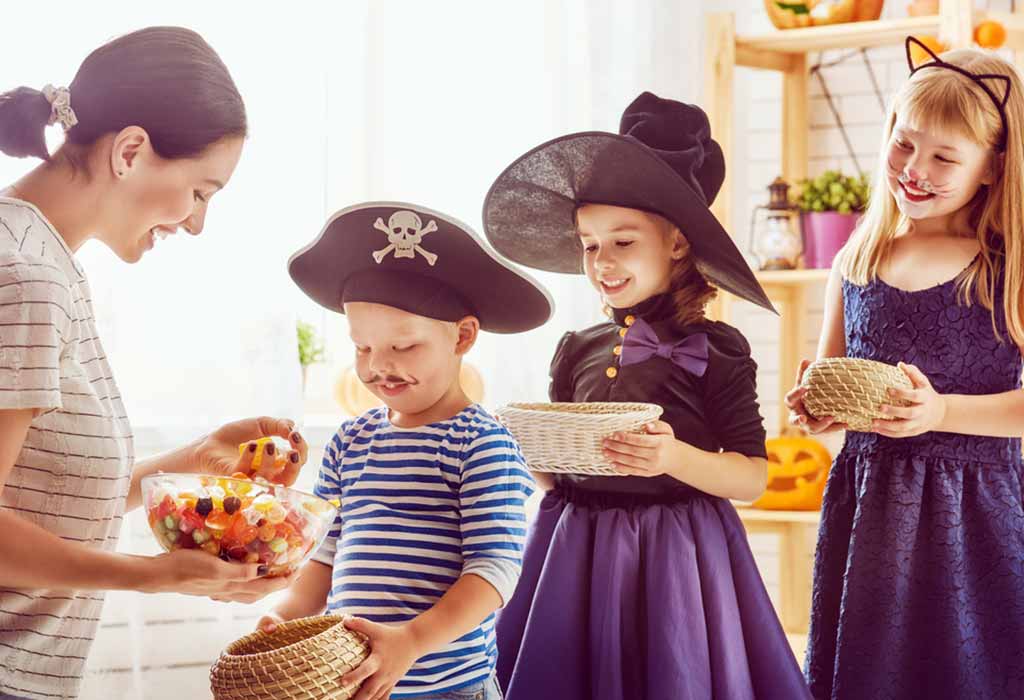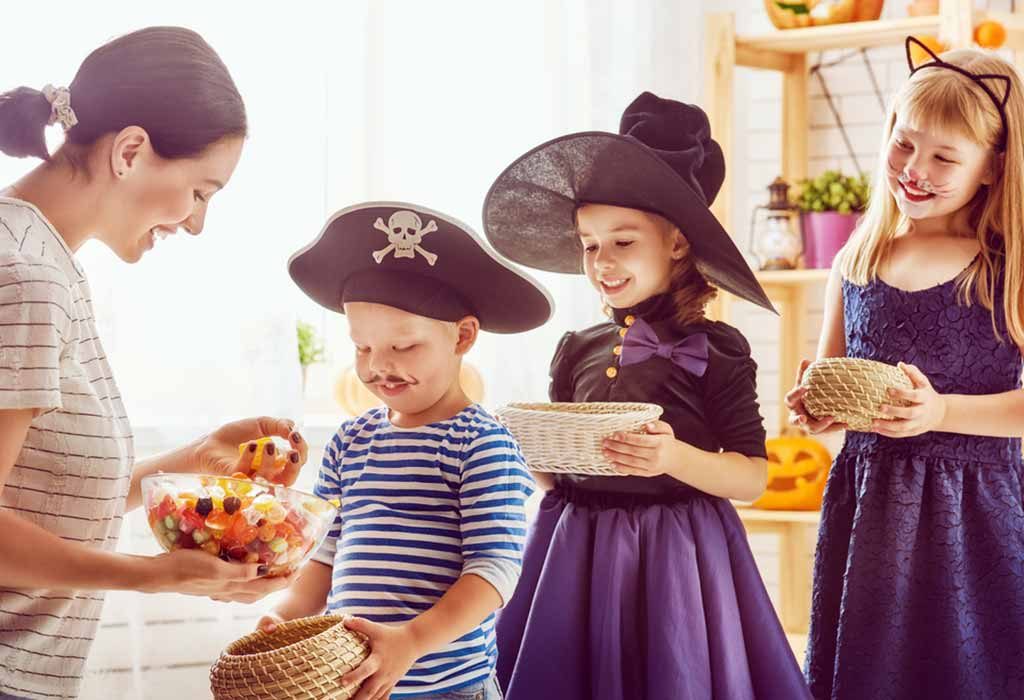 Believe it or not, Halloween does involve some etiquette. Listed below are a few manners to share with kids going for trick-or-treating, that will make them popular for their impeccable behaviour:
The one-piece limit for taking candy from a bowl. If the person is generous and offers more, then take one or two more. Don't forget to say thank you.
Don't fret or moan if you dislike the candy. Take it anyway, and say thank you.
Refrain from speaking negatively about the candies presented, and do not ask for alternatives.
Do not go digging for that perfect candy in the bowl. Take the piece that you lay your hands on first, and make room for other kids.
Make sure to make eye contact with the giver, and smile when thanking them for the candy. This tiny gesture of looking, greeting, and speaking will win several hearts.
Speak loud and clear to be audible.
If you see no light at the front door or the windows with curtains drawn or blinds closed, then skip the house. It is a signal that the house owner does not want to participate.
Do not touch anything near the porch, especially the décor items. They could be delicate and fall or break.
Do not press the doorbell more than twice. If no one answers, skip to the next house.
You may be in a hurry to cover many houses. Don't walk over the grass, flowers, and shrubs. Instead, use the pavements and sidewalks.
Wear a costume as it is part of the tradition or rules of the trade.
Tips for Preparing Children for Trick-or-Treating
All that Halloween fun can be ruined by a wrong costume, a hostile house, or a kid with a belly ache owing to all the sugar. These tips could help to make Halloween enjoyable for kids going trick or treating.
1. Choose the right costume
There are adorable costumes all around. But pick the one which fits right, has the right fabric, and pair it with the right shoes, so that your child does not go tripping. Try to avoid face masks as they irritate. Non-toxic face paints are a good alternative.
2. Increase visibility
Even if you do not intend to be out for long, stick reflective tape on your child's costume. Alternatively, you could take a small flashlight to guide you in the dark.
3. Lay down the rules and explain the etiquette in advance
Lay down the ground rules and mention the etiquette to follow before the trick or treating starts. The last thing you want to do is nag your child at every doorstep.
4. Inspect the goodie bag
As an adult, it is vital to check the loot bag for candies that might be a choking hazard, stuff that your child may be allergic to, or anything that looks fishy.
5. Prepare your kid for surprises
You may stumble upon an adult or teenager who screams the living daylights out of you and your child. Prepare your child in advance, so that they know that it is not for real and just fun.
6. Skip the really spooky scary households
Some households take their decorations seriously, which could scare your child. Carefully skip those porches and move ahead.
7. Timing
Start early and finish early. Young children can get restless when it is past their bedtime.
8. Have a plan to finish the booty
Plan before you go trick-or-treating, and tell your child how they can finish the candies they have earned. This will help them resist all temptation and keep them safe too.
9. Pick an appropriate bag
Make sure you pick a bag that your toddler can carry and does not get too heavy.
10. Start after a meal
All that walking, singing, and shouting could get your child feeling hungry. Feed them well before you start so that they don't beg for candy halfway down the journey.
Cool Alternatives to Trick-or-Treating for Kids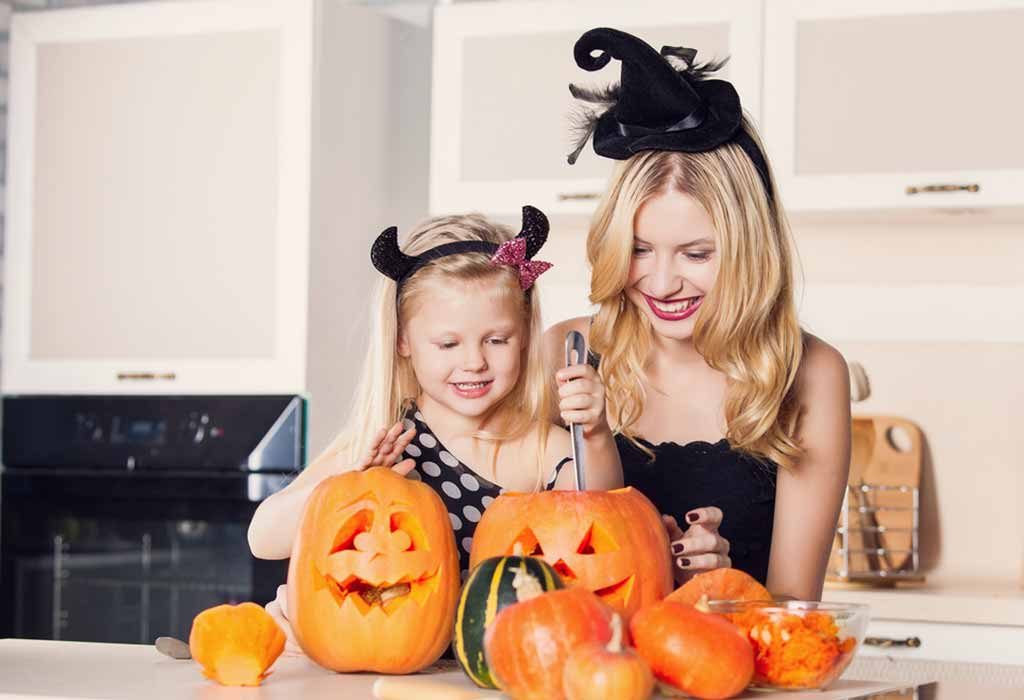 Halloween-time is known for candy, dressing up, Hocus Pocus, and trick-or-treating. But what if the trick-or-treating is not meant for you. What if you have some religious objection, you don't live in a friendly neighbourhood, or do not fancy the idea of your kid having too much sugar? No reason to fret. There are still loads of activities that can help your family celebrate this festival, and these can be customised to make them spooky.
1. Trunk-or-Treat
Just organise this activity at the church or at home. Line up the cars with Halloween decorations and some spooky games with prizes to be won. Bean bag toss, bowling, pumpkin decoration, or making face masks, could be some of the fun activities.
2. Mini Pumpkin Hunt
Get some mini pumpkins and some decorative stuff to decorate them. Once done, leave them to dry overnight. Hide these pumpkins in the front yard or back garden, and start a hunt. The first one to find the pumpkin gets a slice of the pumpkin pie.
3. Craft and Creative Night
Engage in making fun crafts along with decorating mini pumpkins. Use tissue papers, paper plates, and blow pops to make ghosts or masks. Use orange and black crepe paper and mason jars to make lanterns.
4. Piñata
Piñata need not be just for birthdays. Hang a large pumpkin filled with treats or make a ghost-shaped piñata, that the participants can hit and swing to get candies, treats, and lots more!
5. Halloween Themed Movie Night
A cosy movie night with some snacks, popcorn, and a drink is the perfect way to spend time together and bond. The movie need not be scary, and you can have a movie marathon to make it more fun.
Trick-or-Treating Safety Tips for Kids
Halloween or not, one has to keep safe. Walking on the streets, knocking on doors, and speaking to total strangers, one must approach these things with caution. A few tips to keep safe are:
Cross only at street corners, follow traffic signals and use crosswalks or pedestrian crossings. Follow all the rules while crossing, and look left and right before crossing the road.
Put electronic devices away while walking on the road and crossing the streets. Also, no one should run on the streets.
Make eye contact with drivers while crossing in front of them.
Always walk on pathways or sidewalks. If there are none, then walk to the left facing the traffic.
Watch for cars that are reversing or turning around the corner. Do not dart or run across the street and walk between parked cars.
Spooky decorations, crazy and weird costumes, large amounts of candy and treats – what is not to love about Halloween? Well, if you follow the tips and etiquette, it will surely be a lot more fun.
Also Read:
Easy and Scary Halloween Makeup Ideas for Children
Amazing Halloween Costume Ideas for Children
Delicious Halloween Treat Ideas for Children