25 Easy and Fun Christmas Party Games for Kids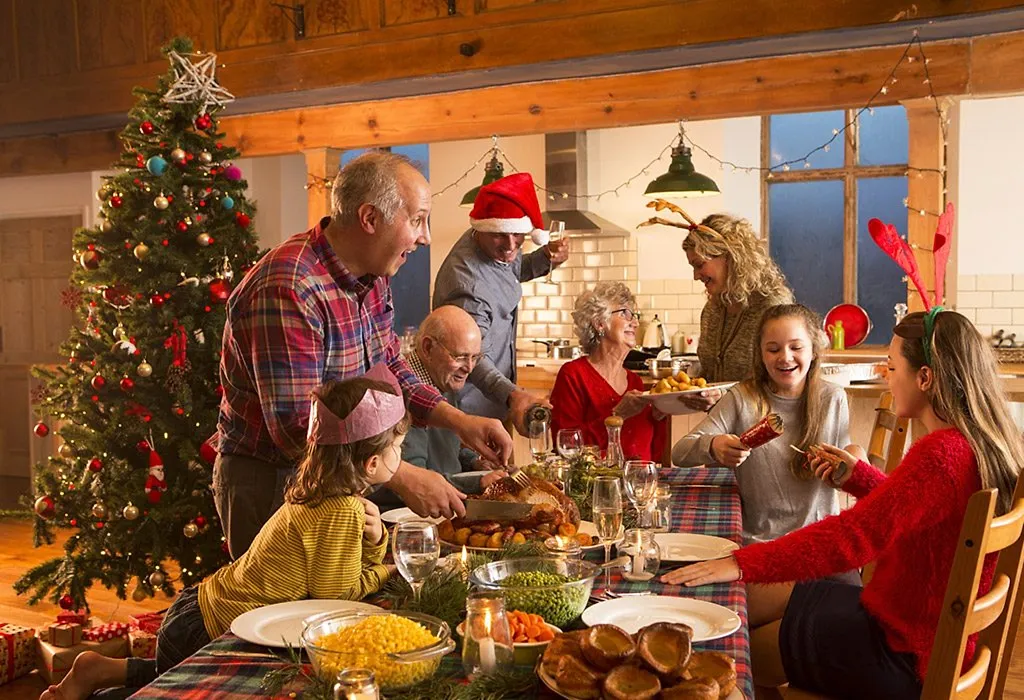 In this Article
Christmas is the time for food, fun, and parties to enhance the festive atmosphere and fill it with joy. This season gives us the opportunity to catch up with family and friends in a relaxed atmosphere. Parties can sometimes get monotonous, especially if there are no games to entertain kids. Fret not, as they can be made exciting by organising fun Christmas games for kids who have gathered together.
Best Christmas Games for Children
The following Christmas games for kids are sure to infuse life in the party and let kids have the time of their lives. So here goes:
1. Snowman Slam
This is one of the most popular Christmas party games for kids and can really get your party going.
What You Need
White paper cups
Black chart paper
Yellow or red chart paper
Rolled up socks or softballs
How to Play
Create a snowman's face on each of the white paper cups using the coloured chart paper.
Stack these cups, one to top of the other, in a tower shape.
Now, ask the kids to take turns throwing the socks/balls at the snowman cups. The kid who knocks down the most cups in a given time period wins the game.
2. Jingle Bell Toss
This is a classic Christmas party game idea for kids and adults. It does not take too much time to set up and is super fun to play.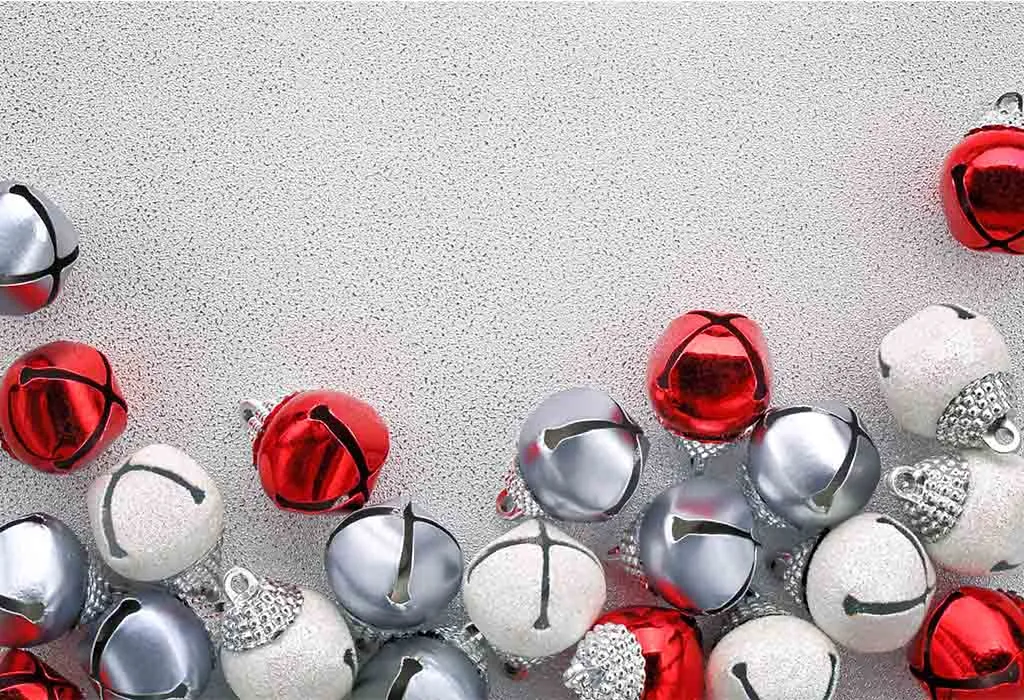 What You Need
24 small-sized red cups
Tiny jingle bells
2 cardboard sheets or foam boards
Glue
How to Play
Stick the red cups (not too close to each other) on the cardboard sheets or foam boards using glue.
Place the sheet at a distance that's neither too close nor too far away.
Handover the tiny jingle bells to the kids and ask them to toss the bells into the cups. Whoever tosses the maximum bells into the cups wins the game.
You can divide the members into two teams for some healthy competition.
3. Find Santa's Reindeer
How can a party be complete without a reindeer game? This is one of the best holiday party games for kids and is sure to get everyone into the Christmas spirit.
What You Need
Reindeer figurines/ Reindeer images
Paper
Pens
Places/ multiple rooms to hide the reindeer
Prizes
How to Play
Hide the reindeer across your home before the guests arrive.
When it's time to play the game, begin by telling the kids that Santa's reindeer had a huge party the previous night and now, Santa can't find any of them.
Tell them that Santa needs their help in finding his reindeer, so he can deliver Christmas gifts to everyone.
Show them images of the missing reindeer, so they know what they are looking for.
Hand out a sheet that shows the number of reindeer your guests need to find with blank spaces to write their location.
You can set a time limit to spice up things or even divide everyone into two or three teams.
4. Snow Shovel Race
This easy Christmas game for kids can easily be set up with simple household items, and it's sure to become a favourite at every party.
What You Need
Cotton balls
Plastic spoon
Deep soup bowl
How to Play
Scatter the cotton balls on a table, along with the plastic spoon and soup bowl.
Ask the kids to queue up and take turns scooping the cotton balls using the plastic spoon, and placing them in the bowl.
Place the bowl at some distance from the cotton balls. It is difficult to control the soft and fluffy cotton balls using the spoon, so watch out for some fun!
Count how many cotton balls each kid could scoop within 1-2 minutes. The kid who scooped the most cotton balls wins.
5. Pin the Red Nose on Rudolph
This game is a Christmassy take on the popular "Tail the Donkey". It is one of the most sought-after Christmas themed games for kids.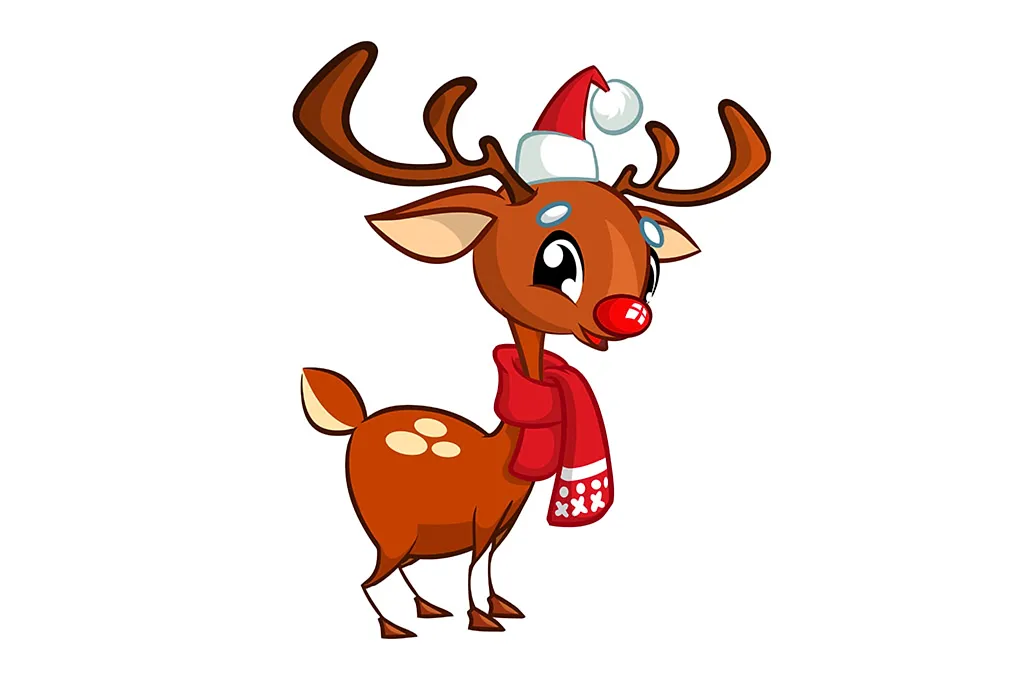 What You Need
A large cut out of a reindeer
Different shapes of noses
Tape or drawing pins
Red crayons
A blindfold
How to Play
Print red noses in advance or ask the kids to draw them on sheets.
Put up the Rudolph image on a wall and make the kids queue up.
Blindfold each kid, one by one, and hand over the nose to him to pin on Rudolph's face.
Pin each nose where it was placed. The one who pins it closest to the right position is declared the winner.
6. Freeze! Santa's Here
With lots of music, fun, and laughter, this Christmas game for kids will liven up your party and energise the kids.
What You Need
A music player (Phone, Speaker, etc.)
An adult dressed as Santa
How to Play
Play some peppy music and invite all the kids to jump and dance.
Tell them that they should freeze in their place when the music stops.
Then, ask Santa to walk into the room, and whosoever is found moving is eliminated from the game.
Continue the game until only one kid is left on the floor.
7. Fish the Stockings
This is a fun Christmas game for kids and get's them excited, especially since they get goodies at the end of it.
What You Need
1 small-sized fishing rod
1 dozen colourful stockings
Small toys and goodies to fill the stockings
A large stool
How to Play
Fill the stockings with different goodies and toys and hang them on a tall stand.
Place the stool at an appropriate distance from the stand and let each kid have his turn at "fishing" for the stocking using the fishing rod.
The kid can keep the stocking he fishes for himself.
8. Christmas Stocking Guessing Game
Can your guests figure out holiday items in a stocking without seeing them? This is a fun guessing game for Christmas parties.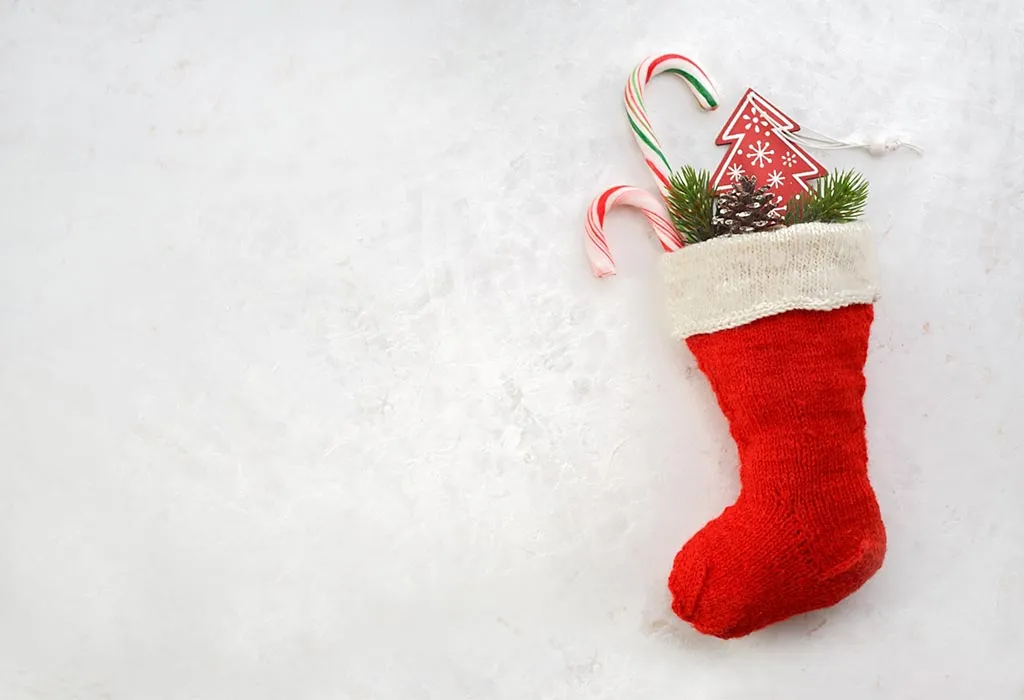 What You Need
A large stocking
Toys
20-25 holiday items
Pens
Sheets of paper
How to Play
Fill up a large, oversized stocking with Christmas holiday objects like pine cones, reindeer figurines, holly, etc. Remember, the items should not have sharp edges and should be identifiable by shape.
Pass this stocking around and ask the kids to identify the shape by feeling the stocking using their hands, without looking inside.
Hand over a pen and paper to each child to write down as many things he thinks are in the stocking. The child who has the most right guesses wins!
9. Reindeer Antlers Ring Toss Game
This funny ring toss game is a popular game among families during the time of Christmas in every Christmas party and school game. Make this simple-to-make game with easy-to-access materials and enjoy a joyful game.
What You Need
Antler headband
One red clown nose
3 pipe cleaners – white colour
3 pipe cleaners – red colour
How to Play
To make candy-cane rings twist white and red-coloured pipe cleaners around each other into a circle to make palm-sized rings.
You will need one person to become a reindeer. Whoever becomes the reindeer, will have to wear the headband and clown nose and sit on a chair.
Now, divide all the participants into two teams. Mark a line at some distance away from the reindeer person.
Let all contestants have two chances each and write down the score on a board visible to everyone.
The team which scores the most will be the winner.
10. Christmas Tree Ball Sort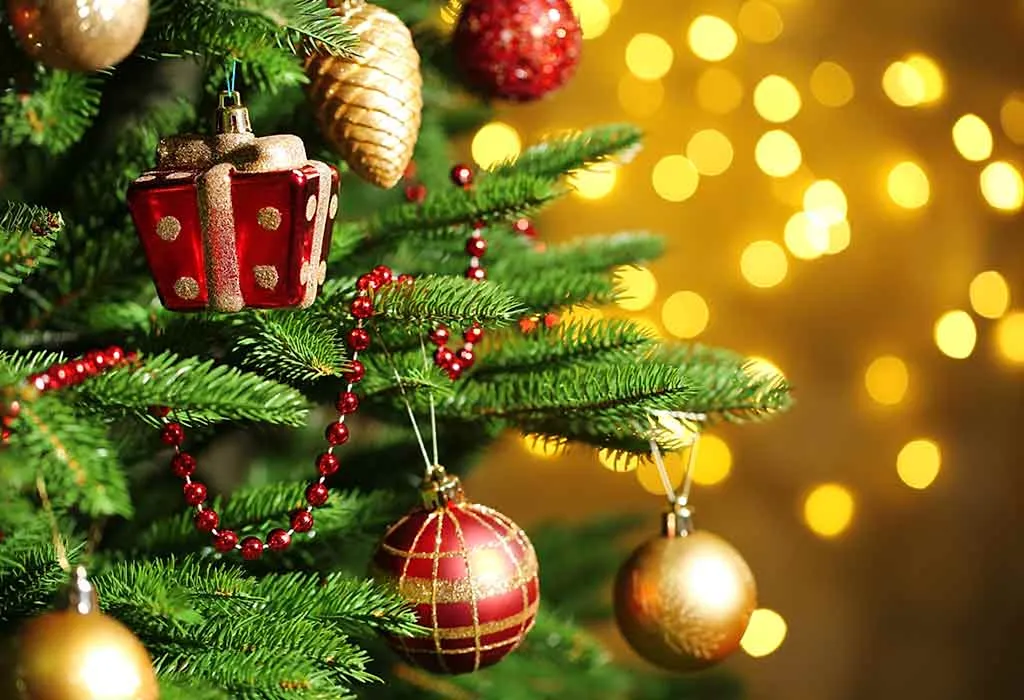 This is among the fun Christmas party games for toddlers that the tiny tots are sure to enjoy.
What You Need
A large cardboard sheet
Card paper in different colours
A long wooden stick
A basket
Coloured plastic balls
How to Play
Ask your toddler to help you make an inverted cone-shaped cardboard Christmas tree.
Cut 3 cup-sized holes in the tree and stick coloured rings made of card paper around the edges of the holes. Add a star to the top of the tree.
Fix the wooden stick to the tree and place it firmly in the basket.
Three kids can play this game at a time. Give each kid 5 balls of one colour and ask him to throw it through the corresponding coloured ring into the basket.
The kid who manages to correctly shoot the maximum balls into the basket wins.
11. Letter Writing to Santa
This Santa Claus game for kids gets everyone into the mood for Christmas and delights the kids when they receive their 'replies from Santa'.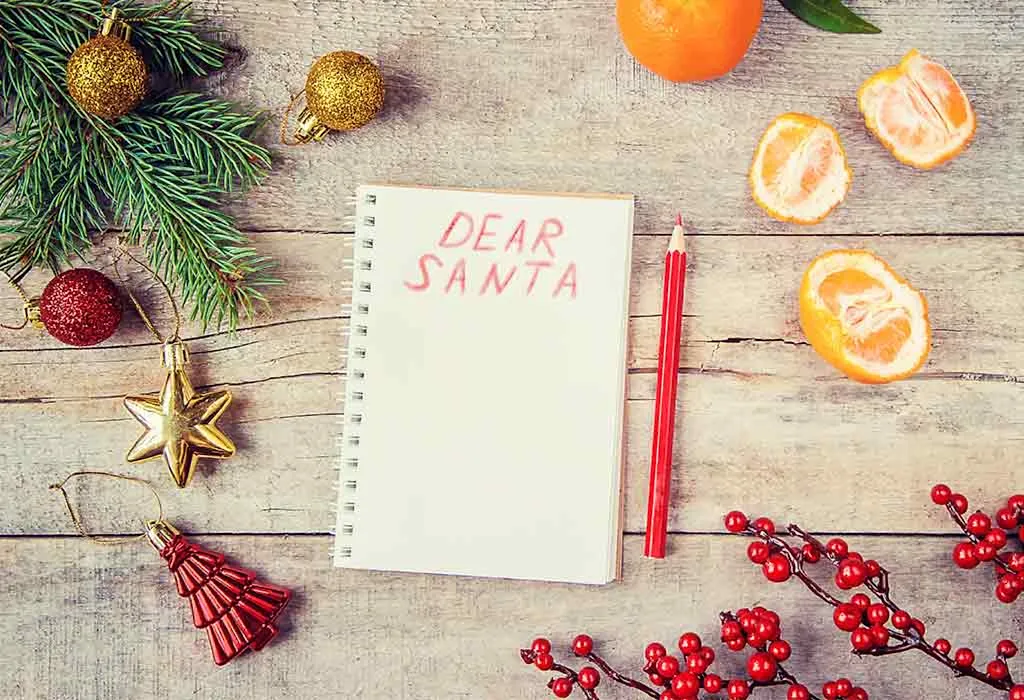 What You Need
Sheets of writing paper
Coloured pens
A Christmas tree
How to Play
This game will help the kids convey their thoughts and feelings on paper. Ask them to write notes to Santa and hang them on the Christmas tree.
Write personalised replies to all the letters or print multi-coloured copies for all and hand them over as gifts to the children.
12. Christmas Tree Building
This can be a fun activity for kids as well as elders and is great for the family to spend some time with each other and bond.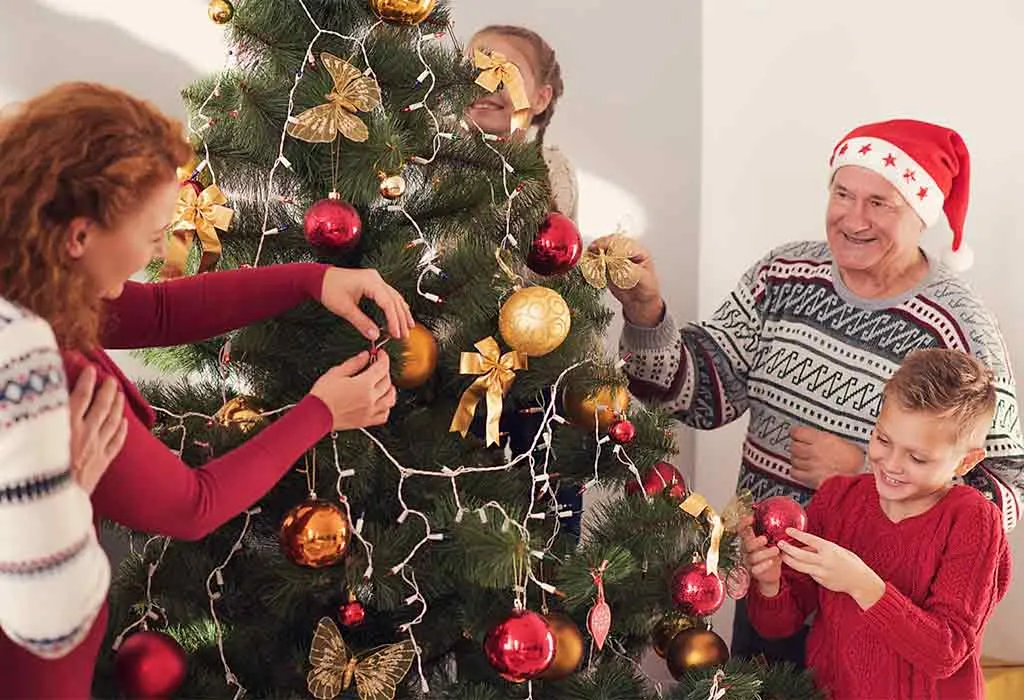 What You Need
A plain Christmas tree
Decorative items
How to Play
Bring decorative items and place them in a basket near the tree.
Ask the kids to speak about one good deed they did and then make them hang the item on the tree.
Click a photograph of all the kids with the tree and email it to their parents.
13. Spot Santa Claus
This game is a great way for kids to pass some time during Christmas parties and is also a great way to spend a few hours during a sleepover with cousins and friends.
What You Need
Movies with Christmas as the theme
How to Play
Ask the kids to get comfortable and give them some blankets and popcorn.
Play movies where you know Santa has been featured.
Divide them into two groups and tell them to shout "Claus" loudly whenever Santa shows up on the screen.
Keep scores and reward the winning team with extra chocolates and cookies.
14. Carol Karaoke
This game helps kids learn new carols and understand the importance of Christmas traditions in a fun way.
What You Need
How to Play
Hold a carol singing competition between all the kids present.
Split them up into groups and let each group present their carols after a rehearsal.
15. Decorating Christmas Cookies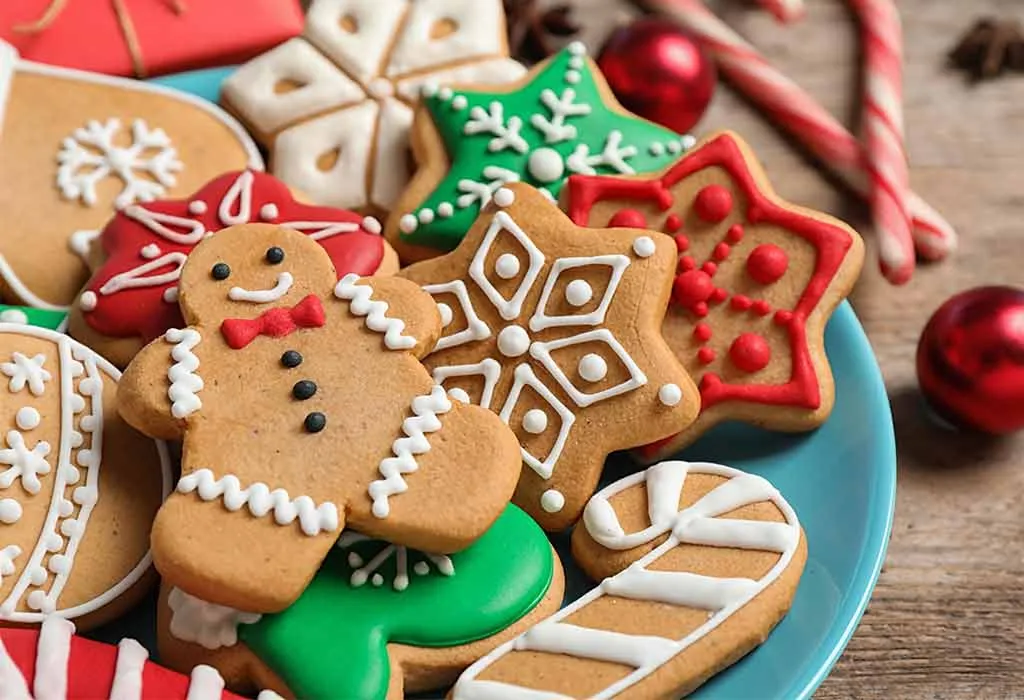 If you do not mind the mess, this Christmas game for kids will keep them engaged in a creative manner. Also, kids love this game, since everyone wins at the end of it.
What You Need
Plain cookies
Coloured buttercream in piping bags
Nuts
How to Play
This activity does not need much preparation, except making or ordering cookies and easily preparing the buttercream.
Give each child a cookie and let him unleash his creativity in decorating it.
Give out prizes for the most creative, prettiest, most colourful, etc. cookies.
16. Snow Blower Game
This is a fun Christmas party game for kids and will pep them up for a fun evening of celebration.
What You Need
Cotton balls
Straws
A long table
How to Play
This is a simple game and kids of all ages will love to play it. Draw a bold finish line at the middle of the table.
Split the children into two groups and ask them to stand at opposite ends of the table, facing each other.
Place cotton balls at both ends and ask the kids to blow them towards the finish line by blowing through the straws.
17. Funny Christmas Mad Libs
Mad Libs is a popular game among adults and children during the time of Christmas. This game is perfect for kids as through this game, they will brush up on their grammar and language skills.
What You Need
How to Play
The templates for Mad Libs are available over the internet. You can also make personalised templates for your kids, based on their age and grammar and vocabulary knowledge.
Create simple templates and ask them to fill in silly words using the instructions given against the blanks. Kids can use their weird imaginations and fill in the blanks. You will be surprised and laugh out loud reading their imagination.
18. Christmas Dance Freeze
Christmas is boring without partying and dancing. If there is no dance, the party looks lifeless. This year's occasion, add some twist to the dancing and turn it into a funny game.
What You Need
Christmas music playlist or songs.
Enough space for kids to dance and move around.
A way to play and pause the music easily, like a music player or speaker system.
How to Play
Organise a dance-off in the hall where everybody is present.
Play the music, ask people to groove to the music and stop it abruptly and say, "freeze!"
Whoever stops last will be out. Kids will laugh out loud and enjoy this game.
19.

Christmas Bowling Game
Looking for a fun way to recycle your plastic bottles and celebrate Christmas? Look no further as we have the perfect game for you!
What You Need
9 Plastic Bottles

Felt Paper

Scissors

Tape

A Ball
How to Play
Take plastic bottles

,

and thoroughly clean and dry them.

Use the felt paper and scissors to cut different shapes of cut-outs to stick onto the plastic bottles. You can cut out any shape your little one likes, such as stars, snowflakes, and circles.

Stick the cut-outs onto the plastic bottles using a tape.

Stack them up into a group.

Use the ball to aim at the bottles.

Attempt to knock all of the bottles down with just one shot!
20.

Chr

istmas Trivia
A trivia contest is the best way to have fun with your friends and family as well as to learn something new!
What You Need
Flashcards with different Christmas-related questions

Scoring Board

Markers
How to Play
This game can be played individually or in groups. But first, collect some Christmas-related fun facts that you can use for asking questions.
One person will act as the moderator to ask the questions and keep the score.

One by one, each person or group will be asked questions, and the scores must be tallied.

In the end, if you reach a draw, you can conduct a surprise rapid-fire round!
21. Christmas Memory Game
Players flip cards to find matching pairs of Christmas-themed images, aiming to collect the most pairs.
What You Need
Christmas-themed cards or images
How to Play
Lay out the cards facedown.
Each player takes turns flipping two cards to find matching pairs.
The player with the most pairs at the end wins.
22. Santa's Beard Relay
Blindfolded kids race to complete Santa's beard by sticking cotton wool onto a poster, aiming to finish first as a team.
What You Need
A large poster of Santa without a beard
Pieces of cotton wool
Double-sided tape
How to Play
First, create a Santa poster without a beard.
Scatter pieces of cotton wool around the room. Divide the kids into teams.
One at a time, blindfolded, kids run to pick up a piece of cotton wool and stick it onto Santa's face using the tape.
The team that completes Santa's beard first wins.
23. Frosty Freeze Dance
Dance to holiday tunes and freeze when the music stops to avoid elimination.
What You Need
How to Play
Kids dance to holiday tunes.
When the music stops, they freeze.
Anyone still moving is out.
Restart the music and continue until one dancer remains.
24. Candy Cane Hunt
Search for hidden mini candy canes in this sweet scavenger hunt.
What You Need
How to Play
Hide candy canes around the playing area.
Kids search for them.
The one who collects the most canes within a set time wins.
25. Gift Wrap Relay
Race to wrap a box in this fast-paced gift-wrapping relay.
What You Need
Wrapping paper
boxes
tape
scissors
How to Play
Divide kids into teams.
Place boxes and wrapping supplies at one end and an empty table at the other.
Kids race to wrap their box and bring it to the table.
The fastest team wins.
Christmas party games are meant to spread cheer and joy. Choose games that are simple to play and ensure they do not become too competitive. If you have toddlers around, restrict the use of scissors and other pointed objects. Allow them to express their creativity and give them lots of prizes to boost their morale.
Also Read:
Christmas Songs & Poems for Children
Amazing Christmas Stories for Children
Interesting Facts & Information About Christmas for Children