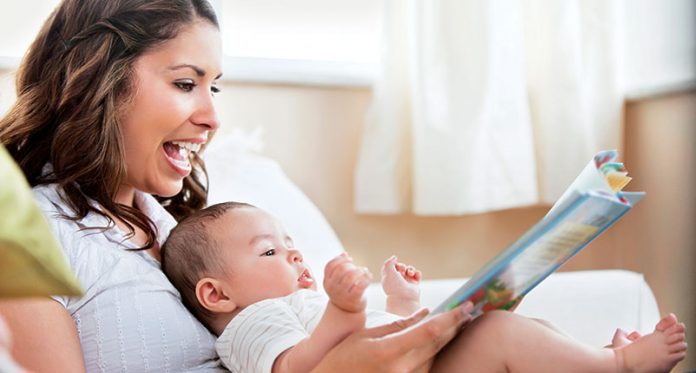 Last Updated on
Child psychologists always emphasize the importance of reading. In fact, it is right at the top in the list of recommendations. Parents who get their children addicted to reading from a tender age are knowingly or unknowingly giving the best gift to their children for an entire lifetime. Reading is a great way to improve listening and communication skills in your baby.
Let us look at a few important books which should definitely find a way into your kid's library:
1. Dr. Seuss's Sleep Book
This book has a collection of witty poem-stories that rhyme in a way that help your child understand sounds and love music. This book provides a platform for both parents and baby to go to sleep in a fun and laughing way.
2. Twinkle Twinkle Little Star
Written by Rosemary Wells, this book is the famous nursery rhyme put into pictures. Every page has a paragraph from the song, accompanied with a constellation of stars in the background. It also has a beautifully illustrated sequence of a mother bunny getting her baby ready to go to bed.
3. Peek –A–Moo
A flap book which has bright and high contrast colourful images, it engages the baby completely and has all the components of a good read aloud book. It educates your baby in a fun way and you can also read the words in a rhythmic manner. The most interesting bit is when your baby is looking at a picture, you can open the flap to reveal a cute animal face. This builds curiosity and increases learning with a fun component. This book is authored by Marie Torres Cimarusti.
4. Butterfly Kisses
A new series by Sandra Magsamen, this book includes a little finger puppet of a butterfly. The butterfly's role is to give kisses at the end of the story. This is a good way to express love to your child while reading the books and putting your baby to bed.
5. Moo, Baa, La La La!
This book shares a tale of farm animals and the different kinds of sounds they make. Then suddenly in the midst of all these farm animals, a pig says 'la la la'. This keeps parents and kids engaged in an interesting way. With various sounds, babies are interested to look at the book again and again. Hearing sounds improves their listening skills and also teaches children that sounds are fun to learn.
6. The Three Bears Rhyme Book
This book written by Jane Yolen is about a tale of three bears. This story is illustrated in a very warm and fun-filled way. The pictures have a colour pencil and watercolour effect, which makes it interesting for both the baby and parents to look at.
7. More More More Said The Baby
Full of songs for babies, this book will surely spark enthusiasm in your baby's eyes. The pictures in this book are filled with bright folk art which makes both the parents and baby happy souls! This book is written by Vera Williams.
8. Black On White
Tana Hoban's book features black images on a white background. These high contrast images are extremely beneficial for your baby's developing eyes. As your baby grows up looking at these images, he will not only develop strong visual skills but also learn to associate words with images. This will definitely enhance the communication skills of your baby.
Here's wishing you a happy reading time with your babies!