8 Delicious Mushroom Recipes for Kids
Meatless Mondays don't have to be boring for kids. By adding mushrooms to their lunch or dinner, they won't ever refuse to eat. Your kids will crave for more and stay healthy, too. If you want to make some tasty mushroom recipes for your kids but are out of ideas, then try these recipes mentioned below.
Health Benefits of Mushroom for Children
Mushrooms offer a host of health benefits to children and young adults. Here is a list of the most prominent ones.
Mushrooms prevent high-cholesterol by balancing the LDL and HDL Levels.
They provide up to 90% of the RDA of iron and prevent anaemia.
Mushrooms are a fantastic source of plant-based calcium and improve bone health.
Mushrooms are also rich in antioxidants and lower the risk of cancer.
Mushrooms contain specific enzymes which regulate insulin production in the body.
Mushrooms promote healthy bowel movement and good digestive health.
Mushrooms are a good source of Vitamin D and boost immunity.
Kids-friendly Mushroom Recipes
Try out these recipes mentioned below at home, and your kid will fall in love with mushrooms.
1. The Crispy Mushroom Recipe
This one's pretty easy to make. It will get your kids feasting during snack times. Here's how you make it.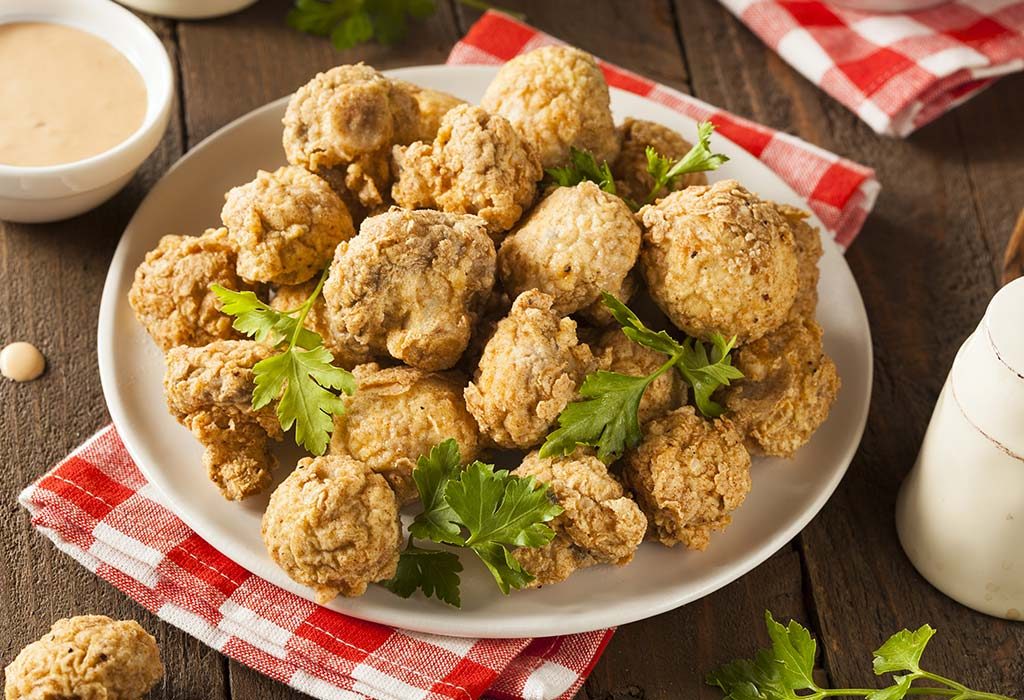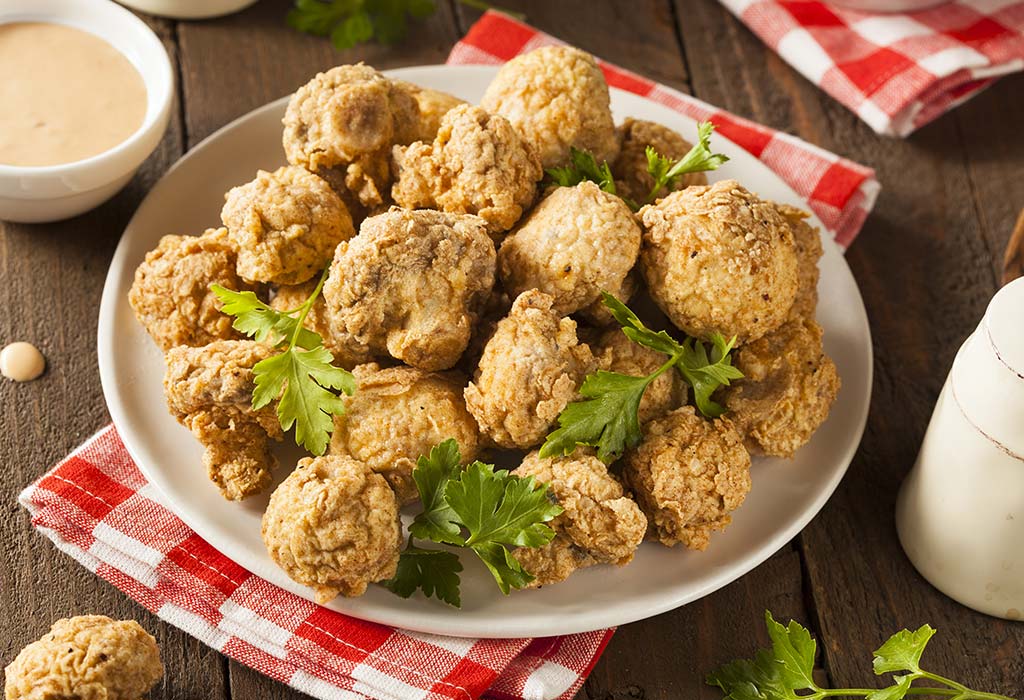 What You Need
5 tsp rice flour
1/2 tsp chilli Powder
2 tsp corn Flour
1/4 tsp garam masala
A pinch of salt
150 ml water
6-8 small-sized mushrooms
Olive oil
200-300 mg of breadcrumbs
How To Make
Take rice flour in a bowl, add corn flour, chilli powder, garam masala, salt, and water to it and mix well. Add small-sized mushrooms to the mixture and let it sit for a minute. Pour olive oil in a saucepan and heat it on a low flame. Coat the mushrooms with breadcrumbs and fry it in the saucepan. Serve hot.
Things To Consider
It's easy to make but packs a lot of calories. If you want a filling evening treat, try this recipe to delight your kids.
2. Cream of Mushroom Soup
Cream of mushroom soup is a tasty dish that your kids will surely love. It's super easy to make and doesn't take a lot of time. Here's how you can start.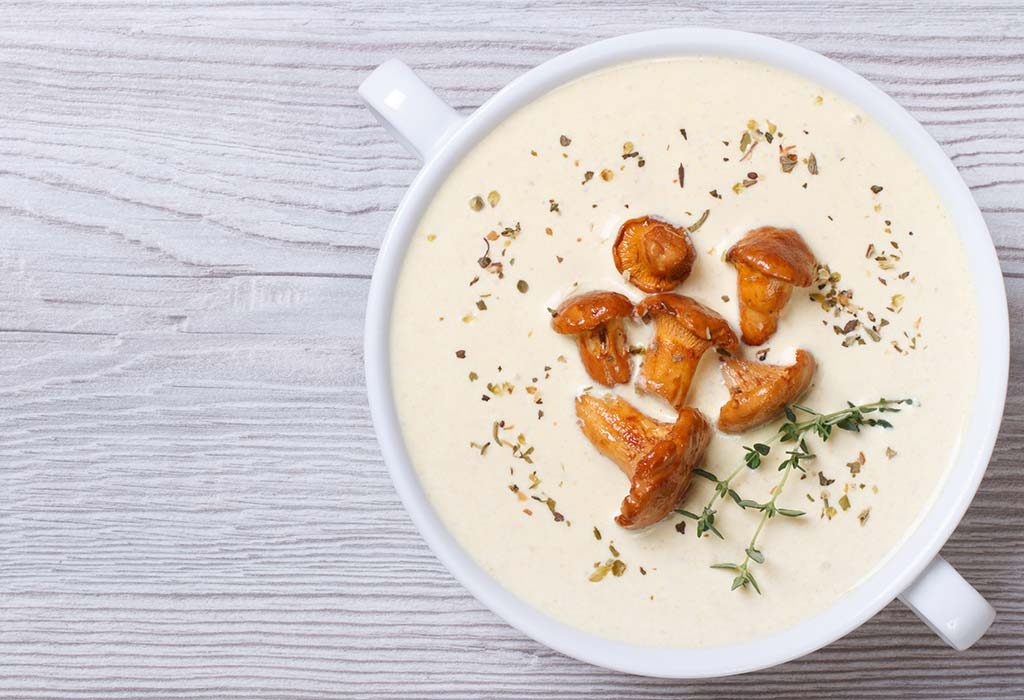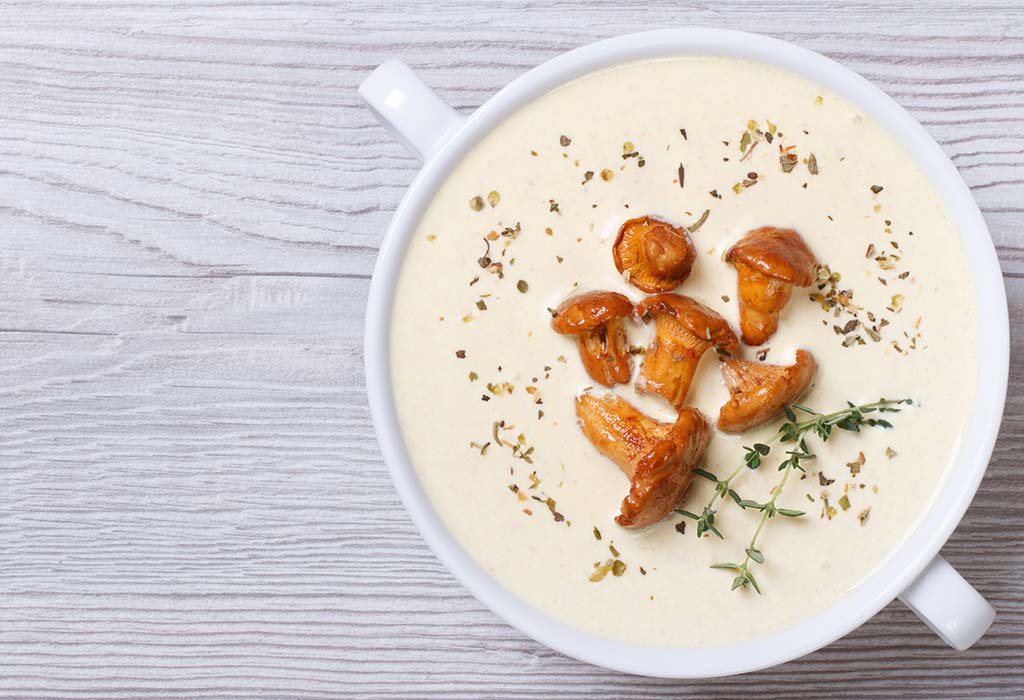 What You Need
5 cups of crimini mushrooms
2 cups of finely chopped onions
6 finely chopped small cloves of garlic
2 tbsp of whole wheat flour
3 tsp of salt
2 tbsp ghee or butter
1 tsp pepper powder
1/4 to 3/4 cups of whole milk
Fresh cream or grated cheese
How To Make
Rinse the mushrooms and peel the outer layer and stems. Heat some butter in a saucepan and sauté chopped onions and garlic for two minutes. Pour the mushrooms and wheat flour and fry until the water goes away (that'll take another 3-4 minutes). Add whole milk, pepper powder, and salt and let it boil on a medium flame until the cream looks thick. Garnish with grated cheese, mix, boil for another two minutes and serve hot.
Things To Consider
This recipe will serve three people. You can consider grinding the mushrooms if your kid doesn't enjoy eating them whole. You can add Italian herbs and spices to add a twist to the dish.
3. Mushroom Popcorn
Do your kids crave popcorn? Then it's time to infuse them with the goodness of mushrooms with this recipe. Check it out.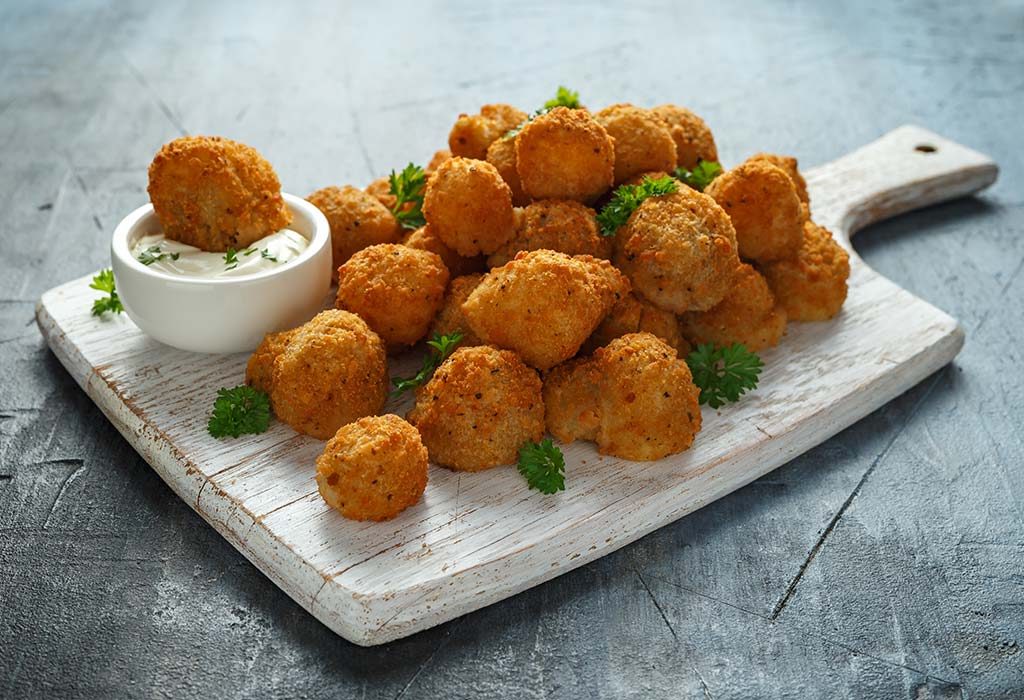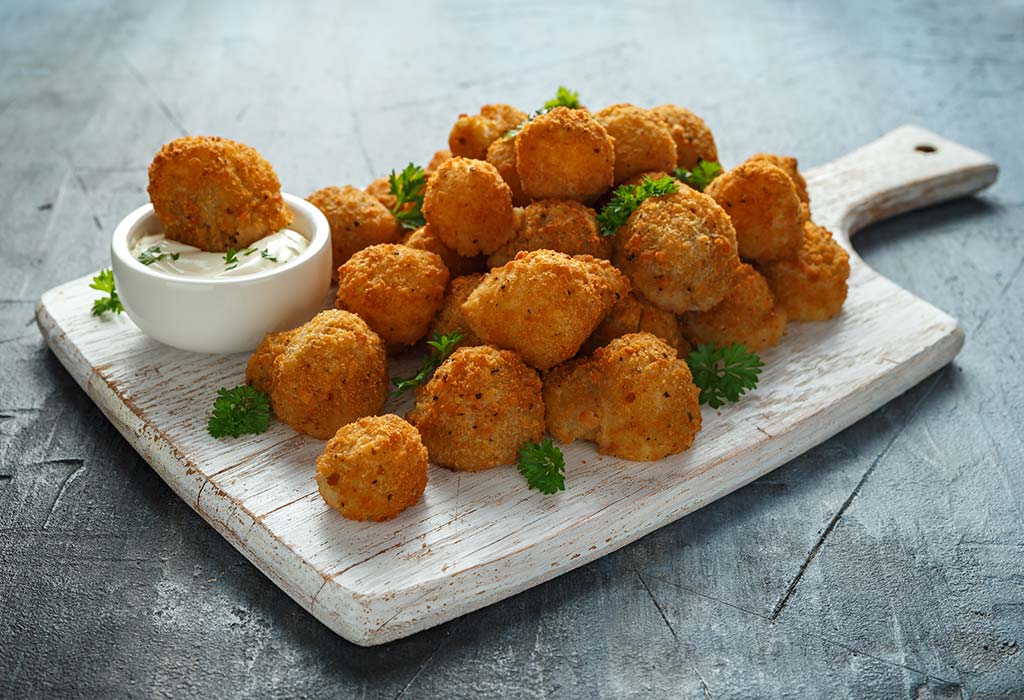 What You Need
300 grams of button mushrooms
A cup of panko dried breadcrumbs
A cup of popcorn
A cup of dried oregano
Olive oil
Half a lemon zest
1 tbsp of sesame seeds
1 tbsp of honey
2 tbsp of soy sauce
How To Make
Put the mushrooms in a bowl. Add oregano, sesame seeds, soy sauce, honey, lemon zest and let it marinate. Coat the marinated mushrooms in breadcrumbs and bake them in a preheated oven. Serve hot.
Things To Consider
Use sweet chilli sauce or mix the honey and soy sauce to create a tasty dip for the serving. Make sure to serve in a popcorn box if it's a movie night at home!
4. Delicious Gravy with Roasted Mushrooms
Mushrooms and gravies go hand-in-hand. Try this recipe and don't just take our word for it.
What You Need
1/2 pounds of shiitake mushrooms
1/2 pounds of button mushrooms
2 pounds of sliced sweet potatoes
1/2 cup to 1 cup chopped onions
3-4 garlic cloves
A cup of dried rosemary
3 tbsp of olive oil
1/4 cup chicken stock
How To Make
Chop the mushrooms well after roasting them nicely. Roast the veggies on a pan for 30 minutes until they turn tender. You can blend the veggies in a blender for a smooth texture. Turn the sweet potato into a puree and add roasted mushrooms. Cook for 5 minutes and serve fresh.
Things To Consider
This recipe works well with other mushroom varieties too.
5. Portabella Mushroom Caps
Portabella mushroom caps are designed to satiate your kid's appetite. Here's how to make it.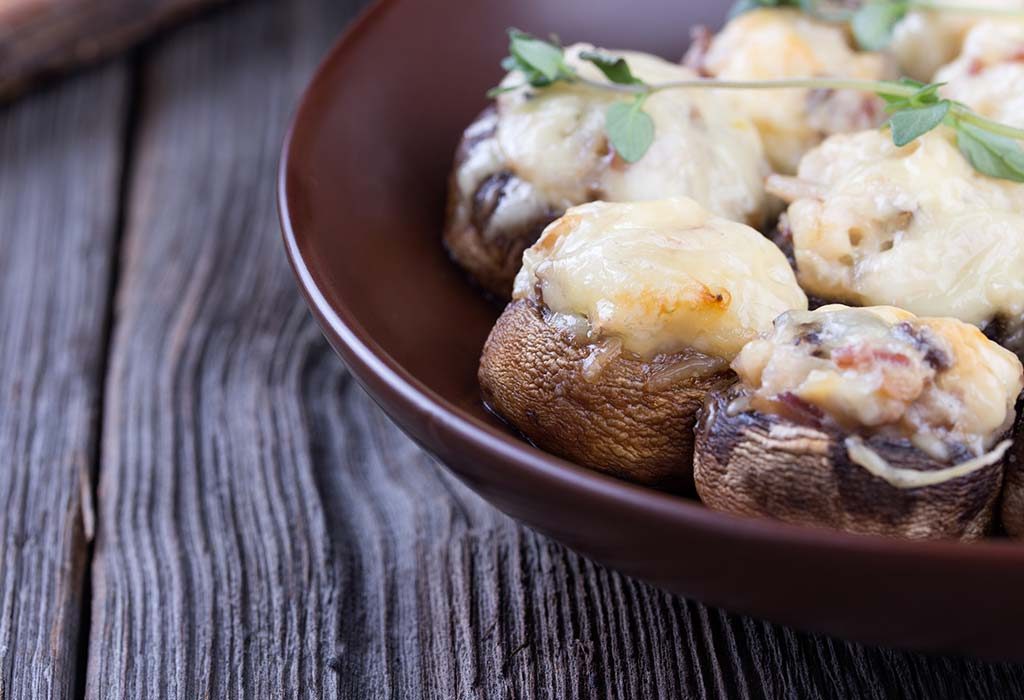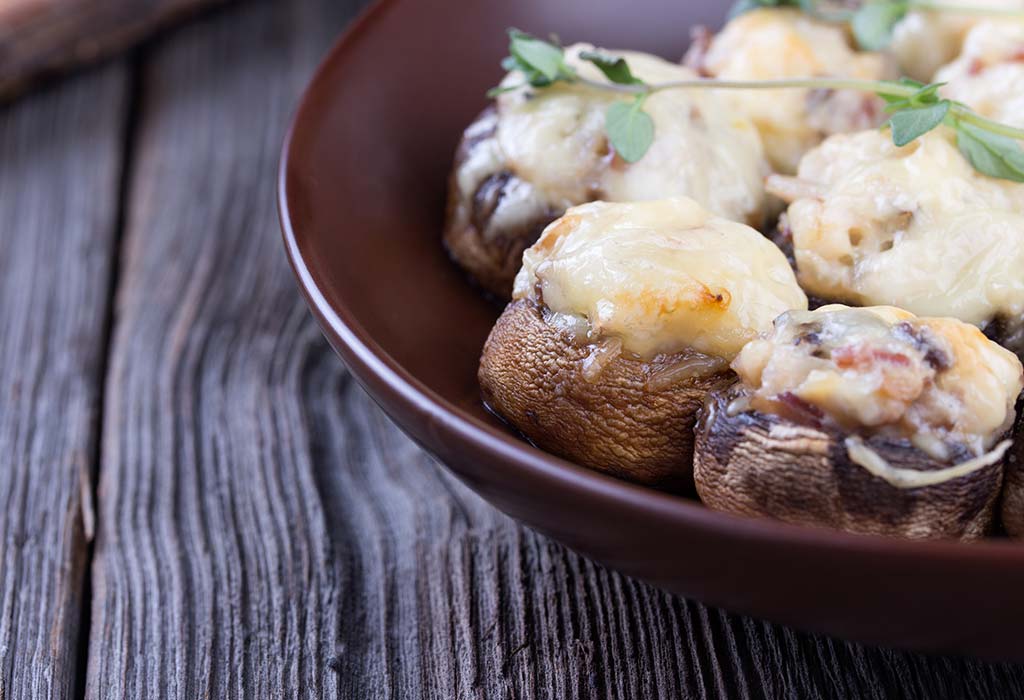 What You Need
Portabella mushrooms
1/3 cup of olive oil
Salt and black pepper
120 gms of grated cheddar cheese
A cup of fresh basil leaves (chopped)
How To Make
Glaze the mushroom caps with olive oil and layer them on a baking sheet. Add grated cheese, black pepper, and top the mushrooms with any veggies of your choice. Let it bake for 15 minutes and garnish with chives for a tasty treat. Serve hot.
Things To Consider
You can substitute the cheddar cheese with Swiss cheese or anything else for a different flavour.
6. Grilled Mushroom Sandwich
Old-school and tasty. Here's how you can make a grilled mushroom sandwich.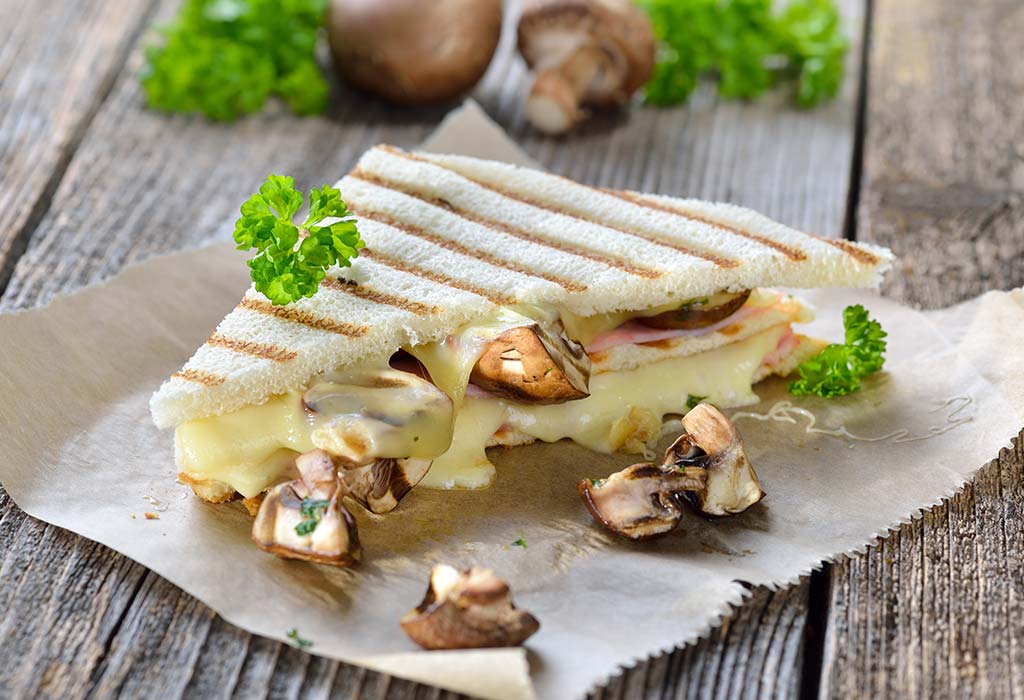 What You Need
2 bread slices
1 cup of button mushrooms
1-2 green chillies
Chopped coriander leaves
A pinch of salt
1 tsp pepper
1 tsp butter
1 tsp of olive oil
How To Make
Add olive oil to a sauce-pan on medium flame and saute the mushrooms for a while. After the water leaves, add chillies, salt, pepper, and mix them well. Once it's cooked to perfection, turn off the flame. Spread butter on the bread slices and then spread the mixture on them. Cover them with other bread slices and grill them using a sandwich maker.
Things To Consider
It's best served with dips and works well for lunches. You can add herbs like oregano for extra seasoning.
7. Mushroom and Barley Soup
We love soup so much that we decided to make the last recipe especially soupy. Here's the process.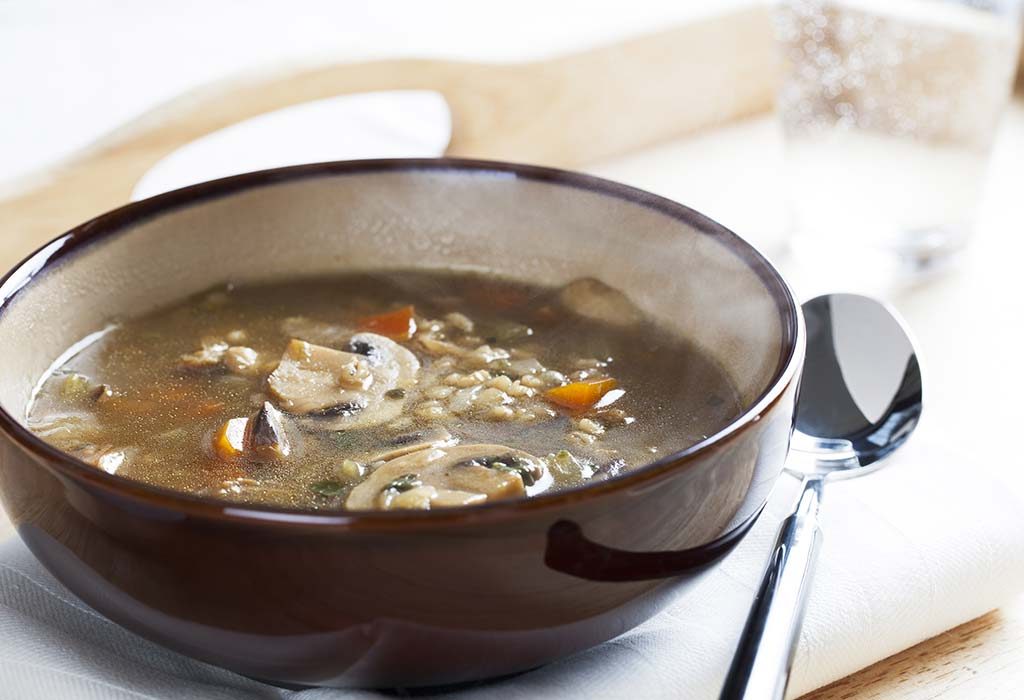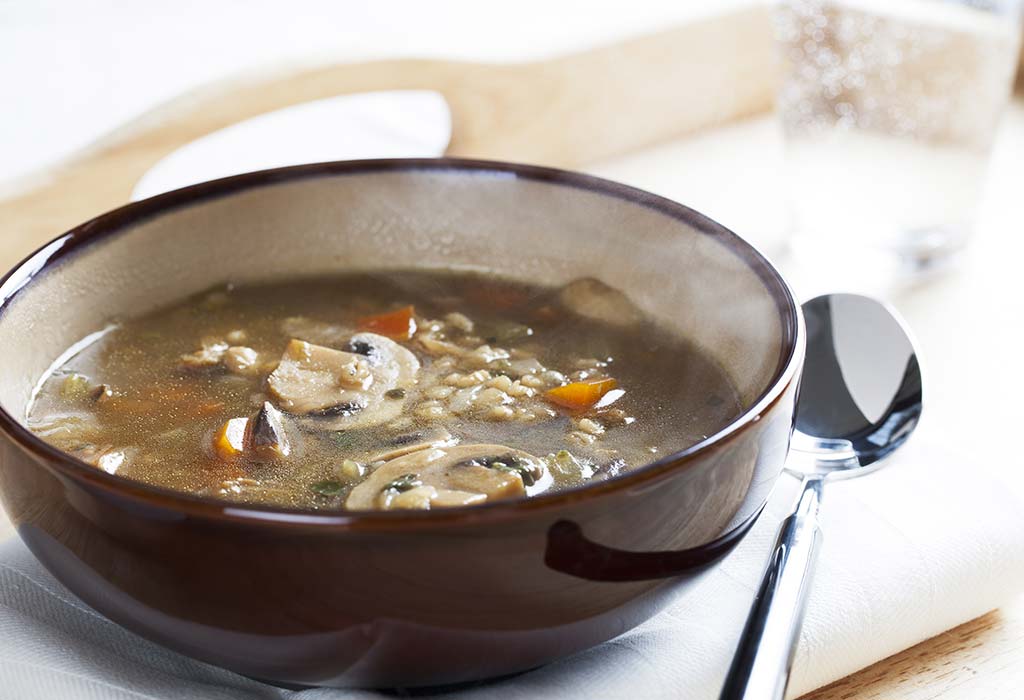 What You Need
Olive oil
3/4 pounds of white button mushrooms
Sliced garlic cloves
1/2 cups of barley
Fresh thyme
1 cup of chopped carrots
Any broth
Salt
Pepper
Parsley
How To Make
In a pan, bring 3 cups of water and barley to a boil. Let it simmer till the barley turns soft. In a saucepan, take oil and let it heat. Once it heats, add all the ingredients, except the broth and barley. Let it cook for ten minutes (making sure that mushrooms are cooked properly). Add the barley and broth. Cook until tender. Garnish with parsley and serve hot.
Things To Consider
It's really quick to whip up and won't take much of your time. Adding melted cheese is optional.
8. Button Mushrooms with Garlic
A classic and a crowd-favourite. Need we say more?
What You Need
2 pounds of button mushrooms
2-3 tbsp of olive oil
1 cup of bell peppers
1 clove of crushed garlic
1./4 cups of chicken stock
2 to 3 ounces of grated cheese
2 tbsp of dry bread crumbs
How To Make
De-stem the mushrooms and glaze the caps with olive oil. Sauté stems in olive oil and add red pepper and garlic to it. Cook chicken stock for 2 minutes while stirring. Remove the dish and transfer to another bowl. Add cheese, breadcrumbs, and add the mixture to the mushroom caps. Bake and serve hot.
Things To Consider
You might have to add more stuffing if the button mushrooms are too big.
Whipping up tasty mushroom treats for kids isn't hard, and the recipes above prove just that. Set aside sometime during the evenings and watch your kids' faces glow with amazement after they dig in and enjoy a scrumptious meal.
Also Read:
Yummy Pizza Recipes for kids
Delicious Bread Recipes for Children
Healthy Pasta Recipes for Kids