15 Easy and Yummy Pasta Recipes for Kids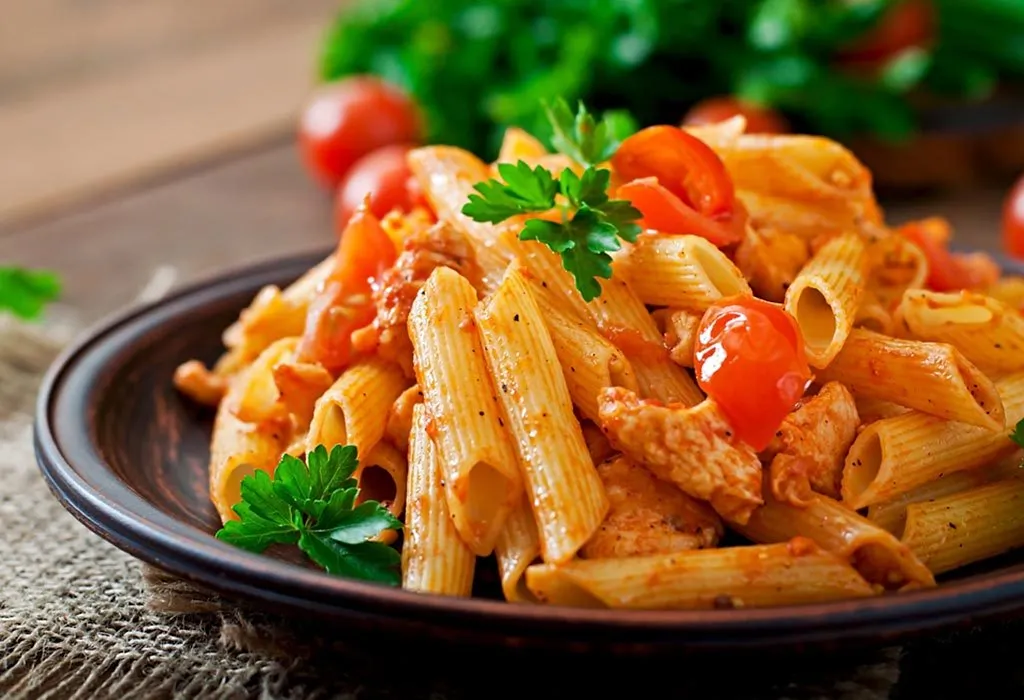 Pasta is one of the most popular dishes that kids love to eat because of its softness, different shapes and for the fact that it can be cooked in many different ways but still retains most of its original tasty flavour. If you have a kid who is generally very fussy about his food, then finding the right dish can be quite a challenge. However, give the pasta a try and you might find yourself depending on it to save your life whenever you've run out of ideas at home.
Video: 5 Easy and Yummy Pasta Recipes for Kids
There are cuisines all around the world that incorporate different flavours and their own twist to pasta. Based on how you want your kid to have it, you can change the style and spice of the pasta. Always ensure that the pasta is well cooked however before you serve it. This can be done by boiling it in hot water till they are tender but firm. Ensure that you do not overcook it also because it becomes very soft.
Simple and Healthy Pasta Recipes for Children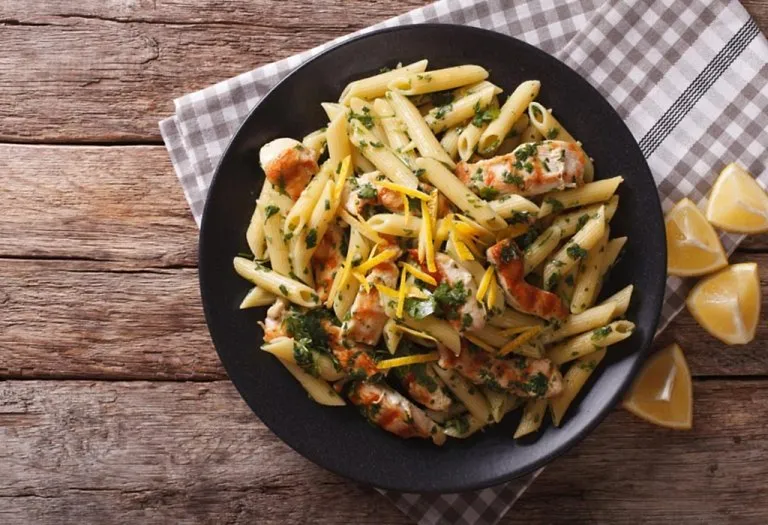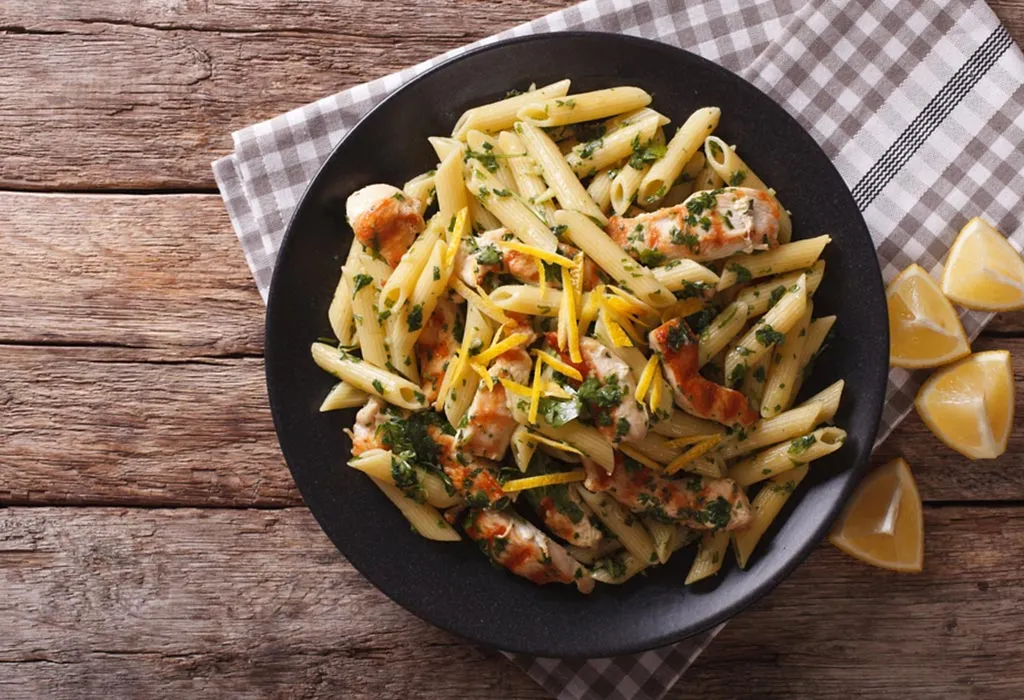 There are many kid-friendly pasta salad recipes along with other styles that are available for moms and cooks all over the world. Keep trying out different recipes till you're able to find one that suits your kid. Pasta also has a very small amount of fat and minerals such as protein, fibre and vitamins amongst others. Here are a few pasta recipes for kids to enjoy:
1. Alfredo Veg Pasta
This classic recipe of pasta can be both delicious and simple to prepare and make for a wonderful meal for your kids.
Ingredients
8 ounces of Pasta penne
8 ounces of frozen and/or canned peas
½ grated parmesan cheese grated
Trimmed Fresh asparagus, (1 pound)
Olive oil (3 tablespoons)
Pepper and salt
How to Make
Get a pan or deep utensil and boil the water before adding the asparagus.
Boil for a couple of minutes, before removing the peas along with the asparagus and set it aside.
Let the pasta cook in boiling water for around 8 or 10 minutes.
Add the peas and pasta along with the asparagus into the bowl.
Once done, add parmesan cheese, salt, olive oil and pepper and toss it around.
Serve warm.
2. Roasted Vegetable Pasta
If you want your kids to gorge on some vegetables, this pasta recipe is the best way to get them into their diet.
Ingredients
1 halved plum tomato
1 pack of rotini pasta
3/4th cup pesto sauce
1 bell pepper (green)
1 diced zucchini
1sliced onion
Pepper and salt
Olive oil (3 tablespoons)
How to Make
Pre-heat an oven to 375 F
Spread the veggies – tomatoes, bell peppers, zucchini and onions on a baking sheet
Roast the vegetables for about 30 minutes in the oven and cook till they are a little soft before setting them aside.
Boil the rotini pasta to cook it. Drain and set it aside.
Mix the roasted veggies, rotini, olive oil and sauce along with the pasta and you have an easy vegetarian pasta recipe on your hands.
3. Pasta Mexicano
A twist to pasta with some delicious salsa can leave your kids asking for more.
Ingredients
Seashell pasta (1/2 pound)
Salsa cup (1/4)
2 onions along with a green bell pepper, chopped
Olive oil (2 tbsp)
1 can of black beans and 1 cup of corn kernels
Tomatoes (1 can), diced and peeled
Black olives (1/4 cup)
5 tbsp of taco mix
Pepper and salt
How to Make
Cook pasta till it is soft but still firm. Drain it and set it aside.
Heat the oil in a skillet and add onions till they're brown in colour.
Put in the tomatoes, olives, corn, black beans, taco seasoning, salsa along with the salt and pepper.
Put in the pasta that is cooked along with the sauce inside a bowl.
Stir toss the vegetables and serve!
4. Three Cheese Bake Pasta
This recipe is overflowing with cheese and can be a treat for kids who love a little cheese indulgence once in a while.
Ingredients
Raw pasta (1 pound)
Beef (1 pound, grounded)
6 oz each of Provolone and mozzarella cheese
½ cup grated parmesan cheese
1 chopped onion
1 ½ cups of sour cream
6 ½ cups pasta sauce
How to Make
Preheat your oven to 350 degrees F
Bring the water to a boil and add pasta and cook for ten minutes
Add the onions and ground beef in a skillet and saute the meat until it becomes brown.
Stir the pasta sauce in and cook on low-medium heat for 15 minutes.
Take a baking dish and grease it. Then, add the ingredients in the following order, half of the pasta, provolone cheese, sour cream, half of the pasta sauce, the other half of the pasta, mozzarella, pasta sauce mix remainder, parmesan cheese (grated) for the topping.
Bake this for 30 minutes in an oven. Serve hot.
5. Pumpkin Pasta Bake
This pumpkin pasta recipe is just what you need to get your kids to love the vegetable.
Ingredients
Uncooked pasta (300g, uncooked)
Butternut pumpkin (500g, small cubes)
4 eschalots, chopped and peeled
Olive oil (1 tbsp)
Butter (20g)
Fresh thyme leaves (1 tbsp)
Garlic clove (1, crushed)
¾ cup chicken stock
Grated mozzarella cheese (2/3 cup)
Parmesan cheese (1/2 cup, grated)
Light cream (300 ml)
How to Make
Cook the pasta in boiling water and drain 3/4th of the water and set it aside
Heat oil in a skillet along with butter over medium heat. Then, add the eschalots and stir-fry for like two minutes.
Add the pumpkin, thyme and garlic and stir it for like six minutes. After this, add the chicken stock
Let it simmer for 3 minutes and add the salt, cream and pepper. Cook it for three more minutes and take it off.
Mix the pasta, half parmesan, half mozzarella and sauce mix and add it to a greased baking dish.
Sprinkle the remaining cheese and cover it with a foil
Bake it for 30 minutes and remove the foil before baking again for 15 mins and garnishing it with thyme.
Serve hot.
6. Italian Sausage with Penne Pasta
This Italian recipe can introduce your kid to pasta just the way it is supposed to be eaten.
Ingredients
Penne pasta (1 pound)
8 oz. Italian sausage
1 lb of broccoli florets
2 tbsp. of minced garlic, olive oil and butter
½ cup of grilled pecorino romance cheese
How to Make
Boil the water and pasta for around ten minutes
Heat oil in a skillet and add garlic, broccoli florets, and sausage to it. Saute for about 15 minutes till they are soft an brown
Add pasta, butter, sauce and toss all of this in a bowl
7. Carbonara Spaghetti
Carbonara is a favourite among many. Make this recipe for your kids and they will love it too.
Ingredients
Spaghetti (14 oz., 1 pack)
Cubed guacamole (5 oz.)
1 egg, 3 egg yolks
Pecorino Romano cheese (3/4th cup)
Salt and pepper
How to Make
Cook the pasta for 12 minutes and let the boiling water drain. After this, set it aside for a while
Stir cook the guacamole for around five to 10 minutes in a skillet till it is crispy
Whisk the eggs and egg yolks together before adding the cheese, salt, pepper and whisk again
Stir the guacamole in and mix well.
Add the pasta and toss the mix to complete one of the most popular Italian pasta recipes.
8. Salsa Salad Pasta
This colourful recipe uses rainbow pasta and is best for little ones who are fussy eaters.
Ingredients
Rainbow pasta (2 cups)
Tomatoes (2, diced)
1 onion, red bell pepper, chopped cilantro ¼ cup
Black olives
Diced green chillies
1 ½ teaspoon of garlic salt
1 tbsp of sugar
1 tbsp. chilli powder
1/3 cup of lemon juice and white vinegar
½ cup of vegetable oil.
How to Make
Boil the pasta for around nine minutes
Combine bell pepper, chopped onions, tomatoes, olives and green chillies in a bowl.
Whisk the lemon juice, white vinegar, cilantro, garlic, sugar, salt, chilli powder and vegetable oil.
Mix both the vegetables and pasta and then toss the cilantro and lemon dressing before serving.
9. Mushroom Mint Pasta Salad
An unusual but delicious pasta recipe that can make your kids fall in love with their food.
Ingredients
Bow-tie pasta (16 oz)
Button mushrooms (8 oz)
Fresh mint (10 sprigs)
Slice onions (4 pieces)
Olive oil (1/4 cup)
Cream (1 quart)
Sugar (1 ½ teaspoons)
Salt and ground black pepper for taste
How to Make
Cook the pasta for about ten minutes in boiling water and leave it. Make sure that it is tender but firm
Drain the pasta and move it to a large bowl and add three tbsp. of olive oil and toss it in.
Heat the rest of the olive oil on medium heat on a skillet and add the mushrooms and onions. Once they're light brown in colour, stir the heavy cream in.
Add mint and cook for five minutes. Keep stirring it
Mix sugar in the sauce and add the salt and pepper before stirring in the pasta till it is fully coated.
Serve hot
10. Shrimp Alfredo Fettuccine
A great combination of shrimp and pasta for the seafood loving kids.
Ingredients
Cooked shrimp (1 pound)
Fettuccine pasta (1 pound)
4 garlic cloves, peeled
Half-in-half (1 cup)
Butter (1 tbsp)
1 tbsp. fresh parsley, chopped
6 tbsp. parmesan cheese, grated
Salt
How to Make
Cook the pasta for about ten minutes in boiling water
Add butter in a skillet and let it melt before adding the garlic, shrimp and cook for a minute
Stir in half-and-half, sprinkle in the parmesan around one spoon at a time and continue stirring as you're adding it.
Mix parsley and salt, before continuing to stir until it becomes thick.
Combine the pasta sauce and serve hot.
11. Chicken Cajun Pasta
This recipe gives you a taste of the goodness of the Cajun seasoning and a packed flavour.
Ingredients
2 boneless chicken breast half piece, thinly sliced and no skin
Linguine pasta (4 oz)
Butter (2 tbsp.)
Heavy cream (1 ½ cups)
Dried basil, salt, lemon pepper (1/4 tsp.)
Cajun dressing (2 tsp.)
Red bell pepper (1/2, chopped)
Green bell pepper (1 piece)
4 mushrooms that are sliced
Minced green onion
Ground black pepper, garlic powder (1/8 tsp)
Parmesan cheese (2 tbsp)
How to Make
Put in the pasta and cook for about ten minutes with boiling water
Toss in the chicken in along with Cajun seasoning together in a small bowl
Add some butter to help saute the chicken on a medium heat in a skillet till it isn't pink in colour
Add sliced mushrooms, bell peppers, green onions and let it cook for three minutes till they're semi-soft
Put in some heavy cream, season it with black pepper, garlic powder, salt and lemon pepper.
Keep it on for less than a minute before you mix the linguine pasta and the creamy sauce in a large pan.
Garnish with the help of parmesan cheese and serve this classic chicken pasta recipe.
12. Sesame Chicken Pasta
A simple pasta recipe with chicken that will be loved by kids and adults alike.
Ingredients
Cooked chicken breasts, 3 cups shredded
Bow-tie pasta, 1 pack
Sesame seeds (1/4 cup)
Vegetable oil, sesame oil (1/2 cup)
Rice vinegar and light soy sauce (1/2 cup)
Sugar (3 tbsp.)
Ginger and Ground pepper (1/2 teaspoon)
Chopped onion and fresh cilantro (1/3 cup)
How to Make
Roast the sesame seeds on medium flame on a skillet and wait till they turn light brown. Set them aside and let cool before cooking the pasta
Mix the soy sauce, sesame oil, olive oil, vinegar, pepper powder, ginger powder, sugar, and sesame seeds. Put them in a jar and shake well
Pour the sesame seed dressing over the pasta by placing it in a bowl
Toss the mix and serve hot.
13. Greek Orzo Pasta
This delicious Greek recipe can be just what you need to take your pasta cooking to the next level.
Ingredients
1 ½ cup of orzo pasta
Broccoli florets (1 pound, washed)
Pine nuts (3 tbsp.)
Olive oil (1/4 cup)
Feta cheese (3/4 cup)
Ripe olives (1 can)
Parmesan cheese (1/2 cup)
Dried red pepper flakes (1/2 tsp.)
Fresh basil (1/4 cup)
How to Cook
Cook the orzo as is instructed
Cook the broccoli with boiling water till it is tender but still firm
Heat oil and then add pine nuts in a skillet and stir-fry for around 2-3 minutes. Then, add the red pepper and cook for one more minute
Mix the pine nuts, pasta, feta cheese, and the other ingredients in a bowl before tossing it to mix
Serve it immediately.
14. Peas and Salmon Pasta
Do your kids love fish? Here's a recipe that can do justice to all the fish lovers out there.
Ingredients
5 cups of farfalle pasta
Salmon (7.5 oz, diced into cubes and drained)
Vegetable oil (1 tsp)
1 2/3 cups of milk
1 tsp of Dijon mustard
Green onions (2, chopped)
Garlic cloves (2, minced and crushed)
Frozen peas (1 cup)
Cream low-fat cheese (1/2 cup)
Parsley, cornstarch and lemon juice (2 tbsp.)
Pepper and salt
How to Make
Boil the pasta in water and wait till it is firm but tender
Heat the oil along with garlic and onion in a saucepan for two minutes
Pour in the milk and heat till it is very hot
Mix cornstarch into two tbsp. of water and whisk it. Now, stir it with the milk and let cook for around two minutes
Let the sauce thicken before you add the cheese, parsley lemon juice, peas, dill weed, pepper and salt along with the mustard and stir till the cheese melts
Add pasta and mix well before stirring in salmon and letting it settle.
Set it aside for a minute before serving it hot.
15. Indian Masala Pasta
This recipe combines Indian spices with pasta for a truly delicious dish.
Ingredients
Penne pasta or macaroni (2 cups)
Olive oil (2 tbsp)
½ cup cumin or jeera
Garlic cloves (2-3)
Onion (1 large)
Carrots (2, chopped)
¼ to ½ cup green peas
¾ to 1 cup chopped or pureed tomatoes
½ tsp. red chilli powder
½ tsp. garam masala or pav bhaji masala
½ cup kasuri methi
Cream
How to Make
Bring 6 cups of water to a boil in a large pot and add the salt and pasta
Once cooked, take it off the pot and drain out the excess water and rinse it with cold water
Heat the oil in a separate pan add cumin till it splutters
Fry them till the aroma appears and onions and fry till they're brown
Add the chopped vegetables and cook for two minutes
Mash the tomatoes and add it to the pan
Cook until the tomatoes are soft and the raw smell disappears
Add the kasuri methi, red chilli and masala powders
Stir them well and let fry for a minute before turning off the flame
Add the cooked pasta and whatever oil is remaining before adding salt and coriander leaves
Serve the pasta hot. This is a type of Indian pasta recipe for kids which is simple and very easy to make.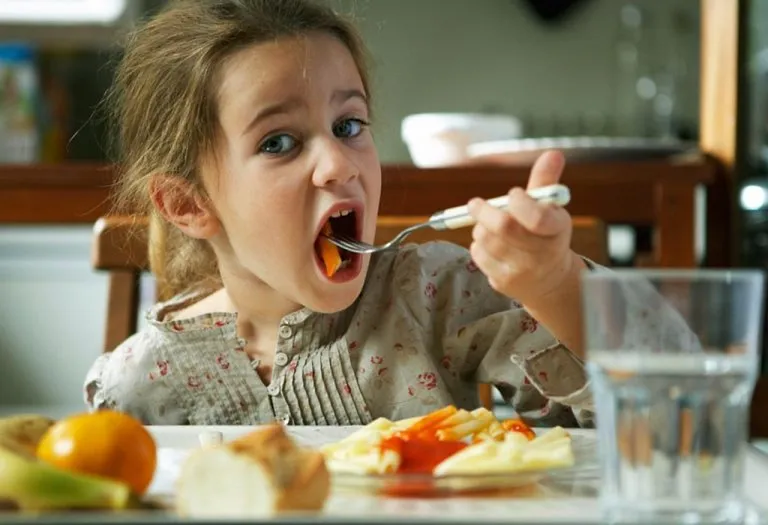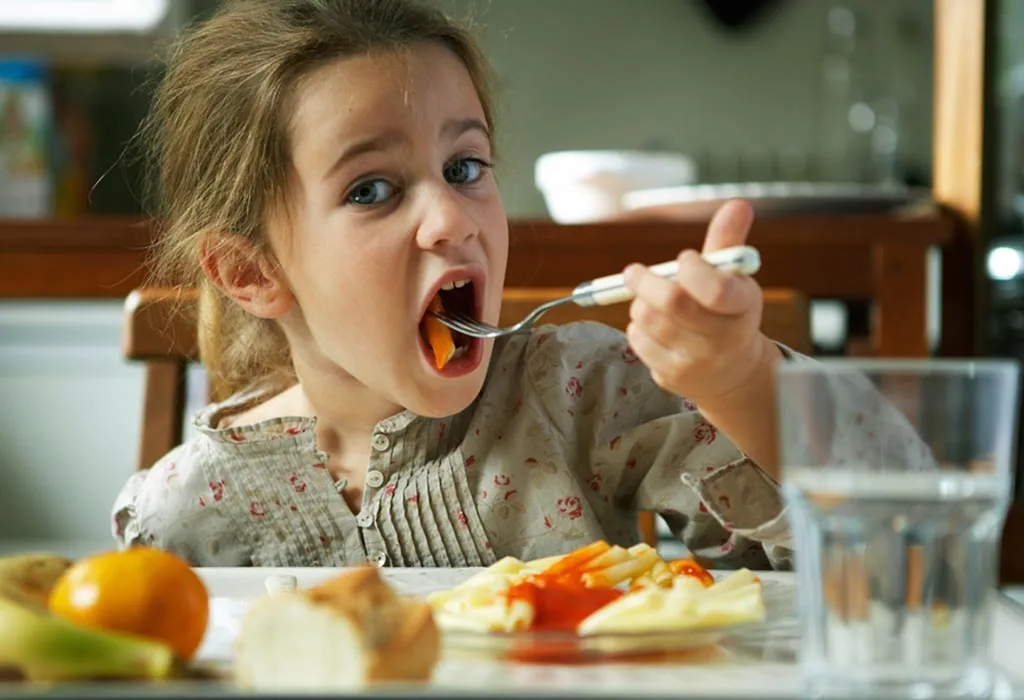 Thus, serving kids pasta is always a good idea because there are so many different recipes with which you can play. Pasta is very versatile because it can be cooked as both a gravy and dry and you can add all kinds of sides to it, including vegetables, chicken and seafood.
Add a lot of colourful veggies into the pasta and watch as your kids devour it with much enthusiasm. Keep trying different recipes till you're able to land one that suits your child's palate.
Also Read: