Healthy Chicken Soup Recipes for Babies and Kids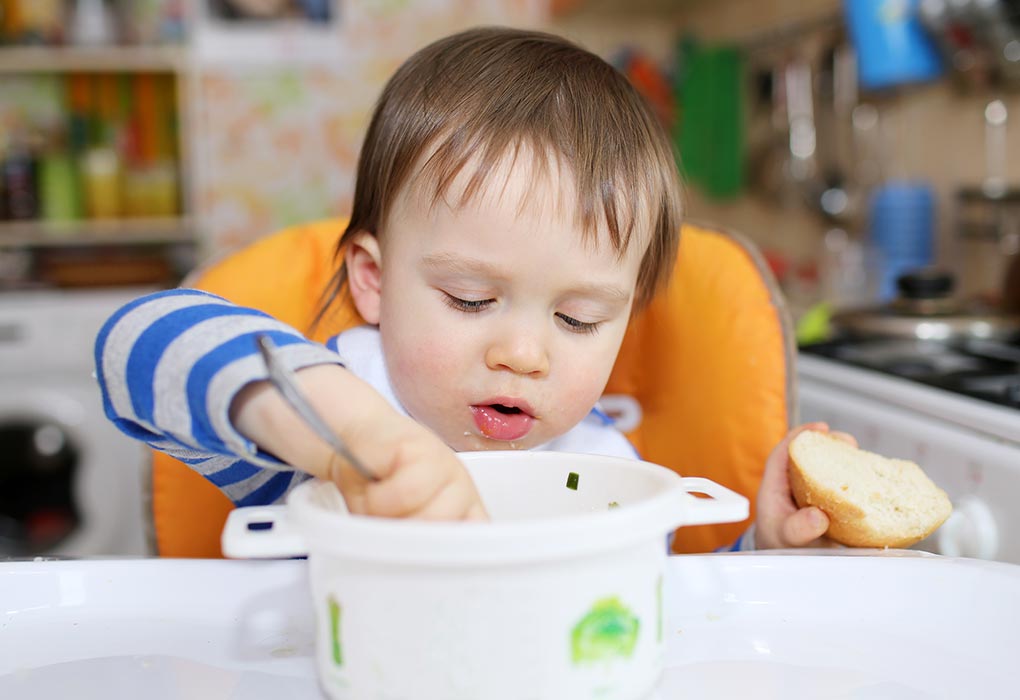 Winters always remind us of hot and heart-warming soups. If your baby is old enough, you are probably wondering when you can introduce chicken to your baby. The best way to introduce chicken to your baby is in the form of chicken soups. Soups are tasty and nutritious, and babies down with cold and flu can benefit a great deal from chicken soups. The robust yet comforting taste is something that we can never truly get bored of. You can pick any chicken soup recipe for babies and toddlers from the article below, and it is sure to be something your child will love!
What Should Be the Chicken Soup Consistency for Babies?
When feeding chicken soup for toddlers and babies, it is important that it be in a consistency that is easy to consume and digest. Read on to find out the ideal chicken soup consistency based on your child's age.
1. For 6-7 Months
When feeding chicken soup to a 6-7 month old baby, make sure you strain the soup to eliminate any chunks. You can also puree the soup until it is smooth.
2. For 8-9 Months
For babies between 8-9 months, you can let the consistency of the soup be coarse. However, make sure there are no bones and all the ingredients are finely chopped. Big chunks of meat or other ingredients is a strict no-no.
3. For 9-10 Months
If your baby is between 9-10 months of age, you can serve the soup along with bite-sized pieces of chicken and other veggies. Ensure there are no bones and the chicken pieces are soft and easy to eat.
Chicken Soup Recipes for Infants and Children
Thinking of some easy ways to make chicken soup for a baby? Here are some tasty recipes.
1. Clear Chicken Soup
You can try this dish a few times before adding aromatics like garlic and onions.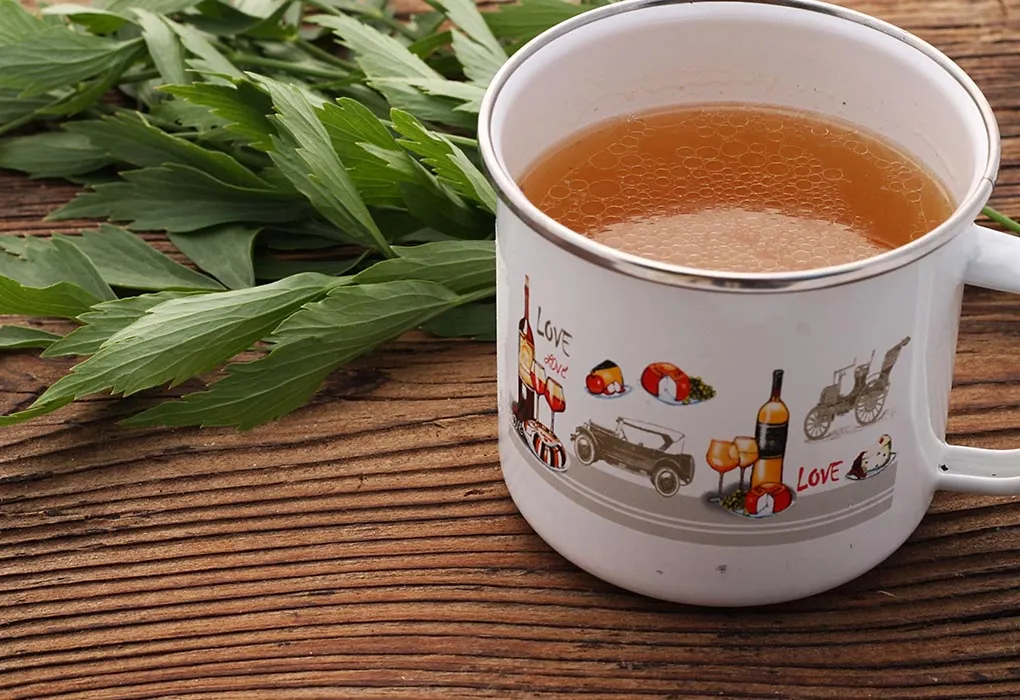 What You Will Need
Thigh pieces of chicken
Ghee
Jeera
Coriander seeds
Crushed ginger
Crushed garlic
Chopped onion
Chopped tomatoes
Turmeric powder
How to Prepare
Heat ghee in a cooker, add jeera and let it splutter.
Then add the coriander seeds.
Add garlic and crushed ginger and sauté.
Add the onions and sauté till they become transparent.
Next, add the tomatoes and fry until they become mushy.
Add some turmeric powder.
Add the chicken and sauté for a minute until the chicken leaves the water.
Then add 2 cups of water and cook for 2 to 3 whistles.
Sieve and serve this clear soup to babies below eight months.
After the eighth month, you can mix everything in a blender and feed it to the baby.
2. Flavourful Chicken Clear Soup for Babies
A light garlic taste is the best flavour for babies. The onion will help digest the chicken.
What You Will Need
Chicken legs
Onions
Garlic
Cumin seeds
How to Prepare
In a pressure cooker, sauté some cumin seeds, finely chopped onions and garlic in one spoon of homemade butter.
Then add water and the chicken legs.
On low heat, pressure cook the chicken for 10 minutes.
Turn off the heat. Open the lid and then cook it again for 5 minutes without the lid.
Add fresh coriander leaves.
Strain the soup and let it cool. Then, feed it to the baby.
3. Indian Chicken Puree
You can combine the goodness of chicken and vegetables in this Indian style chicken soup for babies.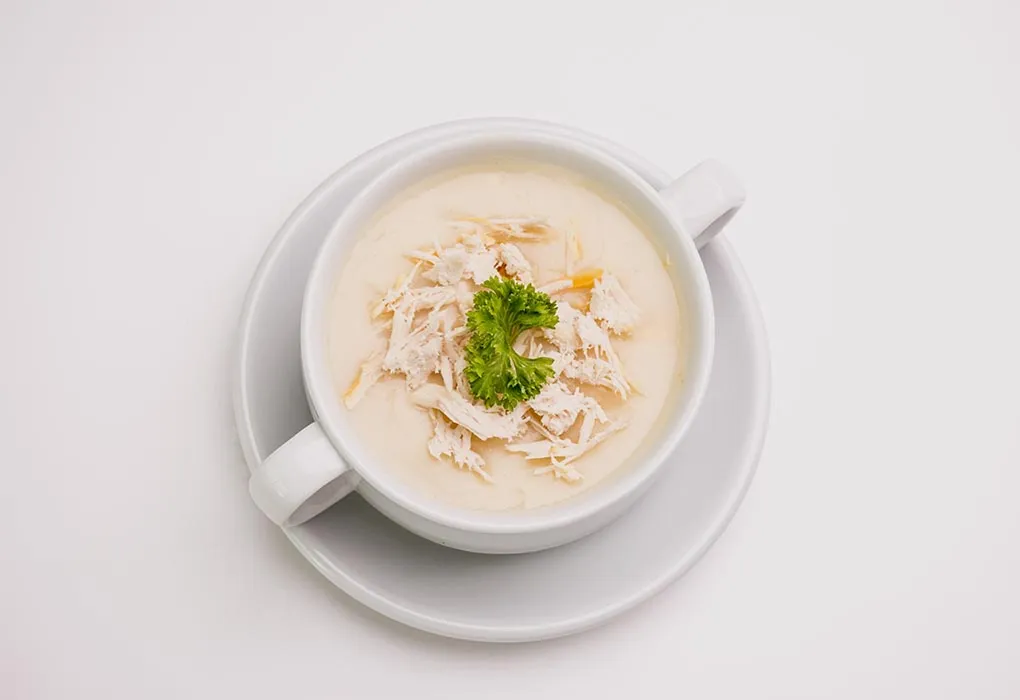 What You Will Need
1 boneless thigh piece of chicken
1 cup chopped vegetables (carrots, potatoes, green beans)
Jeera powder
How to Prepare
De-bone the chicken and wash it well.
Chop the chicken into small pieces.
Cook the vegetables and the chicken in a pressure cooker for about 2-3 whistles.
Let the pressure of the cooker release on its own. This will let the chicken cook properly in the built-up pressure.
Once the mixture cools, add it to the mixer jar along with some of the broth.
Blend the chicken and vegetables into a smooth puree.
Add a pinch of jeera powder and feed it to your baby.
4. Chicken Broth With Vegetables and Herbs
You kid will surely relish this heavenly delight loaded with nutrition.
What You Will Need
Thigh pieces of chicken
Water
Sliced carrots and onions
Fresh celery
Herbs like parsley, thyme or coriander
How to Prepare
Cover the chicken thighs with water in a large pan and cook them over medium heat.
Turn off the flame, take the meat out of the broth and shred the meat from the bone.
Then put the bones back into the broth and boil them on low heat for an hour. Then strain to remove the bones.
Add veggies and herbs to the broth and boil it.
Now add the cooked meat and boil this mixture for some more time.
Add some salt and serve it to your kids.
5. Chicken Sweet Corn Soup
You kid will love this chicken soup made with sweet corn.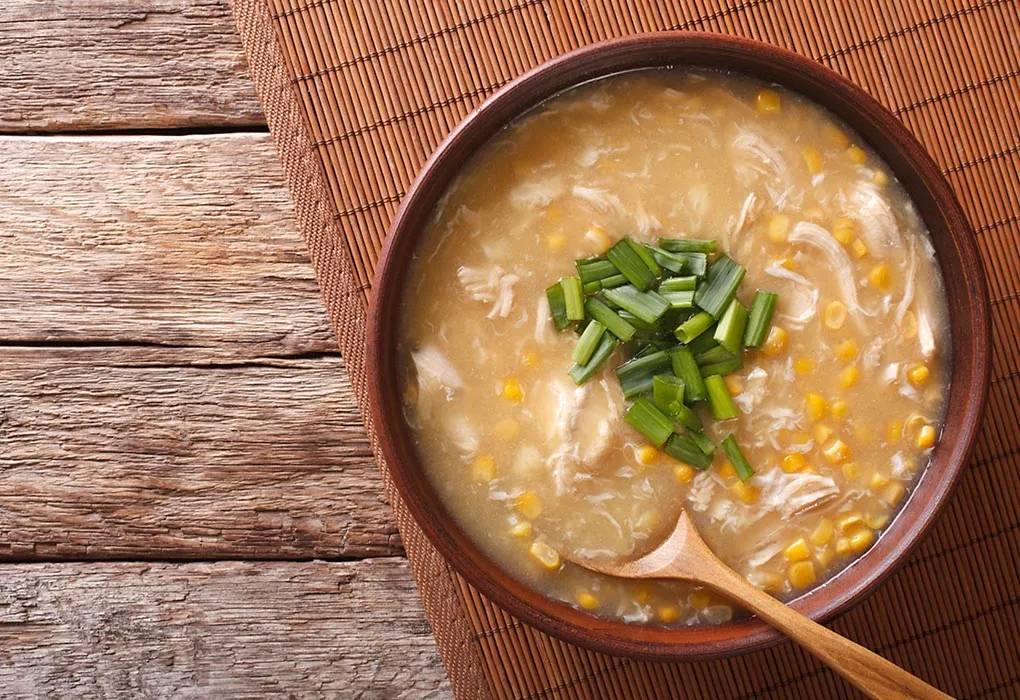 What You Will Need
Oil
Chicken pieces
Chopped ginger, garlic and spring onions
A pinch of whole wheat flour/rice flour
Sweetcorn
Chicken stock
Fresh lemon juice
Dark soy sauce
Sesame seeds (optional)
How to Prepare
Heat some oil in a pan and add chicken, ginger and garlic to it. Cook for four to five minutes.
Blend rice flour/whole wheat flour and a little stock. Add this mixture to the pan with the stock and the sweet corn. Boil and simmer for about 10 minutes.
Beat an egg in a bowl and add some lemon juice to it. Pour this into the pan while continuously stirring with a fork to form strands of egg.
To garnish, add spring onions and a soy sauce with sesame seeds.
6. Old Fashioned Simple Chicken Soup
In this old-fashioned chicken soup, you can add vegetables of your own choice.
What You Will Need
Chicken stock
Chicken pieces
Olive oil
Chopped vegetables (carrots, leeks, potatoes, herbs, garlic, onion)
How to Prepare
Add some oil to a pan and saute onions and garlic for a while. then add leeks to it and stir for some more time.
Cook the vegetables, chicken and broth together. Now add the potatoes and carrots. Cook them till they are tender.
Cook them a little more on low heat after adding the herbs.
Once cool, blend all the ingredients, season your soup with salt and black pepper and serve.
7. Chicken and Noodle Soup
This noodle soup is super simple to make and rich in protein.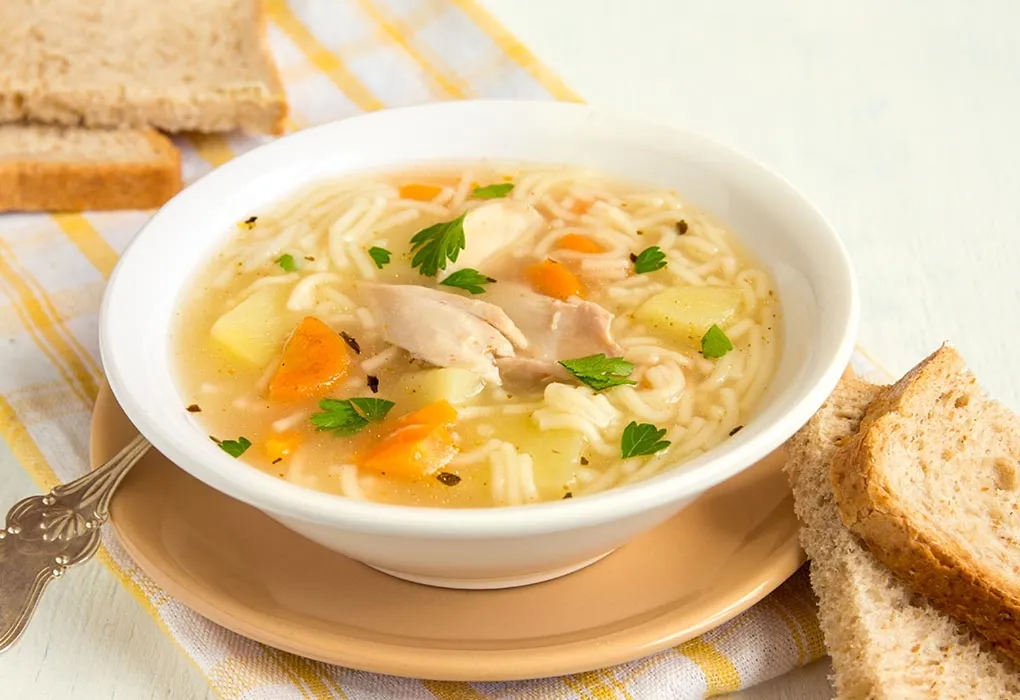 What You Will Need
Oil and water
Chopped vegetables (carrots, celery, onion, thyme, parsley, and green onions)
Chicken broth and cooked shredded chicken
Egg noodles/Whole wheat/Rice noodles
Butter
Whole wheat flour/Rice flour
How to Prepare
Heat oil in a pan and saute all the vegetables except for green onions. Cook till they are tender. Simmer for about twenty minutes after adding the chicken broth.
Blend a mixture of whole wheat flour/rice flour and water and add it to the pan. Add the noodles and let them boil. Turn off the heat when the noodles are cooked and add butter with herbs. Stir well. Mix in the cooked chicken and garnish the dish with green onions.
Strain this chicken noodle soup if your child is below one year of age.
8. Chicken Avocado Soup
This soup is perfect for every avocado lover.
What You Will Need
Chicken broth
Chicken breast, shredded and cooked
Chopped vegetables (tomatoes, garlic, scallions)
Avocado and cilantro
Lime wedges
Oil
Salt, pepper and cumin
How to Prepare
Heat oil in a pan and stir the scallions and garlic. Add in some chopped tomatoes and stir well. Let it boil after adding the chicken stock and cumin. Cover the pan. Cook on simmer till everything is cooked.
Remove from heat and add cooked chicken, avocado, scallions and cilantro in a bowl. Pour the broth into the bowl. Serve with lime wedges.
9. Chicken Spinach and Potato Soup
To prepare this soup all you need is some fresh vegetables.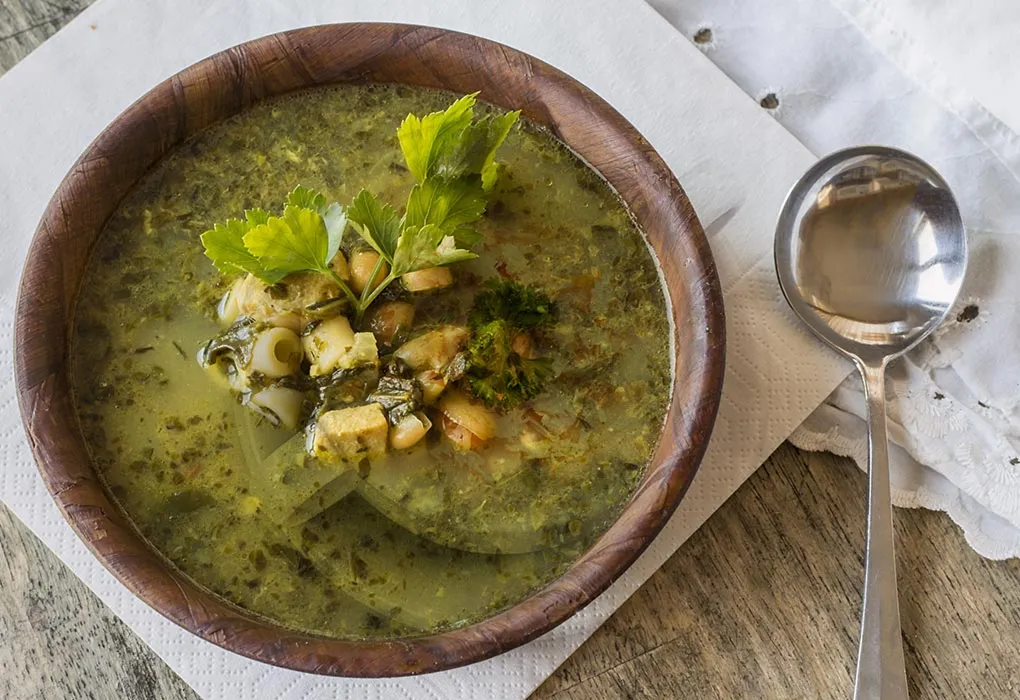 What You Will Need
Oil
Chopped onion, spinach, garlic and potatoes
Chicken stock
Chicken breast fillet, thinly sliced
Lemon rind
Threads of saffron
How to Prepare
Add onions to a pan of heated oil and saute till they turn golden. Add in the garlic and let it cook. Boil the chicken stock, lemon rind and saffron threads. Add potatoes after reducing the heat. Cover the pan and cook till the potatoes are tender.
Finally, add some chicken and spinach and cook till the chicken is tender.
10. Chicken, Lentil and Barley Soup
The lentils and barley in this healthy chicken soup add a very satisfying and hearty texture.
What You Will Need
Some dry lentils
Chopped onion, garlic, carrots, tomatoes, sweet peppers red and green
Cooked chicken
Basil, barley, oregano, and rosemary
Butter
Chicken broth
How to Prepare
Cook onions, garlic and pepper in a pan of butter till brown. Add the chicken broth with herbs and lentils and let it all boil. Cook with the lid on.
Add chicken, barley and carrots, and cook for 20 minutes with the lid. Cook for some more time after adding the tomatoes.
11. Chicken and Rice Soup
This hearty chicken soup recipe for infants is easy to consume, simple, and delicious.
What You Will Need
Rice
Chicken broth
Chopped veggies of your choice
Water
Salt
How to Prepare
Bring the chicken broth to a boil.
Add the rice and chopped veggies.
Boil for 40 minutes until the rice and veggies are soft.
Puree this mixture until it is lump-free.
Add it to a pan and bring it to boil. Adjust the consistency with water.
Add salt to taste.
Cool and serve to your child.
Tips to Keep in Mind While Feeding Chicken Soup to Your Child
Strain the soup using a sieve before feeding it to small babies.
Fish out the chicken, veggies and noodles, and feed only the broth of the chicken soup to 6-month-old babies.
You can a variety of vegetables to the soup to make it healthier.
Make sure you clean the chicken pieces thoroughly.
You can add a pinch of pepper powder if you want some spice.
If your baby is below the age of one, skip adding salt to the recipes.
Better digestion takes place in the daytime, so it advised to feed chicken soup to toddlers and babies during the day.
It is best to check with your paediatrician before giving any new food to your baby.
FAQs
1. At What Age Can You Start Giving Chicken Soup to Babies?
You can feed your child chicken soup starting from 6 months or whenever he begins his journey of eating solid foods. However, make sure there are no bones and the consistency is smooth.
2. What Type of Chicken Broth is Best for Babies?
You can choose a clear bone broth or chicken stock that is low in sodium and other flavourings, depending on your baby's age. Make sure to strain it before using it in other dishes or feeding to your little one.
Chicken is rich in proteins and contains healthy fats. This will help babies gain weight. Chicken soup is a great way to build immunity in babies. You can add some fibrous food along with soup for easier digestion in babies.
References/Resources:
1. Feeding Your Baby: The First Year; Cleveland Clinic; https://my.clevelandclinic.org/health/articles/9693-feeding-your-baby-the-first-year; January 2020
2. Starting Solid Foods; American Academy of Pediatrics; https://www.healthychildren.org/English/ages-stages/baby/feeding-nutrition/Pages/Starting-Solid-Foods.aspx; August 2022
3. Slow Cookers and Food Safety; U.S. Department of Agriculture; https://www.fsis.usda.gov/food-safety/safe-food-handling-and-preparation/food-safety-basics/slow-cookers-and-food-safety#
4. Bone Broth vs. Stock: Which Is Better?; Cleveland Clinic; https://health.clevelandclinic.org/is-bone-broth-any-different-or-better-for-you-than-stock/; November 2022
5. Chicken and Food Poisoning; Centers for Disease Control and Prevention; https://www.cdc.gov/foodsafety/chicken.html; October 2022
Also Read:
Yummy Soup Recipes for Kids
Healthy Soup Recipes for Your Baby
How to Prepare Vegetable Soup for Infants?