10 Tempting and Healthy Salad Recipes for Kids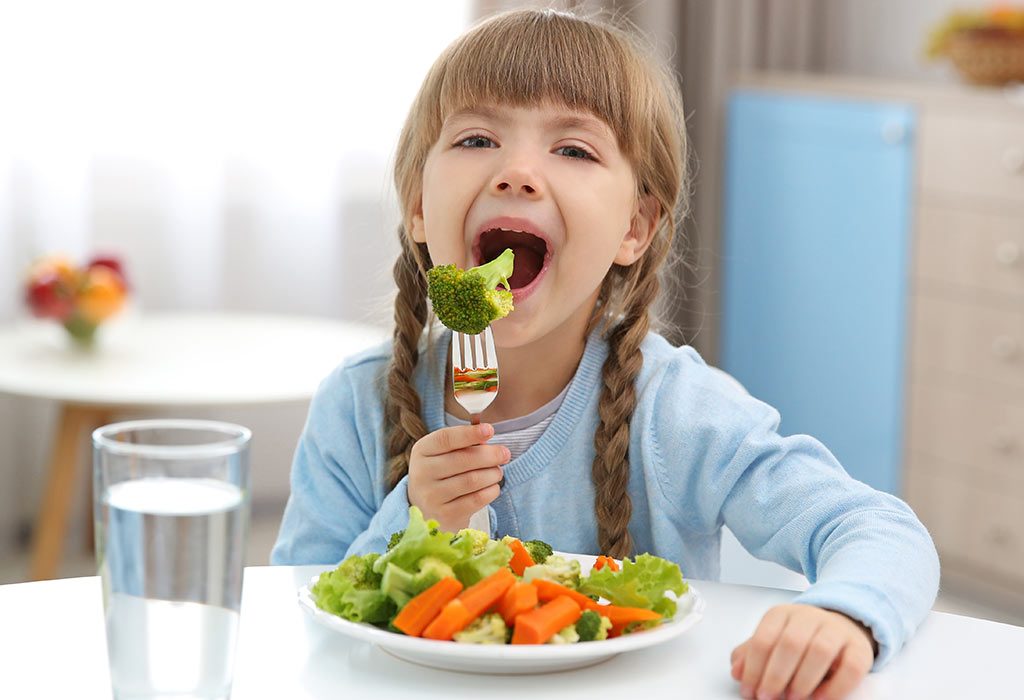 In this Article
It has been observed that rarely do parents try to give salads to their kids. Sometimes, parents themselves believe that kids will end up pushing it away. Well, they will, if salads are prepared the way we tend to prepare them for ourselves. But making healthy salads for kids doesn't have to be too complicated as well. By opting for some crazy delicious salad recipes, you can have kids licking the plate clean, quite literally.
10 Tasty Salad Recipes for Your Child
Putting together salad recipes for kids is not a tough job. These can range from making some nice salads with green vegetables or even easy pasta salad for kids that will leave them asking for more of it.
1. Chopped Broccoli and Cauliflower Salad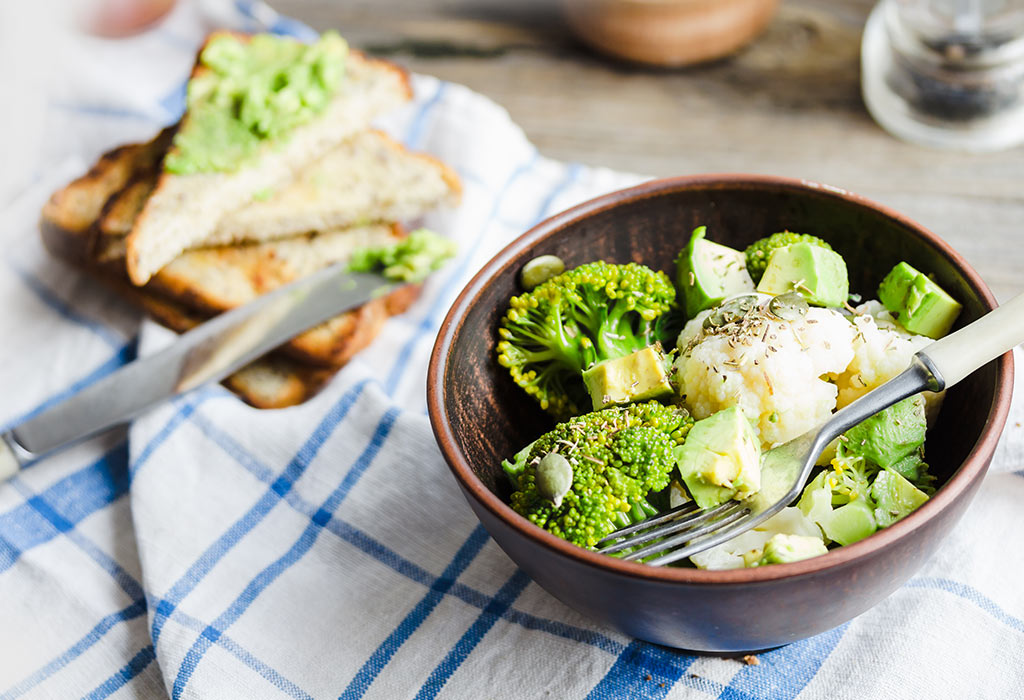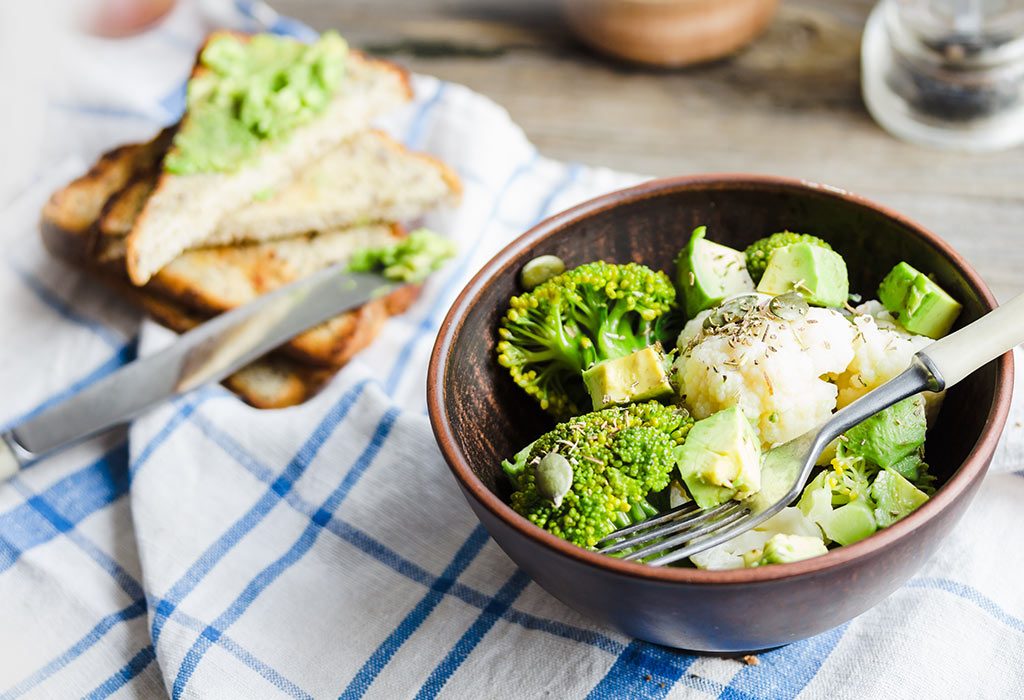 Two of the most nutritious green vegetables combined in a delicious and lip-smacking salad.
Ingredients
Broccoli, chopped
Cauliflower, chopped
Nuts
Raisins
Black pepper
Buttermilk
Garlic, chopped
Sugar
Lemon juice
Salt
Vinegar
Mayonnaise
Method
Run the chopped vegetables in a process until they turn into small pieces.
Take a bowl and mix together vinegar, mayonnaise, lemon juice, garlic and sugar. Add some buttermilk and mix it well. Sprinkle some pepper and salt as well.
Add the vegetables to the bowl and garnish with raisins, some dressing and a few nuts.
Nutrition
Calories – 180
Protein – 5g
Carbohydrates – 18 g
Fats – 13 g
Fibre – 4 g
Sodium – 215 mg
2. Tasty Spinach Salad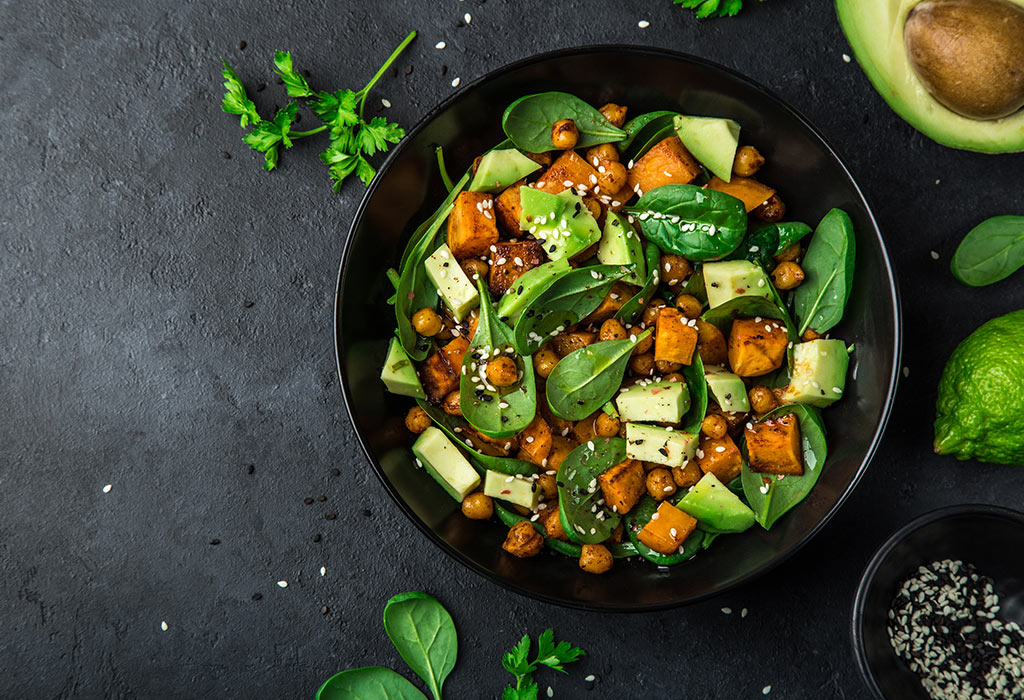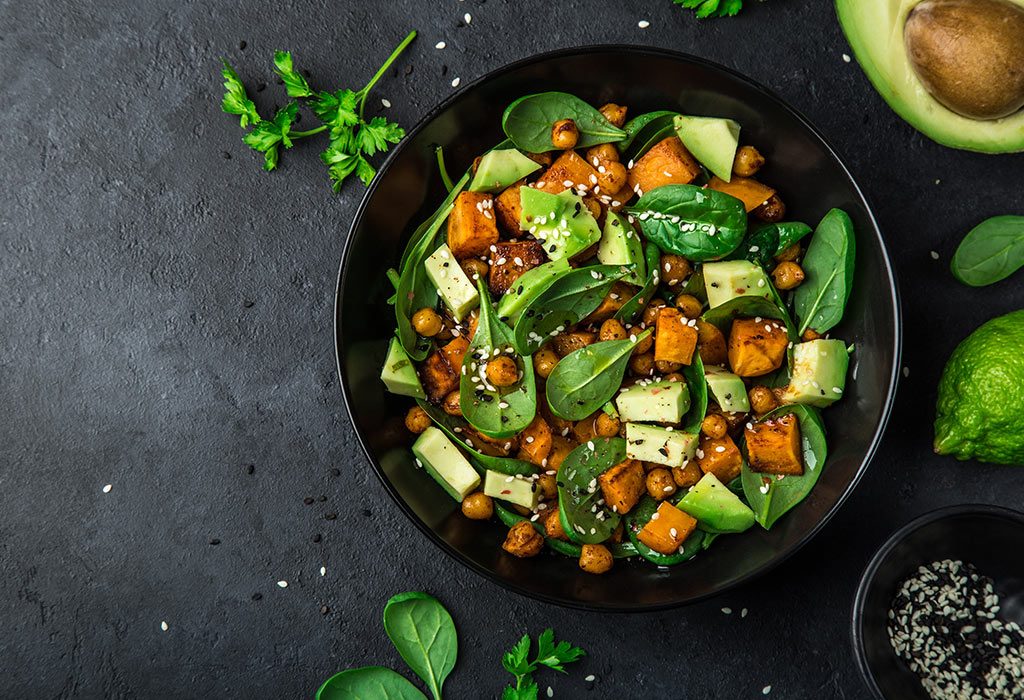 Once your kids have this salad, they will ask themselves why they didn't like spinach earlier.
Ingredients
Chopped spinach
Garlic powder
Lemon juice
Olive oil
Onions
Avocado
Mozzarella cheese
Cucumber
Cherry tomatoes
Method
Cut all vegetables into small pieces and put them in a bowl with some cheese.
Top it up with some olive oil, garlic powder and lemon juice. Add salt and pepper if needed and toss the salad together before serving.
Nutrition
Calories – 156
Fats – 14 g
Carbohydrates – 10 g
Fibre – 4 g
Proteins – 11 g
Sugar – 1.5 g
3. Salad Wheel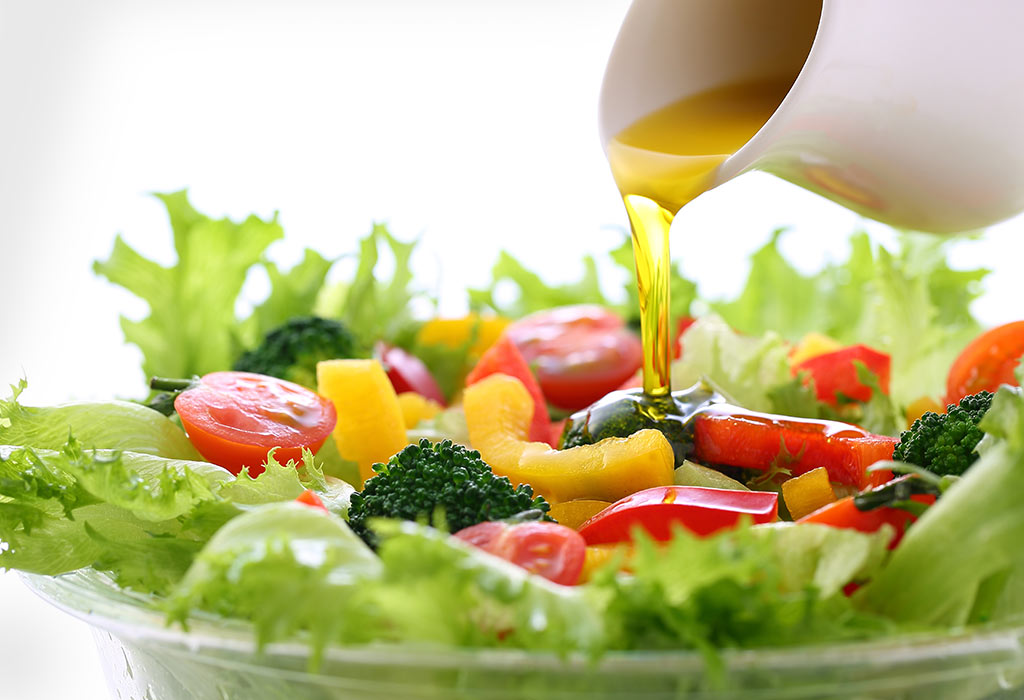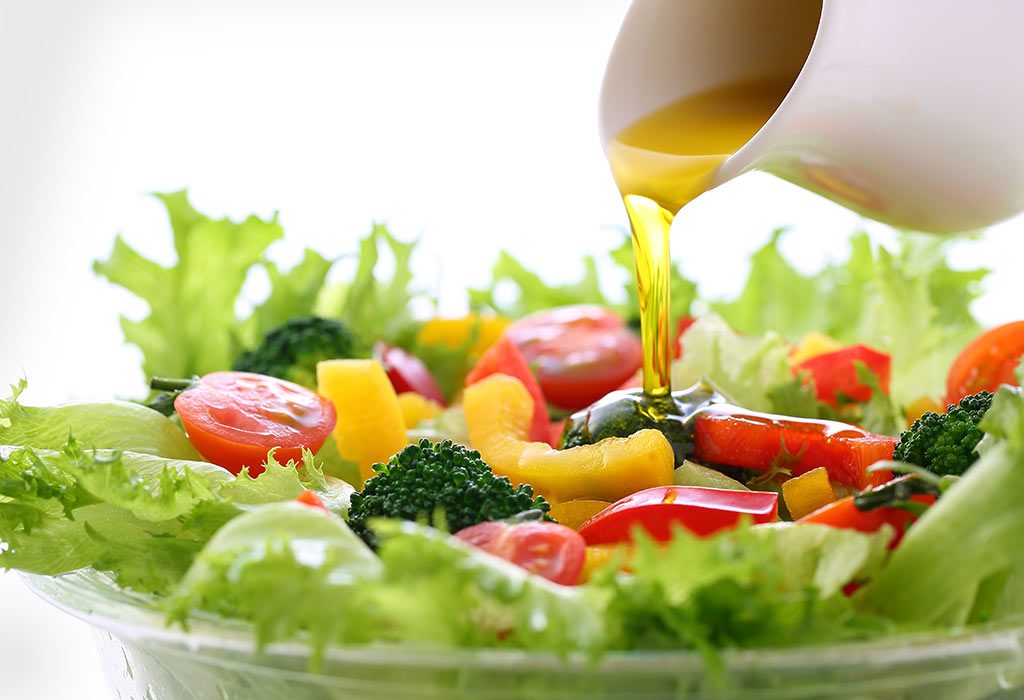 All the usual vegetables arranged in a wonderful design to tempt your kids.
Ingredients
Lettuce
Sliced cucumber
Sliced celery
Cherry tomatoes
Sliced carrots
Sliced pepper
Method
Create the base flower using lettuce leaves.
Now arrange the vegetables one by one in such a fashion that they start resembling a flower.
Place your favourite dip in the centre as an accompaniment.
Nutrition
Calories – 46
Carbohydrates – 10 g
Fibre – 4 g
Proteins – 3 g
4. Apple And Roasted Beetroot Salad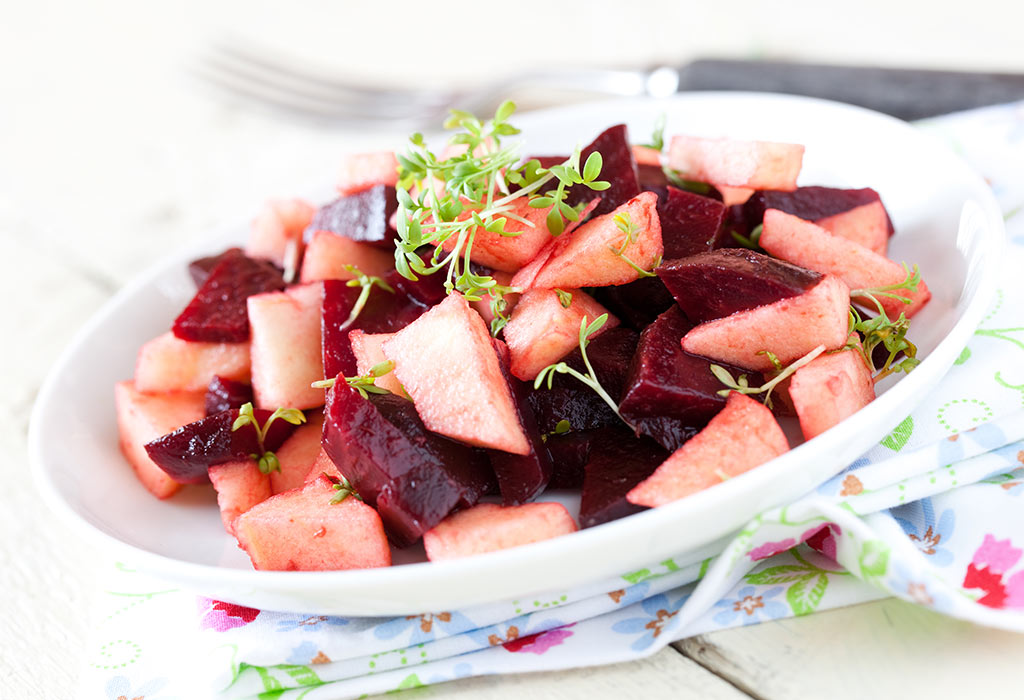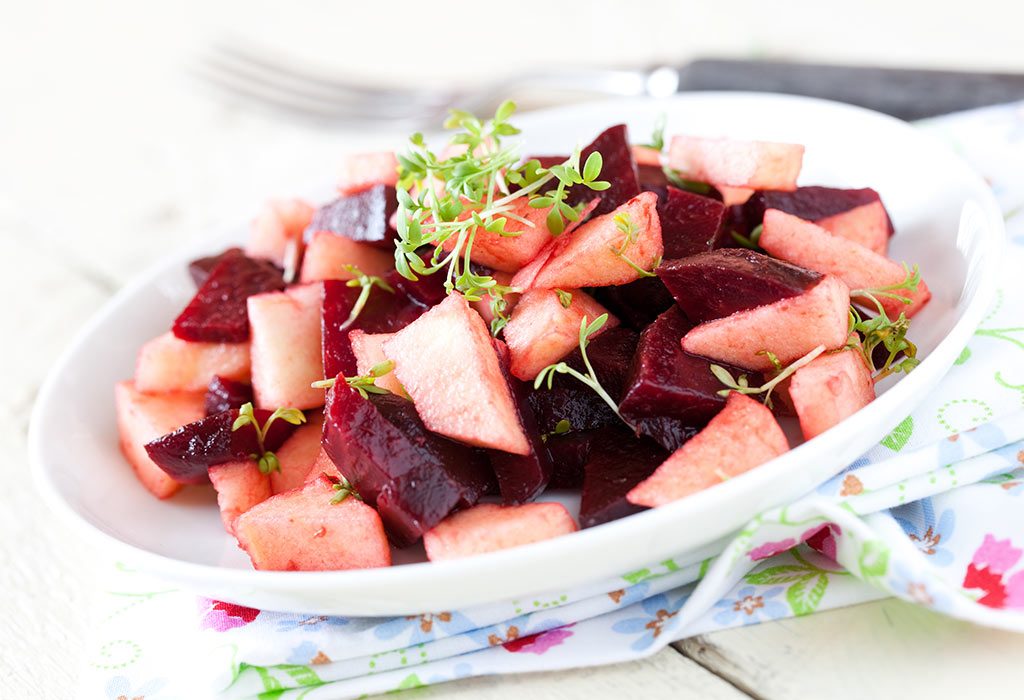 If raw won't cut it, a small roast might change the game completely.
Ingredients
Beetroots
Hazelnuts
Coriander
Small apples
Lettuce
Black pepper
Honey
Vinegar
Olive oil
Salt
Method
Prepare oven by heating to 180 degrees and bake hazelnuts for 10 minutes.
Increase temperature to 220 degrees. Arrange beetroots in a tray and sprinkle some olive oil on them. Cover with foil and bake for an hour until tender.
Trim the ends of the beetroot and cut into small pieces, sprinkling some vinegar.
Take a bowl and add vinegar to it along with honey, pepper and salt and mix it all together. Add some olive oil to it as well.
Take another bowl and put together lettuce, coriander and apples in it. Pour the dressing, add the beetroots and sprinkle the toasted nuts.
Nutrition
Calories – 140
Protein – 2.5 g
Carbohydrates – 12 g
Fat – 11 g
Fibre – 4 g
Sodium – 150 mg
5. Cucumber Salad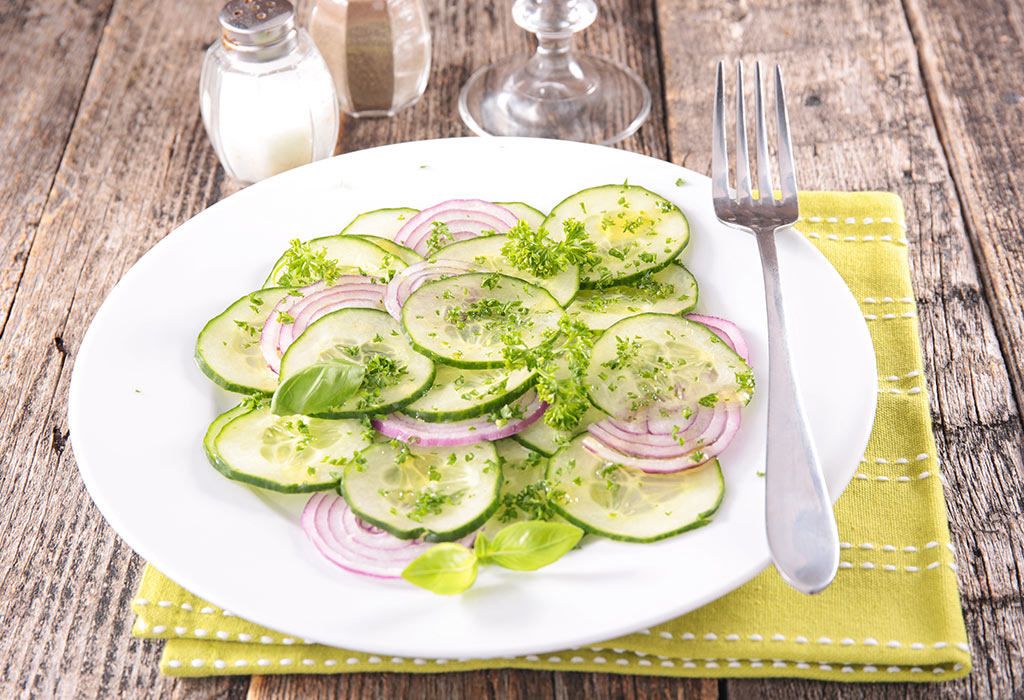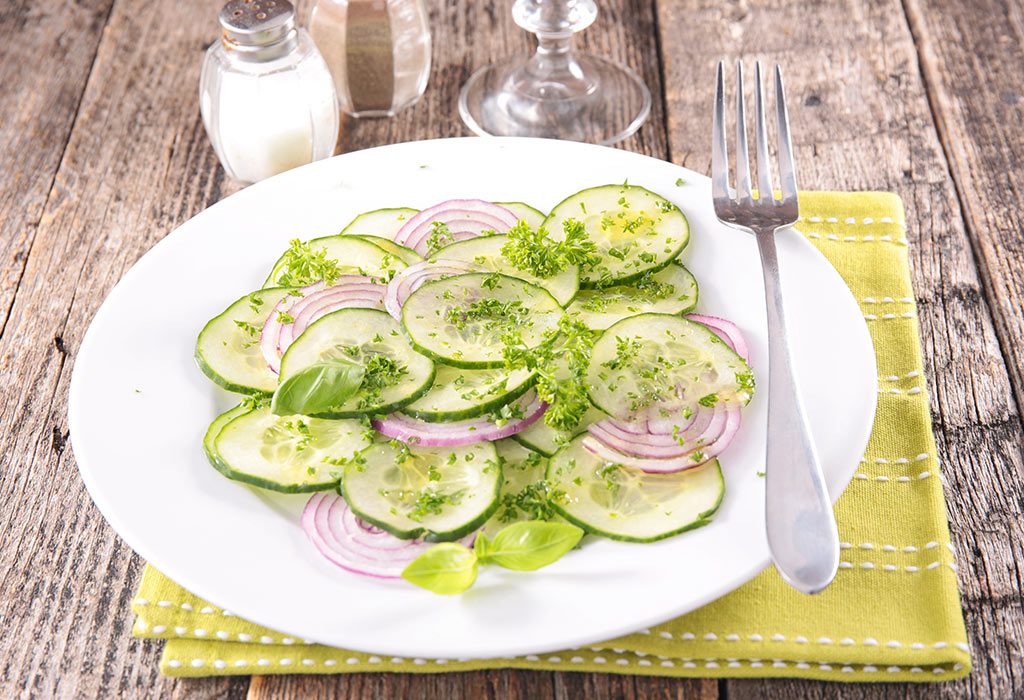 If your kid is one of those who hate cucumber, present him with an option he cannot refuse.
Ingredients
Baby onions
Mint
Cucumber
Chilli sauce
Olive oil
Vinegar
Sugar
Salt
Method
Take a bowl and add the tiny onions to it. Combine it with vinegar, olive oil, sauce, salt and sugar. Stir them well.
Add cucumbers prior to serving and toss them well together. Garnish with mint leaves.
Nutrition
Calories – 50
Protein – 1.5 g
Carbohydrates – 4 g
Fats – 4.5 g
Fibre – 1.2 g
Sodium – 149 mg
6. Steak Salad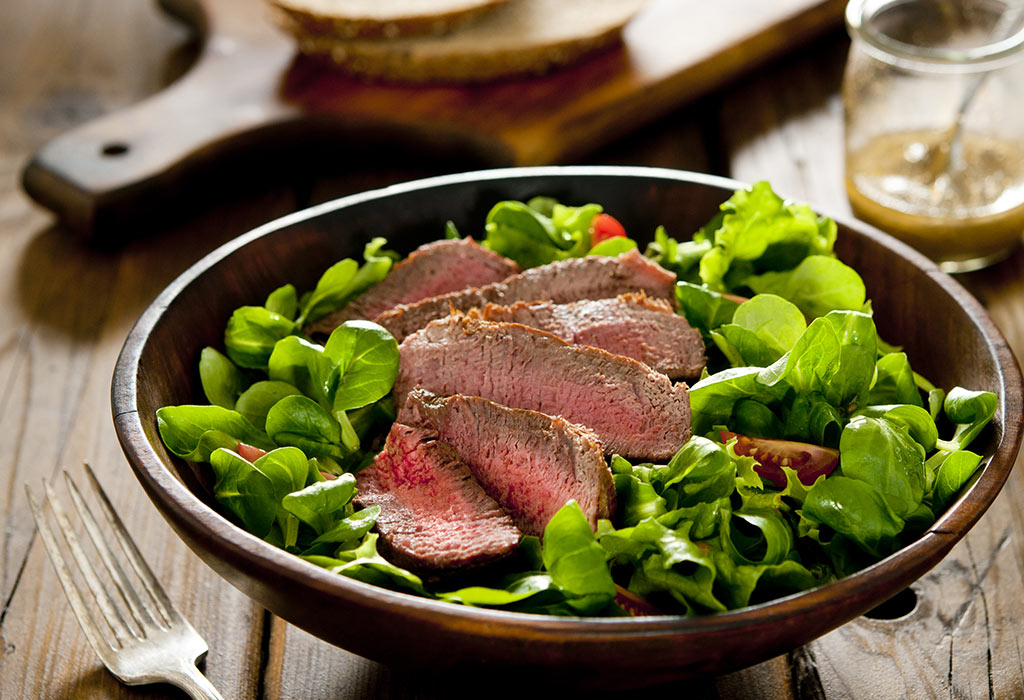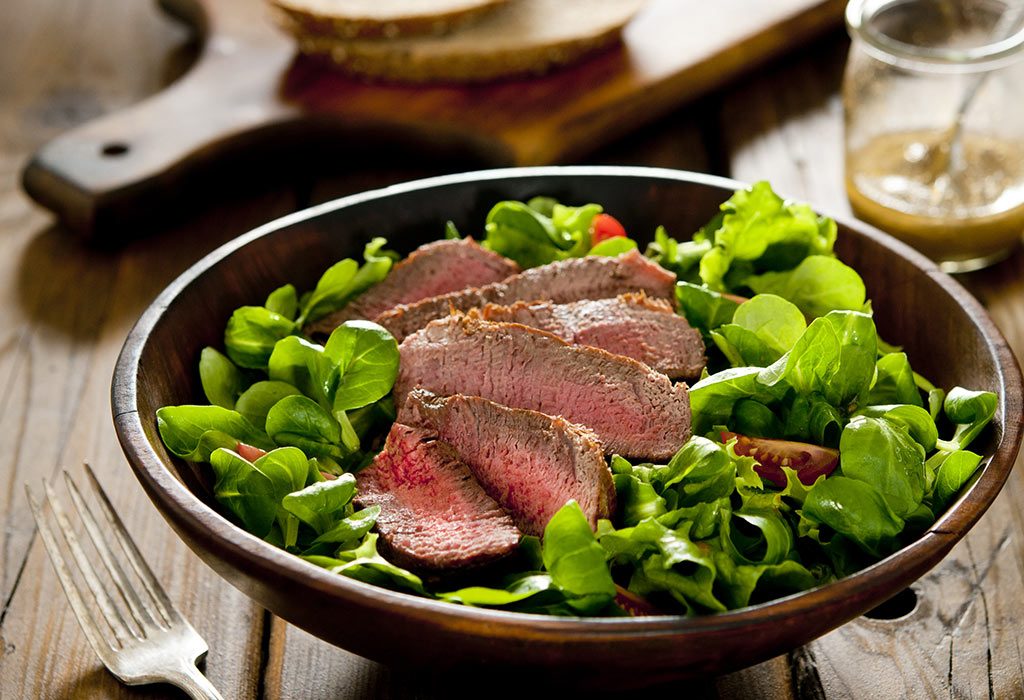 Add some meat to the mix and make sure your kids eat it only by combining the veggies together.
Ingredients
Steak
Potatoes
Mixed herbs
Cheese
Cherry tomatoes
Spinach
Olive oil
Mustard
Honey
Vinegar
Onions
Pepper
Salt
Method
Boil potatoes in cold salty water for 10 minutes and drain them.
Add oil to pan and season the steak in it with pepper and salt for a few minutes. Keep them aside and slice after they cool.
Add onions to the pan and fry them. Follow with vinegar and honey, coat onions in it and fry till it all disappears. Take onions aside.
Add some more vinegar and honey with mustard in a bowl, followed by olive oil. With some salt and pepper, pour this mixture on potatoes and toss them properly.
In a plate, arrange spinach as a base and place the steak on it, followed by potatoes, tomatoes, cheese, and onions. Sprinkle some mixed herbs and pour the dressing.
Nutrition
Calories – 600
Protein – 43 g
Carbohydrates – 30 g
Fat – 36 g
Fibre – 3.5 g
Sodium – 520 mg
7. Jewel Salad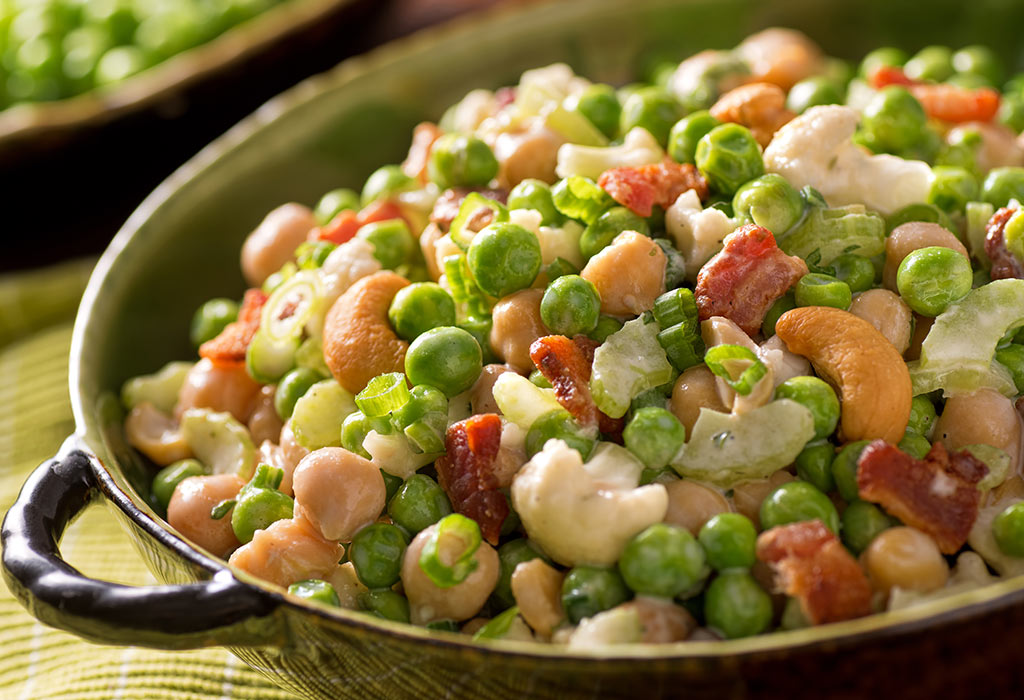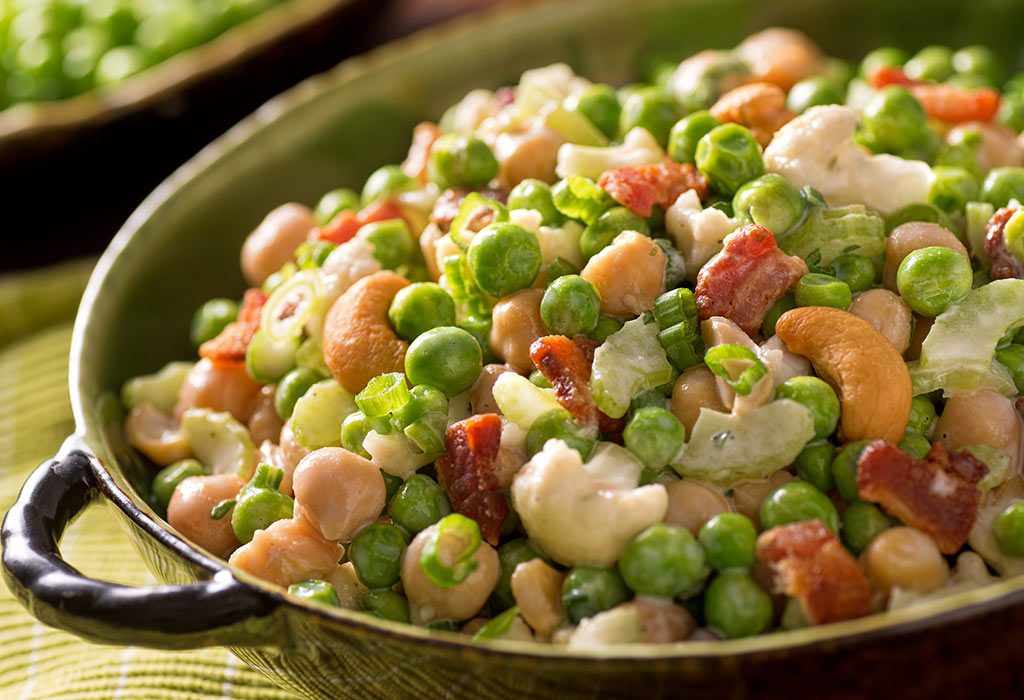 Put together these ingredients and make a salad that resembles a collection of gems.
Ingredients
Peas
Basil
Green onion
Beans
Oranges
Pomegranate seeds
Vinegar
Orange juice
Salt
Honey
Oil
Pepper
Method
Boil a pot of water and add peas to it until they are tender.
In a separate bowl, combine the peas with beans, pomegranates and oranges.
Pour in vinegar, oil, juice, salt, pepper and honey and toss them together. Add this to the bowl and sprinkle some basil on it.
Nutrition
Calories – 300
Protein – 16 g
Carbohydrates – 44 g
Fat – 7.5 g
Fibre – 15 g
Sodium – 555 mg
8. Chicken And Mango Salad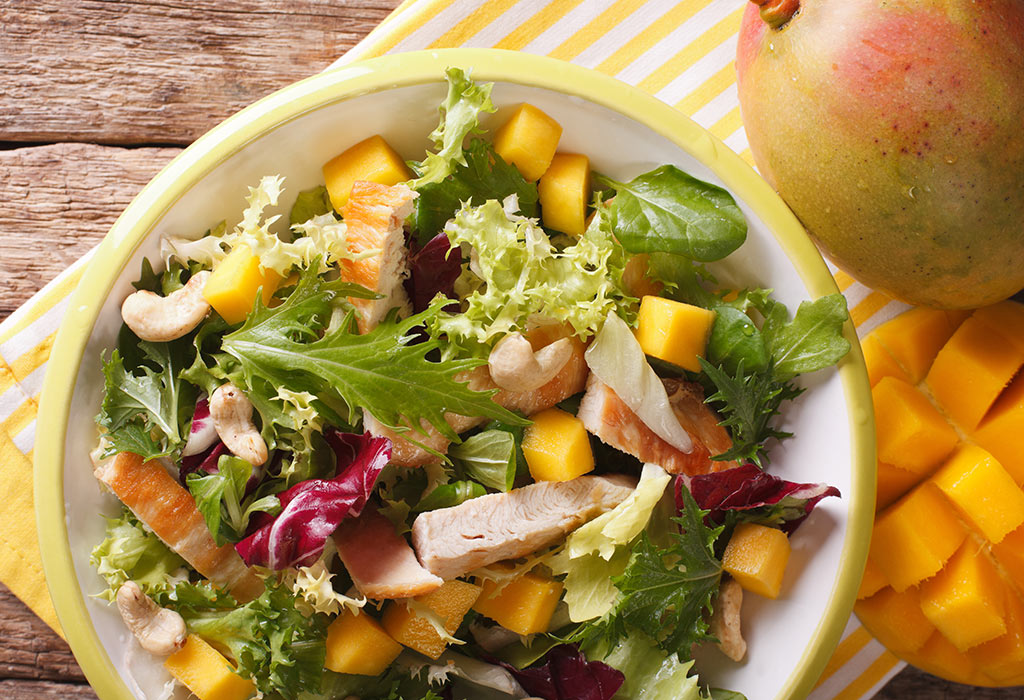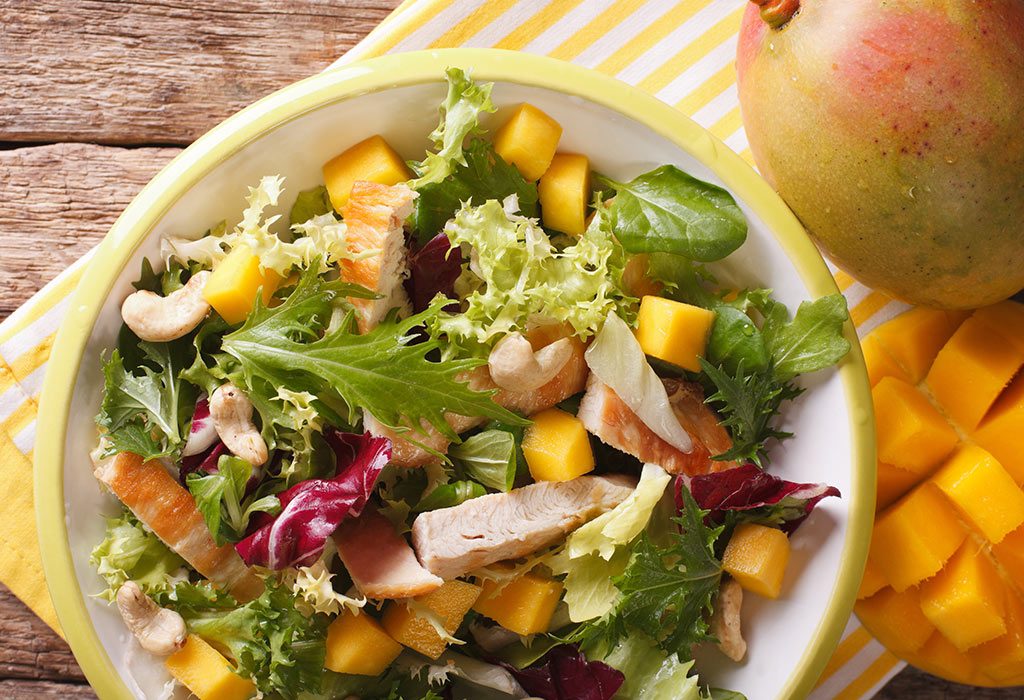 Use the taste of two delicious items to help eat the nutritious ones.
Ingredients
Shredded chicken
Coriander
Orange juice
Lime juice
Olive oil
Onion
Cucumber
Mango pieces
Lettuce
Salt
Pepper
Honey
Method
Take a bowl and put together chicken, onion, cucumber, mango and lettuce in it.
In another bowl, add olive oil along with orange juice, lime juice, pepper, sugar and salt and mix it well. Pour this over the salad and toss it together. Garnish with coriander.
Nutrition
Calories – 360
Protein – 20 g
Carbohydrates – 25 g
Fats – 25 g
Fibre – 3 g
Sodium – 344 mg
9. Carrot Salad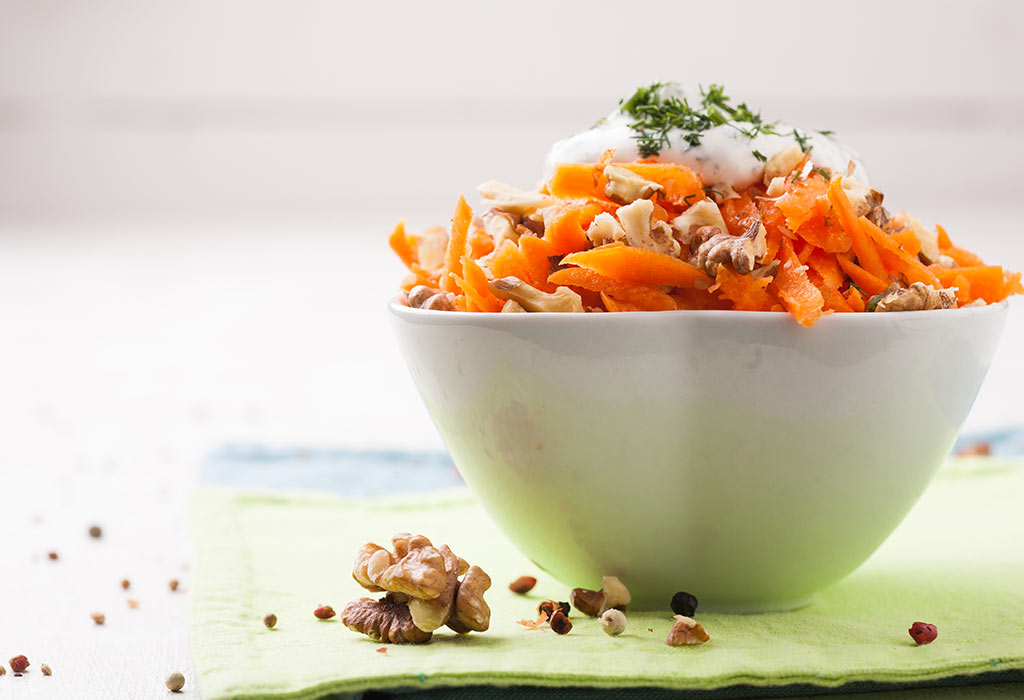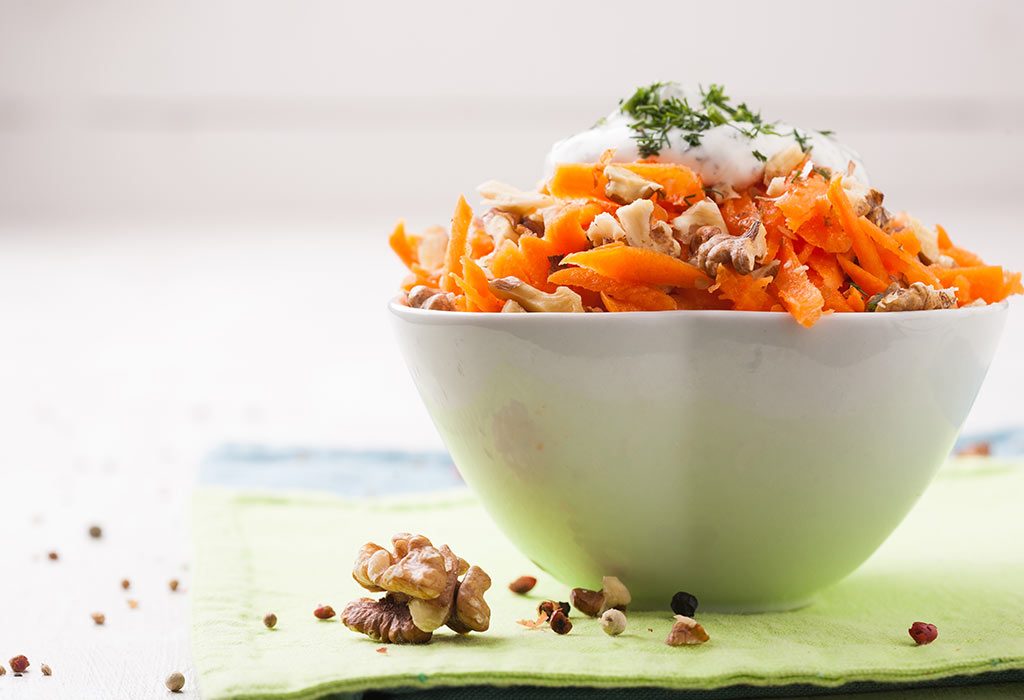 Bring together the taste of carrot with added flavours to make it extremely delicious.
Ingredients
Grated carrots
Coriander
Vinegar
Lemon juice
Olive oil
Black pepper
Salt
Method
Take a bowl and mix oil, juice, vinegar, salt and pepper together.
Add carrots to this, toss them together, and garnish with coriander.
Nutrition
Calories – 100
Protein – 1.5 g
Carbohydrates – 10 g
Fat – 6.5 g
Fibre – 2.2 g
Sodium – 200 mg
10. Cucumber With Watermelon Salad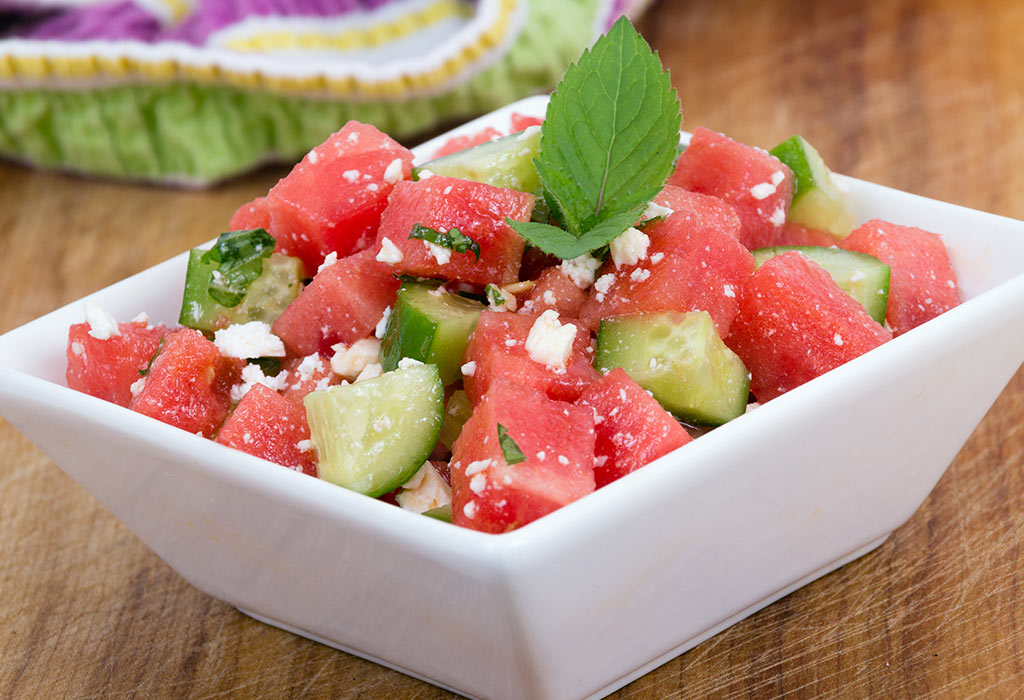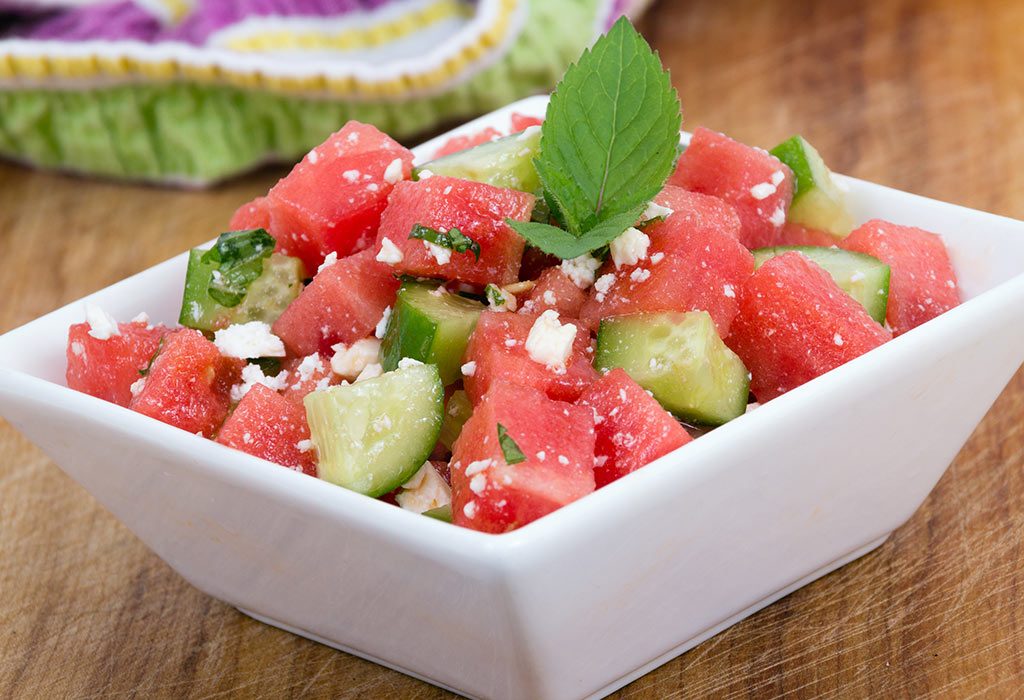 Quite an interesting combination, isn't it? It is just as interesting to taste and relish as well.
Ingredients
Watermelon pieces
Cucumber
Mint leaves
Pistachios, toasted
Vinegar
Olive oil
Salt
Pepper
Method
Add watermelon and cucumber together in a bowl.
Pour vinegar, olive oil, pepper and salt over it and toss it well.
Garnish with pistachios and mint leaves and serve.
Nutrition
Calories – 100
Protein – 1.5 g
Carbohydrates – 13 g
Fat – 4.5 g
Fibre – 1.5 g
Sodium – 4 mg
Children do take some time to get used to the simple tastes of everyday vegetables and other fruits. With so many easy salad recipes for kids to make, you can introduce them to this world in the best way possible, and inculcate a habit to eat well and be healthy throughout their lives.
Also Read:
Healthy Snacks for Children
Dinner Recipes Your Kids will Love
Breakfast Recipes for Kids