100 Stylish Names for Girls with Meanings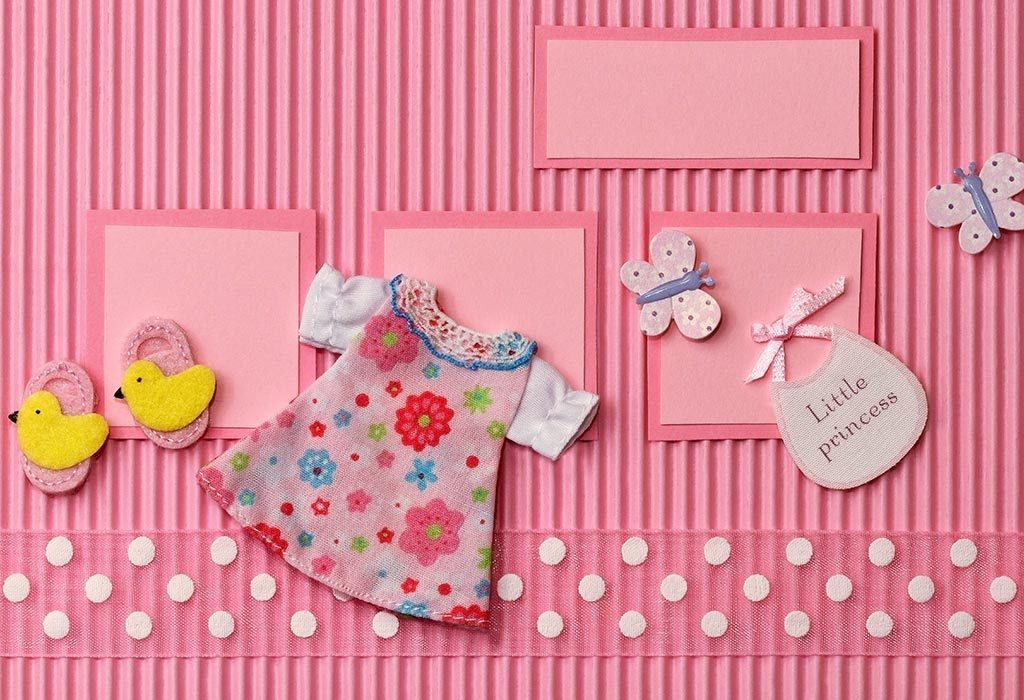 In this Article
Now that the little one is on its way to announcing itself to the world, you must be eager to settle for that perfect name. Of course, you don't want that typical name for your baby but one that will be easy to pronounce, spell and sound like music to the ears. Unique names that have meanings are quite popular with the millennial parents. But, also remember that a lot goes into choosing a name for your baby.
Video
Family customs and religion have a powerful influence on how a baby's name is chosen. Thankfully, Indian tradition and heritage provide a vast repertoire of names which are relevant in the modern world too. Since your little one will be carrying this name all her life, it is important to choose a name carefully. People often judge a person by his or her name and it is our name that travels ahead of us and hence should have a distinguished sound to it.
As parents, your children will hold you responsible for the name given to them, so it is wise to pay a good deal of attention to the name that you would be choosing for your little one. Ensure that you choose a name that stays true with time, has a personal meaning and essence for you, at the same time, suits the quirks of your little girl.
Stylish Names for Baby Girl
A baby girl is really special and your much-awaited bundle of joy deserves a sophisticated name that will accentuate the qualities you choose to inculcate in her. This tough job is but made easier with this easy and convenient list of stylish baby girl names with Indian roots, along with their meanings. You can sift through the list and pick the one that you think holds the most relevance for you, your spouse and your baby.
Name
Meaning
Aadya
First power. It is also Goddess Durga's name
Aashna
One who is devoted to love
Aahana
First rays of the Sun
Aakriti
Shape, Apperance, Form, Figure
Aaliya
Top social ranking, Dignified, Honourable, Noble
Aaradhya

One worth worshipping, First One

The blessings received from Lord Ganesha are called Aaradhya

Aashi
Smile, Blessing, joy, Laughter
Aislinn
Vision, Dream
Amalia
Activity,Work
Ayesha
Doll daughter of the prophet
Bani
Words, Goddess saraswati, Earth
Binal
Daughter of a King, Royal Princess
Bhavya
Grand or Marvellous, Impressive person
Bhairavi
A raga in Indian Classical Music, Challenging, Hindu Goddess
Bhoomi
The Earth, Base
Cheryl
Dear one, Beloved, Darling
Chhaya
Shadow, Full of Lustre and life, Beautiful, Living
Chhavi

Reflection, Replica, Painting

It can mean that the baby is a reflection of its parents.

Chitrakshi
One with beautiful eyes, lovely eyes
Chinmayi
One who possesses supreme consciousness
Charvi

A beautiful girl or woman.

It was the name of Kubera's wife in Hindu Mythology

Devanshi
Divine being, Godlike, One who is heavenly
Dhriti
Strength, Courage, endurance
Damini
Lightning
Easha/Esha
Purity, Chastity, Name of Goddess Parvati, Pleasure or Desire
Evana
Royal Lady, Peaceful, Good-looking
Falguni
One who is born in the month of Falgun- A Hindu calendar month, Beautiful
Fara
Sunset, Pleasant, Lovely
Florence
Florence Nightingale, Flourishing, Prospereous
Gargi
This name means ancient scholar wise women durga
Gayatri
Mother of all Gods, The Chant of Salvation, Gayatri mantra
Grahita
One who is acceptable to all, homely person
Garima
Warmth, Person of cordial nature, Friendly
Gina
Powerful woman, Pure, Well-born, Silvery, Born of a Race of Women
Gurleen
The one who is absorbed in the guru
Harshika
Laughter, Joyous, One who fills lives with joy, Giver of happiness
Hemashri
One with a golden body,
Hritika
One with a Kind heart, of Compassionate nature
Ishika
Sacred pen belongs to god, Paint brush
Ishita
One who has wealth, Mastery, Prosperous person
Ilisha
Queen or ruler of the earth
Inaya
Concern, Consideration
Ishana
Desire, Variant of another name Ishaani
Januja
Pretty daughter for her parents
Jasleen
Absorbed in singing God's praises
Jeet
Victorious, Win, Mastery, Success
Jinal
Lord vishnu, Loving, Good natured, Kind
Jivika
Source of life, From whom life comes, Water
Jigyasa
Curious about life, Inquisitive
Kavika
Poetess, artistically inclined, One who loves art
Kashvi
Shining, bright star, One who shines as an individual
Kimaya
Divine, Miracle
Laasya
Dance Performed by Goddess Parvathi
Laura
Symbol of honor victory
Linda
Preety, Beautiful
Loukya
Intelligent, Worldly, Wise
Mayra
Beloved, precious person. It is a lovely feminine name and modern too
Mannat
Special prayer
Meera
Prosperous, Affluent, Lord Krishna's most famous devotee
Mihira
Female form of Mihir, which means The Sun
Neila
Sapphire Blue, Variation of the name "Neela"
Nyra
Beauty of Goddess Saraswati
Naina
Eyes, Name of a Goddess, Vision
Ojasvi
Bright, Illuminated, Variant of "Tejasvi"
Oorja
Affectionate, Energy
Oorjita
Giver of Energy, Vigour
Ovya
Beautiful Drawing, Artist
Palak
Eye lid, Eyelash
Pari
Angelic, Ethereal beauty, Fragile
Peehu
Sweet sound, chattering of birds, Peahen
Prisha

Heavenly or God's Gift, Divine present

Just as Children are a gift to parents from the heaven

Parineeta
Complete being, married woman, Skilful person
Parnika
Tiny leaf, Name of Goddess Parvati, A unique and different name
Raagini

Melody, Music, Name of Goddess Lakshmi

For parents who are musically inclined

Romila
Hertfelt deeply or sincerely felt
Rishima
Moonlight or Moonbeam, A rare yet simple name for a delicate girl child
Rajani/Rajni
The entertainer, One who spreads joy and cheer, Delightful
Saarya
Name of a pious woman, full of virtuosity
Sejal
River water full of water
Siddhi
Triumph, one who attains perfection
Saadhika
Pious, Achiever, Name of Goddess Durga
Sagarika
Born of the Ocean, Wave,
Trisha
Noble, Honourable, It is derived from the name Patricia
Tejal
Radiant, Talented, Brilliant, full of Energetic
Trayi
Intellect, Brainpower, Rare name that speaks about intelligence
Udita
One who has risen, Ascended being
Udyati

Elevated, Eminent person, powerful personality

A person who is destined to rise to the top

Vanaja
Blue-coloured Lotus, A forest Girl
Vedanti
Person who knows Vedas, Knowledgeable
Yashika
Successful, Bearing prosperity
Yogita, Yogika
Enchanted, One who is able to concentrate
Yukta
Focussed, Engrossed
Yashawini

Glorious, Victorious, Famous, Known across the seven seas

One who can conquer all

Zaara
The Little one, tiny, petite
Ziya
Glory, Graceful, The Enlightened one
Zara
Little
With such a beautiful collection of girl names at your disposal, it will surely make it easy for you to choose the perfect name for your little princess. Make sure you choose a name that is easy to spell and pronounce and is in context with other names of those in the family. In the quest for unique names, do not select any tongue-twisters which can become embarrassing for your daughter later. With the proud history and culture standing tall behind the meaning of these names, you can take your pick and give your baby the most valuable gift of a lifetime, her name.
Also Read:
How To Choose Baby Name
Best Indian Baby Names Finder
Short Baby Girl Names with Meanings