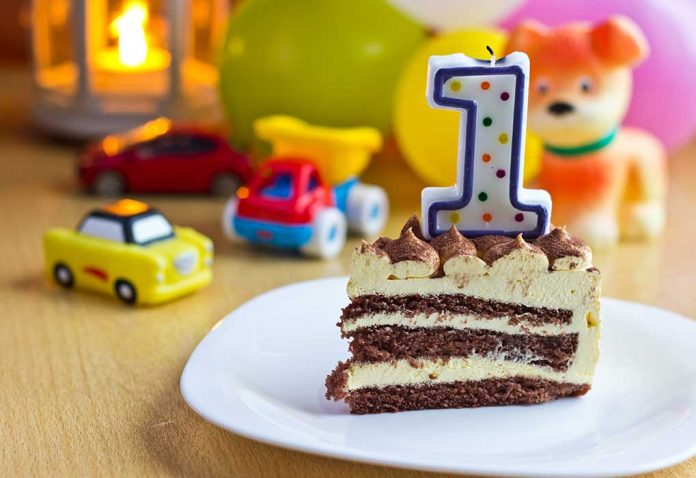 The first birthday of your child is exciting. However, there is something more special than that. It is the preparation for celebrating the child's first year. It is a milestone, both for the baby toddler and for the parents as well. As you start with your planning for the first birthday party, you already have the list of invitees in mind. To start, you need to find the perfect invitation. We have put together a few suitable invitation wordings that everyone will love.
1st Birthday Invitation Sample Wordings for Baby Boy
These attractive first birthday wordings for a baby boy are informal and straightforward and yet sound unique. These wordings are sure to hold the attention of your guests.
'The first year was flashy, and the second one begins. Come join the celebration as our prince turns one.'
These wordings will not go unnoticed. Sweet and jovial, your guests will feel happy upon receiving the invitation with these wordings.
'Come, we will have cake, pastries, games and lots of fun. The occasion is that our sweet little boy is turning one.'
With this invitation, you are also unveiling the little details for the first birthday celebration of your baby boy.
'It is the birthday of our (child's name). You are invited to have fun as we celebrate the day with family and friends.'
In this invitation, your little bundle of love is inviting the guests for his first birthday party.
'It is time for fun as (name of your baby) is turning one. Cake, snacks, cold drinks, games, and more. Join the laughter and smiles galore.'
A rather personalized message mentioning your baby's name, it is a delight to receive such a birthday invitation.
'Babies, cakes, and balloons, oh my! Come and join us as we celebrate (your baby's name) the first birthday.'
An invitation with a lot of enthusiasm, and why not? Start the preparations for the birthday party of your cute little one with these beautiful 1st birthday invitation wordings.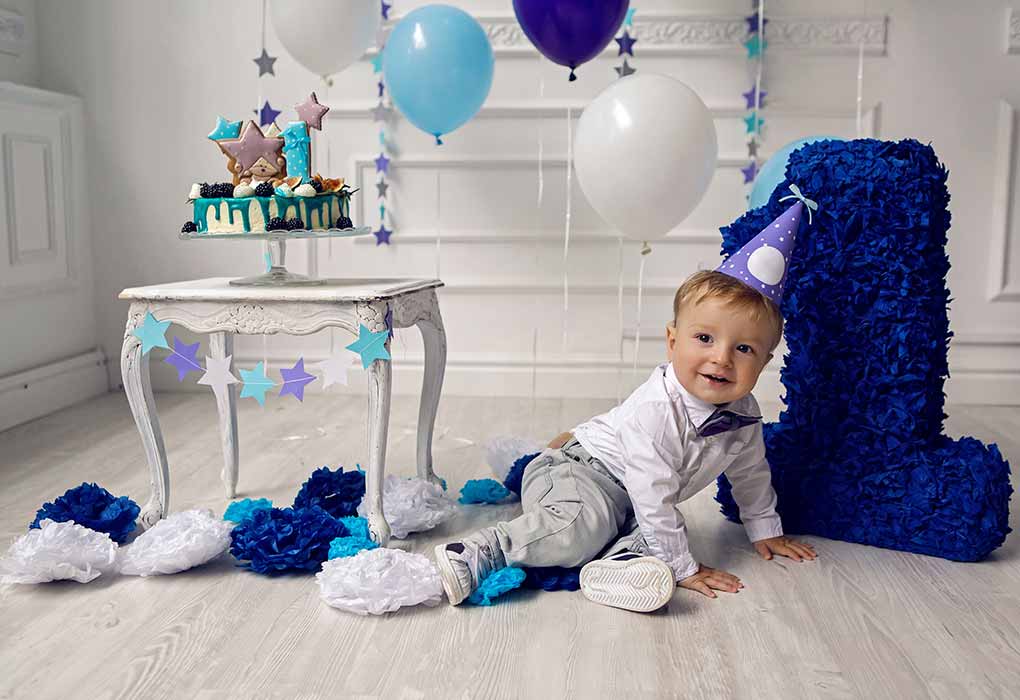 'As our boy turns one, there was so much fun that we had this year. It is time to celebrate with all the near and dear ones'
This invitation adds to the excitement of your baby's first birthday. These straightforward wordings will work the best.
'With cakes and games, there will be a lot of fun. Our little boy is turning one. Join us for the 1st birthday of (your son's name)'
These simple wordings for your child's first birthday will be the best one, a colorful invitation card.
'Splashy and enjoyable, it is a birthday bash. Swim and play with water and get soaked. We celebrate (your child's name), just bring a towel, enjoy the pool party. We are here to take care of

the rest.'
For a birthday party of your baby boy with a theme, these wordings are an ideal first birthday invitation message.
'There are games, snacks and of course the cake. As we celebrate the occasion of our child hitting one. Come and enjoy

this happy occasion with us. '
Inviting your guests with these words is going to be a lovely gesture.
'Come and have a ball as our superhero turns one. Come, Batman, Superman, Spiderman, and have good fun. Come and celebrate (your child's name) the first birthday.'
It is an invitation for a superhero-themed party of your baby.
First Birthday Invitation Sample Wordings for Baby Girl
Here are a few examples of 1st birthday party invitations for your daughter:
'We have animals on our farm, to celebrate (your child's name) the first birthday. Come and join us for a day full of fun.'
This theme party will be hit with the guests as they enjoy the furry friends at your daughter's first birthday.
Little cupcakes, little hands, and a small host. As the angel turns one, join us for some great fun. We invite you to our (your child's name) first birthday.'
These cute wordings for your daughter's 1st birthday invitation message are adorable.
She's learned to laugh and squeal, then sit and stand. But the fun has only just begun. Look out world, she is turning One!.'
These first birthday invitation wordings will be a nice one on your daughter's birthday.
'Cake, icing, pictures, and balloons. Come with presents if you will, as I celebrate as I turn one. Now, I am one year old; let us have a time of gold.'
Your cute girl takes charge of the invitation with these wordings.
Hello! I am (your child's name), and I am turning one. Join me in the celebrations with balloons, cakes and more'.
With these cute wordings, add a picture of your daughter on the card.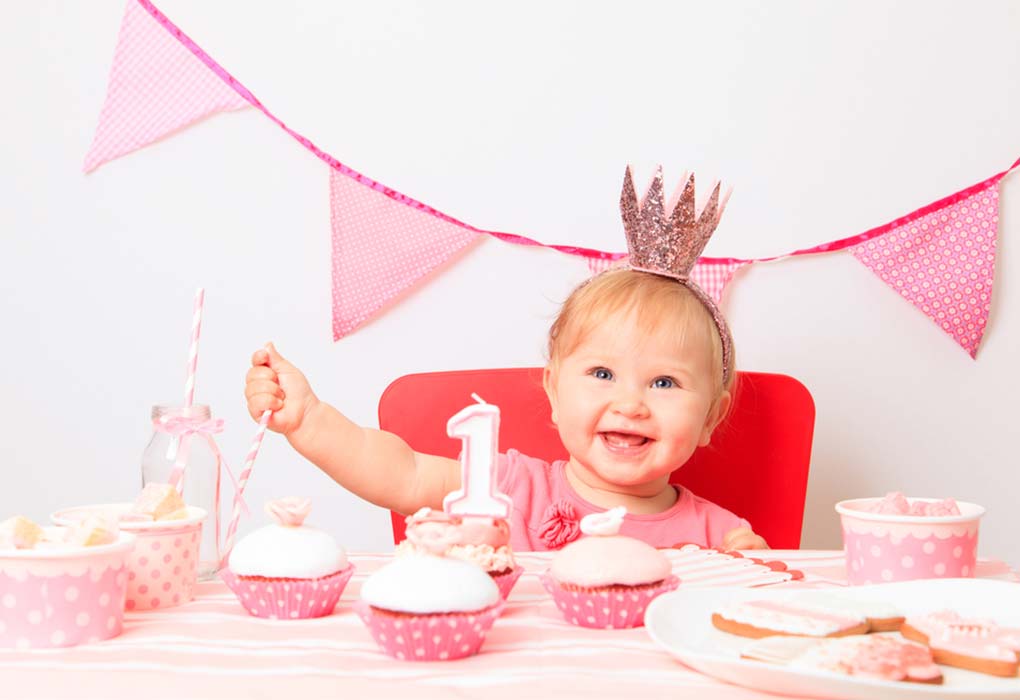 'As we go wild in excitement, here is the invitation for you to join. Our sweet little (your baby's name) is celebrating as she turns one.'
For a wildlife theme at your little girl's birthday party, these invitation wordings go best.
'A year has gone by, how time has flown, No one can believe how she's grown! She's really cute and so much fun. She is turning ONE!.'
For your sweet daughter, these are some excellent invitation wordings.
'She is learning to walk, and can't wait to run. She is full of smiles and laughter, and is almost one! '
Your princess will have a gala time on her birthday when the invitation has these beautiful wordings.
'As she learns to crawl and the first tooth peeps out. With cake, balloons and you, we will have good fun. Please join us to make it memorable.'
Your baby girl's birthday celebration will be an extraordinary party, for sure.
'The year has gone by was quick for sure. Our darling had a lot of fun while growing up. As she turns one, let us have a

blast. '
These are perfect wordings for the birthday party of your daughter.
A memorable and eventful birthday party requires proper planning. Try these creative wordings to let the guests know how special your baby is. Elegant and simple wordings with a unique rhyme, use any of these examples of 1st birthday party invitations. After all, the first birthday is a special occasion in all aspects. Make it a memorable one. Choose these new and exciting words to invite guests to your party.
Also Read:
Unique and Creative First Birthday Party Ideas
Special First Birthday Wishes, Quotes, and Messages for Baby Girls and Boys
How to Celebrate 1st Birthday Without a Party