Naming your baby is one of the greatest joys of your life and a naming ceremony is intended for that occasion. Ceremonies may seem difficult to set up and organize but it doesn't have to be that way. In Hinduism, Namkaran is an auspicious day for naming your baby. Traditionally, naming ceremonies are held right after birth but that's not always the case. Some parents choose to host iT before their child's first birthday while others pick specific months for the occasion. Either way, if you're hunting for ideas on how to make this special day even bigger, we've got you covered.
Tips to Throw a Perfect Naming (Namkaran) Ceremony
Use these tips to make sure that your naming ceremony or namkaran goes exactly the way you want-
1. Prepare Your Invite List
There may have been times when you wished a certain someone didn't show up. That's why we have an invite list. If you don't want to invite someone, make it clear that anyone without invites cannot enter the premises that day.
2. Don't Let Everyone Hold Your Baby
Your baby is too young and new to this world to understand who is who. Letting everyone come near and hold your baby may traumatize him or make him cry.
3. Give Your Baby Some Space
Make sure there's a private area arranged for you and your baby. Because you'll need it for feeding times, changing dresses, and giving him/her some downtime when they feel overwhelmed seeing so many faces in one day.

4. Get the Essentials Ready
From baby formulae, water, diapers, feeding bottles, change of clothes, and more – get the essentials ready. You don't want to be running around looking for basic stuff when it's a big day and you intend to celebrate.
5. Make Sure Nap Time Doesn't Coincide
You ideally want to host your naming ceremony at a time when your baby doesn't nap or sleep. That's an important step to follow.
6. Set a Budget
This might not sound like a fancy a tip but it's important. Don't splurge unless you have the money to. Set up a budget and stick to it no matter what. You want to have a ceremony that's fun, fits your bills, and doesn't stress anyone one regarding money matters.
Appealing Ideas to Celebrate Your Child's Naming Ceremony
Here are a few ideas to make sure your child's naming ceremony becomes special and full of happy memories:
1. Turn on Some Music
Music sets up the theme, mood, and environment for the occasion. In the olden days, you may have played some traditional tunes but parents are getting more modern and trendy as the years go by.Try R&B Soul music or if you like the classics, the Jazz and Blues work just as well.
2. Go Green
Since it's a special day, why not take the time to set up the venue and food in a way that it's eco-friendly? Use recyclable and biodegradable containers and plates, set up some potted plants, and try to see if the venue has a lawn or a green corner to relax on for the occasion. It's about making those positive vibes happen and going green is a surefire way to do just that.
3. Hire an Event Organizer
This may sound like non-traditional advice but hiring an event organizer will make the day go by so much smoother. Event organizers or party planners take care of setting up the venue, making sure the birthday hats, food, and other materials for the day are in place, and basically take care of your ceremony woes. Plus, unexpected things like delay in the food arriving, wrong guests, or unexpected situations may crop up. They're experts in dealing with those and give you new perspectives.
4. Snap Your Memories
Just like you'd hire a wedding photographer for the grand day, the same goes for your naming ceremony. Go through professional photographer portfolios and see what you like.Try to find photographers with expertise in naming ceremony photography niche because that way, you'd get unique shots and not a professional who has to adapt to the situation.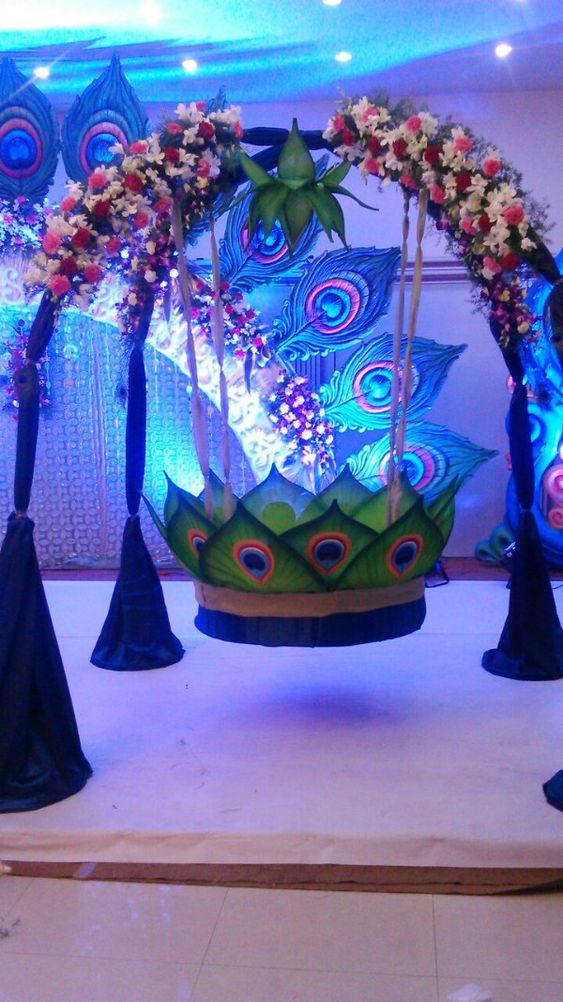 5. Make Food Awesome
You don't have to stick to a traditional Indian menu in your naming ceremony. With a halal menu, you have so many options. From tapioca pudding to fish and chips, biryanis, pizzas, and Arabian cuisine, you could make your menu the fusion variety. Again, an event organizer will give you better ideas on how to set up or prep the menu based on your budget.
6. Use Different Colored Balloons
We're a huge fan of balloons since they literally make parties (or any ceremony for that matter) colourful. Use strings and ribbons and make sure you have a wide variety for some fun. Put simply, they'll make your namkaran day extra gorgeous and more joyful.
7. Give Your Guests Flowers
The people you've invited have chalked out precious time to come and celebrate with you. Why not make them feel special by handing some flowers over whenever they walk in? They'll definitely remember this day for life that way.
8. Outfit Matters
Your baby is the centre of attention and the main reason behind celebrations. Make sure he feels comfortable by wearing loose and snug-fitting clothing. Go easy on the jewellery and try not to crown them with garlands since it irritates the hair.
If you want to go really crazy with the celebrations, think backdrop. The way the colour palette blend in and guide guests' eyes from the moment they enter to the music playing and the way elements are arranged – these are the little things that make the celebrations truly euphoric. Again, talk to an event organizer, discuss with your family and friends, and start getting ready.
Also Read:
How to Do Baby Naming (Naamkaran) Ceremony
Unique Hindi Baby Names for Boys and Girls with Meaning