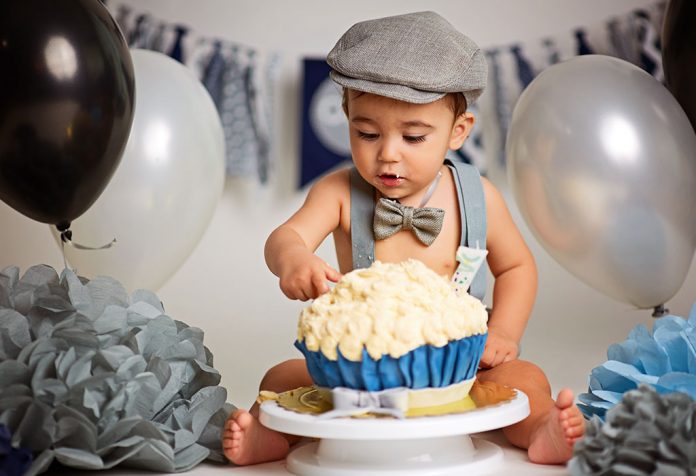 Everything is set, right from the guest list to the birthday outfit. But the one thing you can't decide for your little one's first birthday is cake – the most important part of a birthday party. But you're not alone. This is a predicament that most parents find themselves in, so here are a few ideas for your 1 year old's birthday cake.
20 Creative Ideas for Your Baby's First Birthday Cake
Kids can be choosy, and since it's your baby's first birthday, it's alright to spoil your little one. To get the perfect cake, you need to first figure out what fascinates your baby. Is it the brand new toy car you bought last week? Or maybe it is that new princess Elsa doll that your daughter simply refuses to part with. Identify what piques your child's interest, and opt for a cake that will excite him/her.
The choice and interests of girls and boys differ right from the beginning, so make sure you get a cake that appeals to them. Here are a few ideas for your baby's first birthday.
1st Birthday Cakes for Baby Boys
Your baby boy is turning one year, so it is only fair that you get him the best cake for his first birthday. So, here are a few first birthday cake designs for baby boys you can choose from:
1. A Super Hero Cake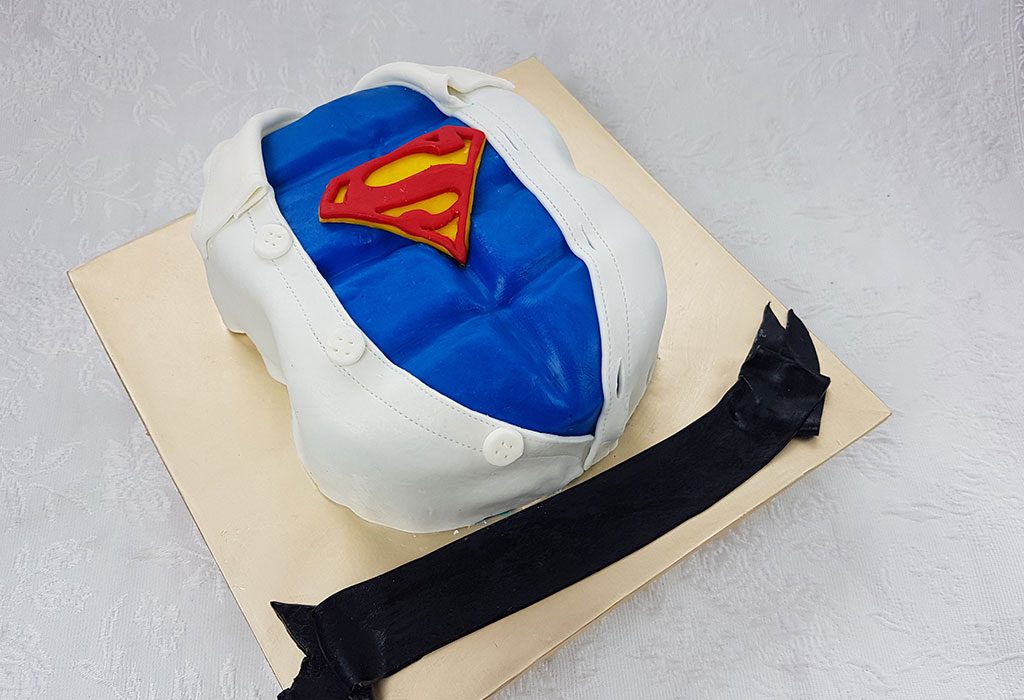 Your little son is a superhero and getting him a superhero-themed cake will make him excited. You can choose from several options, like Spider-Man, Batman, or Captain America. Get your son a cute little outfit of his favourite superhero, to make the experience even better.
2. A Car Cake

Boys love their cars. Toy cars must be a major part of your son's toy collection. You can get a cake made that is identical to one of the cars from his vast collection of toys. You can also get a huge cake, complete with a racing track and cars, like your son's hot wheels collection or you can customize a huge cake that looks like a big car. Either way, your son will go gaga over this cake.
3. A Mickey Mouse Cake
Watched your son drop whatever he's doing, every time the "Mickey Mouse Club House" theme song starts rolling? Then get him a Mickey Mouse Cake – he'll love it. Mickey is one cartoon character that almost every one loves, thanks to his adorable face and his cute voice. Get this cake and your baby will be overjoyed. If your son loves the other characters in this show, you can incorporate their figurines as well.
4. A Bike Cake

Like cars, boys love bikes too. We've all witnessed their obsession with superbikes, so why not get a cake that makes their inner adrenaline junkies happy? You could get a cake that has a print of your baby boy's favourite bike, or a tiered cake that has a toy bike on the top. Like car cakes, you can get a bike cake that has a racing track and several bike figurines as well.
5. A Favourite Fruit Cake

If your baby likes a certain fruit, then go ahead and make a cake that revolves around his favourite fruit. Kids love the taste of mangoes, blueberries, pineapples, and grapes. You can ask the bakers to drop chunks of fruit in it so that it adds to the nutrition value.
6. A Blue Cake

The colour blue is synonymous with boys, so you baby boy will like this cake. You could make this an ombre-frosted cake, that starts at the bottom with blue and gradually fades to a white cream frosting on top. If your child loves blueberry, then go ahead and choose this flavour for the cake. It looks fancy and tastes great!
7. A Moustache Cake

Baby boys can't wait to get old and imitate their fathers, and for most baby boys, a moustache is what signifies adulthood. Sure, your child is just turning one, but that's a huge milestone, so getting a moustache cake for your little big man is totally justified!
8. A Lion Cake

Lions are majestic creatures, and they are synonymous with strength and power. Also, if your son loves Madagascar movie, then a cake that has 'Alex' on it will make your son smile, because who doesn't love Alex? This can be a tiered cake with Alex sitting majestically or in his usual quirky manner.
9. A Mobile Phone Cake
Kids these days are tech savvy, their age doesn't matter. Boys love gadgets right from a young age. Customize a cake that is a replica of your smartphone. This will grab the interest of your baby boy, just like your phone does, and he'll love it.
10. A Suit and Tie Cake

Boys look smart and adorable when dressed in a suit and tie. Also, just like a moustache, a suit and tie is synonymous with "men". Go ahead and make an adorable 'suit-and-tie-themed' cake.
1st Birthday Cakes for Baby Girls
Baby girls are smart, so getting the right cake can be tricky. However, here are a few birthday cake designs for your girl's 1st birthday that she will simply love.
1. A Barbie Doll Cake

Most girls love Barbie dolls, so getting a Barbie doll cake for your little daughter will be a great idea. A three-tiered cake works best, with the layers working as the gown. A doll is placed at the top of the cake. You can ask for edible dolls as well. Pink is the most common colour that is chosen, but you can opt for purple, blue, or green, or any other colour that your daughter likes.
2. A Princess Cake

Your baby girl is a princess, so getting a princess cake is just right. This cake can have a tiara on top, and several layers that are decorated in a princess theme. Make sure this cake is purple, the colour of royalty.
3. A Minnie Mouse Cake

If baby boys love Mickey Mouse, then baby girls love Minnie Mouse. This cake can be red, pink, and black – the main colours representing Minnie Mouse. To make things more fun, the entire birthday party can have a 'Mickey Mouse Club House' theme! Make sure the boombox rolls the "Mickey Mouse Club House" track as well!
4. Favourite Animal Cake

Does your baby girl love kittens or dogs?  Ask her favourite animal and get a cake made of that shape. The most common animal-centred cakes are kittens, dogs, ponies, bears, and bunny rabbits. You can also go for bird-themed cake. Just make it colourful and your daughter will love it.
5. A Flower-themed Cake

Girls love flowers. A flower-themed cake will not just be delicious, but a feast to the eyes as well. These floral wonders can be made colourful with pretty little flowers.
6. A Gown Cake
Baby girls love princess in gowns. There's just something so pretty and graceful about long, elegantly decorated gowns that you are attracted to them. Get a cake that is an imitation of a gown. This will have to be a tiered cake that gives the impression of a long, flowy gown. Opt for pink, purple, or blue colours. Like a barbie cake, this one can have a makeshift doll on the top as well.
7. A Cinderella Cake
Cinderella cakes are loved by girls. This is one of the first fairytales that baby girls grow up listening to. A cake that has a Cinderella theme, complete with the glass slippers will be beautiful.
8. A Pink Cake

Most girls love pink, so a pink cake is a safe bet if you have no idea what to get your baby girl. You can bring in different shades of pink to make this cake look fancy.
9. A Strawberry Cake

Strawberries are liked by many girls, so why don't you for a strawberry cake for your daughter's first birthday? A strawberry-flavoured cake in strawberry shape will not only taste good but will also look beautiful. You could ask the bakers to leave a few chunks of the fruit in the cake as well. This increases the richness and adds nutrition value to the cake.
10. A Bow Cake

Don't we all love decking our baby girl with pretty little bows? So why not take a step further and make a cute cake filled with bows? Bows look cute and girly, so a bow cake for your daughter's first birthday is a splendid idea. It can be one huge cake that is the shape of a bow, or a cake that is filled with several tiny bows all over.
Choose from these ideas, and make your baby's first birthday a real blast! Your child will thank you later when he grows old. Click loads of pictures and cherish the memories forever.