15 Best Free Audiobooks For Kids To Listen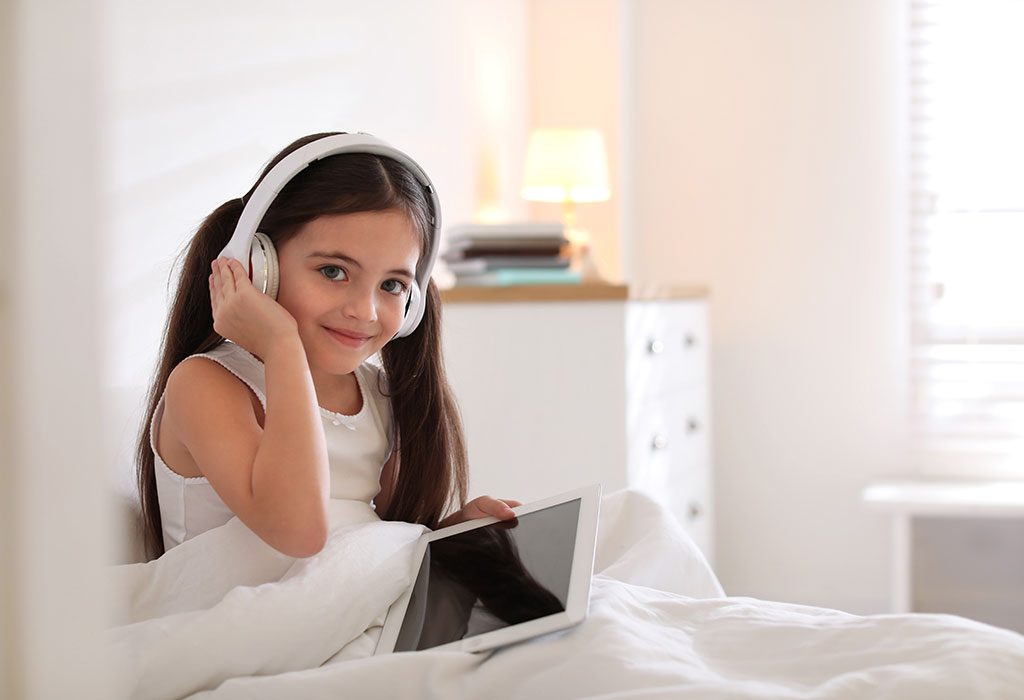 In this Article
Reading opens up doors for imagination and creativity for children, and there is no match for it. Like regular books, audiobooks also tell a story along with a unique experience, and it's quite interesting to people of all ages. Children's read-along audiobooks or audiobooks can be enjoyed anywhere and anytime, and here are our suggestions on some of the best audiobooks for kids!
Fabulous Free Audiobooks For Kids
Here are some free audiobooks for children that you can introduce to your kiddo:
1. Just So Stories: The Sing-Sing of Old Man Kangaroo
This is a classic selection of fascinating fables that have been loved and adored by generations.
By: Rudyard Kipling.
Why Your Kid Will Love It: This is a selection of witty and magical folk tales that have been inspired by different parts of the world. It gives a vivid and imaginative explanation of how animals came by!
2. Winnie-the-Pooh: A.A. Milne's Pooh Classics, Volume 1
This is one of the most adorable and light-hearted audiobooks for preschoolers.
By: A.A Milne.
Why Your Kid Will Love It: This rendition of the story gives vivid imagery of the enchanted world of an adorable bear and his friends in a way that it becomes difficult to imagine a world without them.
3. Timeless Tales of Beatrix Potter: Peter Rabbit and Friends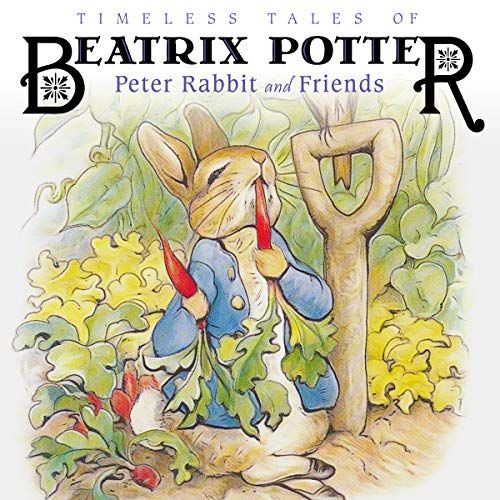 This free audiobook for kids is an assortment of 21 captivating tales that have been entertaining children for more than a century!
By: Beatrix Potter.
Why Your Kid Will Love It: The alluring portrayal of animals dressed as humans is something that kids find really entertaining. The stories sometimes are linked together, which makes them more amusing to young minds.
4. Story Party: The Complete Collection
This engaging audiobook comes with a curated collection of imaginative stories for kids.
By: Written by Joel Ben Izzy, Diane Ferlatte, Bill Gordh, Beatrice Bowles, Kirk Waller, Mark Binder, Busy Philipps, and Mike Phirman.
Why Your Kid Will Love It: This inspiring, educating, and entertaining narration is so gripping that kids wouldn't want it to end. The exciting twists and turns in the story keep the kids thrilled and excited!
5. The Wonderful Wizard Of Oz (The Oz Series #1)
This is a timeless tale of adventure that is also called "the first true American Tale".
By: L. Frank Baum.
Why Your Kid Will Love It: The story depicts the adventurous journey of Dorothy in unknown places, with loyal allies and terrifying enemies, which is something that will keep the young minds engrossed.
6. Stinky Winky Silly Willy Off-key Donkey
Set off on a fun and silly adventure ride with your kids with this adorable audiobook!
By: Donald Jacobsen.
Why Your Kid Will Love It: This entertaining audiobook describes entraining acts and antics of an adorable donkey that will pique the interest of young kids. The book is utterly delightful for young listeners and fairly easy to follow.
7. Lotus & Feather
This book is excellent for helping young minds respect nature and understand human emotions!
By: Donald Jacobsen.
Why Your Kid Will Love It: This is a heart-wrenching tale of a little girl who rescues a crane and how in return the crane saves the entire village. This inspiring story will touch the tender young hearts.
8. The Wheels on the Bus and Other Children's Songs
This entertaining and melody-filled audiobook thrills young minds!
By: Susan Boyce and Brian Jones.
Why Your Kid Will Love It: This book comes with a collection of all-time favourite songs that kids love to sing and dance to. The list includes, "I'm a little teapot", "Baa, Baa Black Sheep", "Row, Row, Row your boat" amongst many others.
9. The Cookie Girl
The fun stories told in a fun way is what makes this book an absolute delight for the kids!
By: David Novak.
Why Your Kid Will Love It: This fun story not only amuses young kids but also comes with a valuable lesson for kids. The enchanting narration makes the stories more memorable for the kids.
10. Stone Soup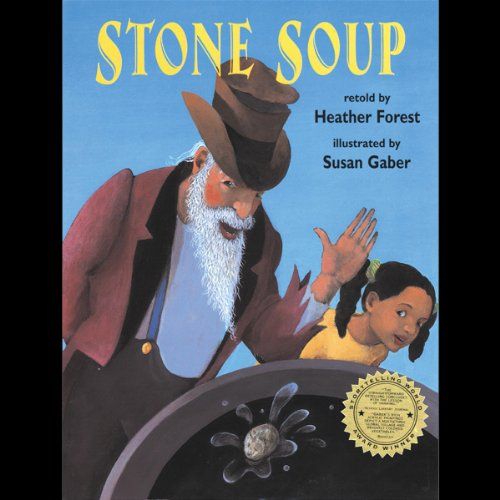 One of the most famous and widely popular tales, this story offers a valuable lesson to young listeners.
By: Heather Forest.
Why Your Kid Will Love It: This beautiful rendition of the widely popular story that tells the kids how even the smallest contribution can sometimes add to the huge collective impact, is something that kids will find intriguing!
11. The Ugly Duckling Collection
This children's classic comes with 10 spellbinding stories and tales.
By: Hans Christian Andersen.
Why Your Kid Will Love It: Apart from one of the most loved children's stories 'The Ugly Duckling', the book also comes with a classic collection of treasured stories that kids will enjoy listening to.
12. The Lion and the Mouse
The famous fable comes with a lesson of helping each other and keeping promises!
By: Carl Sommer.
Why Your Kid Will Love It: This delightful rendition of Aesop's famous fable of a fierce lion and a bitsy mouse is what kids will find utterly engaging and amusing.
13. Itsy-Bitsy Spider's Heroic Climb and Other Stories
The compelling narration with captivating sound effects makes this book relatable to kids.
By: David Novak.
Why Your Kid Will Love It: The narrator adds vivid imagery and twist to this epic tale and makes it more fun for the kids.
14. When Turtle Grew Feathers
The timeless tale of 'The Hare and The Tortoise' comes with interesting twists and turns in this story.
By: Tim Tingle
Why Your Kid Will Love It: This bedtime story audiobook comes with an expanded cast that includes a colony of ants, a wild turkey, and a cheering squad and they make the story all the more compelling for young listeners!
15. A Day in a Forested Wetland
This non-fiction rhythmic audiobook is an absolute delight to the listeners and is a part of 'A Day series' by Kevin Kurtz.
By: Kevin Kurtz.
Why Your Kid Will Love It: The narrator beautifully describes the aquatic habitat. The kids get to learn about some fascinating animals such as beetles, beavers, bobcats, birds, etc.
These are some of the many free audiobooks options available that you can download for your kids! What are you waiting for? Give them this enjoyable experience and see them turn into avid readers and audiobook listeners.
Also Read:
Funny Books for Children
Must-Read Mystery Books for Children
Historical Fiction Books for Children