10 Best Comedy Movies For Kids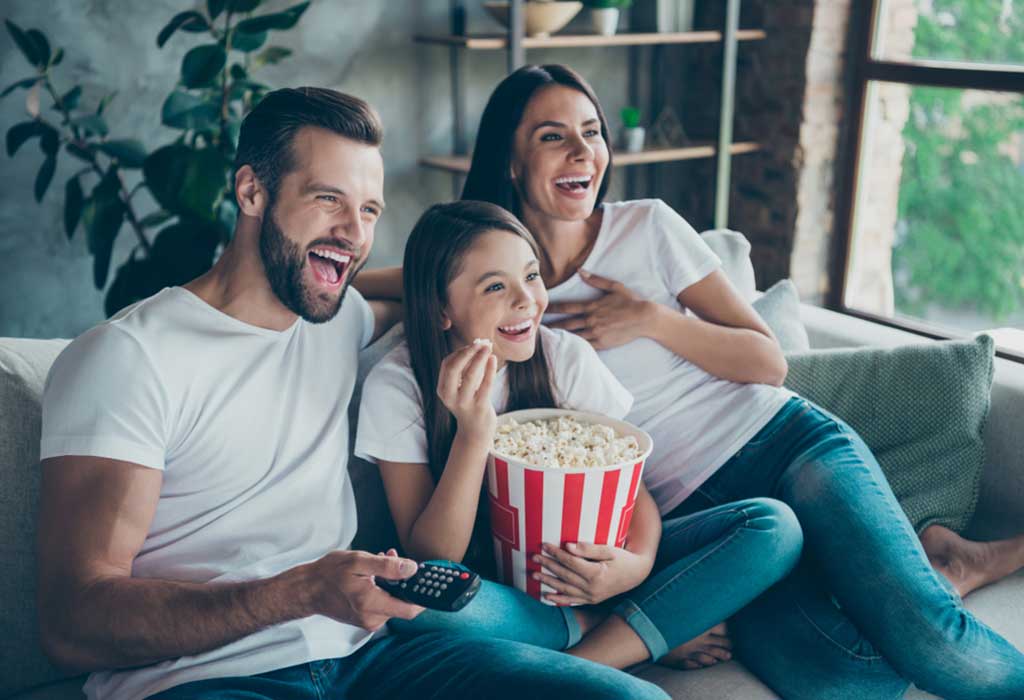 In this Article
A humorous movie intends to provide a moment of respite from the realities of life. Regardless of when they were made, good comedy movies for kids lighten up the mood and entertain everyone, no matter their age.
10 Comedy Movies For Children
In movies, literature, or life, everyone needs a good laugh now and again. Since the advent of cinema, comedy has been a pretty popular and successful genre. The most hilarious movies focus on funny characters or funny situations that make us laugh. Although it is often considered a diversion, comic scenes play a significant role in advancing the storyline's action. Comic movies have evolved from being squirted with a garden hose into several sub-genres of comedic styles. As technology was limited in the early days, comedy was silent, in slapstick style, typically focused on visual humour. People did silly things such as tripping, falling over, or embarrassing themselves to make people laugh. Sound breathed new life into the genre, adding an emotional depth like satire, comedy of manner, and political commentary to their original slapstick routines. Each sub-genre, like a parody or spoof movie, was born in their specific generations. From old-school classics that parents grew up watching to brand-new films with more updated storylines, family-friendly flicks have entertained for years together. From princess tales, classic musicals, and animated animals to superhero adventures and holiday favorites, these must-see funny movies for kids will appeal to the entire family. These family comedy movies are hugely entertaining, packed with positive messages and role models that make a significant impact on kids. Some are even cultural touchstones that give them an insight into both the real or imaginary worlds. Bringing on gales of laughter, these are the funniest kids' movies you'll find to entertain your child. Furthermore, they are artistically impressive and timeless enough to be considered for a family movie night in your comfy sofa with a huge bowl of popcorn.
1. Wonder Park
Release Date – 2019
Get ready for an extraordinary adventure with June, an incredibly creative and imaginative little girl, as she accidentally uncovers an abandoned amusement park. Full of amazing rides and operated by friendly animals, June and her furry friends will do whatever it takes to save the park from certain danger.
2. Boss Baby
Release Date – 2017
Filled with laughs, this movie is about familial love. Upon the arrival of his new brother, Tim's parents turn all their attention to the baby. However, the sibling rivalry must come to an end as Tim finds out about the baby's mission to thwart the puppies' diabolical plan – and the baby can do this only with Tim's help.
3. Minions
Release Date – 2015
The minions are yellow creatures that have been serving unsuccessful masters from the beginning of time. Eventually, they end up master-less until three minions with a plan set out on a trip to find the perfect overlord for their kind. Their humanlike behaviour and overwhelming cuteness make the minions popular movie characters.
4. Baby's Day Out
Release Date – 1994
This is a family movie about baby Bink being kidnapped by 3 klutzy criminals after his millionaire father's money. But soon, Bink escapes, and now the criminals have to search the city for him as he wanders around, thinking he has to reconstruct scenes from his favourite storybook in order to get home.
5. Kung Fu Panda 3
Release Date – 2016
Master Po, the great Dragon Warrior, now transformed from student to teacher, reunites with his long-lost father and enters a panda village to tutor clumsy, fun-loving pandas to become martial-art combatants. Now fully trained in Kung Fu, the panda kin fight the evil supernatural warrior Kai together.
6. Madagascar
Release Date-2005
Alex, the lion, is the main attraction at the Central Park Zoo in New York City. He and his friends lead a comfortable life with regular meals and an adorable audience. However, Marty, the zebra, wants to explore the wild and breaks out of the zoo along with some funny penguins. The others follow Marty, and they end up getting washed ashore on Madagascar.
7. Zootopia/ Zootroplis
Release Date-2016
Zootopia is a buddy-cop movie about a rabbit named Judy Hopps, who defied all odds to become a police officer. When she takes up a case to find missing animals, Judy has to work with Nick Wilde, a wily fox, to uncover a criminal conspiracy. The fox's witty remarks and the rabbit's hilarious adventures as a police officer will make you laugh out loud.
8. Cloudy With A Chance of Meatballs
Release Date – 2009
Swallow Falls has fallen into trouble, and the townspeople can afford only sardines to eat. Failed inventor Flint Lockwood tries to solve the crisis by making a machine that makes treats fall from the sky, leading to some hilarious situations. But soon, the machine spins out of control, leaving the town in deep, deep trouble. Flint's sidekick, the monkey, trying to talk like a human is an extra fun touch that will be sure to evoke laughter among the audience.
9. Wreck-It Ralph
Release Date – 2012
This hilarious movie tells the story of a video game villain who wants to be good. When Wreck-It-Ralph, the bad guy in his arcade game, wants to be seen as a hero, he sets out to win a medal to prove it. Soon, a deadly virus accidentally released by Ralph endangers the entire arcade.
10. The Grinch
Release Date – 2018
The Grinch, who has a heart two sizes too small, lives with his loyal dog Max on Mount Crumpet near Whoville. When his neighbours, the Whos, plan on celebrating Christmas in a bigger and brighter way, an annoyed Grinch plots to ruin it by posing as Santa Claus and stealing their Christmas away. Max tries to make Grinch see reason and save Christmas, with some rib-tickling situations that will have you bursting with laughter.
Considering the world and its uncertainties in the present times, laughter can be the best medicine. Even if it may be regarded as a pastime, comedy movies relieve stress, anxiousness, renews our energy, and develop a sense of humour. Fun movies to watch with kids appeal to all ages and create happy memories for your kids. Besides, watching movies is an easy and inexpensive recreational activity that you can do with your family. It helps to builds trust and family tradition besides a host of benefits for children. Movie time boosts self-confidence, promotes academic performance, stimulates creative thinking, lessens behavioural problems, sibling rivalry, and fosters social and communicational skills. They learn to cooperate and collaborate within the family and others. Watching films with friends helps to strengthen our relationship. So whether it is a holiday season or a weekend around the corner, choose the most delightful movie to reap all the goodness that a good comedy movie time has to offer.
Also Read:
Space Movies for Children
Animated Movies for Children
Educational Movies for Children