10 Interesting Horse Books For Kids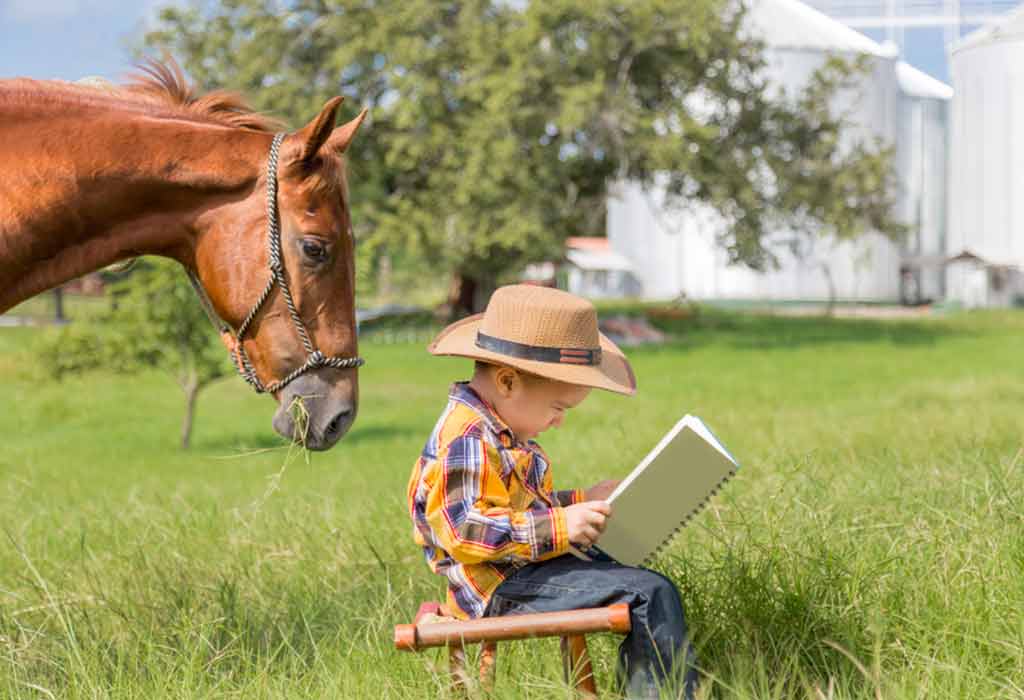 In this Article
Children go through several phases and frequently develop a fascination with something, be it an object, profession, or theme. The fascination could be animals, birds, toys, cars, Lego blocks, and a lot more. Animals are always a favourite with children. Dogs, cats, wild animals, farm animals are always on top of their list. Books are a great source to help them indulge in their fascination and fuel their liking. If your child loves horses, then children's books about horses could help them learn more about them.
Popular Horse Books For Children
If you need help in weeding and sorting out books about horses or children's horse storybooks, look no further. Below is a dedicated list of horse-related books that are suitable for toddlers, preschoolers, and adolescents.
1. Breyer Stablemate Series
A horse book series for kids that is a great read for even the youngest of readers.
Author – Various Authors
What Makes It Interesting:
The series of 10 fiction books features a different breed of horse in each of the books as a pivotal character. Each book comprises 30-35 pages with facts about the breed at the end. Perfect for those developing their reading skills, the series has short, inspiring stories filled with illustrations!
2. Noni The Pony
One of the best horse books for toddlers, it is a part of a trilogy that follows Noni's adventures. It can be introduced to toddlers as young as 1 year.
Author – Alison Lester
What Makes It Interesting
Purely delightful rhyming stories for toddlers to help develop core vocabulary. It has beautiful illustrations with three books in the series – Noni the Pony; Noni The Pony Goes to the Beach; Noni The Pony Rescues a Joey'.
3. The Wish Pony
A great children's book about ponies, it is a magical fairy tale that can transport your child into a magical world.
Author – Catherine Bateson
What Makes It Interesting:
A heartwarming story, it captures the joys, memories, and magic of childhood. The world of Ruby, the central character, changes when she is gifted a little glass horse that could be magical and turns her world upside down.
4. The Smallest Horse
The horse picture book is a fantastic bedtime read and a great way to engage kids.
Author – Lorie List
What Makes It Interesting:
Children will delight themselves in this heart-warming tale where they follow Trixie and her misadventures. The end of the story is brilliant, with kids realizing Trixie's special purpose on the ranch.
5. Read & Ride: Magical Horses
One of the best interactive horse books for preschoolers, Read & Ride: Magical Horses is a wonderful way to build hand-eye coordination in kids and develop speech and language.
Author – Liz Mytinger
What Makes It Interesting:
It comprises 4 shaped board books, each with a simple story. The board books are accompanied by play scenes for kids between 3 to 5 years. Each book has vibrant illustrations and fits into the larger book for storage.
6. The Everything Book of Horses and Ponies
A non-fiction guide for your child to learn about horses and ponies.
Author – D K Publishing
What Makes It Interesting
The book gives a concise introduction to terminology regarding horses and horse care. It also introduces kids to some interesting facts about horses. Filled with colourful pictures and representations of real-life horses and ponies, it is great for every kid who loves animals.
7. Dr. Seuss's Horse Museum
A perfect gift for kids who love art, the book is like visiting a museum.
Author – Written by Dr. Seuss and illustrated by Andrew Joyner.
What Makes It Interesting:
Inspired by Dr. Seuss's original sketches, the book is a non-fiction read that explores art and the representation of horses by different artists. The illustrator has created a whimsical look that is subtly Seussian and partly his own. With the appearance of Dr. Seuss's characters, the books are great to encourage critical thinking and are combined with a lot of "real-life" art.
8. Every Cowgirl Needs a Horse
A wonderful book for young kids, especially for girls who love horses.
Author – Rebecca Janni
What Makes It Interesting:
The story follows Nellie Sue, who lives life as a cowgirl and yearns for a horse. But when her first 'horse' turns out to be her first bicycle, it is up to Nellie Sue to makes her wishes come true. The story is a fun read for little kids.
9. The Horse and His Boy
Part of the famed 'The Chronicles of Narnia' series, this book for the slightly older kids and is about the journey of two kids as they travel to Narnia, led by Narnian horses that can speak!
Author – C.S.Lewis
What Makes It Interesting:
Two runaways and their talking horses join forces on a desperate journey. Although they are initially trying to escape their tough lives, they find themselves at the centre of a storm that will decide their fate.
10. Spud and Charlie
A perfect book for tweens and adolescents who love horses.
Author – Samantha Wheeler
What Makes It Interesting
Charli, the central character, has a deep love for horses and signs up for a riding camp where her dream of learning to ride horses is close to coming true. The story follows how Charli bonds with the horse assigned to her and tackles a life-threatening disaster.
If you are a book lover and want to collect books for your child, pick any of these books. You could buy them as your child grows. Some are treasured favourites and more than a century old, while others are modern stories. Turn your bookshelf into the beauty, adventure, and majesty of horses.
Also Read:
Books for Children who Love Train
Best Funny Books for Children
Amazing Historical Books for Children