10 Creative Bead Crafts for Kids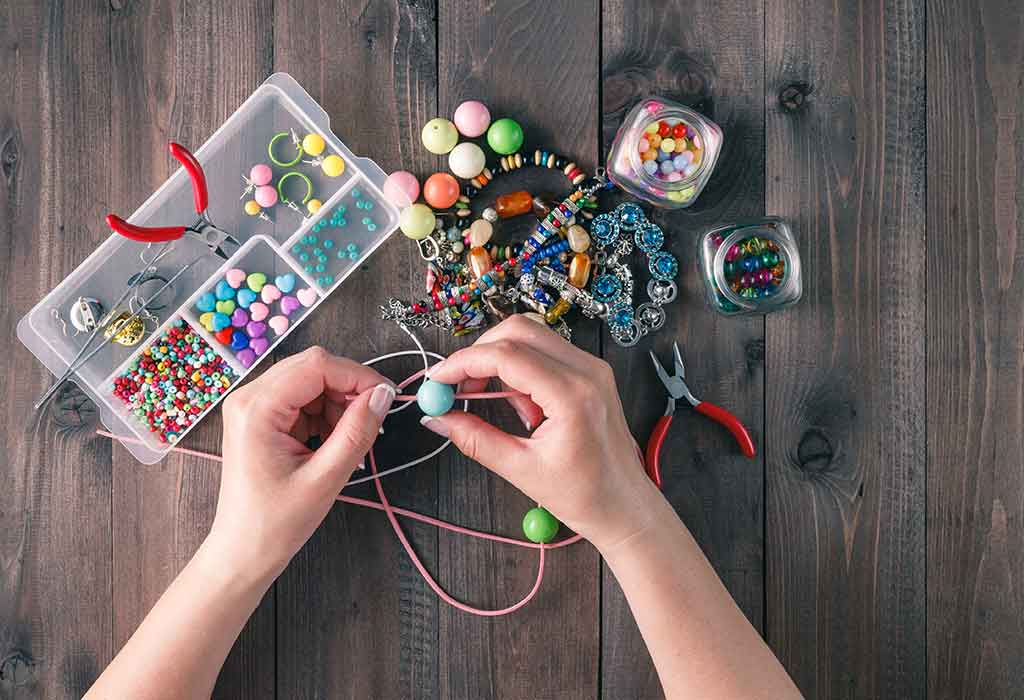 In this Article
Developing the minds of children need a creative outlet. Fun bead crafts for preschoolers offer a fun learning experience that promotes imaginative thinking, helps them work as a team, and feels a sense of achievement after completing a project.
Easy Craft With Beads for Kids
A bead is a tiny and decorative object that comes in various shapes and sizes that usually has a tiny hole for threading or stringing. Making things through art and craft with beads is known as beadwork that involves weaving them together with specialized thread, strings, soft, flexible wire, or sticking them to surfaces like clay or fabric to form a definitive pattern. Natural beads are made from organic and inorganic origin, while in modern manufacturing, the most common bead materials are made from wood, stone, glass, metal, and plastic. Beads are considered to have been one of the earliest forms of trade among the human race that led to language development. The oldest beads are found in Blombos Cave, South Africa, about 72,000 years old. They also have symbolic meaning used as currency, gaming tools, anti-tension devices, and for prayer or devotional purposes. Thus, colorful and cute in their appeal, beads can be used in a versatile way. They are normally inexpensive and easy to find in our local craft supply stores. From beautiful decorative items for your garden or home decor, tableware accessories, jewelry, curtains, and tiebacks, beads craft ideas can spruce up the mundane object to something truly magnificent. Even leftover beads at the end of a project are worth holding on to for usage in the future. So, whether you are a DIY enthusiast, parent, or teacher, these amazingly creative beads craft ideas given below are sure to excite you and your kids to make the most of your past time and feel proud about.
1. Fish Pony Bead Craft
These super-simple pony bead craft ideas will keep your kids busy through the summer while calming them down for some quite creative activities. You can even coordinate the craft, snack, and lesson of loaves and the fishes from the Bible (John 6:1-6:13) around a central theme to orchestrate this craft.
Supplies
Fuzzy sticks
Pony beads – 24
Instructions
Place the pony beads on the fuzzy sticks.
Fold the stick in half to make the shape of a fish and twist its ends together right above the beads.
Bend the ends well to secure the fishtail.
2. Hungry Caterpillar Bead Craft
Whether your child has a pet caterpillar or not, doing this craft activity is a great way to teach them about the lifecycle of a butterfly. It also involves threading that be good for hand dexterity as they get creative with their choice of bead colors. As it doesn't need the use of glue, clearing up at the end also is easy and quick.
Supplies
Instructions
Fold the last 1/2 inch of the pipe cleaner over a couple of times to prevent the beads from slipping off.
Place beads in alternate colors and push them to the other end until you have about 2 inches left.
Create two antennas with the remaining length of pipe cleaner by folding it into an M shape and tucking it back into the last bead.
Draw the eyes and mouth with a pen or pencil.
Cut a scrap of green paper into a leaf shape. Fold it in half and cut semi-circles along the length of the fold.
Open the leaf out and thread the caterpillar through the holes. Bend it wherever required so that it can be positioned perfectly.
3. Spiral Suncatcher Bead Craft
Whether it is raining, sunny, cold, or absolutely no sun at all, these fascinating sun-catchers can be made anytime and preserved to cheer your child up. They usually bounce around to catch the sunlight when hung up against the window.
Supplies
Head pin – 1
Pliers
Memory wire
Beads
Large glass or faceted bead
Instructions
Secure the faceted bead by threading it onto the headpin.
Form a loop at one end of the memory wire using the pliers
Insert the thread through the large bead and close the loop.
Thread up the rest of the beads onto the memory wire
Tie a loop at the end
Thread string or wire through the end loop to fasten it well and hang it up.
4. Bookmark Bead Craft
If your child is a bookworm or just wants a handmade bookmark for their special book, this project will help make one of your own. It allows them to get quick access to the page they were reading instead of wasting time browsing to it or searching for it.
Supplies
Two main pieces: either beads or charms.
Beading chord
Small or crimping beads of different shapes and textures
Scissors
Instructions
Select the type of books your child would be reading and measure the beading chord based on that size.
Cut it as per that length after leaving 4-6 inches of extra cord on each end.
Add the beads and keep space to knot a second time in the end.
Double knot one end of the cord and start to feed as many beads as you like. (You can also put large beads on the end and the smaller ones all the way down the length of the cord.)
Knot the end of the cords from both ends.
Use your fingers to pinch the spot where you want the first knot to be and tie it as per that position (About 4 inches from the end of the cord). This will secure your beads from falling down the length of the cord.
5. Personalized Key Chain Craft
Putting a keychain on your kid's zipper in case someone had an identical backpack in his class offers an easy solution to things getting lost. Beautiful, practical keyrings with a name or word of your choice can be used as bag charms to jazz up their look.
Supplies
Assorted beads
Ribbon, string, or cording
Alphabet beads
Keychain rings
Instructions
Cut a piece of string twice its length. Thread it through the keyring and fold it over so that you have two strings of equal length.
Add beads of your choice through both strings.
Tie a knot at the end.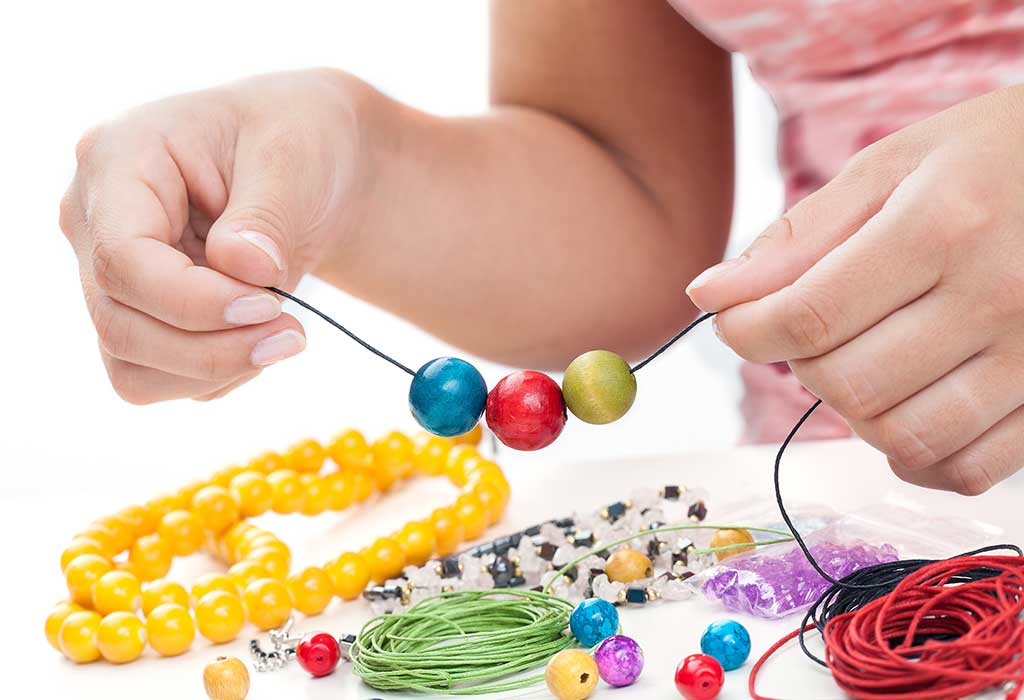 6. Melted Beads Accessories Craft
Little girls love the idea of making their own melted bead accessories and handmade jewelry. They also make the cutest party favors and handmade gifts that their friends would show off with pride.
Supplies
Parchment paper
Colour pony beads
Toaster oven
Epoxy glue
Rings / tick-tack clips
Instructions
Preheat the toaster oven to 425 degrees F.
Place baking parchment paper on top of a cookie sheet.
Make the shapes by placing the beads on the paper.
You can mix the colors and play with different combinations.
The flowers will take ten minutes to melt, while earrings will take between eight to ten minutes. (beads can be melted on the gas grill too).
After they have cooled down, pull them out and stick them onto the rings or tick-tack clips for decoration.
7. Plastic Bead Bowl Craft
Easy and fun to make, this cheerful bowl is sure to be used as a decorative item for your child's playroom or for keeping their art supplies, small trinkets, and treasures.
Supplies
Plastic hole beads
Oven safe bowls
Cooking spray
Instructions
Pour oil generously to coat the bowl. Rub the oil with a napkin or spray with a cooking spray to cover all its sides (It helps the beads stick to the bowl and also release the finished bowl).
Sprinkle the beads into the bowl (You can put all of the beads standing up or all on their sides. Make sure to gather the beads together so that there are no open spaces).
Preheat oven to 200 degrees. Put the bowl inside.
Heat until the beads melt (There's no fixed time).
Check often as each bowl will be different.
Once the beads get heated up and melt, the entire bowl will follow quickly.
Take the bowl out of the oven and let it cool.
Once cooled, dip it into a large bowl of water or sink.
Your colorful bowl will slip right out.
Rinse the oil off with soap water.
8. Turtle Bead Craft
Around the age of two, children start to show interest in learning alphabets that are foundational for reading and writing. While some kids learn letters very quickly, others need more repetition and time. You can teach the alphabet T to your little one is through this craft.
Supplies
A small jar cover / plastic bottle cap
Green paint and brushes
Large round green wooden bead for the head – 1
School glue/ industrial strength glue such as E-6000
Medium green wooden beads (or paint any wood bead green) – 4
Googly eyes – 2
Green sequins to decorate the shell.
Instructions
Paint green color on the outside of the jar cover.
Stick two googly eyes onto the large bead.
Put the five beads into place with glue for the head and feet.
Add the glitter and sequins for decoration.
Allow the glue to dry completely.
Stick a strip of magnet to the back and stick it right onto the fridge.
9. Cardboard Tube Beaded Butterfly Craft
Most kids like to chase butterflies in the school ground, yard, or flower garden. Their colorful designs inspire many craft ideas that can get kids to appreciate nature and the world around them. In fact, preschoolers can be taught about recycling by doing this particular craft activity.
Supplies
Pipe cleaner (black)
Hot glue gun
Craft paint
Recycled cardboard tube (1 makes 4 butterflies)
Black pipe cleaner
Colorful pony beads
Scissors
Instructions
First flatten the cardboard tube and cut it in half.
Paint cardboard tube on both sides and allow it to dry.
Curve a pipe cleaner in half and thread on six pony beads. Trim the end of the pipe cleaner for antennae.
Cut cardboard tubes into 1/2″ strips.
Bend the strips about two-thirds length downwards to create a small and large loop. Lay tubes next to each other and glue them together.
Stick the beaded body to the top of the cardboard tube wings.
10. Snow White Crown Bead Craft
This fancy princess craft recreates Snow White's crown from the movie. Just follow the simple instructions and achieve the perfect look for the next birthday or any fancy dress party.
Supplies
Silver pipe cleaners for one crown – 5
Clear pony beads per crown – 25-30 (Including beads with a large hole for threading)
Scissors
Instructions
Twist two silver pipe cleaners together for the base of the crown. Bend the twisted pipe cleaners into a circle shape.
Cut the remaining 3 pipe cleaners—one into half, one in thirds, and one in a 2/3 length.
Line them up to measure their length.
Fold each of the pieces, that were cut, in half and twist them together to make them a little sturdier. Then curve them around the base of the crown for a secure fit.
Add the clear beads to the crown. The large-holed pony beads can be easily threaded onto a doubled-up pipe cleaner.
Craft activities can get messy, especially with toddlers doing them. Nevertheless, they are brilliant for their physical and mental well-being. In fact, you'll be surprised to see how quickly they assimilate and implement these fundamental ideas into practice in daily life as well. From enhancing fine motor skills, bilateral coordination, identifying shapes, colors, and textures, children learn to communicate, listen attentively, focus, play, and experiment in a fun and relaxed environment during the craft project. Moreover, crafting can bring the class or entire family together, which helps to create treasured memories of childhood. If you are looking for a fun and quick cure for boredom, investing in a container of beads to hold all of your supplies is a good idea. Just remember that kids' beading activities need parental supervision as beads can cause choking hazards for children under six years.
Also Read:
Clothespin Crafts for Children
Toilet Paper Roll Crafts for Children
Egg Carton Craft Ideas for Children