20 Father's Day Games & Activities that Kids & Dad's will Enjoy!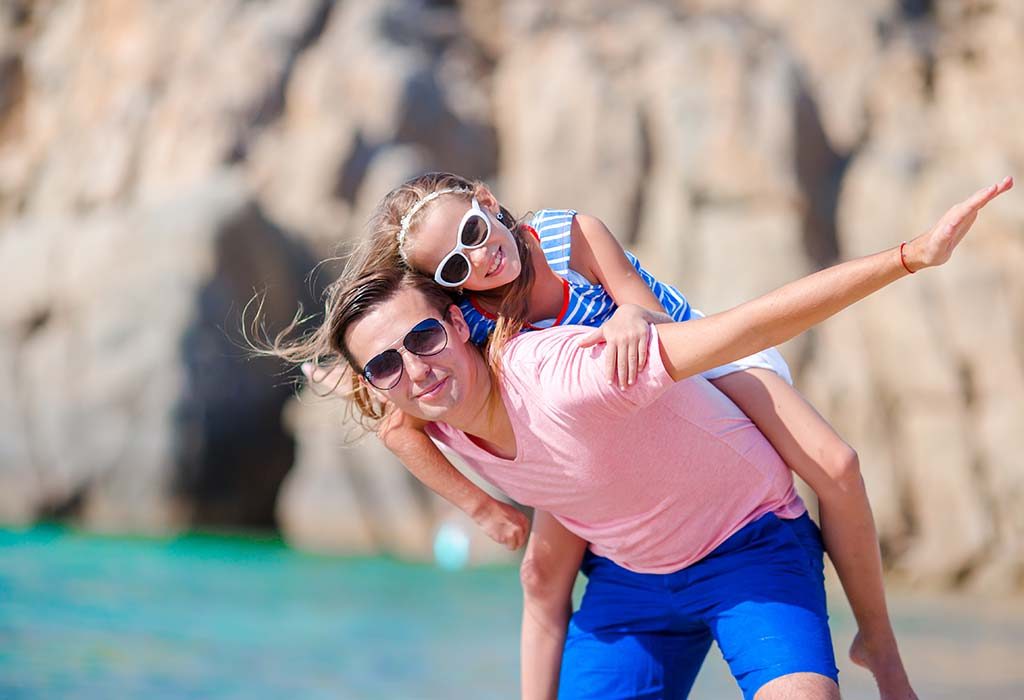 Father's Day is an important occasion for fathers not just because it is a special day for them, but because it is also a day they get to spend more time with their kids. And, if you can plan a few Father's Day activities and games, you would be spending an enjoyable, not to forget, memorable time with your father. This Father's Day, don't just wish your old man and hand him a gift that you spent hours making, but also spend the entire day with him and make it a fun day with these Father's Day activities and games.
Father's Day Activities Ideas for Children
Here are some ideas for activities that you can plan for Father's Day. These activities are sure to bring the entire family together. What else does a father ask for?
Father's Day Indoor Activities Ideas for Children
1. Cook for Your Father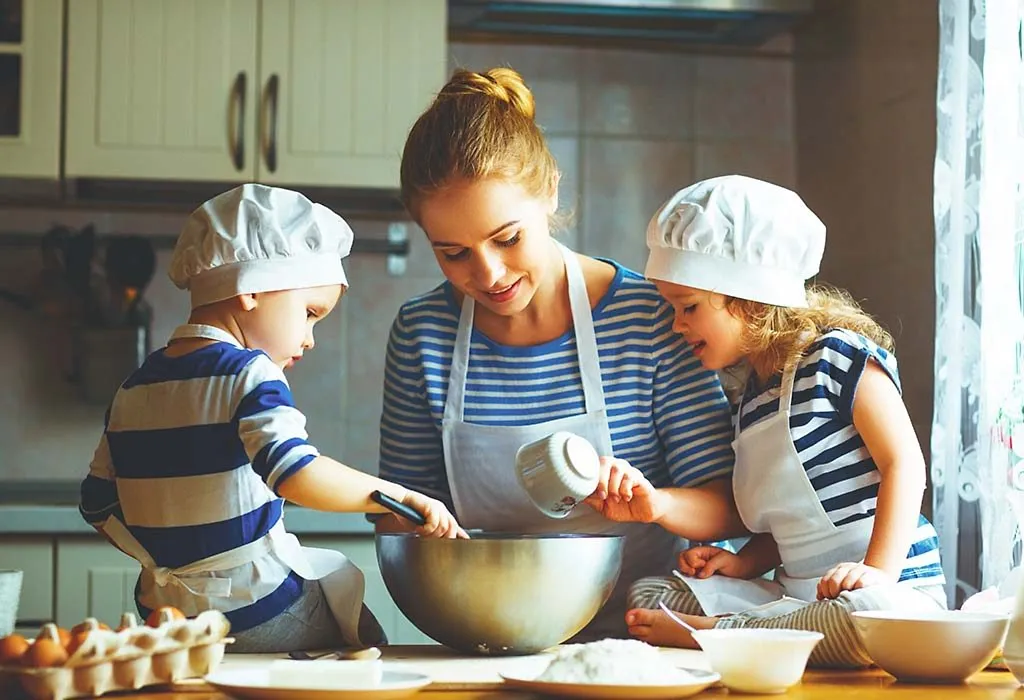 Working fathers rarely get the time to cook even when they like doing it. On Father's Day, either work together to bake a cake for everyone, or cook your dad's favourite dish for lunch. After all, Father's Day is a time for celebration, and there's no better way than to celebrate it with your dad's favourite dish. Prepare in advance by buying all the necessary ingredients with your mom or elder sibling. And, on the day, surprise him by arranging everything and asking him to teach you how to cook. He will have a wonderful time reconnecting with his favourite activity and seeing you cook his favourite dish will be quite a delight!
2. Family Time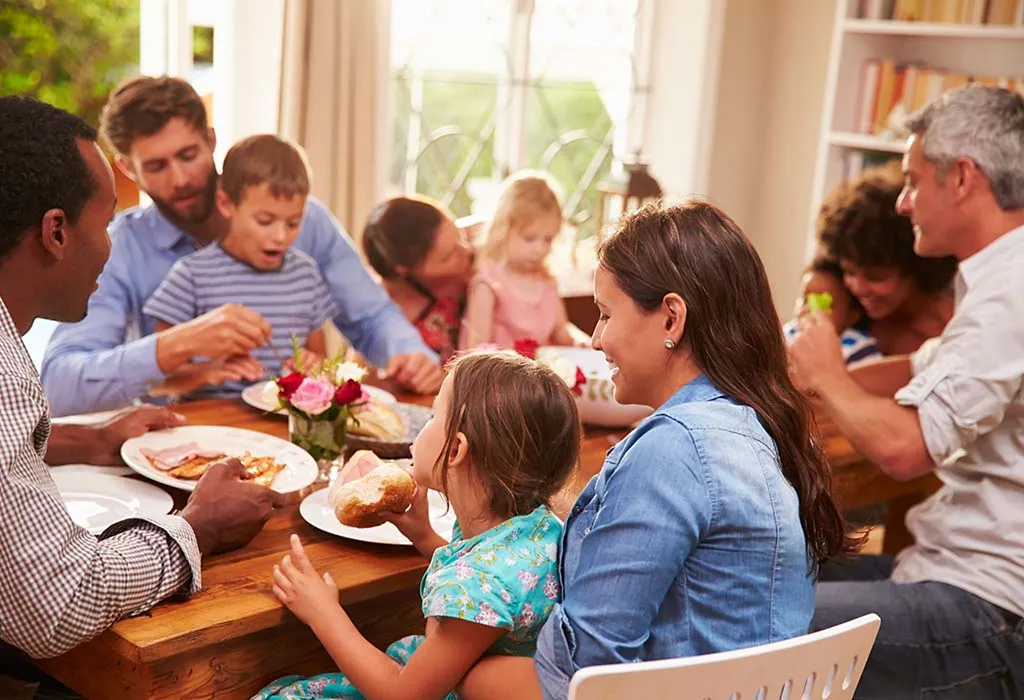 In today's times, rarely do all family members come together and spend time with each other. Let's make Father's Day one of those occasions then. You have to make this a large get-together that is not simply restricted to family. Invite your dad's old friends and colleagues too, and the family members that your dad is close with. Organise a few activities and games as well that everyone can enjoy together. Try and get food prepared in advance, so you are free to enjoy the event when the guests start coming over. Or make it an open-air barbecue and have a delicious palate ready to serve.
3. Game Night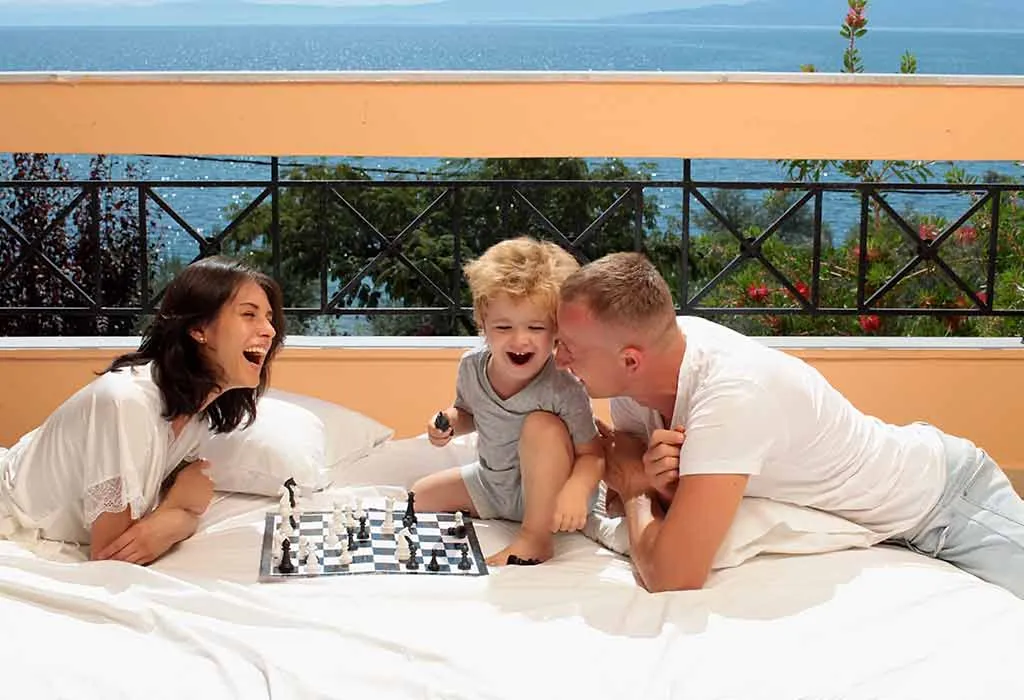 Now, no father can say no to this indoor Father's Day activity. After a scrumptious Father's Day dinner, invite your dad for a surprise game night. To prepare for this, get some indoor games your father enjoyed playing and arrange for material for other games, such as a whiteboard for Pictionary, some space for dumb charades, a table for a board game, etc. Start with his favourite game and enjoy your time together!
4. A Musical Evening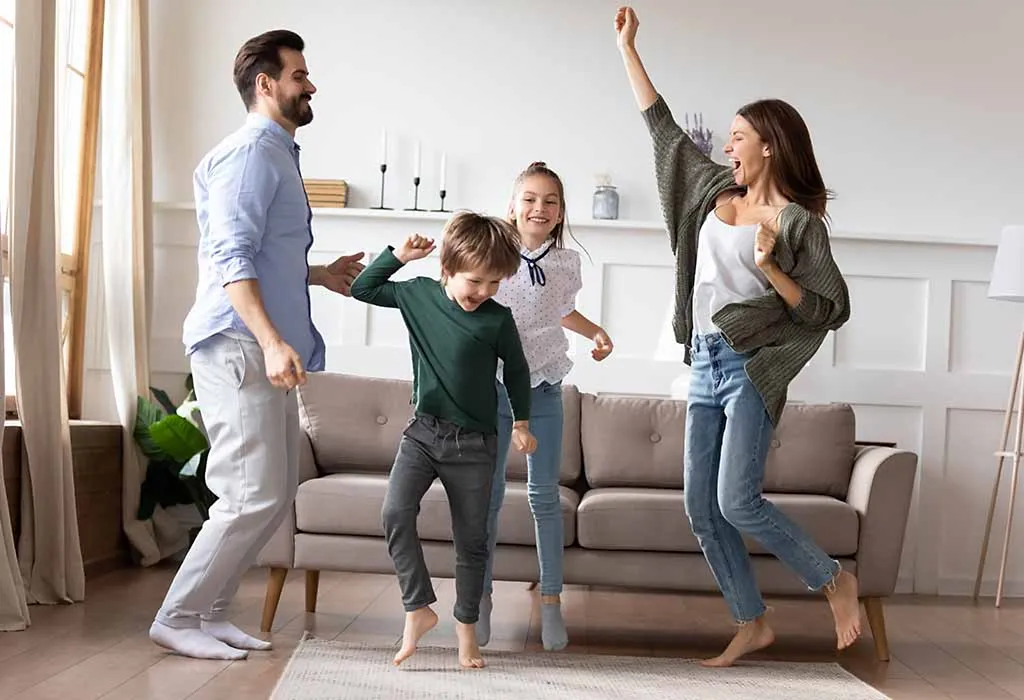 If your dad is a music buff, but his tight schedule hardly gives him some time to lounge in the house listening to his favourite music, this Father's Day activity is sure to leave him spellbound. Create a playlist of all your father's favourite songs. After a delicious brunch, play the music and invite him to the living area to relax and listen to his favourite songs together. Remember, doing this activity together is important even if you prefer different genres of music. Let him sway or head-bang; what matters is that he enjoys his day.
5. A Colourful Day!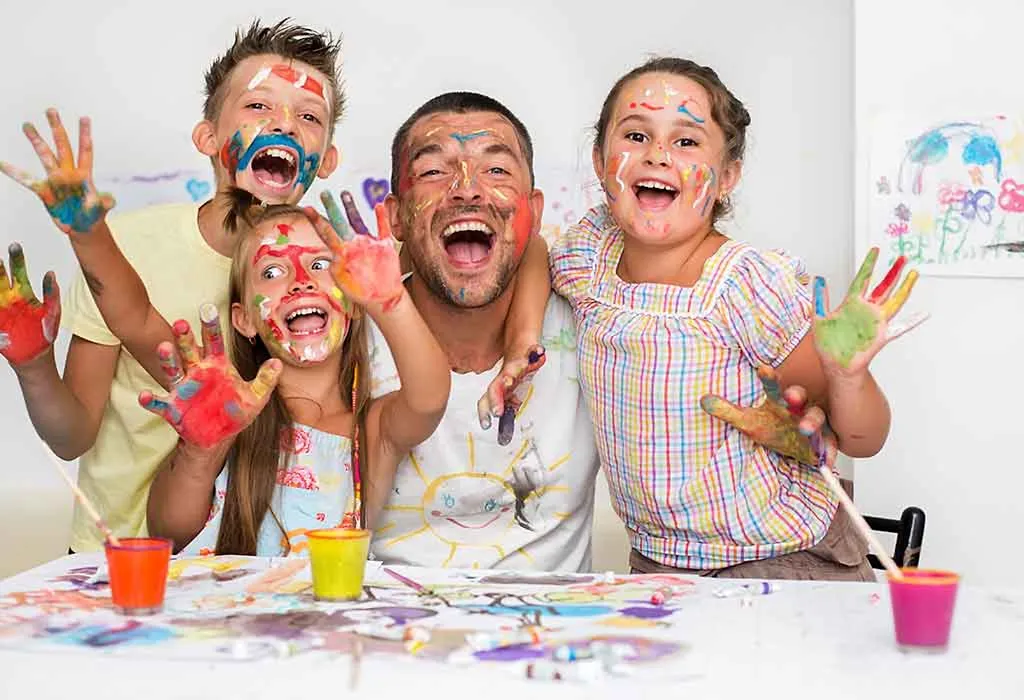 This is a fantastic Father's Day activity for fathers who enjoy painting. Get all your art supplies out – colours, paintbrushes, canvas sheets or drawing sheets, stationery, etc. and ask your dad to teach you one of his paintings that you have admired for the longest time. If your father is into it, he could also teach you how to sketch or draw cartoons. If he doesn't; freestyle! Finger painting or palm-print painting can be fun as well as a stress-busting activity. It doesn't have to be perfect; all that matters is that the entire family is having fun!
6. Story Reading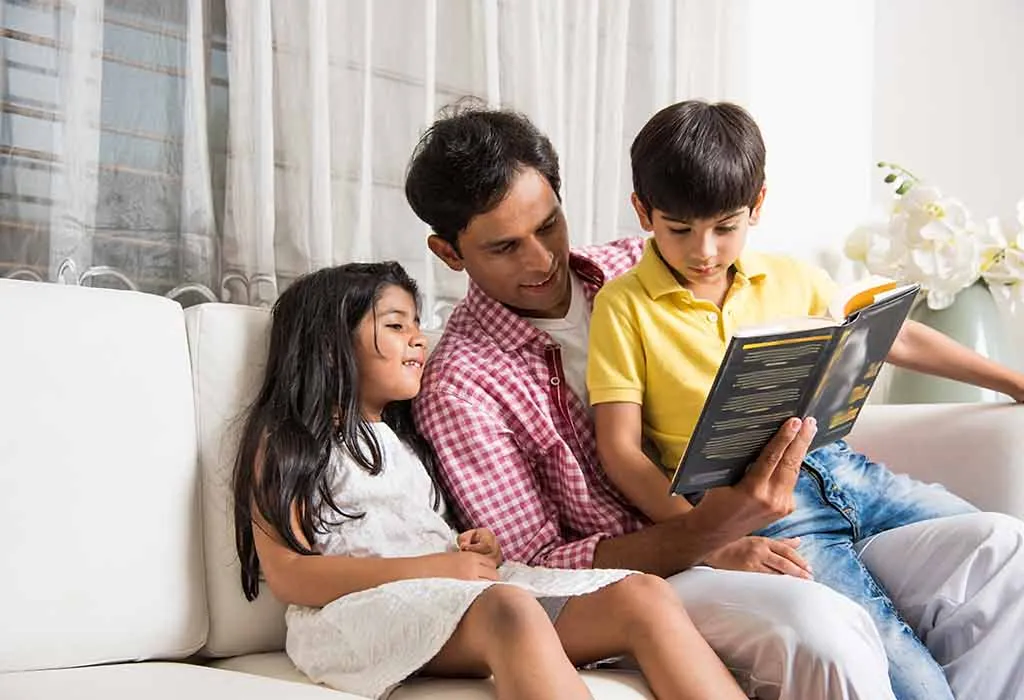 This activity is special for the kids and dads alike. Make a Dad pick out his favourite storybook and take turns reading it aloud with the kids. This is a great activity and opportunity for a kid to spend some memorable time with their father. Both father and the kid will definitely adore this time. It also makes for a perfect pre-bedtime activity after a day of Father's Day fun.
Father's Day Outdoor Activities Ideas for Children
1. Go Camping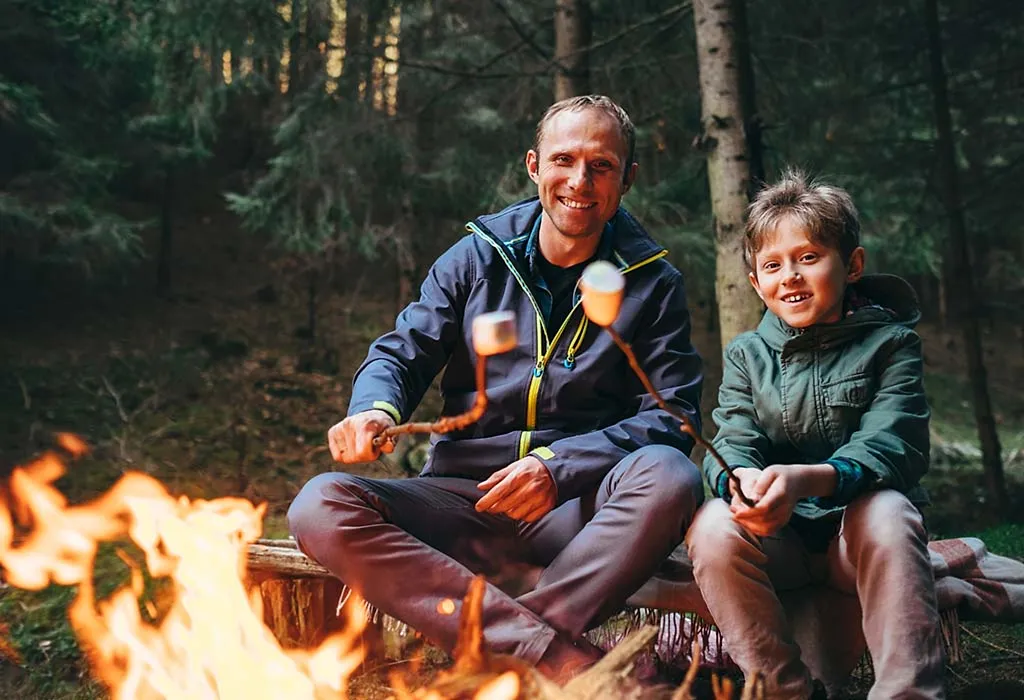 Going out of the city and camping overnight by the lake can be quite fun for the entire family. Pick a nice spot for camping. Try to choose a location that's comparatively closer so that you don't spend a lot of time travelling to get there. It could be a nearby fort, a lake, a hill, etc. If you don't have tents, you can easily rent them for a night or two. Pack all the necessary items that you'll need, reach the place and camp out. Put out the chairs and create a small campfire as well. Enjoy your food, sing songs, and ask your father to tell his camping stories to you. This rejuvenating experience will be a great Father's Day gift for your dad!
2. Fly Kites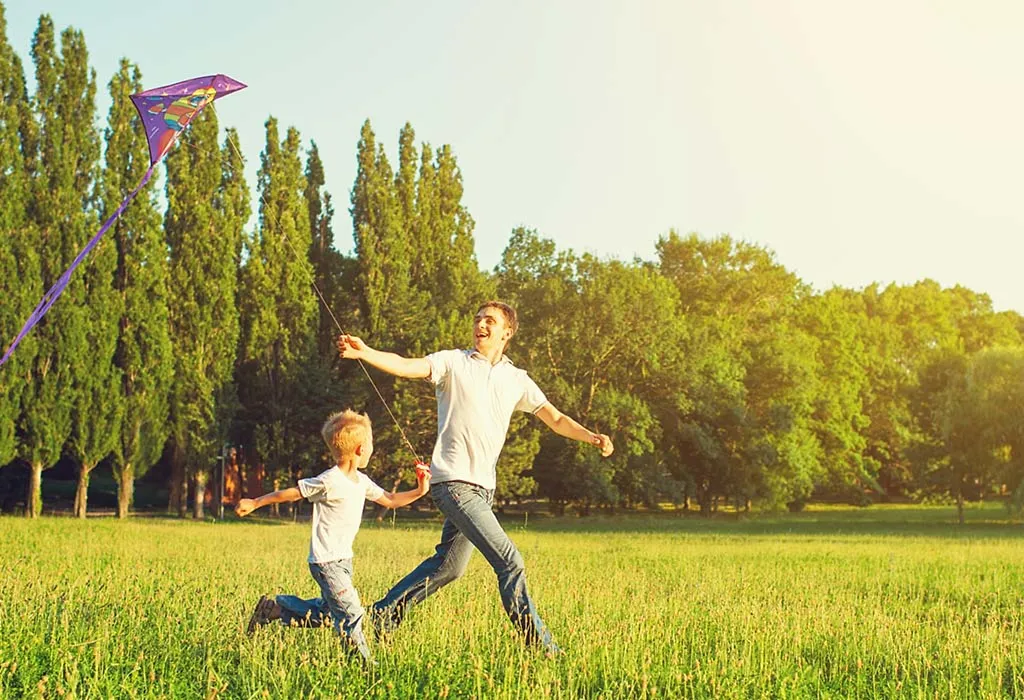 Kite-flying is something many dads have enjoyed when they were kids. Here is a chance to make the day memorable for your father. Purchase a kite from a nearby store and get going for a fun time with your dad. Just ensure you step out when the skies are clear. Have a backup plan if it is going to be a rainy day. Pick a building that is tall enough and ask permission to use their terrace. Or, head out to an open area, such as a park. Roll up the reel properly and tie it well to the kite. Let your dad fly the kite and teach you the tricks his father taught him when he was a kid.
3. A Lesson From Dad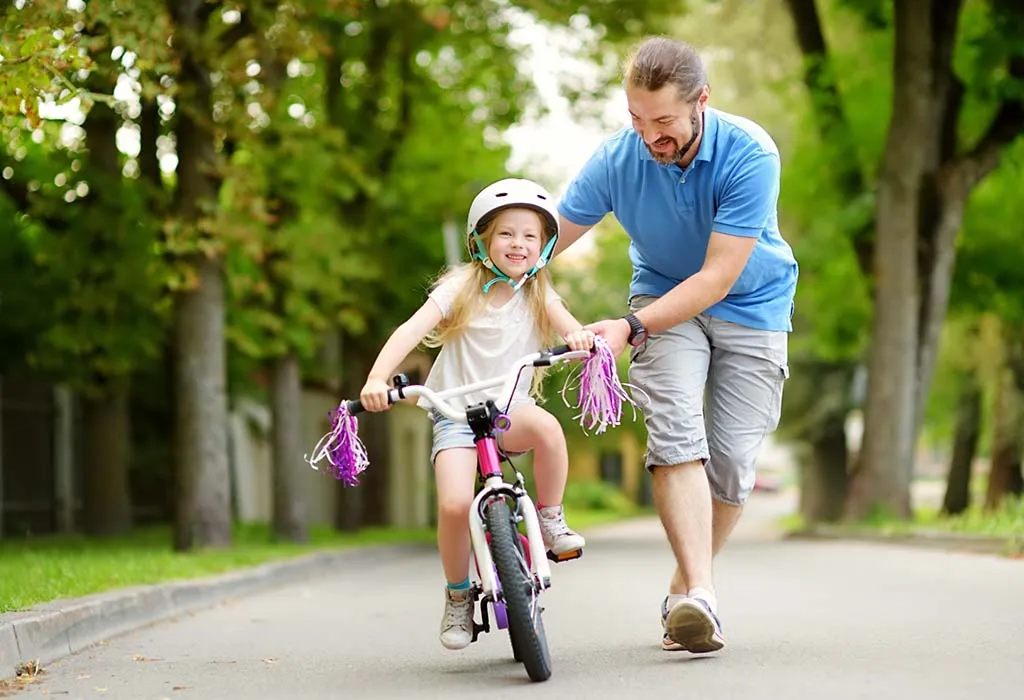 Most fathers spend their time at work and don't have enough time to interact or teach their kids what they've learnt. Give them the opportunity to enjoy that again with this Father's Day activity. Figure out what it is that your father is really good at, and tell him you'd like to learn it as well. It could be an activity that he hasn't had time to do in a long time, such as servicing the car, gardening, cycling, fishing, playing golf, or building something from scratch. Gather all the tools and accessories that might be needed for it and let your dad know you're ready. He will most likely jump on both feet and teach you all that there is to it.
4. A Day Full of Adventure
If your father is an adventure buff, surprise him this Father's Day with a day full of thrilling adventure. This Father's Day activity will need a lot of planning and some help from a grownup. Enrol the family for an entire day at an adventure club, where you can enjoy rock climbing, zip-lining, kayaking, dirt biking, etc. If the club seems a little over budget, you can plan a trek through the nearest trekking route. Pack the essentials and get going for a thrilling time together!
5. Dad Olympics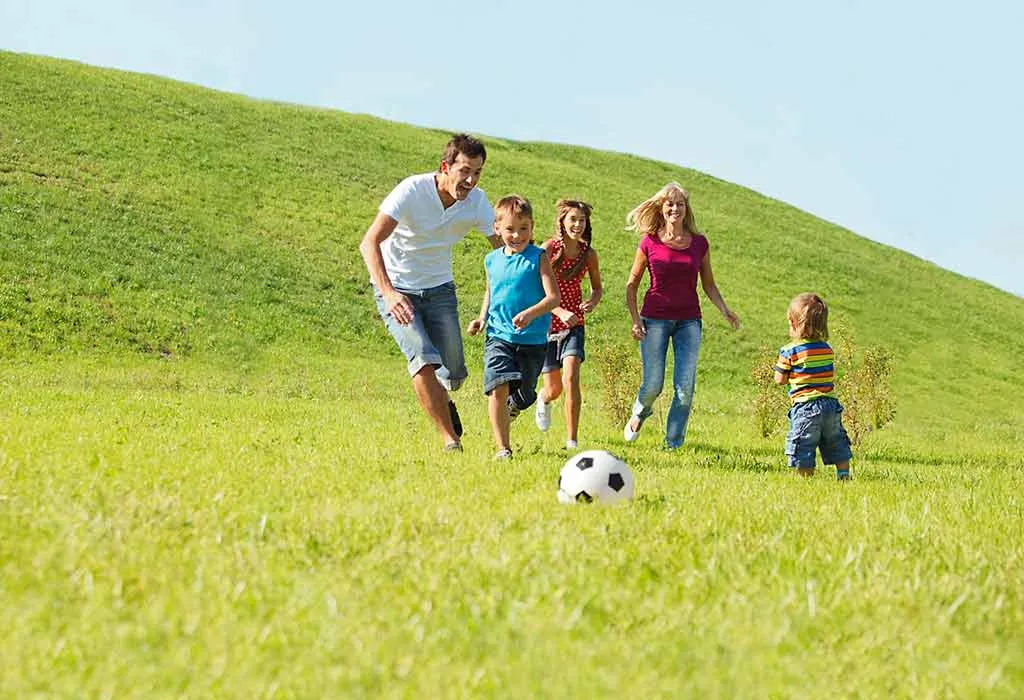 If your dad is the one who is into sports and likes all kinds of competition, set up a Dad Olympics and surprise your dad this Father's Day. Dad and the kids can compete in fun games such as frisbee throwing, swimming, badminton, three-legged races and more. Playing while wearing matching shirts for dad and kids will make for a great photo option too!
Father's Day Games for Children
Games can make any event fun. Try these ideas to add more fun to the father-child duo.
Father's Day Indoor Games
1. Who Can Eat the Most Contest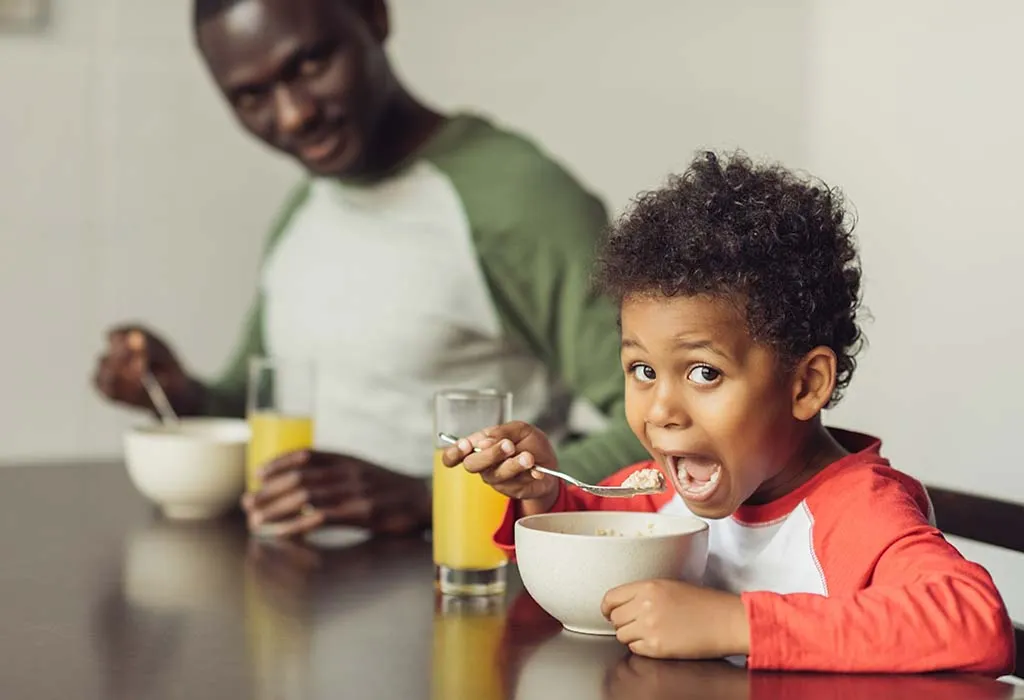 Fathers spend all their time taking care of their health and keeping things in check. Let them go all out one day in a competitive eating match. Choose a food item that both you and your dad enjoy eating. It could be something sweet like a cake or Gulab Jamuns, or something savoury, like a pizza or dal makhani. Elect your mom or one of your siblings to be an impartial judge. Set a timer and check who can eat the most pieces/portion in the shortest time. Don't be afraid to make a mess of things. Let your inner animal loose and gorge down all of it.
2. The Shaving Master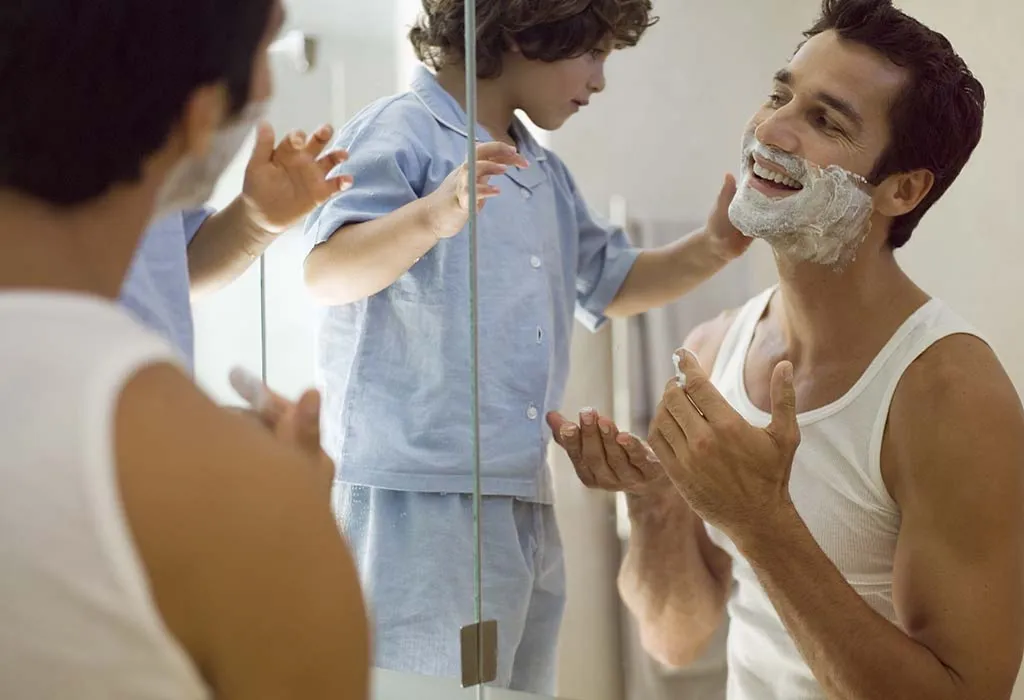 Nearly all dads spend a better part of their mornings getting a good shave. But are they really that quick with it? Put it to test with this Father's Day game. For the game, remove the blades from the razors or go for whipped cream and ice cream sticks instead. Let your dad put the cream on him and shave. Time him and see how long it takes. Next, you get to apply the cream on his face. Then, use a stick to remove the cream. Time this as well to know who wins.
3. Mixed Jigsaw Puzzle With Dad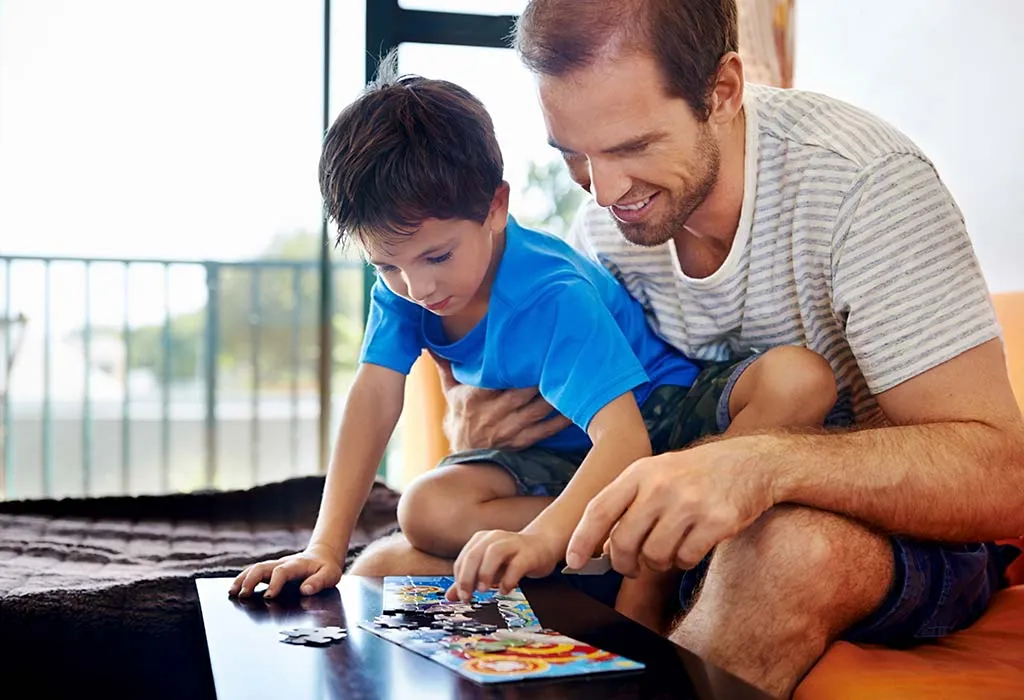 Puzzles are something we have all solved since we were children. Now it is time to compete with your father, too. Use a couple of puzzle boxes that have roughly the same amount of pieces. To raise things up a notch, mix all the puzzle pieces together. Each player has to find the pieces of his own puzzle and put them all together. Let this be a race to the finish and see who gets there first. You can be a little naughty and hide a few pieces of your father's puzzle as well.
4. Knowing the Real Dad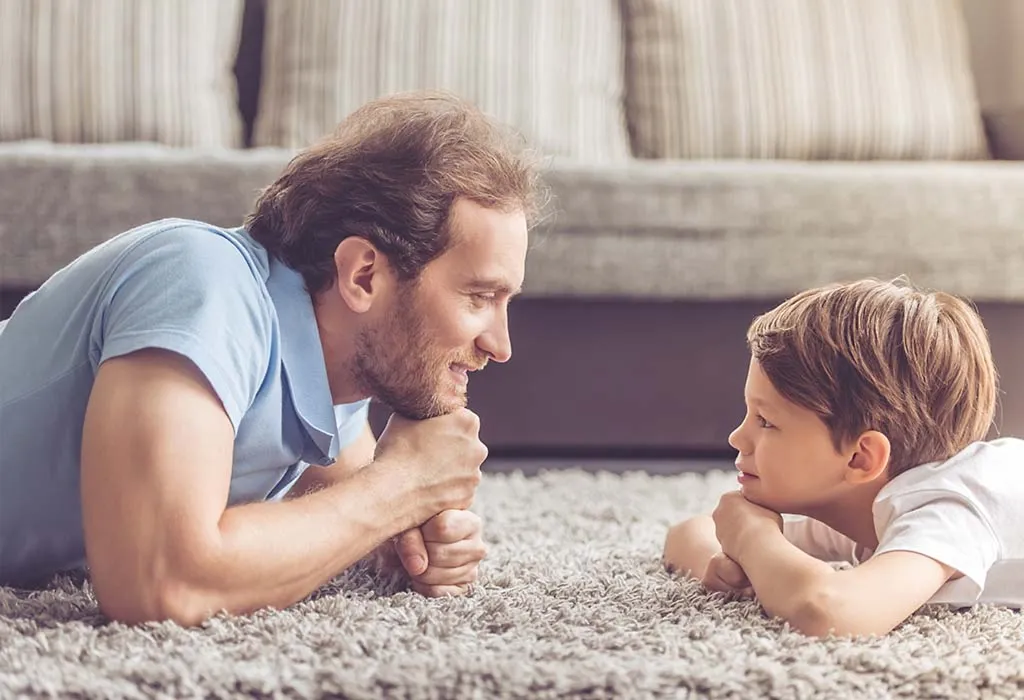 Do you really know the person your father is? Make this pop quiz personal and get to know your dad even better. Refer to slam books or come up with interesting questions that you don't know about your dad. Your questions to be about his favourite colour, or the name of his best friend in school, or the girl he liked in college, or the first toy he had as a child, and so on. Turn this into an interview, and you will start discovering stories about him you did not know.
5. Blindfold Toolkit Discovery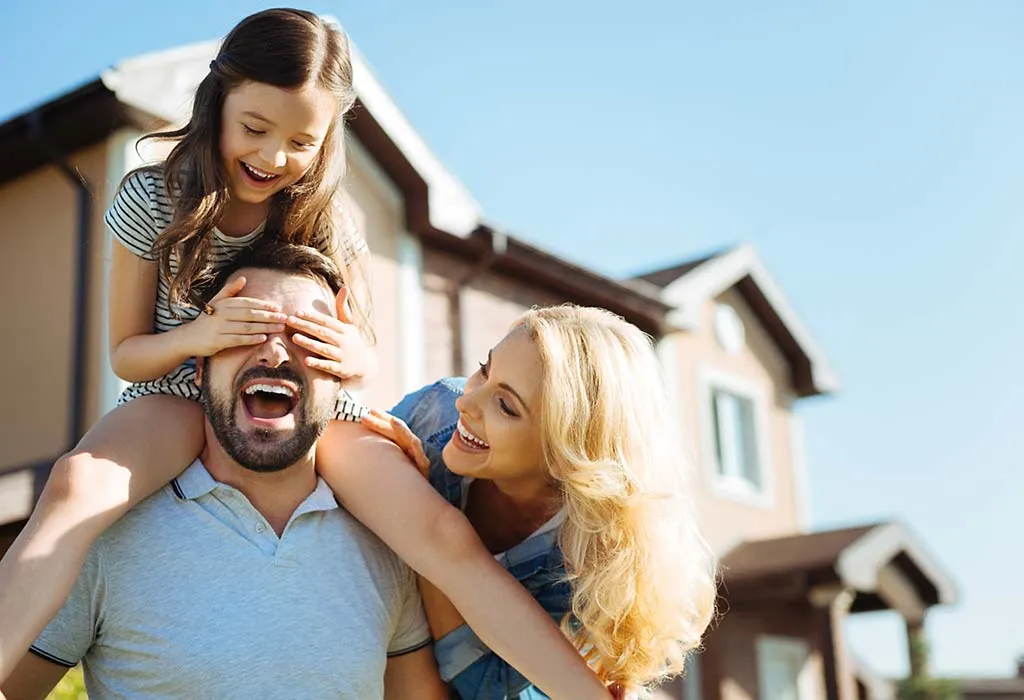 Your dad spends a lot of time repairing things around the house with his tool. This game is perfect to check if he knows the tools that well. Let your dad sit in a chair; blindfold him. Now get his toolkit and pull out a tool from it. Start by making sounds with it if possible. Then describe its shape and colour without actually mentioning the name of the tool. If that fails, let your dad touch the tool once for a couple of seconds. If he guesses the tool, he gets points.
Father's Day Outdoor Games
Here are some Father's Day game ideas that can be played outdoors because that's where the real fun is!
1. Cricket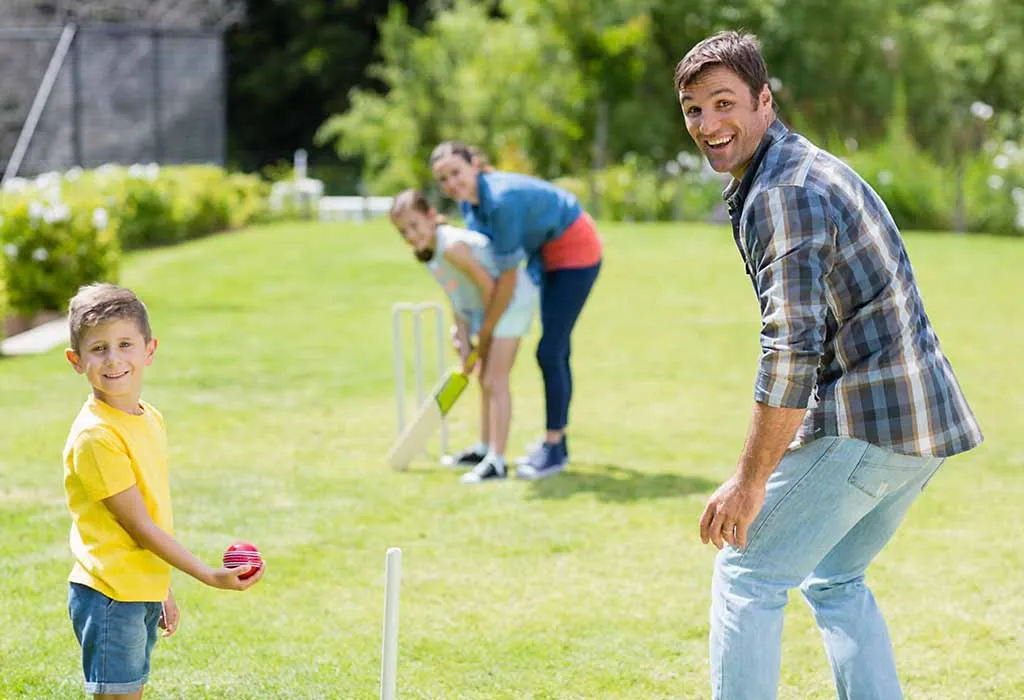 Which Indian dad doesn't like sports? Plan a family 20-20 cricket game this Father's Day. The game can have intervals, some refreshing beverages, and a lot of cheering throughout the day. Let your dad imitate his favourite sportsman while taking his best shot. Let him be his younger self! Oh, don't forget to click lots of pictures. This Father's Day surprise is sure to have your father looking forward to every game you plan for him!
2. Archery
This Father's Day, challenge your father for a game of archery in your own backyard with a target and a bow-and-arrow set (with suction). One of you can keep the score, and announce the winner. Encourage him to tell you stories from his childhood as he rests in between shots. He might even narrate some stories of Dronacharya and his pupils. The lessons you'll learn through the stories your father will share with you will be priceless.
3. Pittu Garam/Lagori
Some games just cannot be forgotten. Lagori is one of them. If you ask your father about this game, he is sure to have lots of memories to share with you. Surprise your dad with an impromptu game of lagori this Father's Day.
All you need for this game are seven thick flat stones, that can be stacked on top of each other, a rubber ball, and enough space for the teams to run and dodge the ball.
Make two teams. Each team gets a chance to hit the stack of stones with the rubber ball and stack them back again as they dodge the ball that the opposite team hits them with. The ones who are hit with the ball are out. The game continues till one of the teams has outed all the players of the opposite team.
4. Frisbee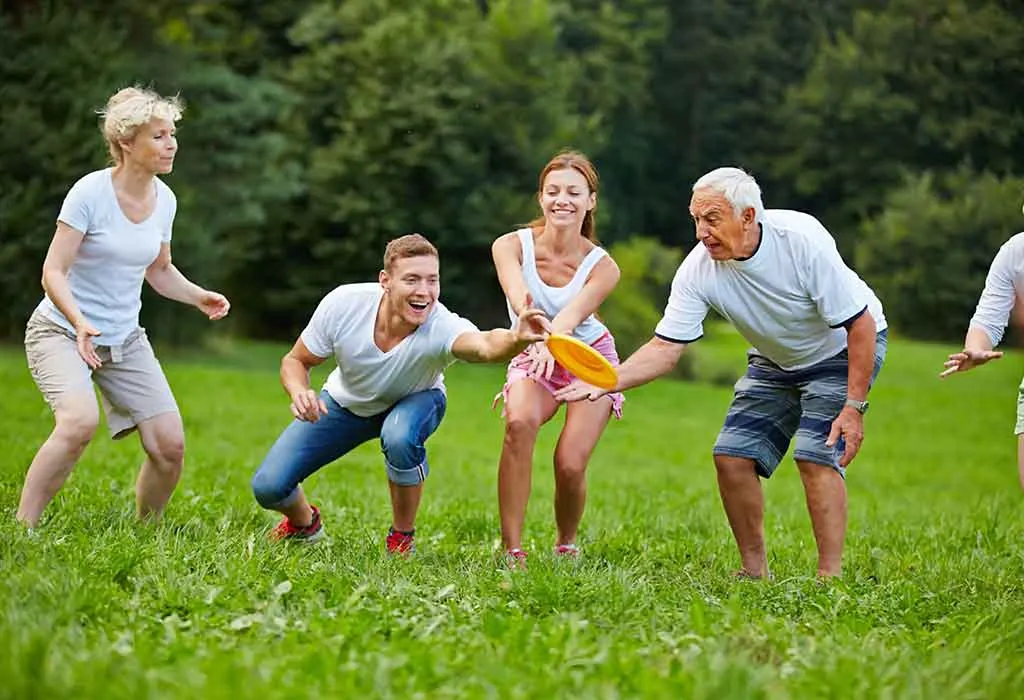 This exciting game is perfect when you are out on a picnic. All you need is a frisbee and some open space. Let your father show you some tricks and share some tips to throw the frisbee. Get as many people as you can to play this game; the more the merrier.
Father's Day activities for toddlers, kids, and children of all ages are aplenty. This day is a great time for everyone to bond together as well as knowing your father better. Giving your dad the love and care he deserves, and a day full of fun and happiness is the best way to celebrate this special day!
Also Read:
Father's Day Poems for Kids
Father's Day Quotes and Wishes
Father's Day Gift and Craft Ideas for Kids