22 Easy Homemade Father's Day Gift and Craft Ideas for Kids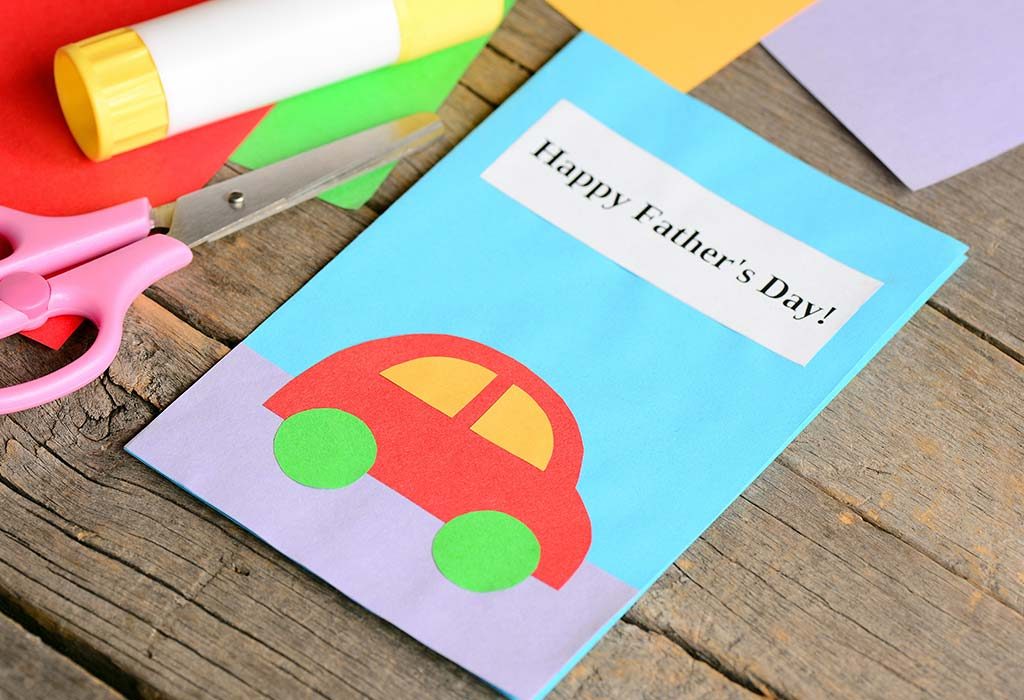 Father's Day is one of those rare days when the man of the house gets the attention that he deserves. Most fathers spend a lot of time working and come home only to get engaged back in household chores. You can make your father feel really special this Father's Day by gifting him a wonderful Father's Day handmade card. We also have some fascinating Father's Day Craft ideas you can use to make something for your dear old man.
18 DIY Father's Day Gift and Craft Ideas
Gifting is an expression of love. Make this Father's Day memorable with one of these heartfelt DIY gifts.
1. Moustache Mug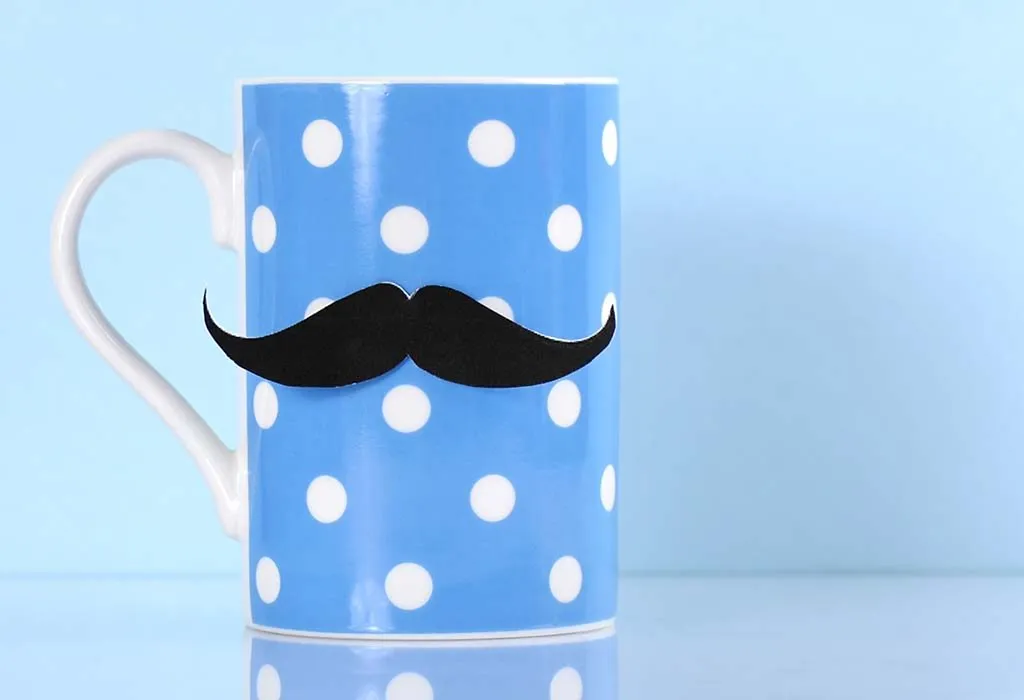 This can be a perfect Father's Day gift for the father who cannot get enough of his moustache.
What You Will Need
How to Make
Go for a mug that is preferably light in colour so that your moustache can stand out really well.
On butter paper, draw a moustache.
Now, squeeze the gel to cover the entire moustache.
Once the gel dries, peel it off.
Position the gel moustache on the mug, perpendicular to the handle, parallel to the brim, such that it comes right below the nose when somebody drinks from the cup.
Once you are happy with the position of the moustache, mark the point with a black marker.
Then stick the gel moustache with some hot glue.
If you're feeling a little colourful, you can use as many colours of the peel of gel as you have instead of using a black gel.
2. Scratch Card Gifts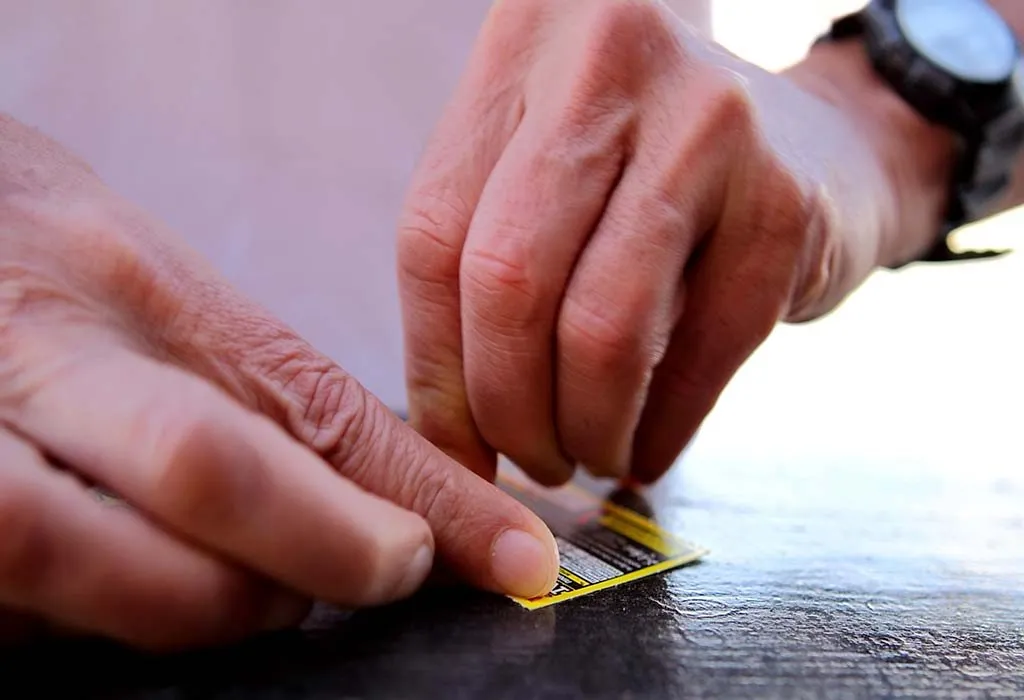 Let your dad win the great offer of choosing how he would like to celebrate the day with this Father's Day gift idea.
What You Will Need
Design paper – 1 nos
Thick white paper – 1 A4 sheet
Cardboard – as big as the design paper
Metallic paint
Glue
Transparent tape
A pencil
A marker pen
Paintbrush
How to Make
Take the thick white paper and draw three rectangles on it using a pencil.
Cut them out properly using scissors.
Write three gift ideas on the cutouts using a marker. These could be anything from your dad's favourite food, to a movie he wants to watch, anything at all. Write them beautifully on those three cards.
Cover the cards with transparent tape so that the writing part is totally covered.
Take a brush and paint the cards with some metallic paint and let it dry.
Now, cover the cardboard sheet with the design paper to make a nice coupon card of sorts.
Take some glue and stick the three cards onto the cardboard sheet.
When it's time to gift it to your dad, let him pick one card each in the morning, afternoon and in the evening.
3. A Lovely Photo Collage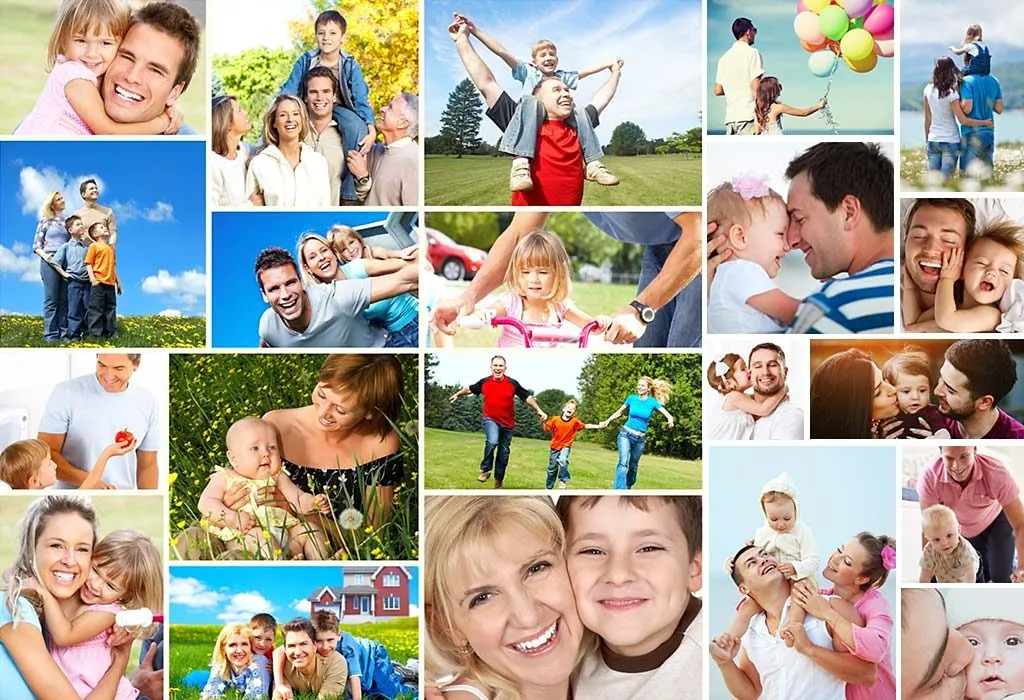 This Father's Day gift idea is something your dad can keep on his desk at work and be reminded how much everybody loves him.
What You Will Need
Digital camera
Colour printer
Whiteboard and a whiteboard pen
White cardboard – in the size of the photo frame
How to Make
Bring together all the members of the family.
Each one has to think of one thing about your dad that they love the most.
If you have a small toddler in the house, come up with something interesting for him/her.
Then, everyone takes turns to write their reason on the white sketch board using the pen and poses for a photo with it.
Each photo is clicked in sequence, with every person wiping the board clean and writing their own message on it.
When all the photos are clicked, print them out using a colour printer.
Choose a base and photo frame depending on how many photos you have.
Stick these photos on the white cardboard. Use sketch pens to colour the remaining areas or make them even more colourful.
Slide the cardboard inside the photo frame and let it sit on the table as a surprise for dad.
4. Using Your Favourite Photo to Create a New One
Taking an old photo with your dad and making a snazzy pop art version of it is another great Father's Day craft idea for you.
What You Will Need
An original full-size photo
A plastic sheet of the same size
Marker
Watercolours or sketch pens
How to Make
If you don't have the favourite photo already, you can print one out using a colour printer.
Then, place the plastic sheet on top of it.
Use the marker to outline the borders of the faces in the photo, and any other specific details you want to be included, such as the spectacles, a little hair detail, the clothes, and so on.
Once these outlines have been sketched, remove the photo. You will see a version of the photo that is quite different.
Take a photo of this and print it out on white paper.
This can then be coloured using a variety of bright colours that can be contrasted really well. Use either sketch pens or watercolours to paint the hair, skin, clothes, and other areas of the photo.
5. 'I Love You So Much' Using Your Hands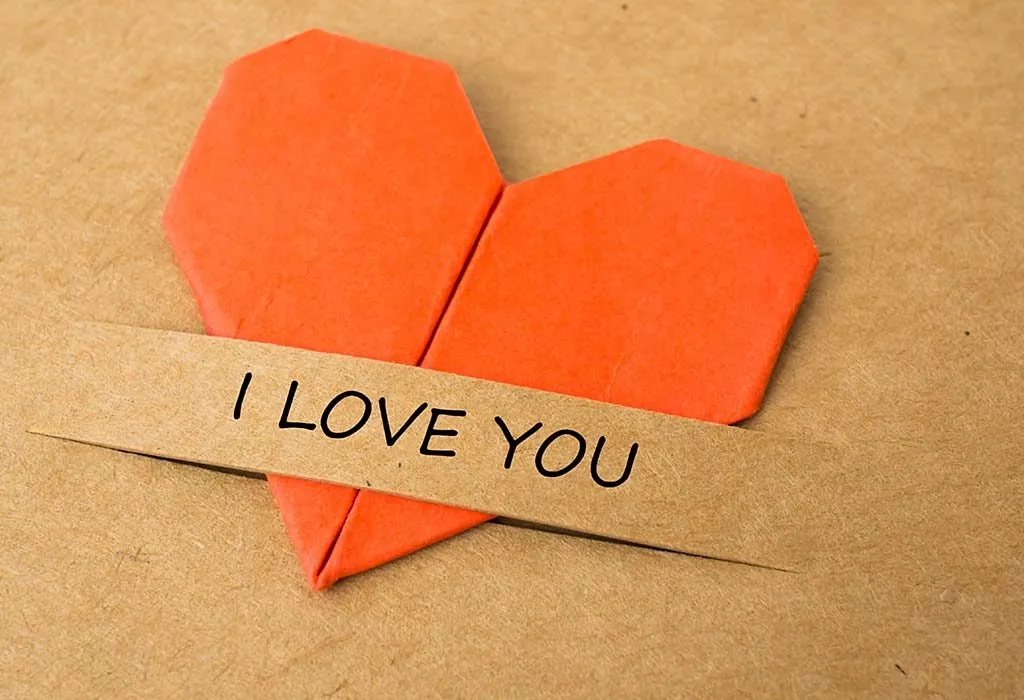 Let your dad know the extent of how much his family loves him with this adorable Father's Day craft idea. It is so easy that even preschool kids can try their hand at it.
What You Will Need
Thick papers in different colours
Scissors
Glue
Pencil
How to Make
Choose a paper and trace the outline of your hand on it.
Cut along the outline to have one palm. Repeat for another palm, too.
Now, with another coloured paper, cut out a long strip. Make it as long as possible.
Start folding this strip in halves, until you fold it to its smallest size.
When you open the strip, there will be equidistant creases on it.
In the very first space, write the letter 's'. Then, fill all the spaces with the letter 'o' to make the word 'so' as long as possible.
Fold it all together like before. Stick one edge on the back of one palm cutout and the other on another palm cut out.
On the first palm, write the words 'I love you', and on the second palm cutout, write 'much'.
Now, give this to your father, and when he wants to know how much you love him, he can pull the palms apart and see the length of your love.
6. A Pin-up Medal for the Best Dad Ever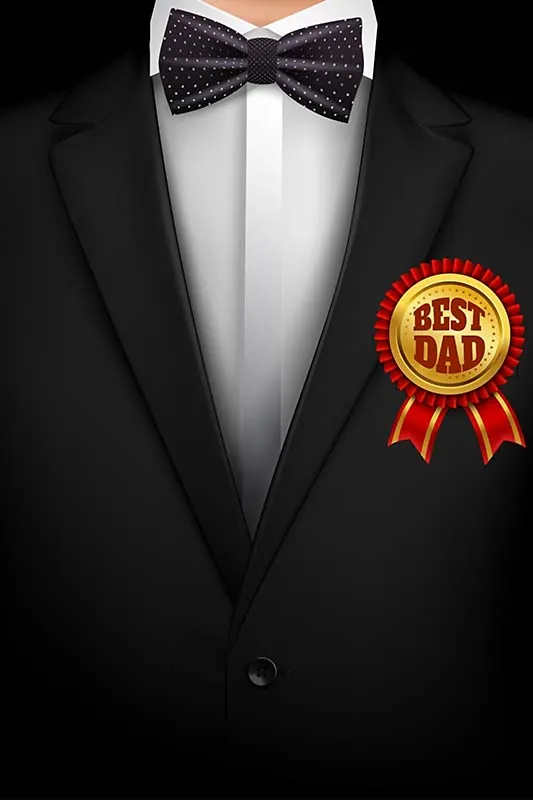 Your dad deserves an award for taking care of you and the family. Celebrate his selfless love with this thoughtful Father's Day gift idea.
What You Will Need
A couple of sheets of your dad's favourite coloured paper
Box card
Gold coloured wrapping paper
Black marker
Scissors
Pencil
Glue
How to Make
Cut out two long strips from the coloured paper and fold them repeatedly in a way to create an accordion-like pattern.
Glue the ends of the strip together so that they create a circle.
Place it on the table and press the edges to flatten the circle.
Glue the centre so that the circle stays as is.
Cut a few more long strips and make tiny triangular cuts along the end to form a ribbon.
Overlap the ends in a diagonal fashion and stick them behind the circle.
Cut out a small circle from the card as well as the golden paper.
Stick them together with some glue.
On the card, write 'World's Best Dad' or any other slogan you'd want.
Stick this card onto the circle so that the medal is ready.
Go and pin it up to your dad's shirt and let him know how proud you are of him.
7. Sweet Memories of Daddy
All those tiny things that your dad keeps in his pocket or drawer can now be used to make a fantastic Father's Day gift.
What You Will Need
A small board
Old tickets and other memorabilia
Glue
How to Make
The key is to find as many items as you can, such as old bus tickets or plane tickets if your dad travels around a lot, movie tickets from the time he took you for your first movie, his photo when he was young, etc.
Gather all the memorabilia together and glue them one by one onto the small board.
Place this board in your father's bedroom.
When he returns from a long day at work, he will be surprised to know how so many things have been put together as a wonderful Father's Day gift.
8. Colourful Rock Paperweights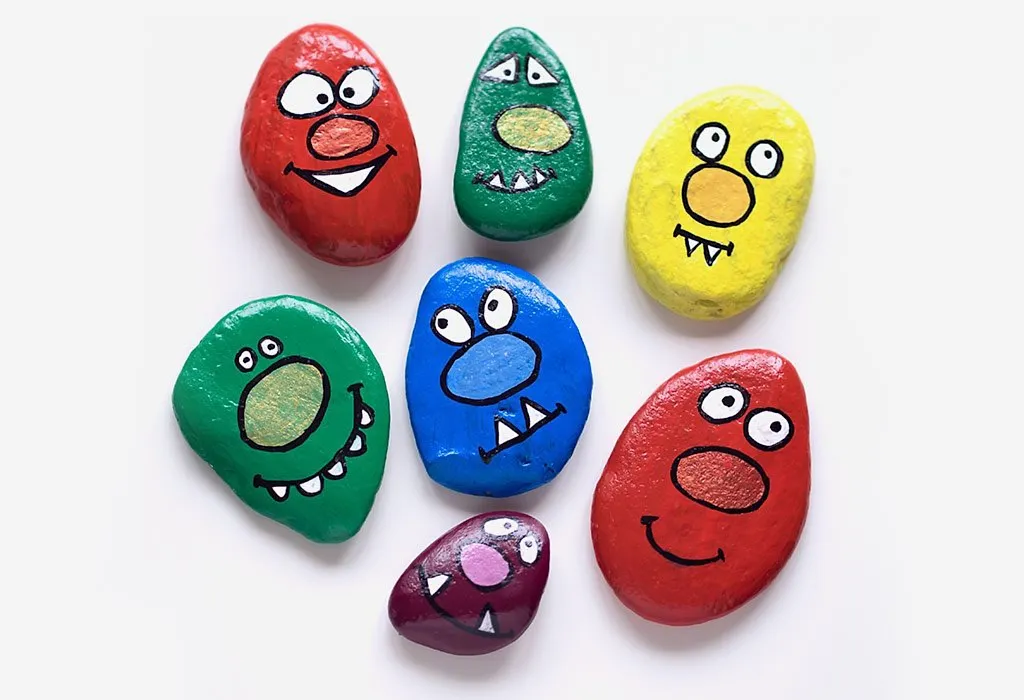 Why use the boring office blocks when your dad can take your very own craft item to the office. Surprise him with this Father's Day handmade gift this year. To make this craft, you need an oven, and therefore, you must have someone older than you who can handle the oven and hot items.
What You Will Need
Large and smooth cobbles
Old crayons with papers removed
Oven
Newspaper sheets
How to Make
Collect the cobbles together and place them in the oven. Set the oven at 180 degrees and heat them for about 20 minutes. This craft can be made only when the stones are extremely hot.
Until then, place multiple layers of newspapers flat on a surface that can bear the heat and can be cleaned easily.
Now, you need to remove the stones from the oven and place them on the newspaper. Take your mom's or your elder sibling's help in doing this. Ensure all of you wear oven mittens.
Take one crayon and start rubbing it slowly on the stone. It will start melting, and the colour will start pouring on all sides.
Take another coloured crayon and do the same. The colours will now start mixing with each other.
Once done, let the stones cool down.
Your colourful paperweights are ready!
9. A New Shirt From an Old One
Does your dad wear his old t-shirt every time he's home? Add some zing to it by giving it your personal touch and gift it to him this Father's Day.
What You Will Need
Watercolours
Sketch Pens
Markers
How to Make
Pick a shirt that is old but one that your dad usually wears at home.
Gather your siblings together and let everyone write a beautiful message on the shirt using markers and sketch pens.
Alternatively, you can draw a nice cartoon on the shirt and let everybody colour it.
Let it dry and then put it back in the wardrobe.
10. A Pillowcase Made With Love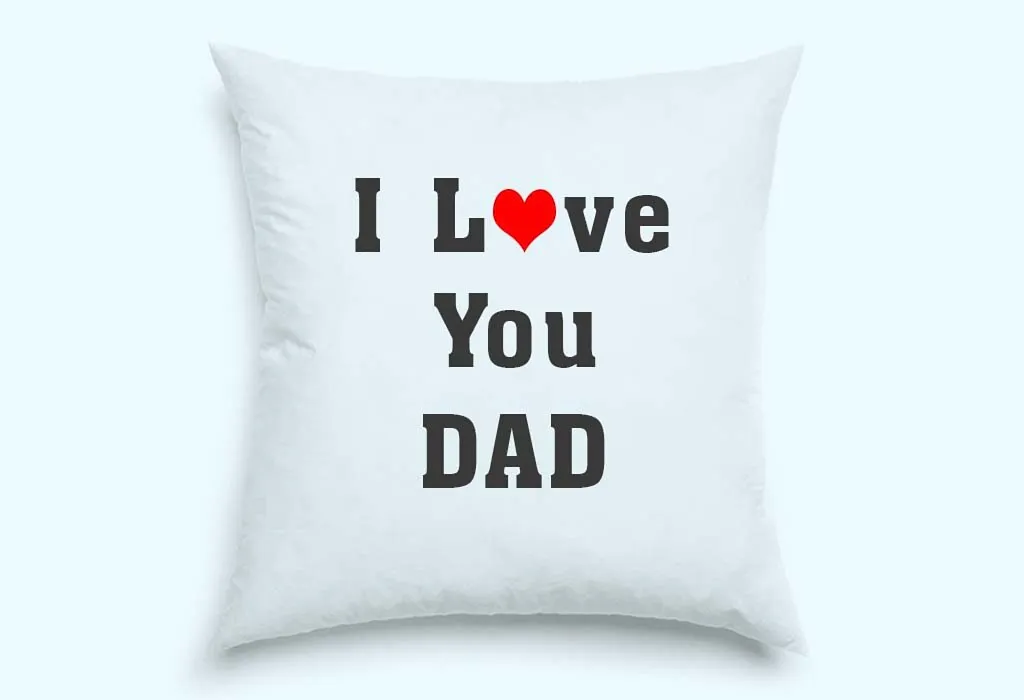 This gift will remind your dad how much you love him each time he hits his bed for a snooze.
What You Will Need
A pillowcase, preferably white in colour
Pencil
Markers
Cardboard
How to Make
Place the cardboard in the pillowcase, and stretch it well so that it's easy to write or paint on it.
Then, take a pencil and nicely write your message in large letters. The pencil allows you to rub out any mistakes as well. Make tiny flowers on the corners if you want to.
Trace out the letters using the markers. Colour the flowers and make tiny hearts with red coloured markers.
Once done, iron the pillowcase on the ironing board. This will imprint the markers properly into the fabric.
Wash the pillowcase to get rid of excess colour and dirt. Replace your dad's pillow cover with this one.
11. A Wacky Tie for the Lovely Wacky Daddy
So, your dad is an office person and has a funny side to him? Bring it out with this crazy Father's Day gift.
What You Will Need
Thick coloured paper
Pencil
Scissors
Coloured papers
Glue
How to Make
Use your pencil to trace out the shape of a large tie on the thick coloured paper.
Cover the portion of the tie with glue.
Tear small pieces of the other coloured papers, and sprinkle them on the glue you just spread on the thick coloured paper.
The colourful shredded papers will start sticking onto it. Put a lot of pieces to cover the area completely.
Once it is dry, cut out the tie.
You can now place this under your dad's photo and present it to him.
12. Bookmarks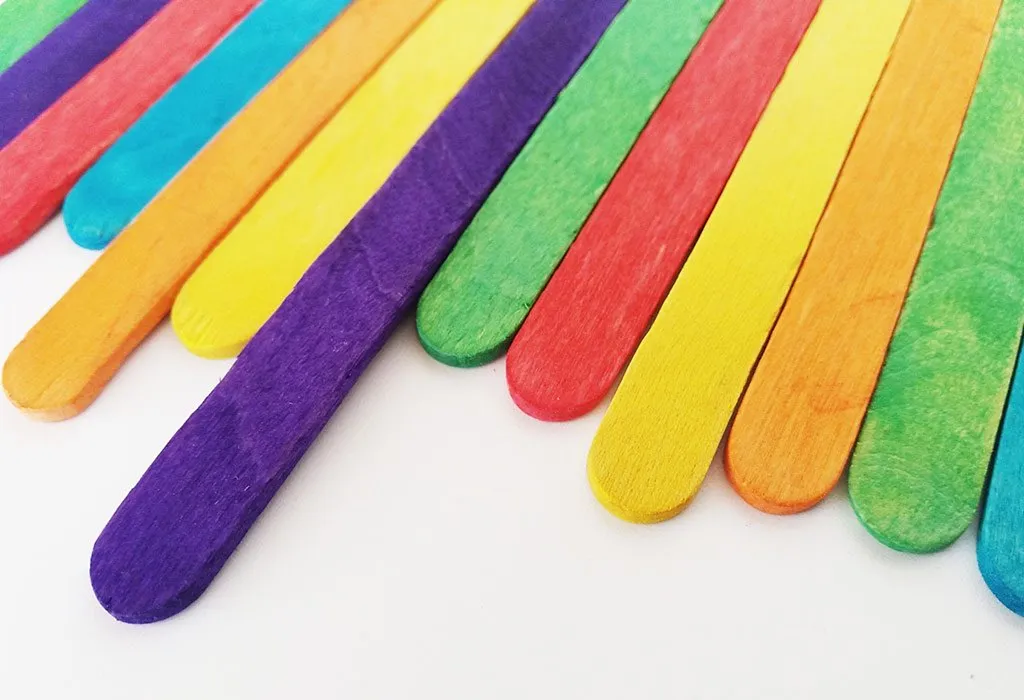 If your father loves to read books a lot, this Father's Day gift idea is sure to put a smile on his face.
What You Will Need
Ice cream sticks
Crayons, watercolours, and sketch pens
How To Make
Colour each ice cream stick in a different watercolour and let them all dry.
Then, using sketch pens or crayons, draw patterns, cartoon characters, designs, etc. You can even write a small msg on each stick.
Allow the ice cream sticks to dry properly.
Put them together in a cup and place them on the shelf where your dad keeps his books.
Your father will use this thoughtful gift every time he reads a book.
13. A Crown for Your Dad Made From the Things He Loves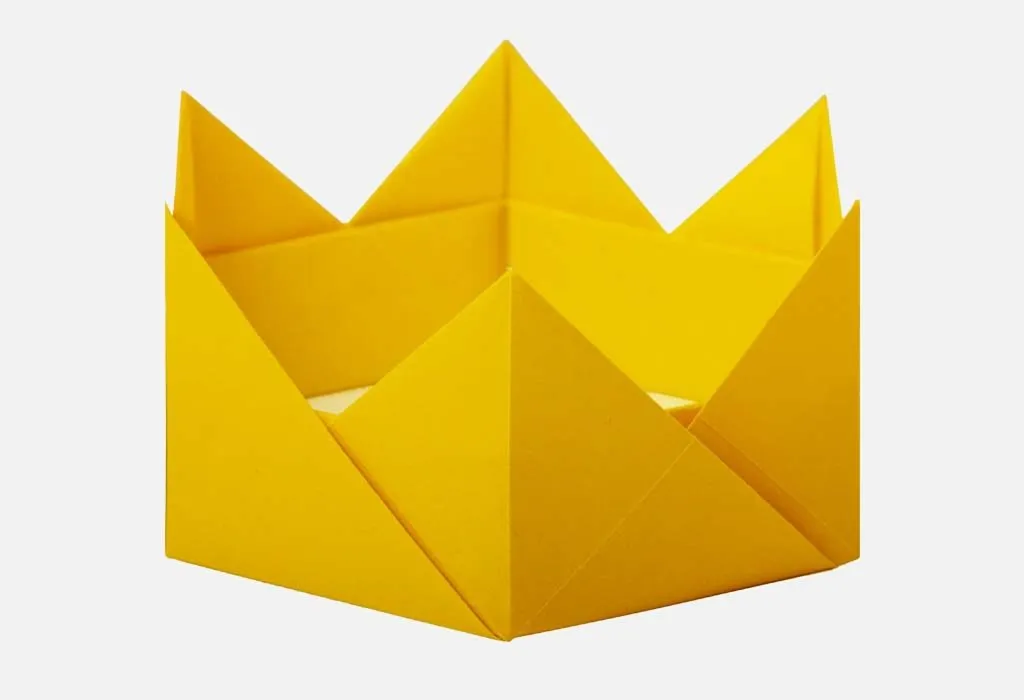 Your dad is a king and deserves to be treated like one. This Father's Day, gift him a wonderful crown and make him feel like one.
What You Will Need
Thick white cardboard paper
Magazines, old books, newspapers
Glue
Scissors
How to Make
Look for old magazines and gather some cutout of the things your father likes.
Get everyone together and stick all the photos on the white cardboard. Let the pictures overlap each other a little. The more pictures you have, the better.
Once the pictures have all dried properly, cut the cardboard paper in half so as to make a long strip.
Glue both ends together to form a circular loop.
Now use the scissors to cut out patterns on the top of the loop, to create a crown-like shape.
14. Special Offer Coupons for Daddy
This special Father's Day gift gives your dad the gift of choice.
What You Will Need
An empty container
Coloured sheets of paper
Crayons
Pen
Glue
How to Make
Pick a coloured paper and cut a strip from it to be glued to the container. You can use a few pieces of papers together to make a strip that is thick enough.
Similarly, cut out another strip that is a little zig-zag and glue it below. This will create a colourful top and base.
Now, cut the other sheets of paper in various shapes and write different activities or gifts on them. Some of them could be simple ones, such as 'pizza night' or 'kiss everyone twice' or 'we will help you wash your car today', etc.
Put all these coupons together in the container and place the container in your dad's room on Father's Day.
15. Easy Desk Organisers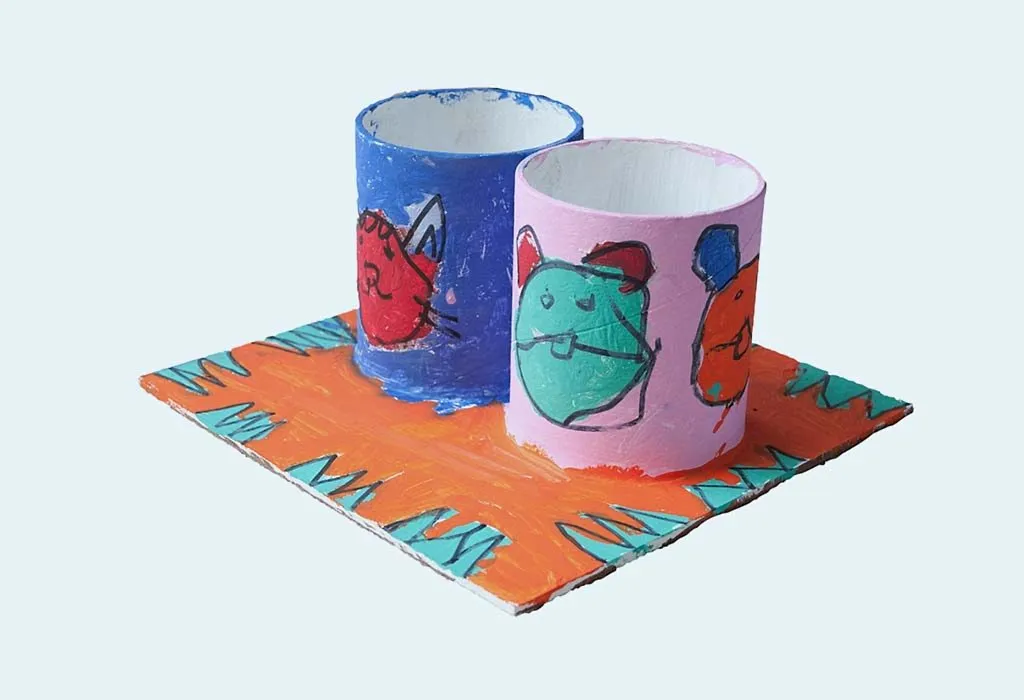 Put together all those items on your dad's table in cute, adorable containers and surprise him this Father's Day.
What You Will Need
Old containers
Coloured sheets of paper
Crayons or sketch pens
Glue
How to Make
Apply glue to the outer areas of the containers.
Stick the coloured paper on each one of them. Add your own personal touch by drawing some cartoons, or writing what each container is for.
Place them on one side of your father's table. Carefully arrange his stationery in the containers. Keep the important paperwork untouched. He may not like those messed up.
16. Father's Day Heart Tag/Pin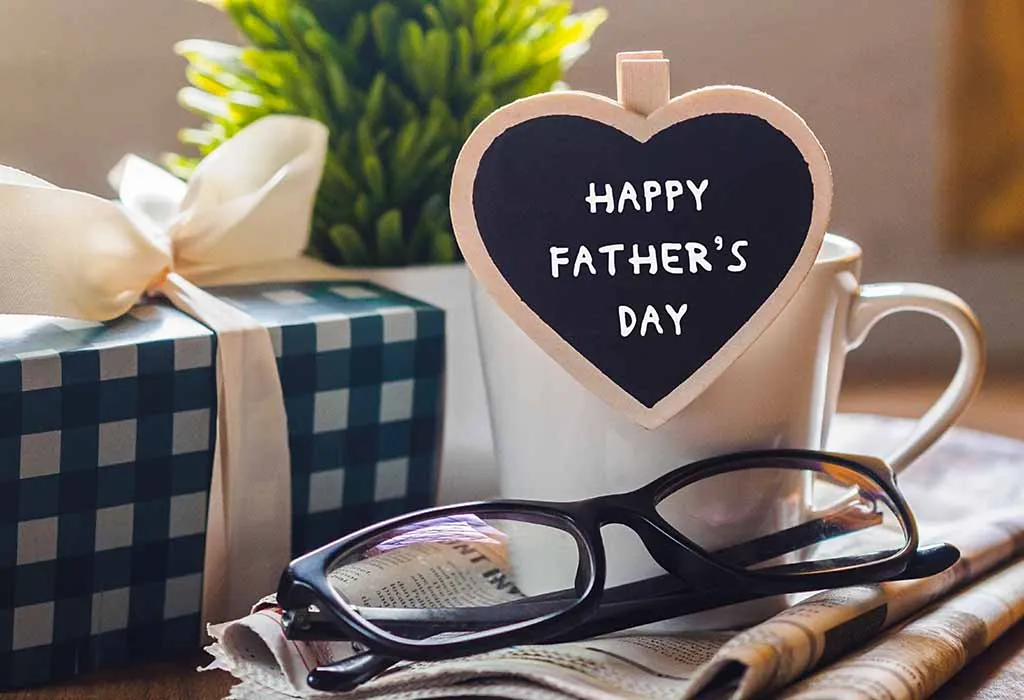 This is a beautiful way to celebrate Father's Day. You can make as many as you want and write different msgs dedicated to your daddy.
What You Will Need
Thick cardboard paper
Acrylic paint/ watercolours
Coloured paper
Crayons/ sketch pens
Pencil
Scissors
Glue
Hot Glue
Safety pins
How to Make
Draw as many hearts as you want on the cardboard with a pencil and cut them along the outline.
Then, draw the exact number of hearts on the coloured paper and cut them out. Keep these hearts slightly smaller than the cardboard hearts.
With glue, stick the paper heats on the cardboard hearts. Let them dry.
Use watercolours or acrylic paint to colour the outline of each heart. Set them aside to dry.
Once they dry completely, write 'Happy Father's Day' or other messages or slogans to celebrate your father on each heart.
Once done, glue a safety pin begin every heart tag with some hot glue. Take an elder's help to complete this step.
Once the hot glue sets, your wonderful Father's Day Heart Tags are ready!
17. 'I Heart Dad' Pancakes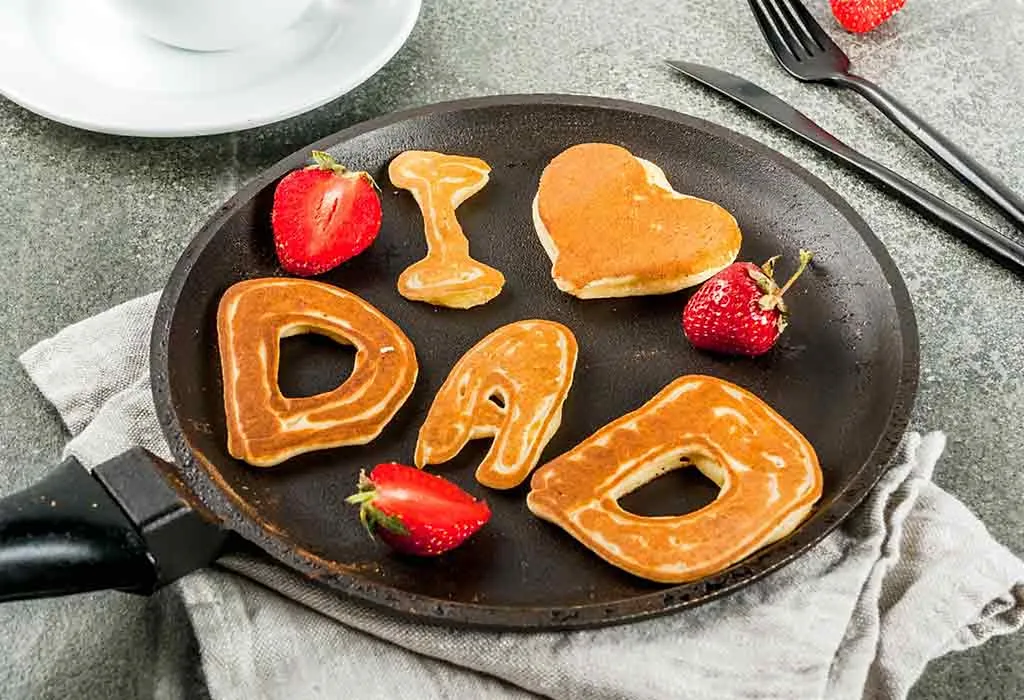 This gift idea is the one your father can relish for breakfast, but not without taking a picture of it first. If you cannot cook, you must take an elder's help to prepare this Father's Day gift.
What You Will Need
Pancake Batter
A kid's knife or alphabet cookie cutters and a heart-shaped cookie cutter.
Nonstick pan
Plate
Some fruits
Oil
How to Make
Drizzle some oil on the nonstick pan.
Pour some pancake batter and make 5-6 small or medium-shaped pancakes.
Let them cool a bit.
Then, use a kid's knife or cookie cutter to cut the letter 'I', 'D', 'A', 'D', and a heart.
Then, plate them nicely on a plate with some colourful slices of fruit.
18. Customized Grilling Apron


FEATURE IMAGE SSID: (1341238631) (ALT<(22 Easy Homemade Father's Day Gift and Craft Ideas for Kids>)
An ideal gift for the dad who loves to spend his holidays outback, barbecuing a delicious meal for his loved ones
What You Will Need
Apron
Fabric paints
Paintbrush
How to Make
Take a plain apron and, using fabric paint, write "Best Grill Master" and draw a grill on it.
Let it dry. Drip a finger in orange, red, and yellow paint and press it onto the apron, just above grill grates, to create flames.
Your Father's Day gift is ready!
Handmade Cards for Father's Day
Want to do something more for your dad? Use one of these Father's Day homemade card ideas, write a beautiful message and surprise him even more.
1. Tools Father's Day Cars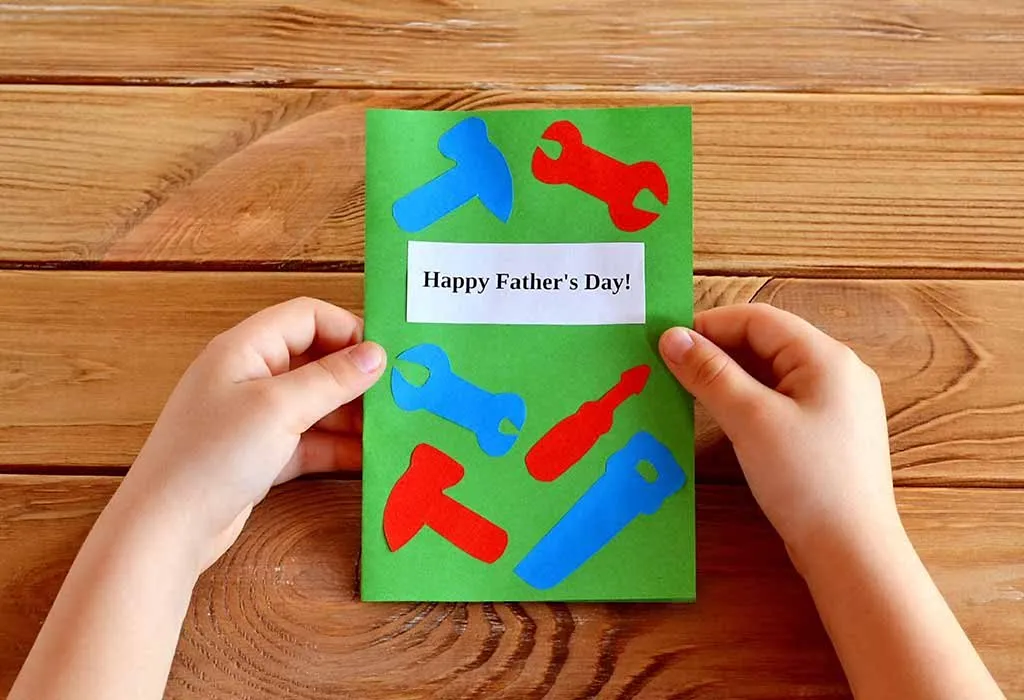 This one is a simple card made with some colourful paper tool cutouts. Here's what you need.
What You Will Need
A4 size coloured construction paper – 1 nos.
Coloured sheets of paper
Sketch pens
Glue
Pencil
Scissors
How to Make
Fold the A4 sheet in half.
Now, take the colourful sheets and draw shapes of the tools you often see your dad using when mending things at home, such as a screwdriver, a hammer, scoop, nails, screws, etc.
Carefully cut each shape and stick them randomly on the top of the card.
Now, with a sketch pen, write down a beautiful Father's Day wish inside the card.
2. Tie and Pocket Father's Day Card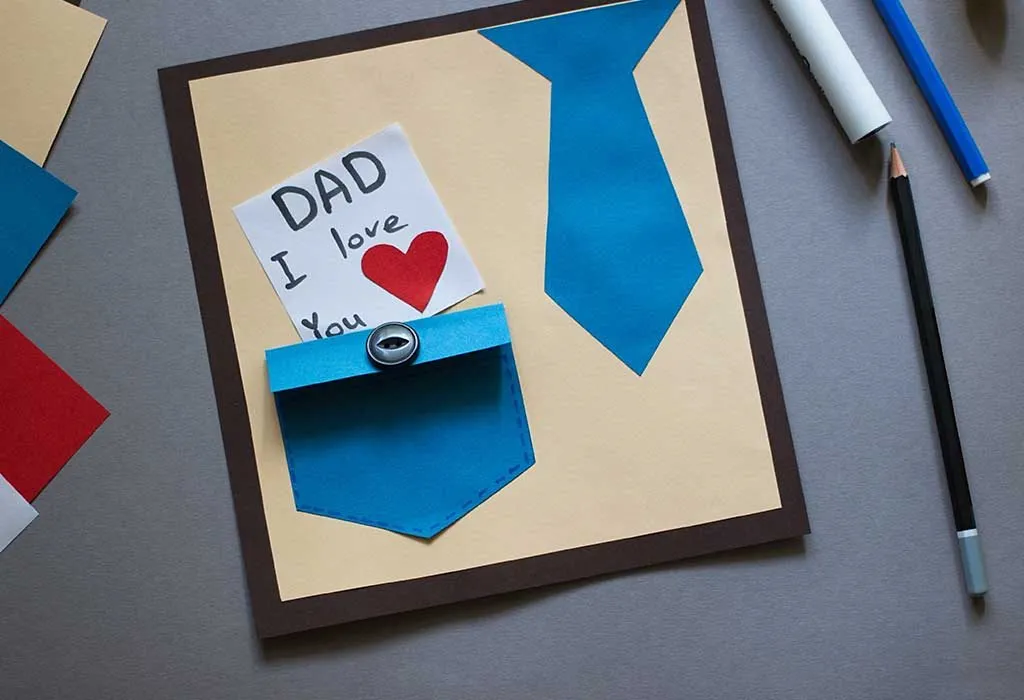 What You Will Need
A4 size coloured construction paper – 1 nos.
Coloured sheets of paper – 2 nos.
Sketch pens
Glue
Pencil
Scissors
How to Make
Fold the A4 sheet from the centre and keep it aside.
Then, take the coloured sheets of paper and draw a tie shape on one sheet, and a pocket shape on the other. You may refer to images online to get the shape right.
Then, using a scissor, cut the shapes.
Stick the tie cutout to the right, on the top of the folded A4 sheet.
Apply glue only along the edges of the pocket cut out, and stick it on the card, to the left of the tie.
Cut another little square or triangle from the remaining paper. Write 'To, Dad' on it, and slip it inside the pocket. You can fold the paper if it's a bigger size.
Using a sketch pen, write your thoughts and feelings inside the card.
3. Father's Day Trophy Card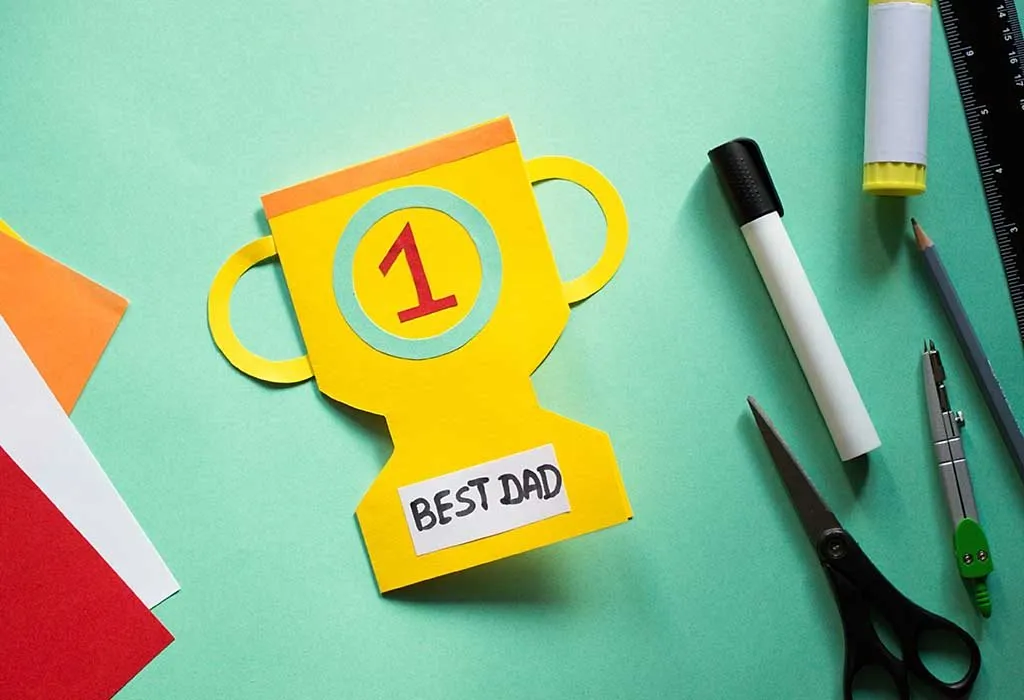 What You Will Need
A4 size coloured construction paper
Sketch pens
Pencil
Scissors
How to Make
Fold the A4 sheet in half to make your card.
Then, use a pencil and draw the shape of a trophy on the card, such that the left handle of the trophy is the folded part.
Now, cut along the outline leaving the left side handle as it is.
This way, you get a trophy-shaped card that opens from the right and is attached on the left.
Now, use the sketch pens and write a beautiful Father's Day message inside the card.
On the top of the card, write 'No. 1 Dad'" and colour it in your favourite colours.
4. Palm Print Father's Day Card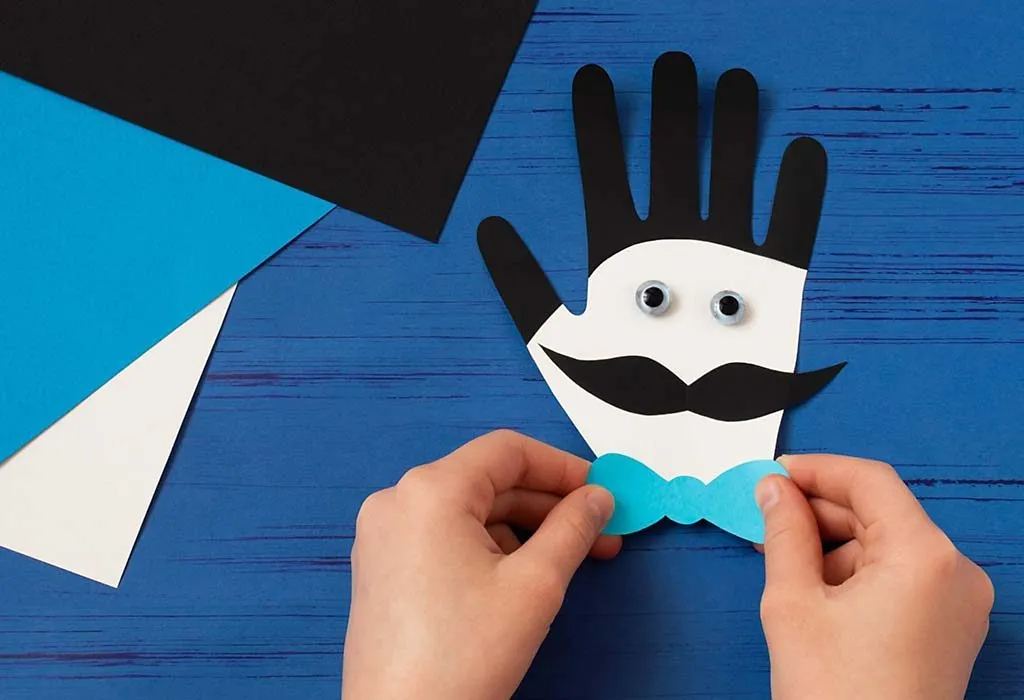 This is the easiest Father's Day Idea and is, therefore, perfect for toddlers. Of course, mothers and older siblings need to help them, but it is fairly simple to make.
What You Will Need
A4 size coloured construction paper – 1
A6 size black construction paper – 1
Sketch pens
Glue
Pencil
Scissors
How to Make
Take the A4 sheet and trace the palm with a pencil.
Now, cut it along the outline.
Take the white A6 size paper and draw a moustache on it.
Cut it along the outline and colour it black.
Now, take the palm cutout and draw some hair and a pair of eyes.
Then, stick the moustache with some glue.
On the backside of the card, write a beautiful Happy Father's Day message for your dad.
Making beautiful and interesting Father's Day crafts is not a tough task. With some household items and a few creative tricks, you can make a memorable gift to express how wonderful a dad your father is!
Also Read:
Father's Day Poems for Kids
Father's Day Quotes and Wishes
Father's Day Games & Activities