45 Engaging Montessori Activity Ideas for Children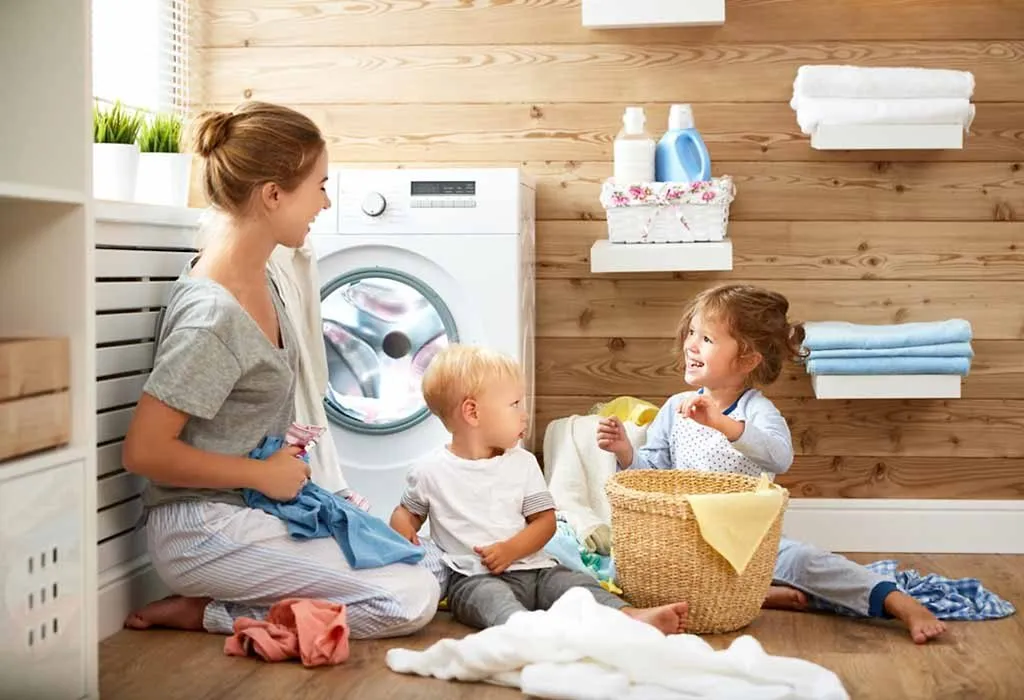 Many people think that Montessori activities are expensive, but that is not always true. While there are so many great things you can purchase from a store to foster your child's curiosity, there are many things that do not require extra money. Montessori does not involve the use of expensive materials, and a lot of these activities can be done with everyday objects!
Benefits of Montessori Activities for Kids
Not only do little children enjoy doing these activities, but these can also help calm, energetic kids. Here are some benefits of doing Montessori projects with kids:
Your children will learn to take responsibility at home.
It is excellent for building concentration since it requires repetition to gain mastery.
Your child will feel like a part of the family for being able to contribute.
It can help them learn new skills, building a feeling of self-reliance and independence.
Since it involves a lot of movement, it can help refine gross motor and fine motor skills.
Learning and Fun Montessori Activities for Children at Home
You can build an amazing environment for your children and enhance their love for learning with these Montessori learning activities that would not cost you extra money.
Montessori Practical Life Activities
Practical life activities could be anything you do at home! Here are a few beneficial home Montessori activities for kids.
1. Carrot Cutting
Provide your child with everything they will need for cutting the carrot, including a peeler, scrub brush, wavy chopper, a small cutting board, and a small towel or sponge for spills. Show them how to wash, peel, and chop the carrot, and allow them to try it on their own.
2. Button Sorting
Give your child a few buttons of different colours and sizes and little bowls to sort them in. For example, you could give them green, blue, and red buttons and three small bowls. You can use any type of object your child is interested in and do this activity.
3. Make a Trail Mix
Place large containers filled with several different snack items they love like nuts, dried fruits, etc. Give your kid a measuring cup and let them scoop some from each container and mix it up in a bowl. This could also make a fun sensory activity at home when you ask them to touch it without looking and guess what item it is.
4. Making Clove Oranges or Apples
Give your kid a small bowl containing whole cloves and a few oranges or apples. Ask them to poke holes in the oranges and apples with the cloves. The small size of the cloves will help your kid with fine motor skills development.
5. Apple Slicing
For this activity, your child would need only a bowl of water, a scrub brush, an apple slicer, a cutting board, and an apron. For young children, you could cut the apple horizontally before they start slicing it.
6. Scrubbing
A lot of children love scrubbing because it will allow them to see quick results. You can make it super simple with a towel, a scrub brush, and a tub, or add extra things like soap and bottle brush. Let the scrubbing begin!
7. Window Washing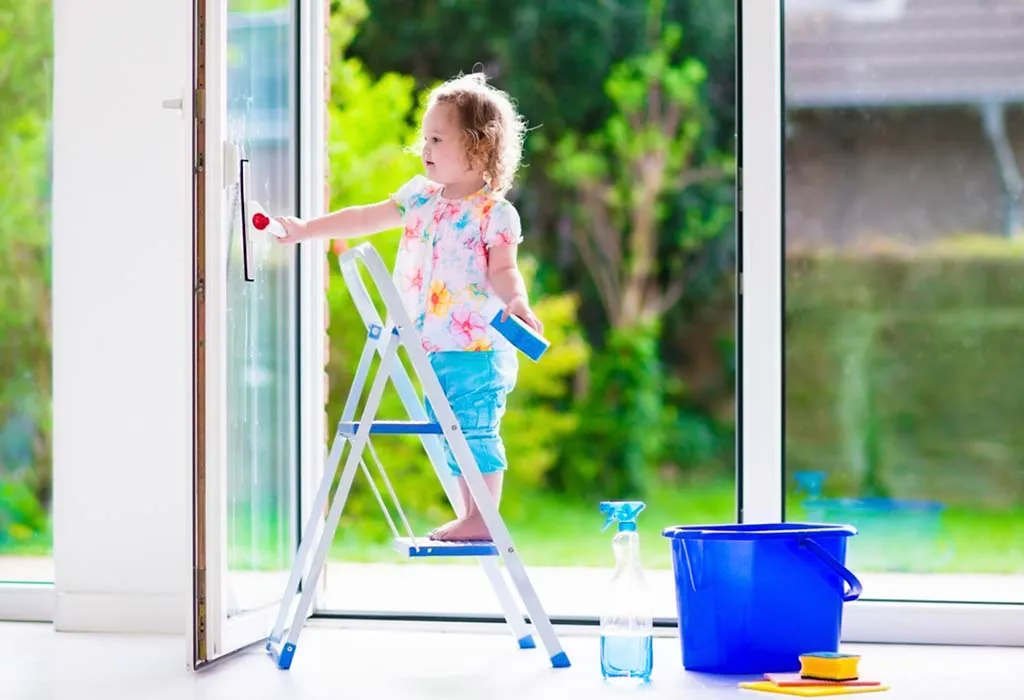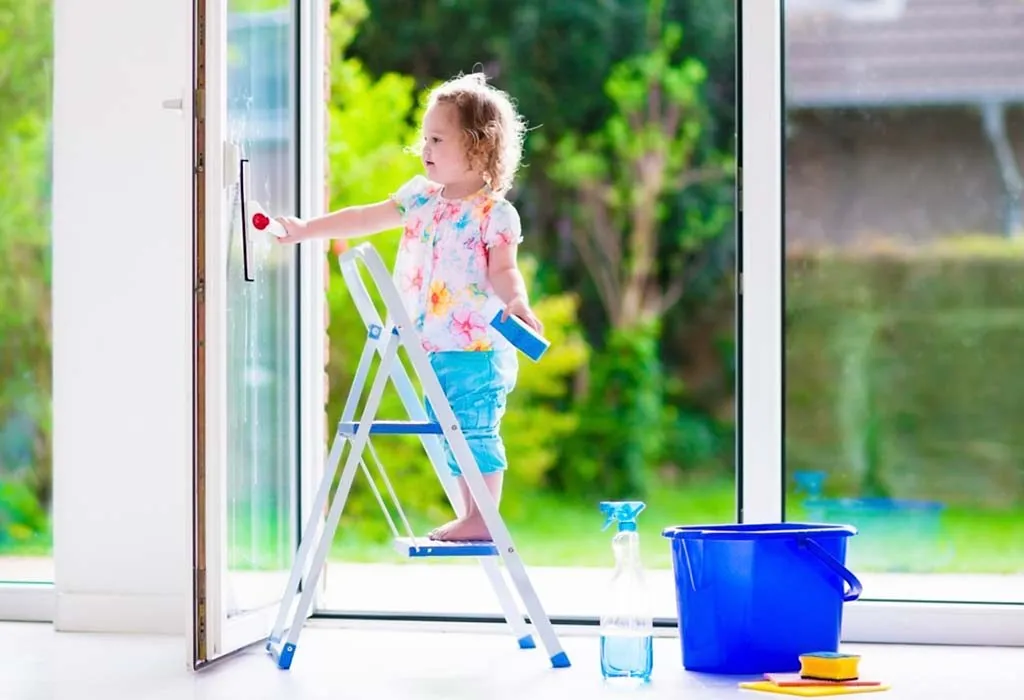 For this activity, all you need is a small squeegee, a spray bottle, a sponge, and a dirty window. This is a very popular activity in Montessori classrooms.
8. Babydoll Washing
Babydoll washing is an extension of scrubbing. With a small washcloth, your child can wash a baby doll.
9. Plant Watering
Give your child a small watering can and show him how to check if he needs to give water to an indoor plant.
10. Leaf Polishing
Give your child a sponge and a small dish of water, and they can wipe the dust off of the leaves of the indoor plants.
11. Sweeping/Mopping
Show your children how to take care of the house by sweeping it with a dustpan and a small broom.
12. Matching Socks
When it is laundry time, put your child in charge of matching socks. It can help give your child a sense of responsibility.
13. Flower Arranging
Purchase an inexpensive bouquet of flowers and let your child fill small vases with water, trim the stems, and arrange the flowers in the vases.
14. Grinding Egg Shells
Eggs shells make great fertilizers. Show your kid how to grind them with a mortar and pestle, and sprinkle those in potted plants.
Montessori Math and Science Activities
Math and science activities can help encourage interest in these subjects.
1. "Bring me" Game
The "Bring me" game is a perfect game for children who are learning to count. You could say something like, "Bring me 3 markers" or "Bring me 10 Lego bricks". For this game, your children will have to keep the number in their head while they are finding the object you asked for, making the game a bit more challenging.
2. Non-Magnetic/ Magnetic
Gather a variety of objects that include magnetic and non-magnetic ones for this Montessori activity for a 1-year-old. Ask them to guess which ones will stick to the magnets and which ones would not. Test their theory to find the results.
3. Sticker Patterns
When children work with patterns, it can help develop mathematical minds. For this activity for 2-year-olds, you will have to take a few strips of paper and make a pattern on them with stickers. Encourage your children to recreate the sticker pattern you made on the paper, and then ask them to create their own designs.
4. Float or Sink
You could use a tub of water or even your own bathtub to prevent the mess, and give your child a few different objects. Take an item and ask them to guess if it will float or sink when you place it on the water. Check to see if their guess was right.
5. Bird Watching
Set up a little station by the window for bird watching. All you have to do is put together a small chair, a bird book (or a few images of common birds in your area), and binoculars (though this is not mandatory). To increase the action, you can set up a bird feeder outside. Your children can bird watch and see which bird it is using the bird book.
Montessori Art and Craft Activities
Montessori art activities for preschool kids will help your children's imagination soar. Just provide them with a few art supplies and let them use their creativity.
1. Painting
Give your children a few colours and let them paint. It is best to start them off with three or two colours at a time until they can rinse the brushes and clean spills on their own.
2. Glueing
Give your child a paintbrush and a small jar of glue and show them how to paste things using a little bit of glue. The smaller the objects they are glueing, the better for their fine motor skills.
3. Drawing and Coloring In
This is an excellent start in the world of writing. Give your children paper and crayons. At first, your children will only scribble with the crayons, and then, they will slowly develop their skills and be able to draw better outlines and pictures.
4. Colour Mixing
Fill small dropper bottles with yellow, blue, and red-coloured water. Give your child a paint palette and let them mix the colours and explore the different combinations of colours they can mix and make.
5. Working With Clay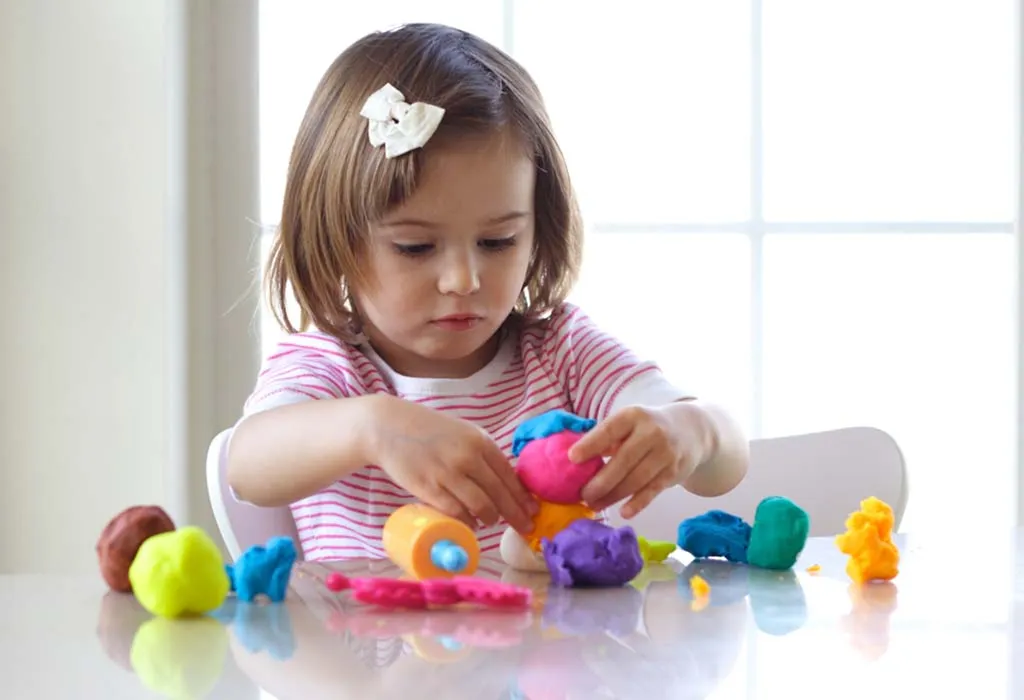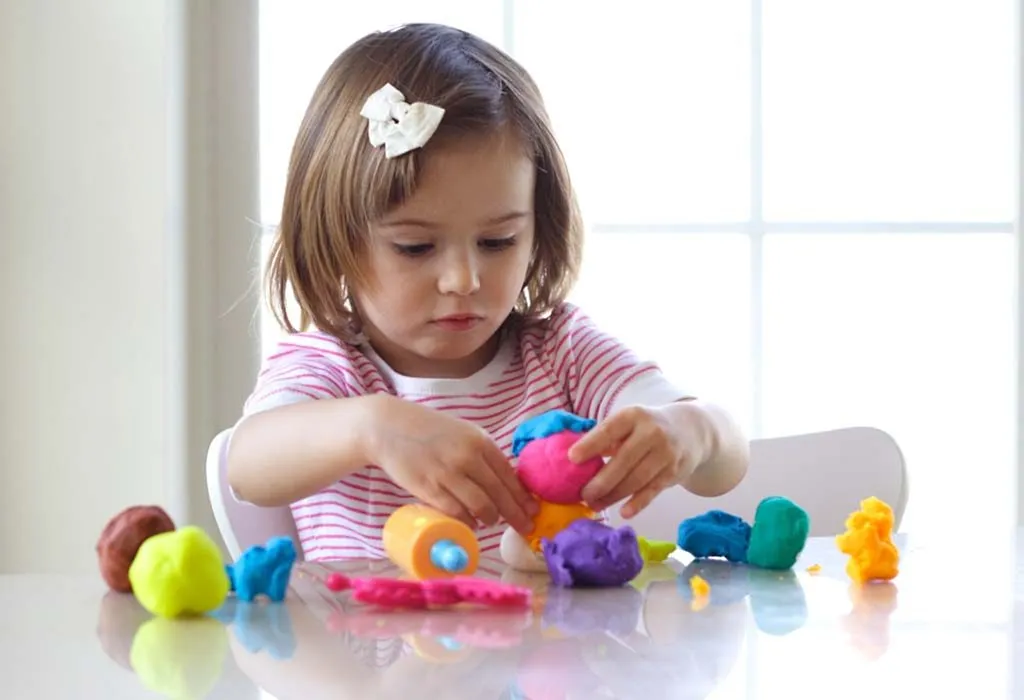 Clay is something most children love to play with, so give your children some clay of different colours. Clay can help them strengthen their hand muscles and prepare them for writing.
6. Makerspace
Designate a table or a corner for a "maker space". Gather a few objects like boxes, buttons, toilet paper rolls, and strings, and keep it there. Encourage your little children to create whatever they have in mind.
7. 3D Painting
Let your kids paint on something more fun and interesting like Styrofoam balls. If you want to skip smoother balls for this painting activity, you could try uneven and natural objects like seashells or pinecones.
8. Art Card Matching
Next time, you go into an art museum, purchase two sets of postcards. Shuffle them and ask your children to match the images. If your child is a little older, then ask him to sort it by type or style (like portrait, landscape, still life).
9. Finger Painting
This can be a messy art project, but it can help your children learn basic concepts like colour mixing and improve their fine motor skills. Your children will have a lot of fun doing this activity.
10. Collage
This is a very simple activity that involves pasting things like photographs or leaves onto a sheet of paper. You can even ask your children to cut out pictures from magazines or newspapers and make a new picture collage out of it.
Montessori Fine Motor Skill Activities
These Montessori motor skill activities are fun and easy for kids, but challenging enough to provide good exercise for their muscles and keep them engaged.
1. Money Box and Popsicle Sticks
Give your children a money box that has a narrow slit and a few popsicle sticks. Ask them to put all the sticks into the money box through the narrow slit. This can help them control their hands and improve concentration.
2. Pom Poms and Containers
Take a small plastic container and cut out small circular holes in the lid. Give your child poms-poms, the same size as the holes, and ask them to stuff it through the holes, into the container. To make the task more challenging, you could ask them to use a pair of tweezers to take the pom-poms and put it in the box.
3. Stacking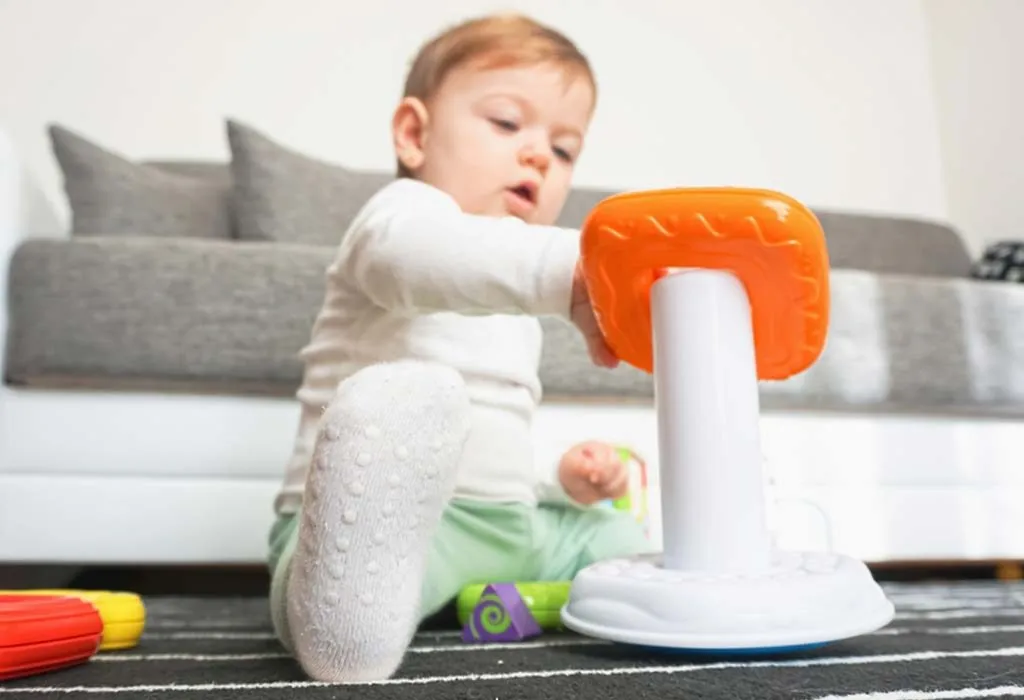 You can create your own stacking toy with a few baby bangles and a deodorant bottle. You could make this activity more challenging by asking them to toss the bangles from a distance.
4. Colander and Pipe Cleaners
A colander is a fantastic tool to improve fine motor skills. Give your children pipe cleaners and let them put it through the holes in the colander by bending and twisting the cleaners.
5. Coins and Money Box
Take a money box with a narrow slit, ask your children to put coins in the box through the narrow slit. You can help them perfect their aim by raising the height.
Montessori Gross Motor Skill Activities
These movement activities can help improve gross motor skills in children.
1. Throwing Baskets
This activity can be done by placing two baskets at two ends of the room. Take a few softballs or bean bags and put them all in one basket. Show your kids how to throw the ball from one basket to another and ask them to do it.
2. Puzzle Distance Game
Take a puzzle your child loves and place it in the living room. Ask them to create the puzzle in their room taking only one piece at a time, so every time they need a part, they will have to walk come back and get it from the living room. This kind of distance will encourage children to practice keeping the information in mind while they walk between the two ends.
3. Jump Rope
The jump rope is a simple activity that can be easily done indoors. Just show your children where they are allowed to do it inside to prevent any accidents. Also, make sure they know how to use it properly before they start doing it.
4. Stepping Stones
Stepping stones is a fun activity that your children will love doing. This will help kids practice their balance. You could also use stepping stones of varied colours and textures to improve their coordination and balance.
5. Yoga
Get a few yoga cards and a yoga mat. Yoga can help children work on coordination, balance, strength, motor planning, and many more. It also increases postural control and core strength in children.
Montessori Sewing Activities
Simple sewing activities can help them control their hands better.
1. Necklace Making
For the activity, give your children some yarn needles and a variety of beads. Let the children make a necklace out of the yarn and needles and show them how to tie a knot.
2. Button Sewing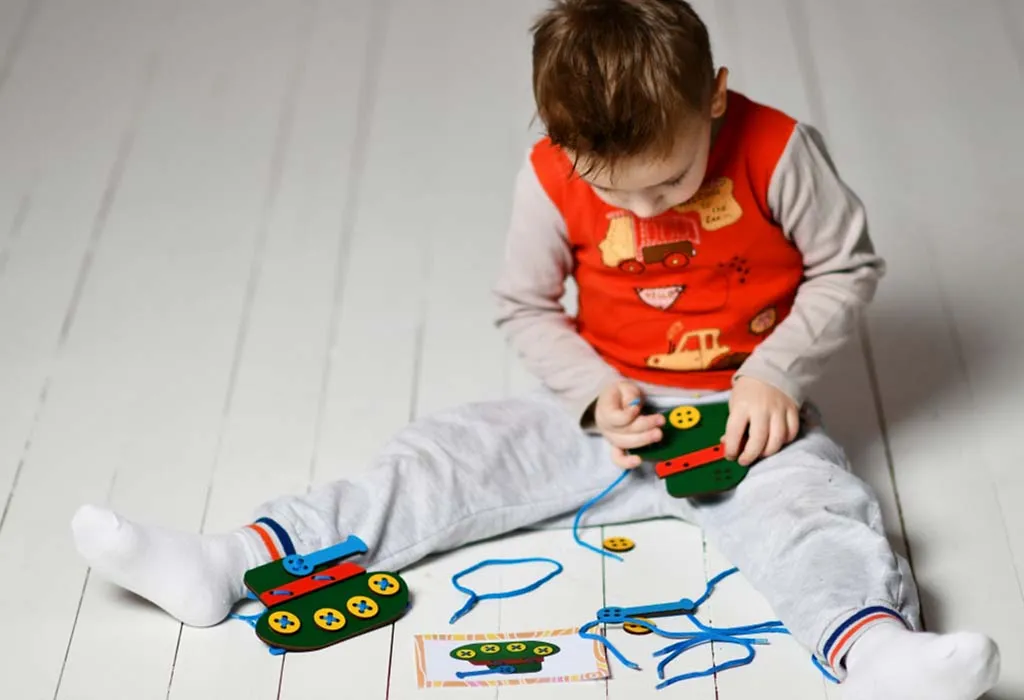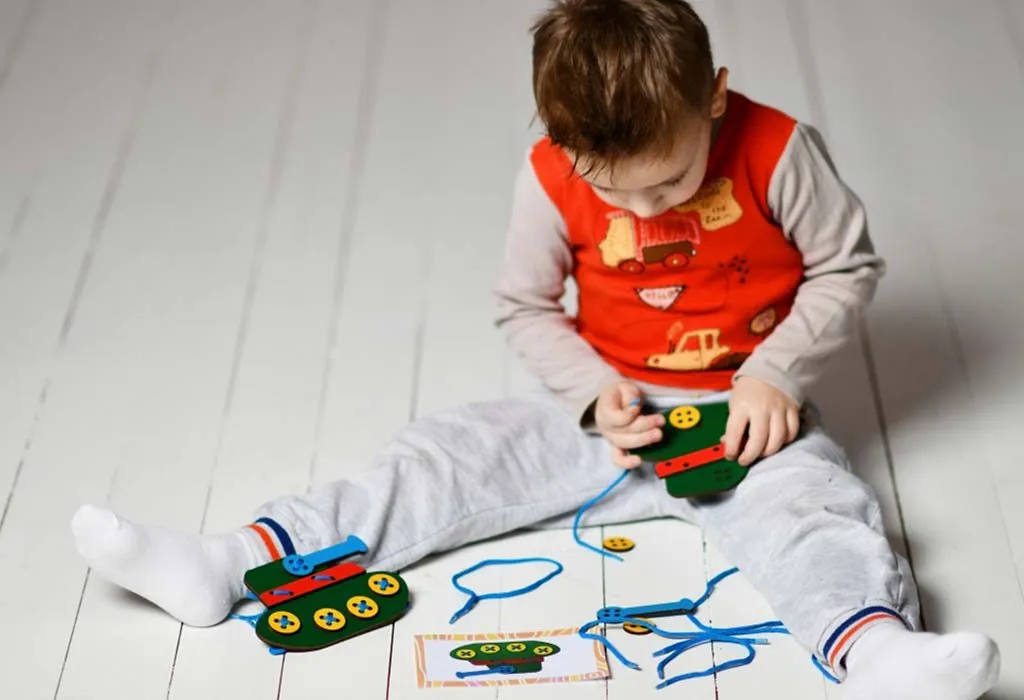 All you need is a needle, a piece of fabric, and some threads. Show the children how to thread the needle, sew a button, and tie a knot. If your children are new to this, then it is better to supervise the first few times.
3. Lacing Cards
Even before they are ready to start using a needle, the activity can help them practice up-down sewing patterns. Take a card and punch evenly spaced holes around it. Give your children a shoelace and let them put the lace through the holes.
Montessori Language Activities
These activities can help your children improve their language skills, communication, and vocabulary.
1. Story Box
Provide your kids with a basket containing a few items (like a small snow globe, an ornament, a mitten) and show them how to make a story. If they can write it themselves, then let them record it, or else, you could ask them to illustrate while you write it down.
2. Rhyming Games
Collect a few toys or household objects and show the child how to match the items that rhyme (like dino and rhino, ball and doll). Alternatively, you could take turns to come up with a word and ask each other to think of a word that rhymes.
3. Household Labels
If your kids are starting to read, then take a slip of paper and write down the name of any household object. Let the kid read it and keep it on that object. Start with easy things like "cup" or "box" and increase the challenge when they are ready.
This list of unique Montessori learning activities can help keep your children stay engaged every day while they have fun!
Also Read:
Team Building Activities for Children
Amazing Extracurricular Activities for Children
Group Games and Activities for Children